Post by Don Ricardo on Apr 6, 2008 18:35:57 GMT 10
POST UPDATED - JANUARY 2021

Jennison Road Cruisers and Jennison Caravan Cruisers
Manufactured by John A Jennison, Salisbury SA
and later by Jennison Caravan Cruisers Pty Ltd
292-6 Military Road, Cremorne NSW
---
Note:
Jennison caravans were manufactured by John A Jennison and his several companies, and after his death in 1950 by the Pym family, from 1933 to 1967. As a result the history of Jennison caravans has been placed into three separate threads, each reflecting a distinct era of Jennison production. The purpose is to make information about each era easier to find:
In early 1939, the Jennison Caravan Cruiser company also produced a coach style caravan which has been referred to as the
"Wildeshott"
caravan, and is the subject of its own thread.
In addition to producing Jennison caravans, John Jennison was involved in the development of
Nomad caravans
produced by the Trailer Engineering Co from 1937 to 1943. Jennison was a creative and inventive person and turned his mind to a number of different automotive and mechanical projects, some of which are recorded
here
---
In 1952, following John Jennison's death, his wife Doris wrote an article for a magazine telling the story of their involvement in the caravan industry, from the construction of their first caravan to the development of the Jennison Pathfinder. Interestingly, as Doris told it, the idea of building a van was at her instigation.

Forum member

Jennison

has kindly provided a copy of the draft of his grandmother's article to be posted here. The text is as it appears in the draft apart from the correction of some typos.

The story of "Jennison Pathfinder Caravans"

by D Jennison

"Big Trees from Little Acorns Grow"



What made your husband begin on Caravans? I have been asked over and over again. Nothing more romantic at first, than having a family of three, we found camping the most comfortable, satisfactory and economical type of holiday possible. Moreover every one had a holiday and could do pretty much as the mood dictated. Consequently when I came upon an article on Caravanning in an English magazine, I was very interested.

At this time John A. Jennison was proprietor of a Service Station in Salisbury, South Australia, and summer temperatures were often well over the 100 mark for days on end.

A sweltering night, and the bed almost too hot to lie on and no hope of sleeping, I wistfully thought out loud of the pleasure it would be to have a Caravan parked under shady trees on the banks of a cool flowing river. "Have you got that Magazine handy?" J.A.J enquired, I had and produced it. He was nothing if not impulsive, and to think a good thought was to get busy with a pencil and paper. So at about 2 am we sat up in bed, and the plans for the first Jennison Caravan were begun.

First came a lot of paper work as to weight, balance, materials and costs etc, then the plans were properly drawn. We were doing our camping in a caravan in future and this one was to be ready for the next Christmas Holiday period. Work was begun with the aid of a friend who was a wizard with tools, and all slack periods in the Garage were used up, and much midnight oil was burned in the months that followed.

As the work progressed, all hands and the cook were pressed into service, where ever and when ever possible. Even if one only held the portable light for a while for those hard to see spots of work. Cutting off screw ends with a hacksaw, holding windows and doors in place while screws were driven in to hold the hinges, also the upholstery and curtain making were my job. We were so tired in spots that I almost wished I'd never seen that article on Caravans.



However, it was finished at last, at about five minutes to Christmas, and we packed up and set off. I cannot say we enjoyed that trip. Nerves were at cracking point. How would it track, would the old Chev. truck make the graded up Sellicks Hill with a trailer in tow?


It fell to my lot to watch it round the curves, to see if there was any tailwag or hopping or rolling, and if it followed the track of the truck tyres. My neck felt as if I would never get the kink out of it again, and my eyes looked like being set cornerwise for good. J.A.J himself was like a cat on hot bricks, and woe betide any of the family who felt like being smart in the wrong places. There was more to it than just performance, he had calculated balance etc on paper, and his pride would have suffered badly had he been wrong. However for all her plain appearance, she was a perfect lady, and sailed along as if trailing was no new thing to her at any rate.

The building of that first Caravan created such interest in and around Salisbury, that it was a leading topic of conversation. Interested spectators held up the work dreadfully in spots, and requests for hiring it when it should be completed were so numerous, that the commercial possibilities of Caravan building impressed Himself very forcibly. He did not fancy the risk of hiring it however, so after we returned from our holiday he sold it and began work on another, which had some improvements on the first.

When this second 'Van went up for sale, a camping visitor to S.A. Mr B.T. Hassell of Mosman inspected it, but was of the opinion that it was too high for safe towing and commissioned the designing of a lower type for his use. The Collapsible roof Jennison Road Cruiser was the result. On completion this 'Van was shipped to Sydney, and many headaches were endured over seeing it safely on board the ship, and waiting for word of its safe delivery.

A second 'Van of this type was built for Mr Hassell and we decided to combine pleasure with business, by delivering it ourselves by road, and with the view of a probable starting up production in Sydney, which was home to us, although we had been away some thirteen years.

Eventually with Mr Hassell's assistance we secured a small workshop in Cremorne, and Jennison Road Cruisers went into production. A hire fleet of these little Caravans was put on the road. Selling Caravans was hard work in those early days. People wanted to try things out first, and hiring really was the education period for the present Caravanner. There was certainly no waiting list of purchasers at that time.

Gradually as sales were effected, the demand for bigger and better Caravans was created, and the domed roof Caravan became popular. However J.A.J felt he could improve on these, and a company was formed and bigger premises on Military Road were secured. Here improvements both in exterior and interior fittings were effected and the lantern roof job came into favour. This was the beginning of roof ventilation. Height had been a bugbear at first, but by designing a cranked axle which a Sydney firm made up for him, he had conquered this.

Some time later J.A.J joined the staff of Nomad T.E.C. as designing engineer, taking with him a new design. This was a streamlined domed roof coach. It was a really beautiful job, but its construction was too costly to be able to produce it profitably for sale in those prewar days, before Caravans became a must with so many of the motoring public. Modification was the only answer to this, and the J model Nomads that followed, formed a very fine hire fleet which was always popular and kept very busy.

The War stepped in at this period and Caravans had to be shelved. J.A.J joined the Small Arms factory at Lithgow and was later transferred to an Annexe at Marrickville, until the end of the war.

With peace proclaimed his mind returned to his old love and he designed the first Pathfinder for Mr R. Sturrock of Mosman. Then Mr J.C. Burrell joined him and the Jennison Trailer Engineering Co. came into being.

The "Jennison Pathfinder" has had improvements here and there in interior fittings, but the Streamlined exterior had reached the perfection that had been the ultimate aim over the years, and this has stayed as standard.

The long lifting roof and walled floor giving head room without excessive overall height. The elimination of all waste space, and the utility of four rooms, Lounge, Bed, Dining and Kitchen all fitted into the space of a small sleepout, with a good area of floor space left, has about reached the acme of Caravan perfection. Finish in the less seen, as well as in those that are seen parts, have always been strong points of the "Pathfinder", and the most common remark of inspecting clients has been "No other Caravan has the finish of this one".

We his family feel that the "Jennison Pathfinder" is a fitting memorial to the man whole love of his job has made the "Pathfinder" what it is. The Aristocrat of Caravans.Jennison

has also provided a photo of the first Jennison van mentioned in the article (the people in the photo are unknown):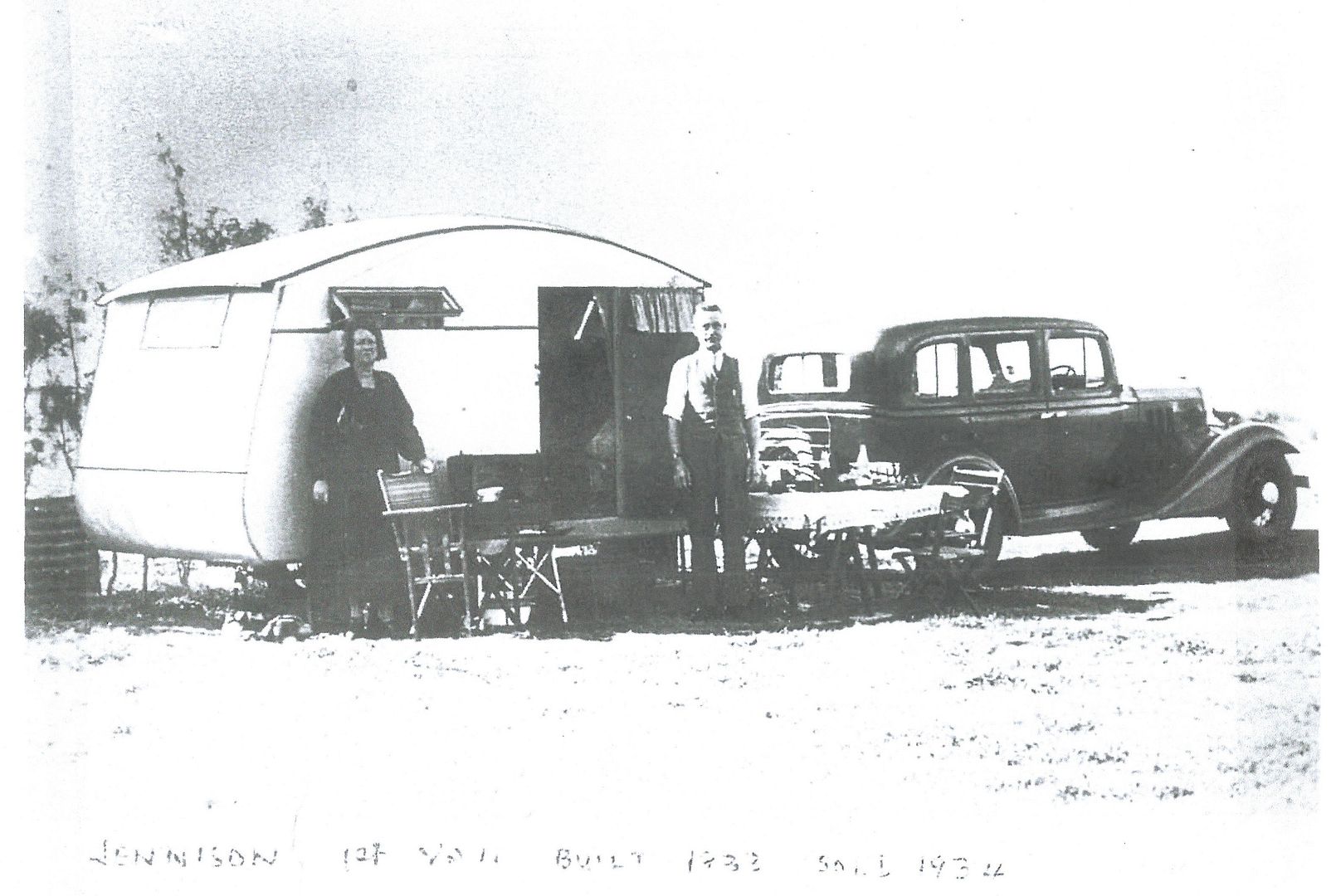 The caption states "Jennison 1st van Built 1933 Sold 1934"
---

[The following was originally posted on the Jennison Pathfinder thread on 6 March 2008, and relates to the 'Collapsible roof Jennison Road Cruiser' referred to in Doris Jennison's magazine article above.]
Hi all,
I've had quite a few interesting conversations recently with
Jennison
about his grandfather, John Alfred Jennison, who manufactured Jennison Pathfinder caravans.
John Jennison was a very innovative motor engineer who was born in New South Wales, but started building caravans in South Australia before returning to Sydney in 1936/7. John Jennison had broad mechanical interests, and during his lifetime built not only caravans but also racing cars and speedboats.
As
Jennison
told us in his posts of 21 January 2008, he has been able to obtain from the Australian National Archive
"...copies of his original designs and patent applications for a pop top van submitted in 1935".Jennison
has asked me to post these documents for him. The application consists of a number of pages, but is well worth reading - a real gem of Australia's caravan heritage. And check out the photo at the end of the post!
Don Ricardo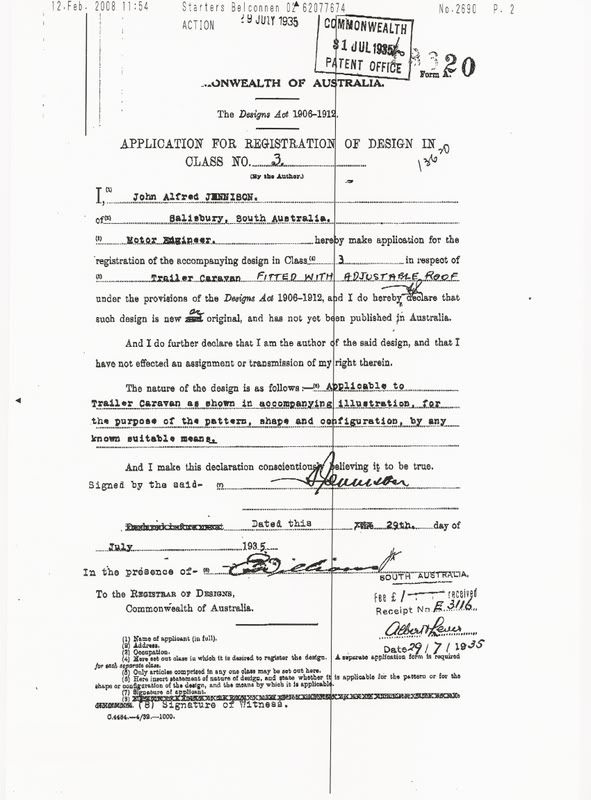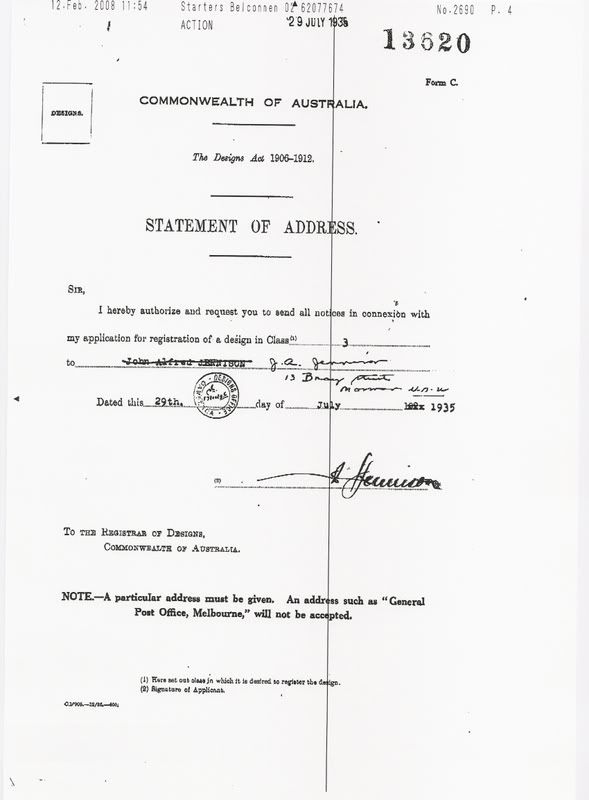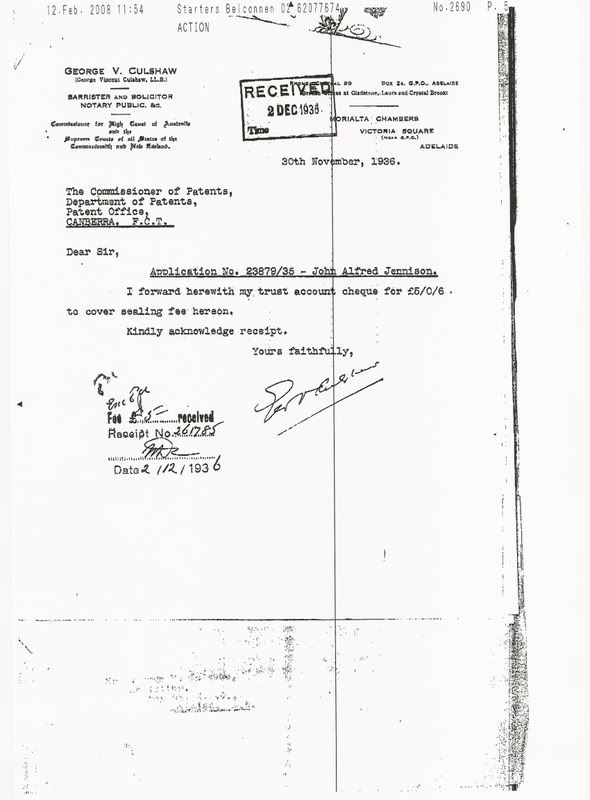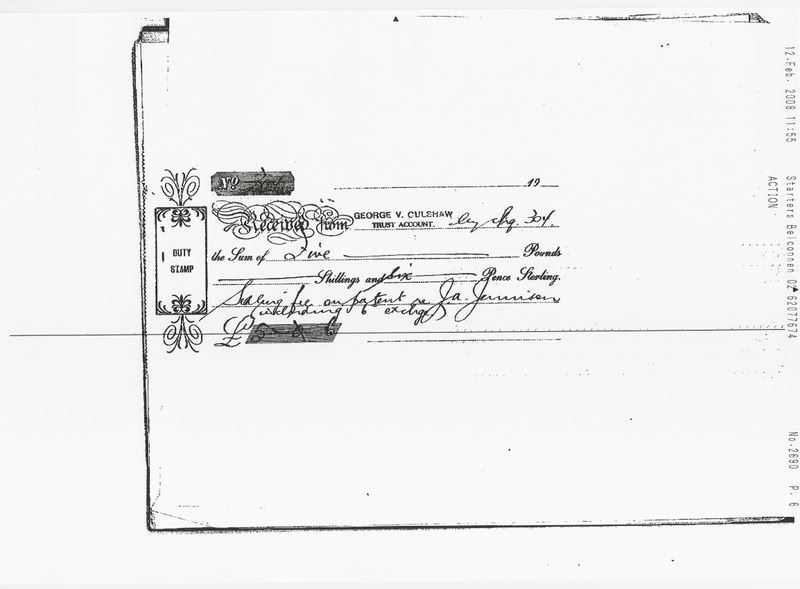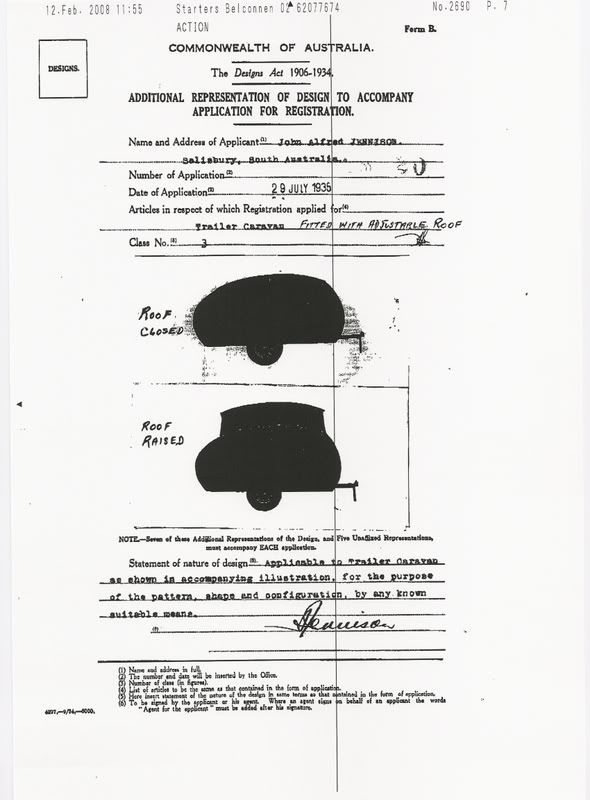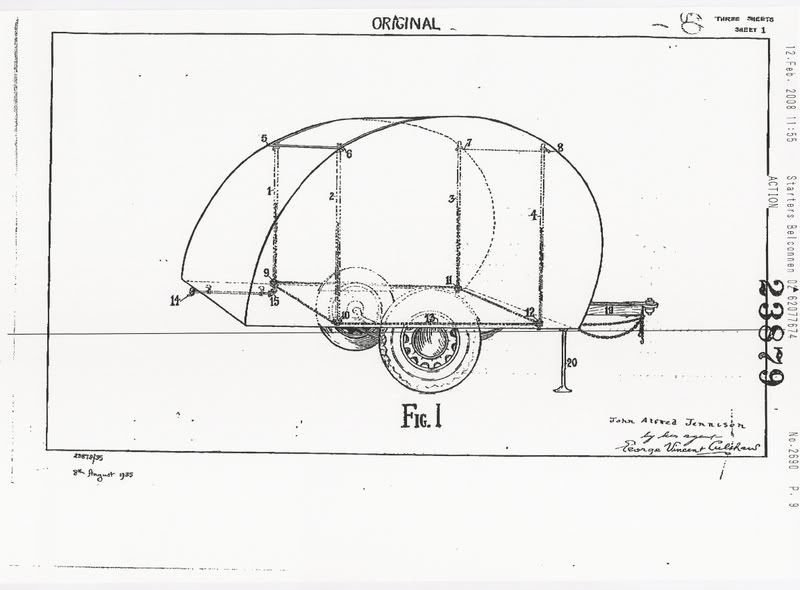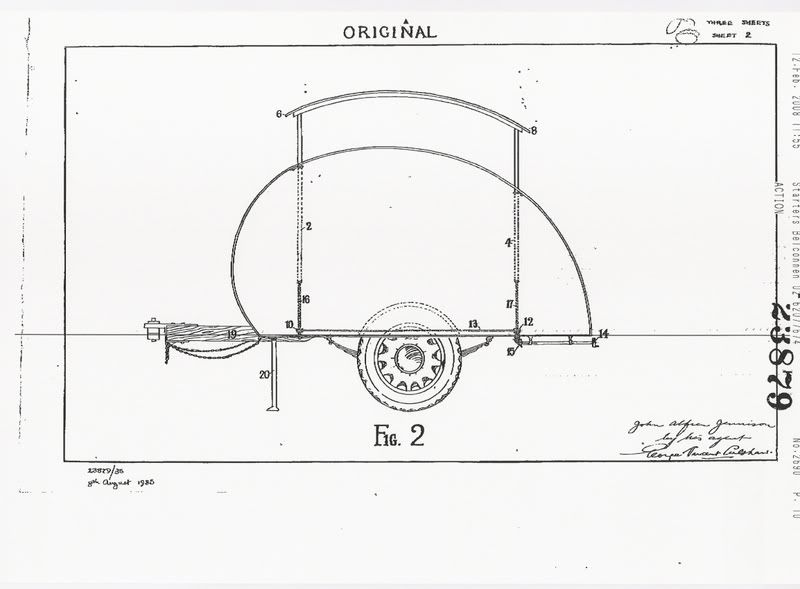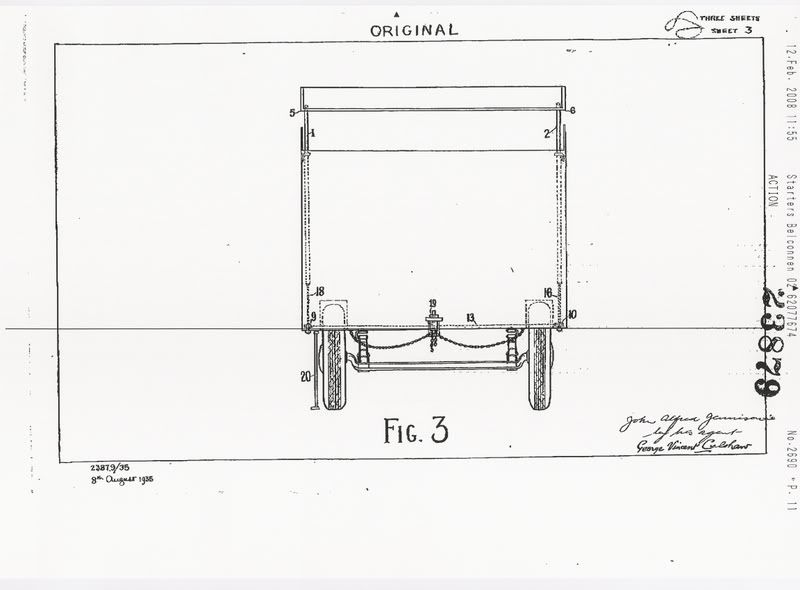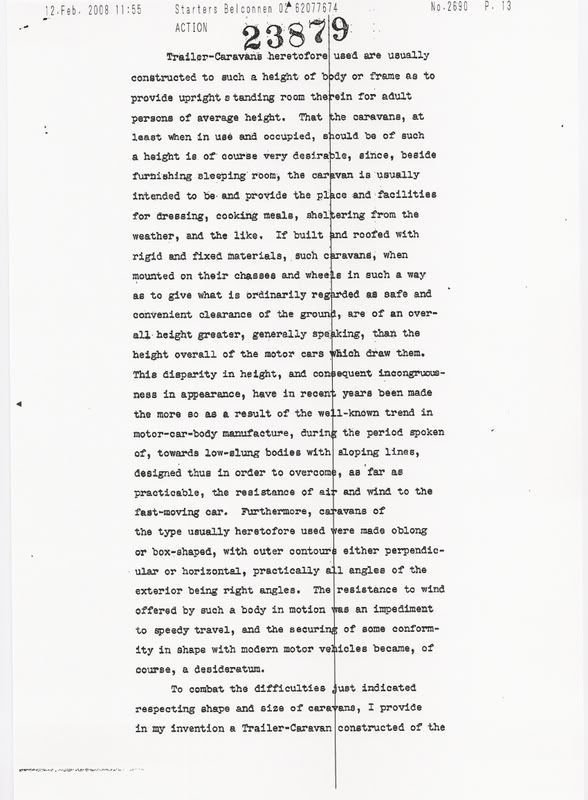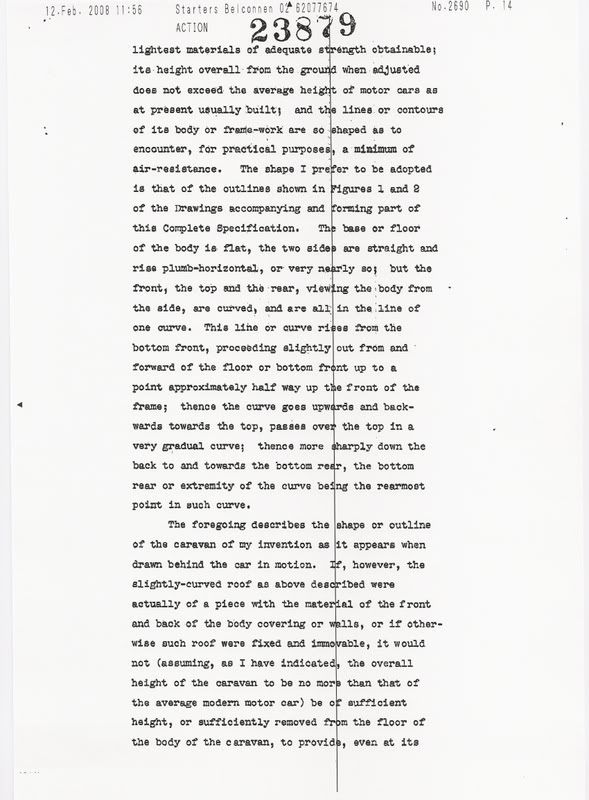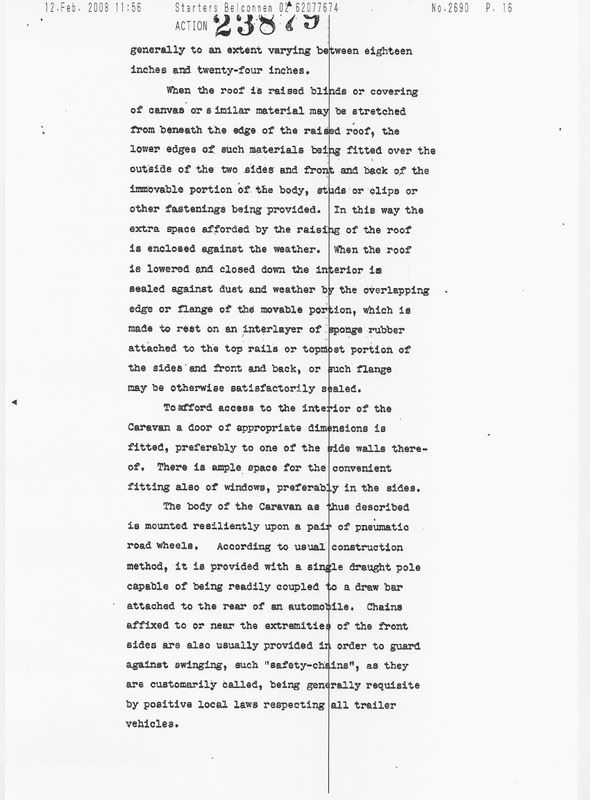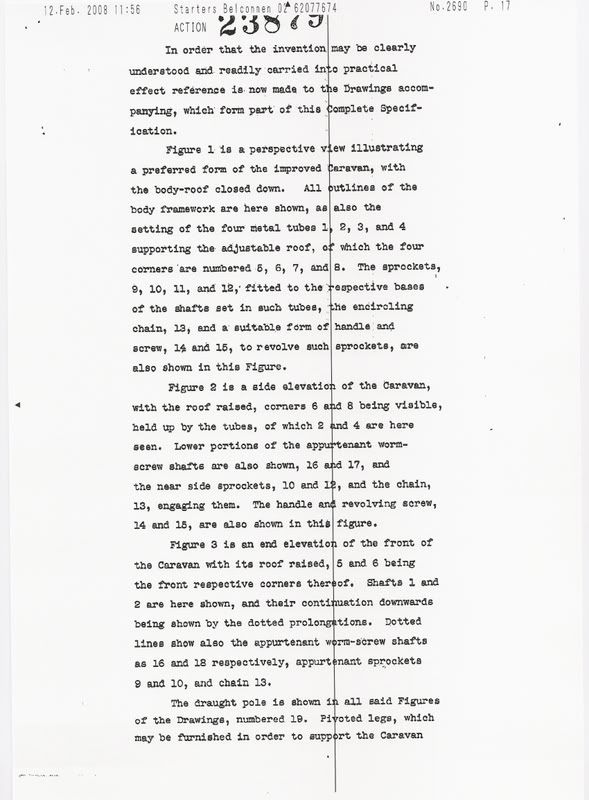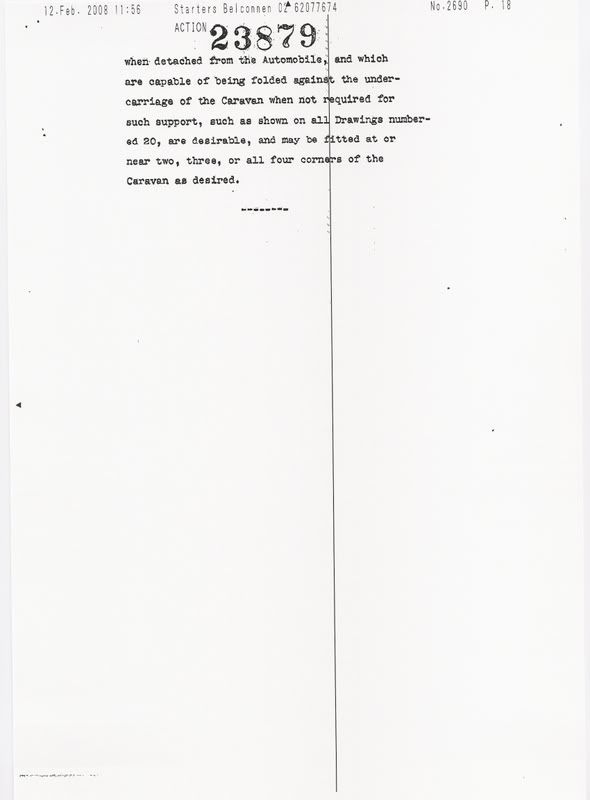 Jennison
has pointed out that, although at this stage it can't be proved, there are obvious similarities between the description of the caravan described in the patent application and the following photo which is labeled as John Jennison's 'first caravan'.
"If you look closely you can just make out the window in the door and on the side behind the door, in the 'first van' photo and that they match up with one of the diagrams in the patent application."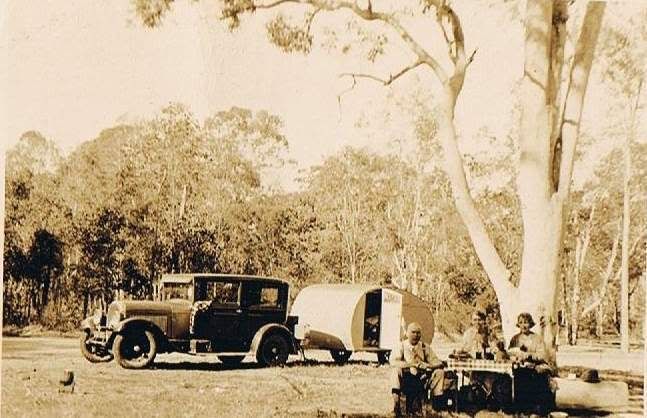 Note the shape, the height of the van compared to the vehicle, and the height of the door.
Jennison's
comment is that:
"I would think that given he built his first van around 1930, that he would use his "current design/model" as the basis or starting point for any pop top adaptations".