Post by Don Ricardo on May 10, 2008 19:50:21 GMT 10
POST UPDATED - JANUARY 2021Pathfinder by Jennison Caravans
Manufactured by Jennison Pathfinder Pty Ltd (1962/3) and Pathfinder Pty Ltd (1964 onwards)
283 Pacific Highway, Artarmon, NSW
---
Note:
Jennison caravans were manufactured by John A Jennison and his several companies, and after his death in 1950 by the Pym family, from 1933 to 1967. As a result the history of Jennison caravans has been placed into three separate threads, each reflecting a distinct era of Jennison production. The purpose is to make information about each era easier to find:
In early 1939, the Jennison Caravan Cruiser company also produced a coach style caravan which has been referred to as the
"Wildeshott"
caravan, and is the subject of its own thread.
In addition to producing Jennison caravans, John Jennison was involved in the development of
Nomad caravans
produced by the Trailer Engineering Co from 1937 to 1943. Jennison was a creative and inventive person and turned his mind to a number of different automotive and mechanical projects, some of which are recorded
here
---
Information posted by
Franklin1
on 13 April 2009:
The archives give the following information about Jennison Pathfinder:

Up to July 1961, all advertisements carry the heading Jennison Pathfinder

From July 1961 to Sept 1962 there are no advertisements, so something was happening in the business for these 14 months or so.

Oct 1962 sees the word Jennison dropped from the advertising name, and just the word Pathfinder with a new Pathfinder logo appearing at the top of advertisements. The business name is still showing as Jennison Pathfinder Pty Ltd at Artarmon. A new model range, "the finest in 25 years", is advertised, made with aluminium and fibreglass body styling, with glass wrap-around windows. Available in 13ft6, 14ft6, 16ft, 19ft6 and 21ft6 sizes.

Another big gap in advertising occurs between Feb 1963 and Nov 1963, when a sketch drawing of a Pathfinder appears in an advertisement. Dick Pym's name is at the bottom of the drawing with contact details. A Pathfinder 'President' 14ft6 and a Pathfinder 'Villa' 19ft are described in another advert at this time.

Advertisements at the end of 1963 and during 1964 are now headed "Pathfinder by Jennison". The Pathfinder logo from 1962 is not seen again. [Sounds like there was a bit of chopping and changing in the business in the early 1960s.]

A sketch drawing/photo appears in Sept 1964 of a tandem Pathfinder. (maybe the 19ft Villa?? - doesn't say what it is). The business name is now showing as Pathfinder Pty Ltd. No mention of Jennison. Same address at Artarmon. Dick Pym's name at bottom of sketch.

Another long, long gap occurs in advertising from 1964 to April 1967, when a 14ft 6ins full aluminium van "with countless layouts" is advertised, along with mobile homes with full length roof hatch. Still same address at Artarmon. That advert is repeated in May 1967.

A few months later, in Oct 1967, the business has taken on distributing Franklin caravans. Over 40 top caravans mobile homes are available for inspection. Address is still at Artarmon. [This would suggest to me that the Pathfinder manufacturing section had been closed down, and the space given over to displaying caravans].

During 1968, Pathfinder are shown in Franklin Caravan corporate advertisements as a Franklin distributor... same Artarmon address.

April 1969 sees Pathfinder have opened another yard at Wentworthville in Sydney. Now two yards, old one still at Artarmon.

June 1969 sees Pathfinder taking over the business of Relax Caravans, and is clearing all the Relax stock.

Aug 1969 sees Pathfinder only operating from the Wentworthville yard. The Artarmon address has been dropped from the adverts.

...so endeth the Jennison era...



Al.
---
Email from
Jennison
:
"These are of a Pathfinder label on the back of a Franklin caravan ("circa"approx 1970) located at the Kiola Beach Caravan Park, sth coast near Ulludulla. As I discussed with Richard Pym, by the late 60's, the Pyms were having their caravans made under licence (by company/ies unknown) and by early 70's were a new and used caravan and boat sales yard. Around then they switched strictly to marine only and as previously stated on the history thread still operate today with outlets in Sydney and the gold Coast as Pathfinder marine."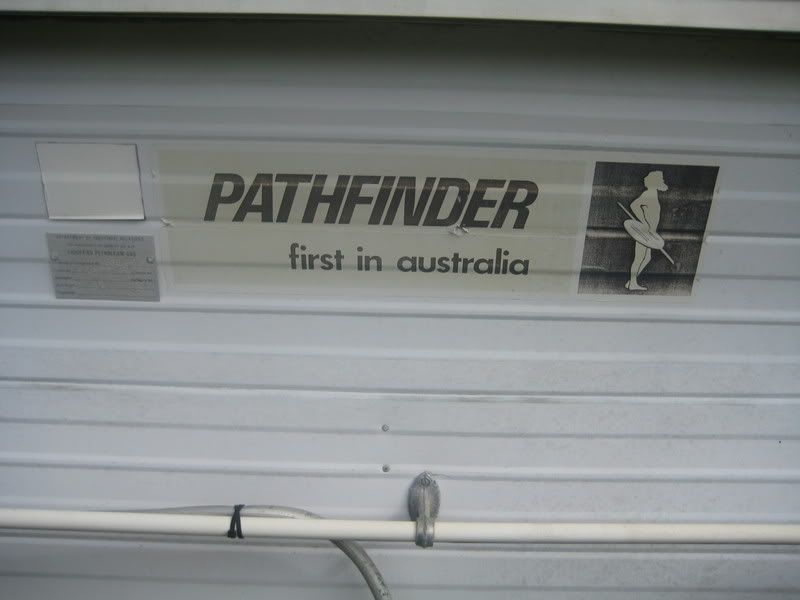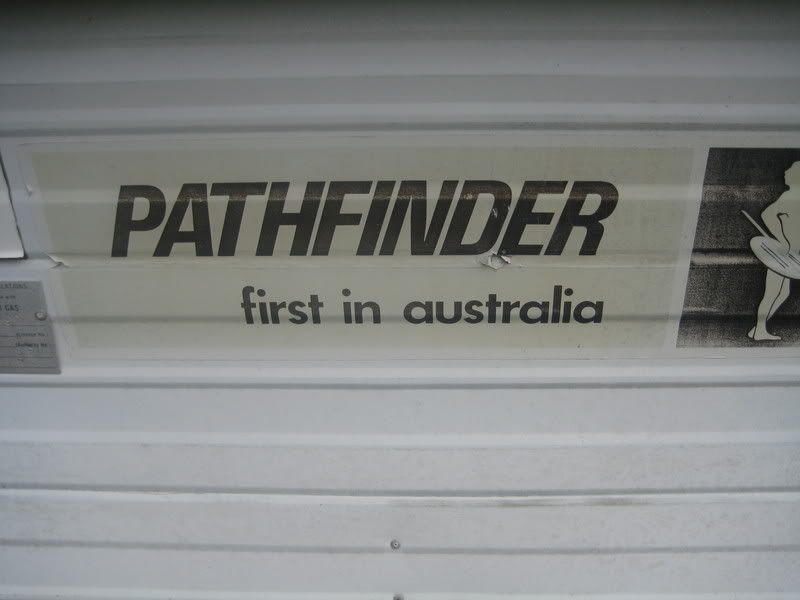 [/b]