Post by Don Ricardo on Oct 17, 2020 13:58:45 GMT 10
The Story of Joker II and Arthur & Pat Pullin
This thread is about a home built caravan called
Joker II
which arguably played a central role in the establishment of the Vintage Caravans forum.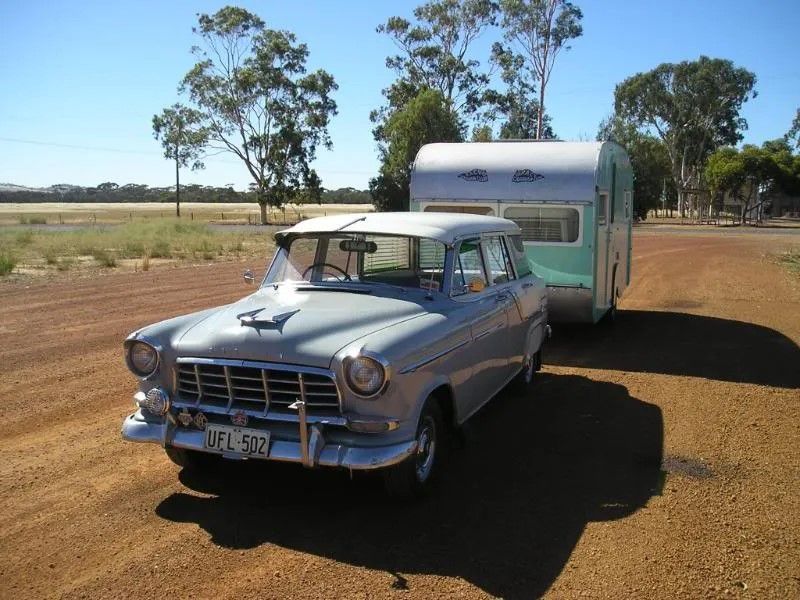 Joker II was built by
Arthur and Pat Pullin
in 1958 in Korumburra, Victoria and regularly used by them for 40 years. The Pullins themselves were veteran caravanners who both lived to over 100 years of age, and caravanned for almost all of their long married lives.
The Pullins eventually sold Joker II in 1998 – only because they had decided to buy a new van which they called Joker III – to West Australian vintage caravan collector,
Mark T
, who established the Vintage Caravans forum in 2004. Mark T's original interest was in classic cars, but in the late 90's he decided that a vintage caravan or two would make interesting accessories for his vehicles. As a result Mark T purchased a home built, masonite clad caravan, followed by Joker II. In the few years that followed Mark T became as interested in, and as avid a collector of vintage caravans as he was of classic cars. The interest in vintage caravans led to connections with other people interested in vintage caravans and the establishment of this Vintage Caravans forum in 2004.
It is fair to say that if Mark T hadn't met the Pullins with their Joker II caravan, and then had the opportunity to acquire their van, then the Vintage Caravans forum might never have eventuated. It is in that sense that Joker II played a central role in setting up the forum, which in turn was one of the major catalysts for the development of the vintage caravan community and hobby across Australia. The above photos of Joker II were taken during Mark T's ownership of the van.
There are bits of information about Joker II and Arthur and Pat Pullin scattered around some of the early forum threads for those who wish to go searching. However, given the historical significance of Joker II for the development of vintage caravanning, and the amazing and celebrated lives of Arthur and Pat Pullin as caravanners,
Jim
suggested sometime ago that Joker II deserved its own thread in the Down History Lane section.
Custodianship of Joker II has recently been passed on to a another forum member,
Yellowuki
, who will be restoring the caravan. For this reason, it seemed to be an appropriate time to record the history of Joker II and the Pullins in one place.
I'll break the story of Joker II and the Pullins up into several posts because of length. I've also given links for each post I've copied so that you can read further if you wish to.
---
On 20 December 2008, Mark T recorded his first meeting with Arthur and Pat Pullin in December 1998
here
:
…Its 10 years ago this month since I met Arthur & Pat.
Was on an eight week tour of the E[astern] S[tates] in a 1970 Holden [panel van] towing a 1978 Millard 16 footer.
I had attended the GMH 50th anniversary celebrations in Victoria, and was headed to QLD with the family to do the Gold Coast theme park thing

One purpose of the trip was to find a vintage caravan in the East.
We were travelling into Warwick QLD and passed through a vicious thunderstorm about 50 kms out, the Holden van was caught in the middle of a lightning strike between two trees, a loud explosion occurred above us, and a blinding flash of lightning struck in front of us
. My oldest boy was sitting between my wife & I in the front, the youngest boy in the back of the PV.
The experience frightened 'the you know what' outta us
when we arrived at the Warwick caravan park, we still had the shakes ......bad
I naturally unhooked the Millard & headed for a coldy outta the esky
.....always settles the shakes
An hour or so later, three car / caravan rigs headed into the Warwick Caravan Park, one being a late 80's Ford LTD towing an old green bondwood caravan.
The white window frames were
that smooth & gloss shiny
, I thought it had fibreglass window frames

After allowing the caravanners time to set up, I headed to their camp for a chat, of course my interest was in the elderly chap with the old caravan. After chatting to him for a while, I thought he's probably in his early 70's

.
Anyway, he told bit about the caravan, and mentioned he was thinking about updating to a newer caravan. The mind started ticking

......the FC wagon at home would probably tow that

....would need a red motor conversion but

.....
Next morning, he invited me over for a looksee inside Joker 11, and told me more about the caravan. He mentioned he was 93 years of age, and his wife Pat was the same age
.
We exchanged numbers, and he told me its early days, a firm decision on whether to sell Joker 11 was yet to me made.
June 1999 the phone rang, it was Arthur Pullin on the line
My rig: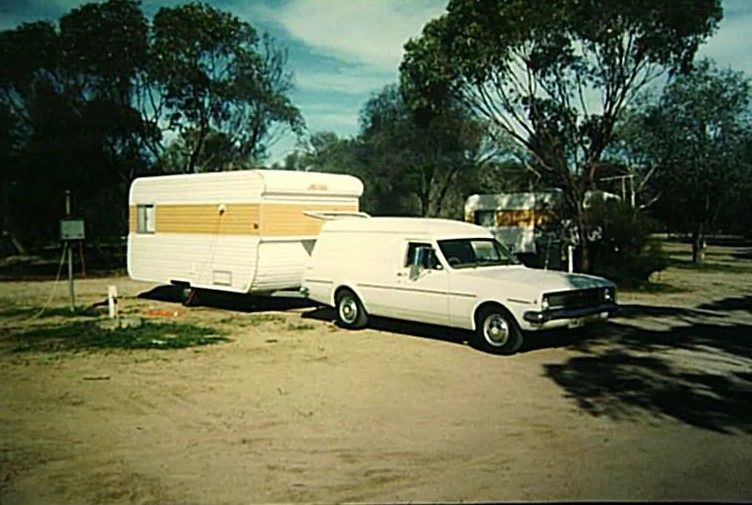 Arthur & Pat's rig:
---
On 16 December 2004 Mark T told some more of the Pullins' story under the heading 'MUST READ – Caravanning Legends!'
here
and included some photos of the Pullins over the years:
I had a call on Saturday from Arthur Pullin..........who's Arthur Pullin ? Arthur built my green caravan named "Joker 11" in 1956/57
and used it for 41years with RACV Caravan Club until I purchased the van in 1999…
On Saturday just gone he was celebrating his 99th birthday........yeah .. that's right ......his NINETY NINTH birthday ........and incredibly.....he & his wife Pat, also aged 99, are STILL caravanning........
They leave on December 23 to head down to South Australia from Victoria to attend the "National Australian Caravan Rally" .......a bi annual event
......Arthur will be driving his Ford LTD with "Joker 111" in tow,.........a caravan he purchased brand new in 1999.
AND Arthur is as sharp as ever ......he was phoning me to correct me re the article in this month's ACMM that features "Joker2"..........it was stated that I removed some non-original items from the caravan, one being a plastic towel rack, that I thought was a later addition. Arthur told me that it was in fact an original item he made from some plastic off cuts given to him by a plastics manufacturing Co in 1957.
Luckily I have kept the towel rack, so it will be replaced in the van.
He also offered to give me the original "Westclox" clock that was originally mounted in Joker 11 where I now have an old clock.
So folks, some people may enjoy vintage caravanning, whilst some people simply haven't stopped caravanning.....since 1940
Mark
please enjoy the photos:
Arthur Pullin on his brand new 2 3/4 HP BSA bike bought on his 18th birthday ... 11/12/23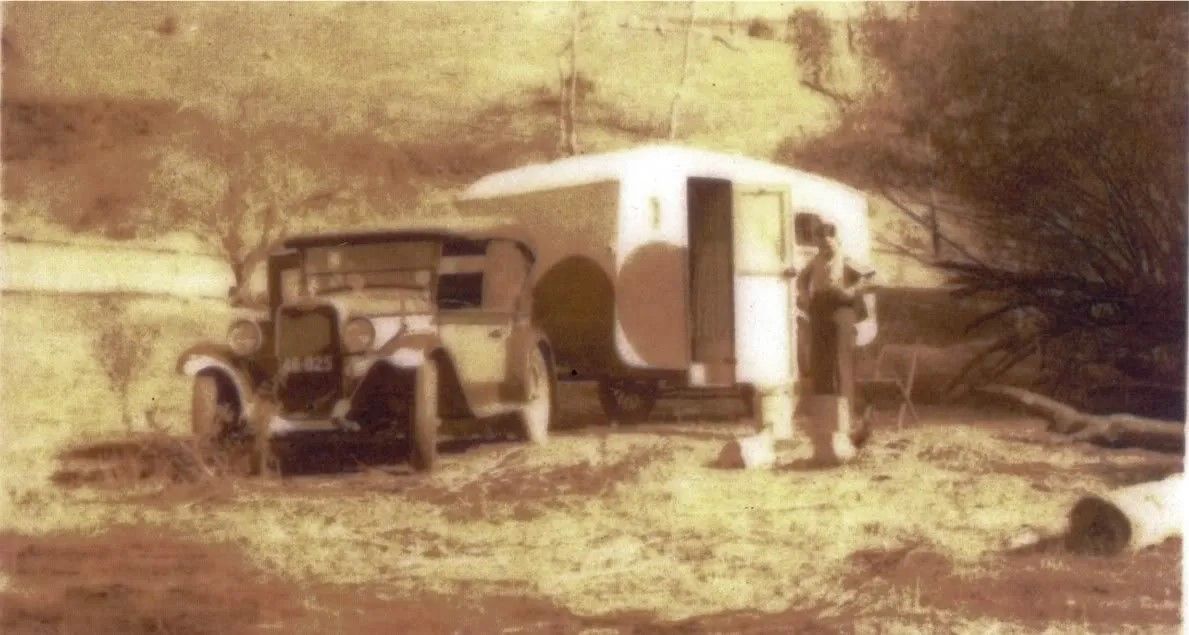 Arthur with the original caravan named "Joker" on a caravanning trip in 1942 .....note the spoked wheels on the van.
"Joker 1" in the early 1950's being towed by an International Ute.
Arthur & Pat Pullin with "Joker 11" in 1998
Arthur & Pat Pullin with "Joker 111" in year 2000 .....note the name signwritten on the van
---
Additional photos of the Pullins' original Joker caravan and Joker II with their Vanguard Spacemaster tow car posted by Mark T on 14 January 2011
here
: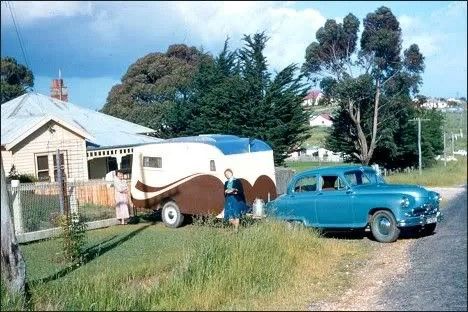 ---
As a postscript to Mark T's purchase of Joker II, Bobt commented here on 21 December 2008:
Mark
Arthur told me about this "nice" young fella he meet that showed an interest in his caravan. Told me how keen the young fella was to buy his van (said nothing about the van being considered vintage or classic). He hmm'd and harr'd over the sale for quite awhile. He decided you were an ok sorta bloke and he wanted to have a new one built. Much to the horror of some, he ordered a new Hallmark. People thought he would never live long enough to get to use it. He got one of the last ones to be built and sold it last year.

Mark, did he question you on where it was going to be kept and how?? The couple who bought his Hallmark only got it after they passed the pullin check list..
---
To which MarkT replied on the same thread on 22 December 2008:
sure did bobt .....got the 3rd degree from Arthur

.
Funny thing was I never had anywhere to store Joker 11 when it arrived in August 99 (Arthur didn't know that

), but couple months later, a carport (caraport actually ;D) grew in our front yard .... close to the road
Then, a few months later the carport sides were filled in .....never did get 'pinged' by the local council for doing that .....people used to say 'how did you get that approved by the shire'

......answer 'never did


' !!
the double carport built for Joker 11 with the Holiday Home under resto on the other side ....note the illegally filled in sides
Arthur wouldn't let me pay for Joker 11 until it'd arrived, and I was
happy with it
......so I paid to have it trucked from Jayco in Melbourne to Perth, and paid Arthur for it later .....was I happy with it

.......very
......a beautiful old, superbly built caravan indeed

...Joker 11 now resides in a corner of the Beverley shed .....
Mark
[Editorial note: The Holiday Home caravan Mark T referred to in his post is the home-built masonite clad van that, along with Joker II, was the start of his vintage caravan collection.]

---
Note: The above posts have been lightly edited for spelling and to make acronyms intelligible.
[To be continued]