Post by Don Ricardo on Dec 16, 2020 12:03:32 GMT 10
BLUEBIRD CARAVANS [Belmore, NSW]
Hired and/or sold by Bluebird Caravans,
4 Robert Street, Belmore

and 780 Canterbury Road, Belmore NSW
---
Over the years there have been at least three manufacturers or dealers who have sold caravans or operated under the 'Bluebird' brandname. These include caravan manufacturers located in:
Burwood, Victoria - click here

Belmore, New South Wales - this thread
Elsternwick, Victoria - click here
It seems unlikely that there were any links between these manufacturers/dealers. If anyone has information which shows a connection between these three companies, we will combine the threads.
---
The earliest reference we have to the Bluebird Caravan company operating in Belmore, NSW, is the following advert for caravans for hire published in the
Sydney Morning Herald [SMH]
on Saturday, 20 November 1954 (page 28):

(Source: newspapers.com )
Similar adverts continued to be placed by Bluebird Caravans in the
SMH
right through to the end of 1956. There is no indication at this stage that the caravans for hire were branded as Bluebird vans.
On Saturday, 2 February 1957 the following advert was printed in the
SMH
(page 28):
(Source: newspapers.com )
This tells us that some of the vans - presumably the 2-berth models mentioned in the previous adverts were only 5 cwt and suitable for towing by 10 hp vehicles. A similar advert placed in the
SMH
on Saturday, 12 July 1958 (page 38), expands on the 'all sizes' in the advert immediately above by revealing that there were 'six sizes' for hire. It also refers to the vans as 'Bluebird caravans' although that might just be referring to the vans that Bluebird caravans had for hire, rather than indicating they were built by or branded as Bluebirds:

(Source: newspapers.com)
A little less than a year later, on Saturday, 16 May 1959, Bluebird Caravans advertised in the SMH (page 42) that they had for hire the 'new Gypsy Holden' vans which were 4-5 berth and 11 cwt:


(Source: newspapers.com)
The phrase 'Gypsy Holden' is intriguing, but I am supposing that it refers to a caravan built by
Gypsy
specifically to be towed by a Holden of the day. This was not an uncommon practice, and several other manufacturers told potential customers that their vans could be towed by a Holden.
The connection between Bluebird Caravans and Gypsy caravans continued and is reflected in the following adverts published in the
SMH
on Saturday, 29 October 1960 (page 39) which tell us that Bluebird was an agent for Gypsy (or was it Gipsy?



). However, the first advert also refers to 'Bluebird' caravans in a way that suggests that the company was branding some caravans with the 'Bluebird' name at that point:
(Source: newspapers.com)
Note that in the second advert immediately above that Bluebird Caravans was actually selling as well as hiring out Gypsy/Gipsy caravans. The advert doesn't state that Bluebird Caravans was the 'Western Suburbs Agent', but that is evident from the address given.

Moving forward to Saturday, 16 February 1963, we find that Bluebird Caravans was now apparently an agent for
Wayfarer
caravans, and the company had moved to (additional?) premises at 780 Canterbury Road, Belmore:
(Source: newspapers.com)
In 1965, the range of vans Bluebird Caravans had for hire had increased as reflected in this advert in the SMH on Sunday, 21 March (page 35), and included vans built not only by Gypsy, but also Millard and Goodtime. The hire vans were still apparently available from 4 Robert Street, Belmore:


(Source: newspapers.com)
The last advert for Bluebird Caravans I have been able to find in the press is this one published in the SMH on 24 July 1965 (page 48) for new aluminium vans for hire:

It is unclear from all of the above whether Bluebird Caravans branded any of the caravans they hired out or sold as 'Bluebirds' although there is a hint that they may have. The only photographic evidence we have of a van supplied by Bluebird Caravans is the following caravan purchased by Caterpillar in Perth in 2015: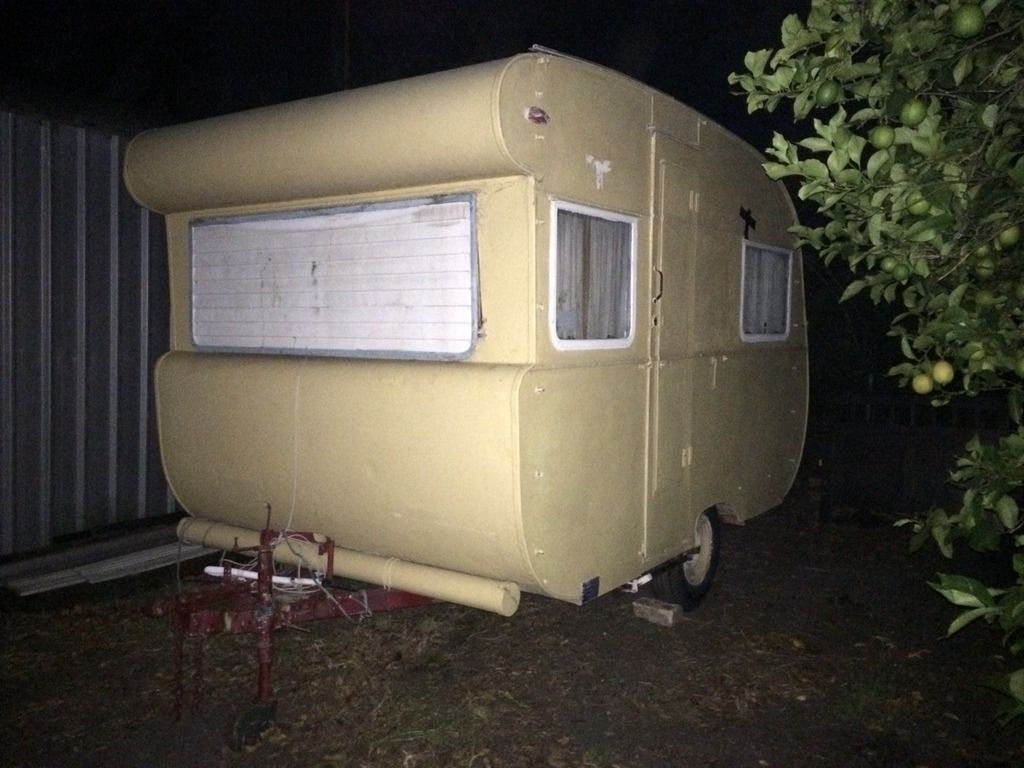 The manufacturer of this van is unknown at this point. More photos can be found
here
.
I will conclude this post with one other intriguing possible connection. On Wednesday, 11 October 1950 a private seller in Sydney advertised what appears to have been a second-hand Bluebird caravan in the SMH (page 24):

We are not aware of any caravan builders producing Bluebird vans in NSW at that point, so it might be possible that this van was built by whoever established Bluebird Caravans in Belmore, and that they became involved in the caravan industry earlier than the first SMH adverts for Bluebird Caravans in 1954 suggests. This is speculation, but I'm just noting the possibility.

Don Ricardo