Post by Don Ricardo on Dec 12, 2020 15:37:18 GMT 10
BLUEBIRD CARAVANS [Burwood, Victoria]
Manufactured by Kleut & Starcevic
Highbury Road, Burwood Vic

---
Over the years there have been at least three manufacturers or dealers who have sold caravans or operated under the 'Bluebird' brandname. These include caravan manufacturers located in:
Burwood, Victoria - this thread
Belmore, New South Wales - click here
Elsternwick, Victoria - click here
It seems unlikely that there were any links between these manufacturers/dealers. If anyone has information which shows a connection between the manufacturers in different states, we will combine the threads.
---
The earliest direct information we have about the Bluebird caravans built by Kleut & Starcevic is an advert published in the Melbourne
Age
on Saturday, 29 November 1952 (page 9):

(Source: newspapers.com )
As indicated the Bluebird caravan on offer was a 10 ft, 3-berth van.
A further advert printed in the Age on Saturday, 14 March 1953 (page 24) tells us that the 10 ft Bluebird was 6 ft wide (standard for that period) and was fitted with inner spring mattresses, a range of cupboards, wardrobe, shelves, laminex table, cabinet, plastic sink and water pump (which accompanied a water tank mentioned in other adverts). Furthermore it was painted cream inside: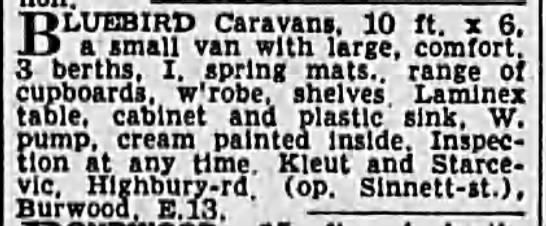 (Source: newspapers.com )
By Saturday, 23 May 1953, Kleut & Starcevic were advertising in the Age (page 28) that they had added a 16 ft Bluebird caravan to their range. This model was 7 ft wide:

(Source: newspapers.com )
An advert placed in the
Age
on Saturday 15 August 1953 (page 47) told prospective customers that two of the 16 ft Bluebird caravans could be viewed at Courtney's Caravans in South Yarra:
(Source: newspapers.com )
Note that only two caravan could be ordered for Christmas which suggests that Kleut & Starcevic were quite low volume manufacturers.

This is the earliest reference I know of for
Courtney's Caravans
, and the last advert for Kleut & Starcevic's Bluebird caravans. That might indicate that their venture into caravan building did not last very long, or possible that they had begun to build caravans for Courtney's Caravans. It appears that Courtney's Caravans sourced their vans from other companies, so it might be possible that some vans were sourced from Bluebird. However, that is speculation at this point.
Unfortunately we do not have any photos of these Bluebird caravans, so have no idea of what they may have looked like at this point.
Don Ricardo