Post by akeepsake on Jan 8, 2014 0:33:49 GMT 10
Well it all started when I laid eyes on " Jennisons" Jeff Gill's 53 pathfinder but let's take a step back ... Last march myself and a mate ventured on the boat to the big island to the ACT to pick up a lovely original 63 Millard Florida which had been posted in the for sale section here by Jeff on behalf of an old cocky Frank, who lived just down the road from him.
Jeff had been to check out a tractor there when he spotted the Millard in the shed where it had come to rest almost 40 years ago.!
One thing led to another and with Jeff's help I purchased the Millard and in the process came to know Jeff . He assisted in the retrieval and that night after a long drive (for a Tasmanian !) we spent the first night in the van at Jeff's The temperature got to minus something that night but before entering the refrigerator (van) we had a great chat around the kitchen table about all things caravan related . Many of you would already know that Jeff's Grandfather, John Jennison began caravan manufacturing in the early 1930s ( correct me if I'm wrong Jeff!) An entrepreneur who patented the first pop top Caravan and went on to build cutting edge Pathfinder Caravans!
History fascinates me and the stories, pictures, early sales brochures and even Jeff's grandfathers diary really struck a chord and I couldn't wait to see Jeff's pathfinder the next morning after I thawed out that is!)
Morning brought a blanket of thick frost over the Millard and Jeff greeted us with a welcome hot cuppa! We meandered to the shed to check out Jeff's 14 foot 53 Pathfinder
...........and that when it all started !
Jeff's Pathfinder was found in country Victoria by "Chev51" (Dale) and was in remarkable original condition!( see the thread in DHL under "53 Jennison Pathfinder") It was aluminium clad with aluminium windows and was a great shaped van that really was well built !!!
One thing led to another and I found myself saying to Jeff, "if you ever come across a bondwood one of this I would really be interested!" Jeff just smiled and didn't give much away but mentioned briefly about an old farmer out near Baccus Marsh in Vic had one but he didn't give too much away!
Anyway we hitched up the Millard and headed for the little island , Tassie ( that's another story!) I kept in contact with Jeff often yarning on the phone and I think he came to realise that I loved the idea of conserving history and like himself was passionate about it ! I often asked about the mystery Jennison Bondwood that he had eluded to at our visit and trawled the forum for any info until one day Jeff put me in contact with Dale ( Chev 51) who knew Jack and Gwen, the owners of the elusive 14 footer Jennison Pathfinder. After chatting with Dale ( a lovely helpful bloke!.....and remember, he found Jeff's Jennison !) he contacted Jack and Gwen on my behalf and no sooner I was on a plane and went to see the caravan in the flesh!
The van had been in the same family since new and was purchased originally by Gwen's Uncle and was sold to Jack and Gwen in the late 50's They had three girls and used it well Jack kept it in tip top Knicks adding a front stone guard and a specially made wider annex to accommodate the tow car! He also painted the overhead cupboards and chest of drawers in different colours to add some of his own character to the van. Believe me, for an 87 year old he still has plenty of character!
It has been in the same shed untouched since it's last rego sticker which reads Jan 1970. 44 years and is in remarkable condition for its age with no rot !
The original cream paint with a blue waist stipe painted spats and hand signwritten Jennison Pathfinder logo have been painted over in light blue
To be continued........
Resting place for the last 44 years!!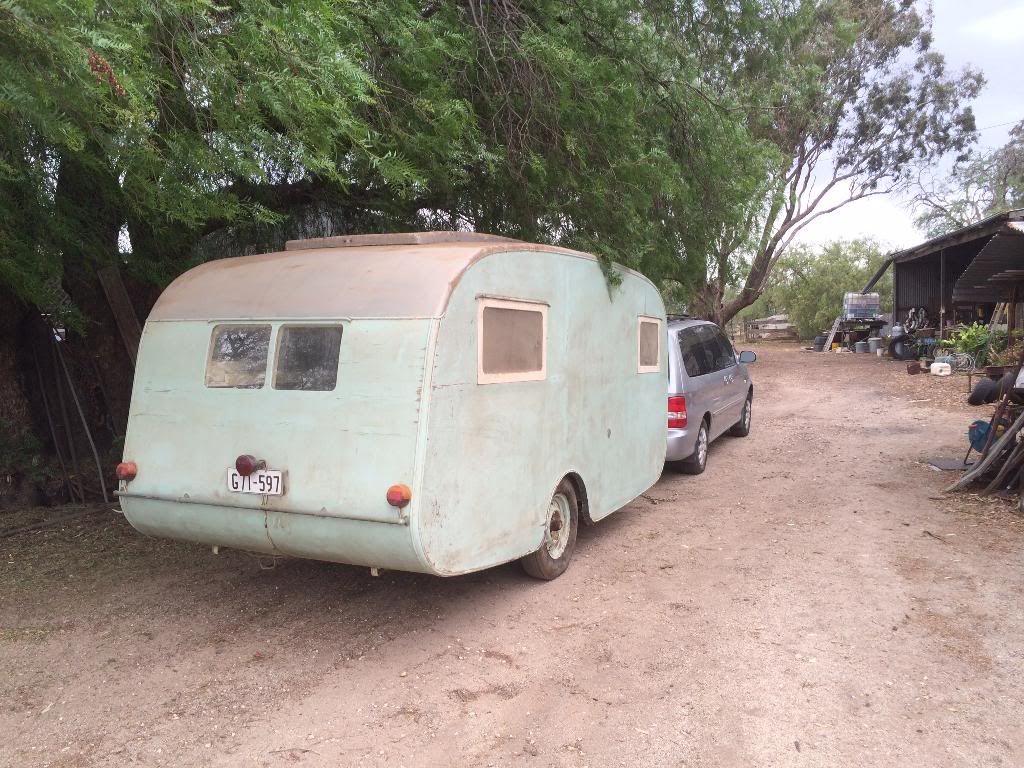 Nice rear end!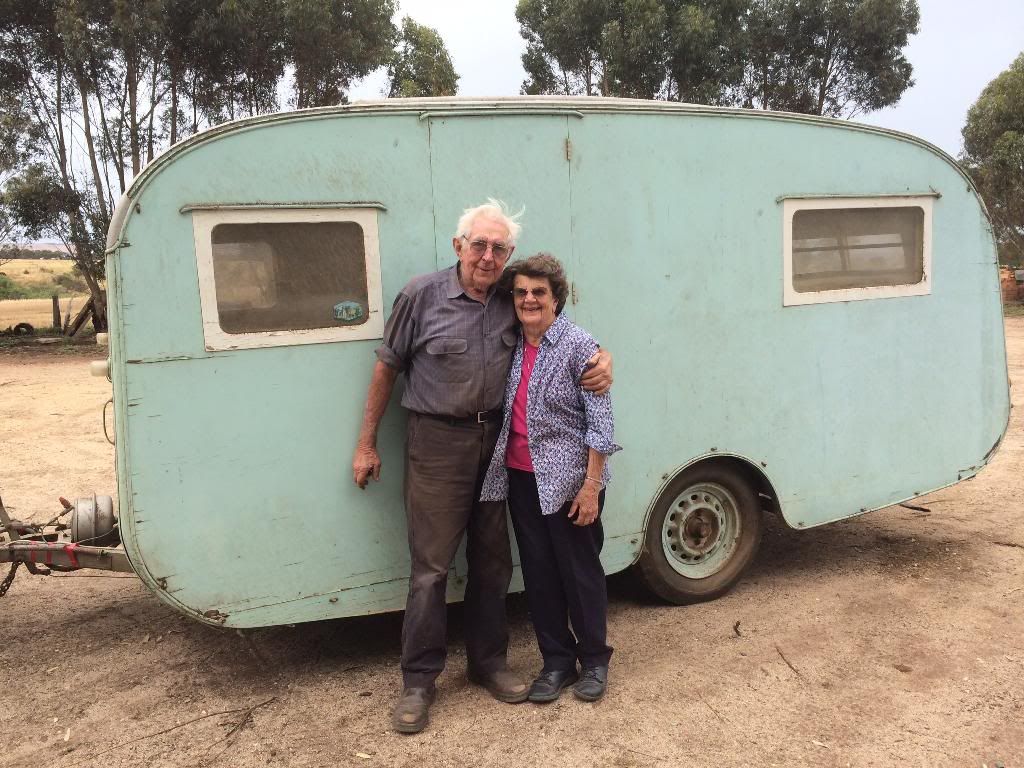 Jack and Gwen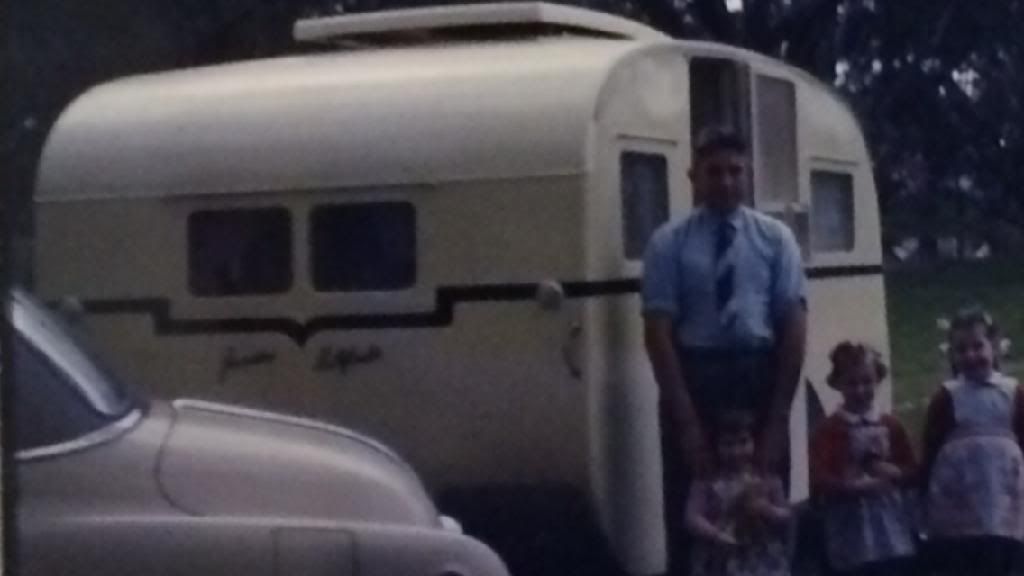 A younger Jack with the family :note original colours.
Original photo taken from sales brochure