Post by grandad on Apr 7, 2013 20:01:07 GMT 10
Part 1 Background:
Allow me to introduce you all to Franklin Mini Number 179-9.
AKA "The Pumpkin"
Most likely built late January, 1969.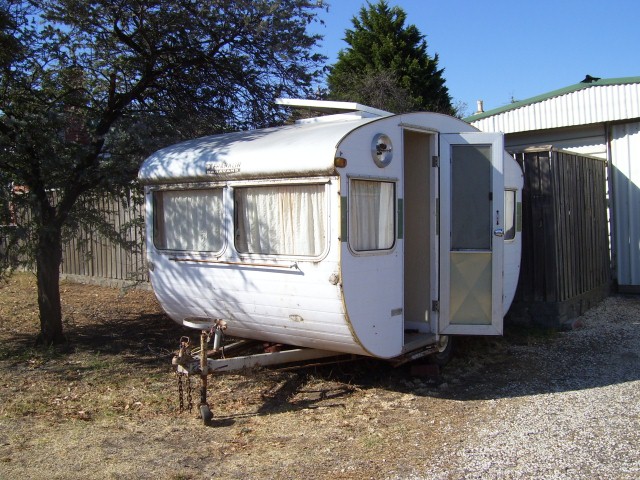 This van has been in our possession for over 15 years. We originally purchased it when we decided that a family with 5 kids was going to attempt to live on a building site using two caravans and sheds and outbuildings instead of a house.
This van was previously owned by a lovely old couple who had bought it new and used it for family holidays. (No children)
The husband had converted the rear fold down couch into a permanent bed using treated pine decking. They'd then bought a good quality Sealy Posturepedic innerspring mattress in caravan double bed size. He also recovered the floor in new vinyl.
The wife had lovingly handmade curtains with matching cushions, bed valance and doona cover.
It came complete with a full canvas annex in almost new condition.
When not being used it was stored in the garage so was incredibly clean and downright cute as a button.
Not for long.
Its original use was for our two girls, then 9 and 10 yrs old. They shared the double bed and big brother, then about 15 yrs who used the front single made from the dinette. He was there in case the girls woke up through the night with a fright.
After we moved to a property just outside of Bendigo, the two older boys used it as their bedroom. They played Rock, Paper Scissors to see who got the double bed.
The annex was slowly destroyed by a combination of Central Victorian sun, wind and two teenage boys.
When the older boy moved out, his younger brother moved to the double.
When he in turn moved out the eldest girl moved in so she could study for her VCE in private and get a good nights sleep.
At some point in its early life, the kids dubbed it "The Pumpkin" and it's been "The Pumpkin" ever since.
When eldest daughter moved out to go to Uni, it sat neglected and unloved for a few more years until I decided it might as well go. By this stage, all of the original cuteness had long gone. It was in a sad and sorry state with windows that wouldn't open or lock and showing the wear and tear of 10+ yrs as a teenager's bedroom/hangout.
When I mentioned my plans at a family gathering the kids almost formed a lynch party in my honour at the thought of "The Pumpkin" no longer being in the family. No, this was obviously not acceptable.
Number two son, now married with two girls of his own put his hand up and offered to buy it. It was just before Christmas so that year we wrapped up the keys and gave him and his wife The Pumpkin as a Christmas present.
He and his older brother set to and repacked the bearings, put new light truck tyres on it, repaired a couple of broken windows and bought a bunch of struts so every window could both open and close. His wife stitched up some new curtains and scrubbed it to within an inch of its life.
His eldest daughter slept on the dinette single and the baby in a portacot in the middle of the van. It must have been quite an exercise to get past the cot if one decided to stroll outside in the middle of the night. They had several good camping holidays until it became obvious the two girls had outgrown the van.
He then gave it to big brother who continued to use it as extra accommodation for friends who wanted to stay over. He was also now married with two kids of his own.
Eventually however, even he saw there was no real purpose in keeping it any longer.
More to follow