Post by grandad on Apr 27, 2013 23:39:32 GMT 10
Right-E-Oh!!! Time to get back to work.
But first….a pic for you.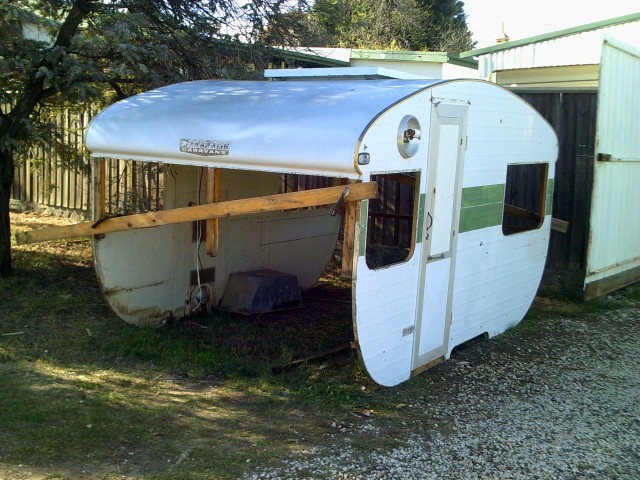 I do believe this is referred to as "The Point Of No Return"
Ever had that sinking feeling of "What have I done?"
Must admit, the thought went through my head but I'm happy I've done it. There was no other way to end up with what I want.
But I'm getting ahead of myself.
Let's start with the new chassis.
I picked the steel up earlier in the week. A little over $300 worth, then started the task of setting everything out on the slab. There's a excellent thread in another forum of a guy who built a humongous great van in his shed. Link
HERE
.
If anyone is considering a major construction job it's worth a read. He goes into great detail of the How's and Why's of everything.
Anyhoo…step one is always to lay all the pieces out where they're going to go. Something that is often overlooked however is that everything must also be dead level. No slab is ever dead level so one must use whatever is at hand to raise everything up. Failure to do so can easily result in you inadvertently building a twist into your new chassis because it followed the levels of your slab. A tiny bit of twist can cause you huge problems down the track.
Here's the four main pieces of my new chassis all laid out correctly.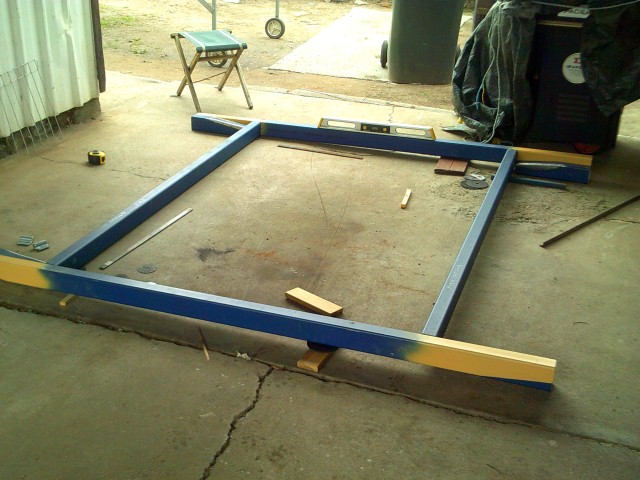 I'm fortunate that years ago I invested in a digital level. It's accurate to .1 of one degree. Can be a real pain sometimes when it measure 89.9 deg and you fiddle around for that last .1 before you realize that .1 is not visible to the naked eye.
But, for this job, I was glad I had that accuracy.
Once I was happy with the layout, I strapped everything together.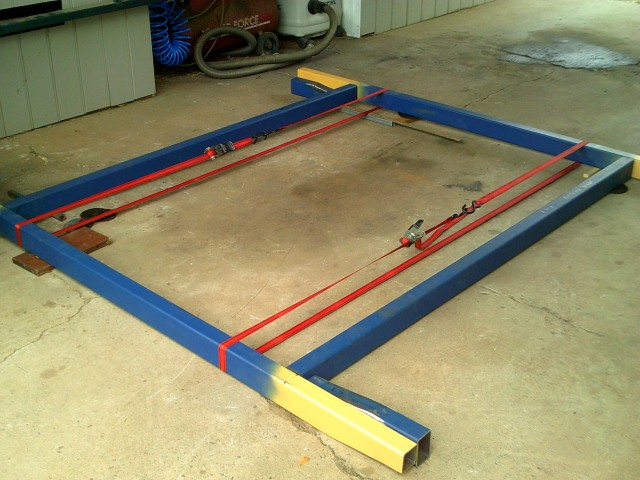 Sash cramps would have been better but I don't have any long enough. The straps did the job so can't complain.
You'll notice the orange bits on the end are tapered. These RHS sections are 15mm deeper than the original chassis. Plus, I wish to raise the body a bit so I don't lose headroom (Which is already tight) when I put another layer to the ceiling.
I didn't want the chassis to be visible from the outside so long story short, I tapered the ends so they would disappear nicely under the body.
Here's how I did it.
Mark out the triangle you wish to cut out, allowing for the wall thickness of the RHS. 4mm in this case.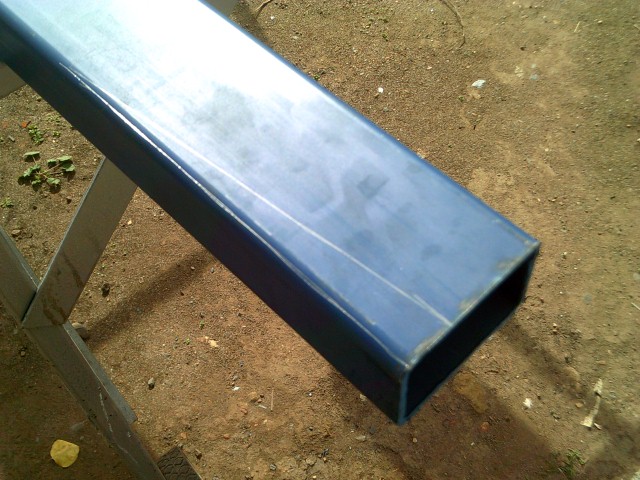 Then use an angle grinder to cut them out. I just LOVE those thin little 1mm cutting discs. I'm never going back to the old thick ones.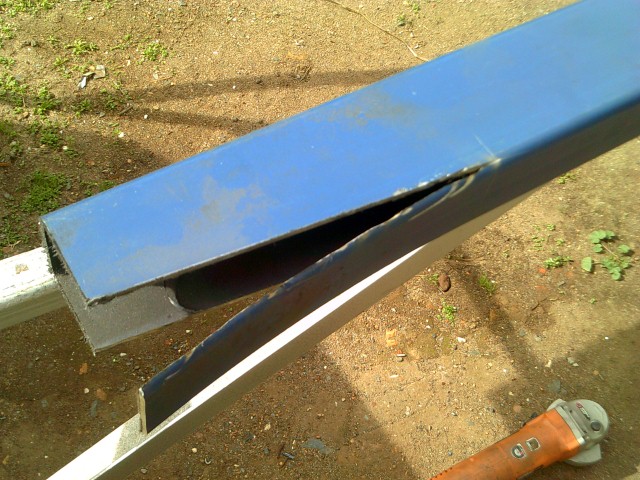 A couple of clamps brings them into place then just run a bead along the cut.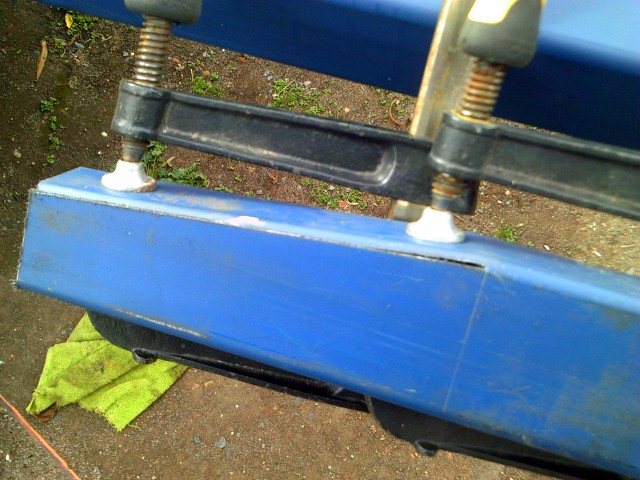 Ok, I admit, I'm perhaps just a little too anal about finish. It IS a chassis Jim. Nobody is going to see it unless they lay on their back and crawl under. Still……
Ah bugger it. Sometimes I curse the people who taught me.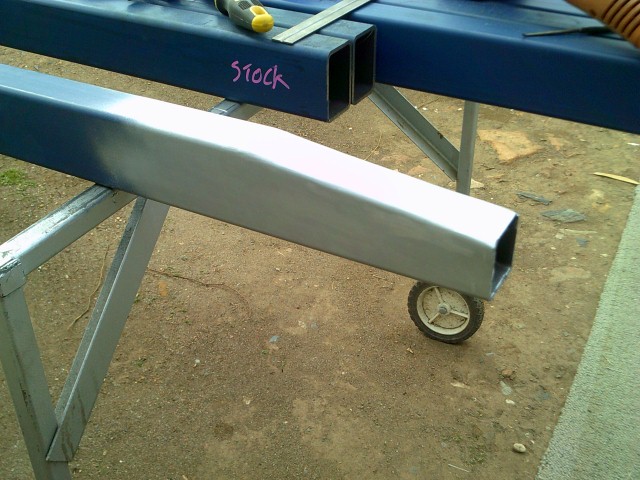 There we go…Job Right! Looking good.
You'll notice I've only got the main outside members here. That's because I was waiting for my new water tank to arrive so I can place the inside pieces to allow for it.
Just as I was finishing the welding, this arrived.
I'm still not 100% certain where I'll mount it, so I added one more cross member over the axle and then welded on all the shorter outriggers that hold the body. All are tapered.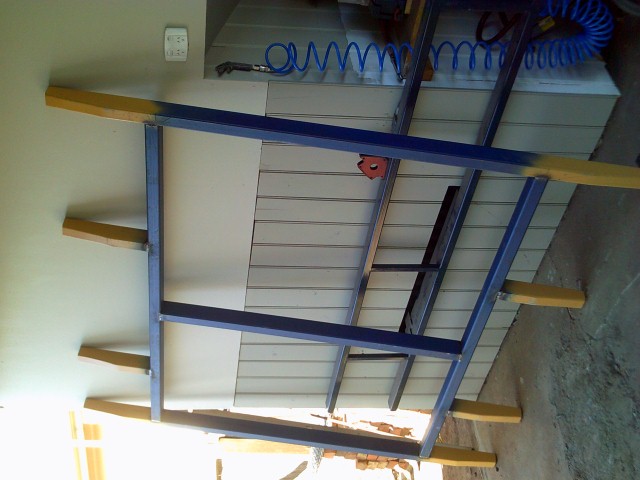 At this point, I needed the springs to know where to mount the drawbar rails.
Franklin mounted their drawbar rear of the front spring shackle. You can see it here.
Standard procedure in either a quality built trailer or definitely in an off road trailer is to weld the end of the drawbar to the shackle itself.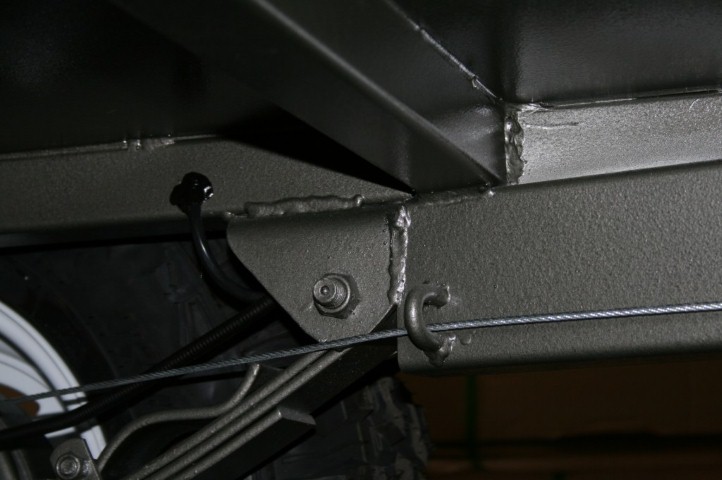 This prevents the forward motion of the spring pushing on the weld that holds the shackle in place. Since I want The Pumpkin to be able to handle mile after mile of corrugated dirt roads this is my plan for the chassis.
But…it means I need the springs in place before I can place the new drawbar.
All of that…was to explain that at this point I need the springs off the old chassis. I'm not 100% certain whether I will end up using the old springs or not. They seem in good condition, apart from a bit of rust. But I have a question mark over whether they could be easily replaced if I break a spring back of Whoop Whoop somewhere. So, with the chassis bare I can pull the whole thing down to my local supplier. If I can't use them, I still need for him to see what is currently there so he can duplicate them.
So, not wanting to remove the body after the suspension was removed it was time for the body to vacate the premises.
Despite the fact that I'm removing the largest part of the van, there's no need for detailed instructions on how.
Both front and rear panels have to come off but I've already covered the rear. The front is identical.
I've also already covered the removal of the windows. All that is left is to say the body is held on with three ¼" coach screws and one coach bolt under the door. That, plus a hand full of pop rivets underneath and releasing the mudguards from the chassis and the body is ready to come off.
The only warning I need give is that I underestimated how heavy that thing was. I figured two blokes could manage it nicely. Well, we got it off ok by lifting it at each wheel well while the neighbours wife pulled the chassis out the front. But, I would definitely not recommend it.
So, tip no 5: Plan on four guys to lift the body. No need to bust a perfuffle valve when there's no need. It's not only easier, but safer.
Lastly, my thoughts on removing the body. If you're a Mini owner and this whole body off thing is worrying you, then I think I can put your mind to rest. If you're doing a faithful restore, having the bare original chassis means you can get in a do a proper job of restoring it.
Look here.
How easy is the chassis restore if you have it looking like this?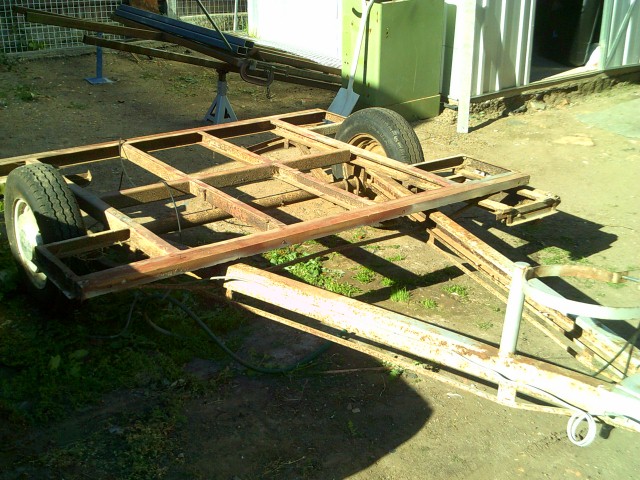 Plus, the fasteners holding the body in place will no doubt be as rusty as mine were which means effectively your body is held in place by literally a handful of pop rivets. Does that fill you with confidence? Also, it's theoretically possible to lay new internal wall ply over the original. But, what a cow of a job it would be with the body still complete. Not to mention you'd have to increase the size of the white aluminium flashing around the internal side of the window. All in all, at this stage I'd say, pull the body off. It's much much easier.
Cheers
Jim