Post by Don Ricardo on Feb 28, 2010 20:41:53 GMT 10
INFORMATION TRANSFERRED FROM THE 'ALUMINIUM CLADDING "LIBRARY"' AND 'PLYWOOD TRADE MARKS' THREADSOn 20 April 2009, Cobber wrote:
Another method of dating... if you're
lucky
and
have some flat iron on your 'van, mudguards,
bread box, cooker surround etc... and you're
very lucky
and it was made by John Lysaght....
and you're
very very lucky
and the trade mark
is visible, this information might help.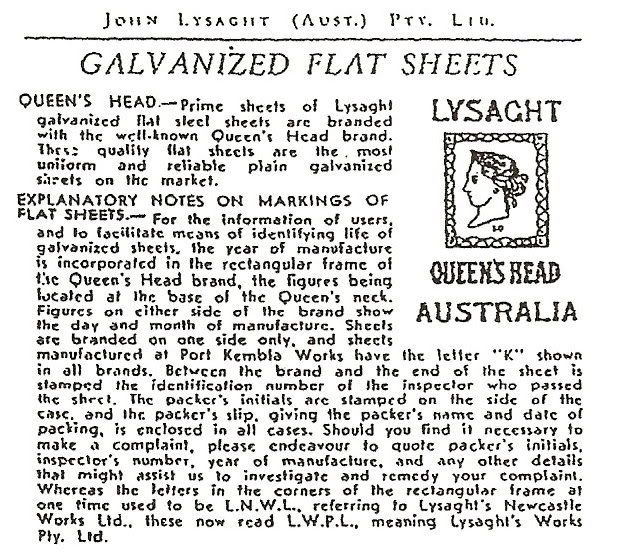 Cobber.
---
On 23 April 2009, Andrew wrote:
Thank you Cobber me mate,
Just read the piece you put in about the lysaught flat sheet and it is 9:45 pm so I grabbed
the torch and headed down to the free range egg van that I still have that is clad in gal
flat sheet, the one you looked at when you called in, and there on the front in the middle
under the peeling paint is the Queens head and with a pick of a finger nail, there is a .....
58 . Rather happy I am. Goes nicely with the 26th of Dec. Herald under the lino.
Thanks again Cobber.
Regards
Andrew
---
Then on 15 September 2009, Bondwoodvans said:
This is stamped on the back of my icebox from my previous 1951 caravan built in Newcastle
I cant make out the number under the Queens head but the number 17 and 8 are the day and month of manufacture
KJL
---
On 1 January 2010 - no doubt inspired by the beginning of a new V V year - Roehm3108 posted:
;D ;D ;D Geez cobber, you've got me doing it now. Was mucking around with an old icebox that I got hold of at the local tip, to put back into the Superb, (the original owner had ripped out the original one and replaced it with a bar fridge!!!) and when I took off all the timber crap around it, I found a trademark - not on the ply, but on the galvanised sheeting that the icebox was made out of. It's called Leopard!! Suppose now you're gonna tell me that it comes from a sixties van and shouldn't be installed into a 40's van!!!!!
Guess what cobber, it's going in anyway!!! hehehe When you get an icebox for $1, complete with intact front door and original hinges/handles, you don't care about its vintage - especially if it fits into what little gap there is!!!
Ray
---
Cobber posted his reply on 2 January 2010:
G'day Ray,
Leopard brand aye?
That is an exciting discovery


.
That was another mark used by Lysaghts if I
remember correctly

, .... but only on corrugated
iron I thought so …... is your ice box made of
corrugated iron, or is that brand just on the ice tray ?
Under the Leopard does it have the letter "K" or "N" ?
What other marks are on it Ray....... this is exciting
stuff, you should put a photo of it
here
(another thread that gets
lost over time
)
Cobber
---
And Roehm3108 responded on 4 January 2010 with:
Hey cobber
JUst for you I photographed said icebox. No, it doesn't have corrugated sides
Here's a pic, just to whet your interest a little bit more:
So, can ya tell me its age from that ;D ;D ;D
Ray
---
At a later point Cobber replied:
G'day Ray,
Sorry I've been a bit slow replying to your last post. The revelation that your Leopard brand iron was NOT corrugated kind of knocked me for a six.
This information I post now indicates maybe the Leopard brand was also used on Flat Mill rejects ... I dunno

Anyway..... we have shown here a method of dating the "ORB" brand corrugated sheets and the information that your ice box metal was made at Port Kembla.

Cobber.