Post by Franklin1 on Dec 8, 2007 20:01:30 GMT 10
PACIFIC TRAILER COACH COMPANY
Manufactured by Len Bright & Lindsay Burton
Nowra, NSW
---
Information
posted by
sutcac
, Dec 13, 2006, who wrote:
Received this info from a lovely young couple who i met at a car show recently. Maybe of interest to some. Cheers, sutcac
Hi Clyde,
This is the information and photos from my father-in-law, Jack Parkinson, about the caravans he built at Nowra in the fifties.
I have just typed in what he had written down on paper.
Hope you find this interesting and if you want anymore info I'm sure Jack would be happy to help. Just let me know .
Wishing you a Merry Christmas,
Michelle and Jon.
Caravans from the 50's, by Jack Parkinson
In 1951, I worked for a few months helping to build caravans in Nowra. The small factory was owned by Len Bright and Lindsay Burton - he is still going at 90 years of age.
The caravans consisted of 2 x 1 Hard Wood framing, which was steamed hot and shaped around a jig on the floor. We had a 14 foot - 4 berth and an 11 foot - 2 berth. The ply came in a roll, just like lino. The roll was 7 feet wide and 25 feet long. It went from the front over the top and down the back, cutting off 1 and a 1/2 inches at the very bottom. To finish off over the top of that was muslin stuck down with varnish and then 7 coats of paint. 4 of the coats were called "dark white" or very black.
The 14 foot ones had the axle 14 inches back from centre. All the steel was 2 inch heavy angle iron. They had a stainless steel sink top, all the lining was varnished and they sold for 450 pounds. The 4 seater table dropped down to make a double bed as you came in the door. Power was 12 volt and electric with a little transformer.
The name of the company was 'Pacific Trailer Coach Company'. (sort of copying America at the time).
I'm not quite sure but I think there was a window at the back as well as the front so you could use the car rear vision mirror right through. ( I could be wrong ?)
The windows were 2 x 1 frame with ply glued on the outside and beaded inside. The mudguards were timber 1 inch thick bolted to the chassis with galvanised steel wrapped over it and screwed on top of it.
Hope you can get the picture of what I've written.
I really like caravans,
Jack.
--------------------------------------------------------
cobber
replied:
G'day Clyde, That is interesting information mate, thanks for posting it.
The van looks very similar to one I had back in 1994, although mine had no lining inside but did have the table just inside the door that converted to a "double" bed...there was also a permanent bed at the rear.
It did not have a window at the rear...no sink...no ice box.
It was just another one of those puzzles we keep finding with no way of identifying where they come from. This information gives a little clue regarding this cute little old van I once had.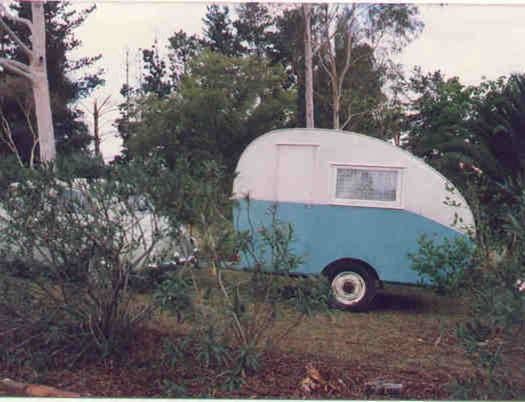 ----------------------------------------------------
jailbarjuice
replied:
Hi Clyde & Cobber,
That van shape reminds me so much of the one my parents used to borrow. As we lived in Moss Vale, it was quite likely to have been a Nowra van, cause the guy that owned it was pretty wealthy & would have likely bought it.
I'll show the picture to my mother to see what she thinks.