Post by Don Ricardo on Dec 16, 2015 10:46:17 GMT 10
GLEN TRAILER AND CARAVAN EQUIPMENT
Glen Engineering
Barlow Lane, Adelaide, South Australia
Distributed by Truscott Limited
62-64 Hindmarsh Square, Adelaide, South Australia
Both companies were owned by Mr F G Truscott (see post below by
Kymt
).
---
There have been several references to Glen caravan equipment on the forum. It appears that Glen provided chassis and other equipment via Truscott Limited for caravan (and trailer) builders in South Australia, along the lines of
Henderson
in NSW and
Hendy
in Victoria.
The first reference to Glen on the forum was in a post by
Mikeosborne
in April 2006
here
, which showed the following caravan that he had been shown somewhere close to his home in South Australia: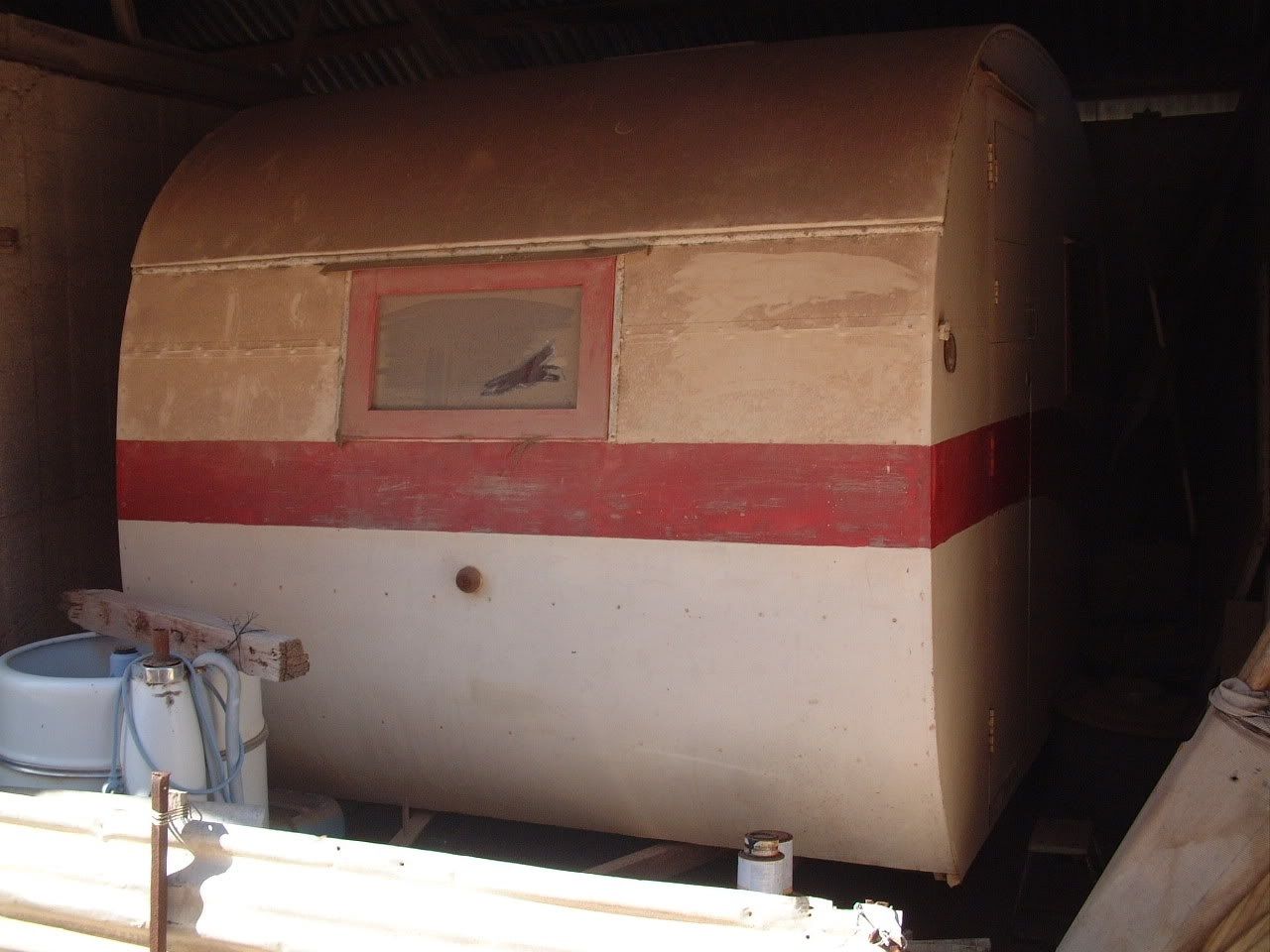 In his post, Mikeosborne reported:
The last rego was in 1972. The chassis plate says GLEN, with a wt of 11cwt, distributed by Truscotts. It could be that they may chassis for trailers and caravans.
It is about 10 ft long, has no mains electric.
The second reference to Glen didn't occur until May 2015 when some discussion took place
here
regarding this Hardy Van advertised on Ebuy: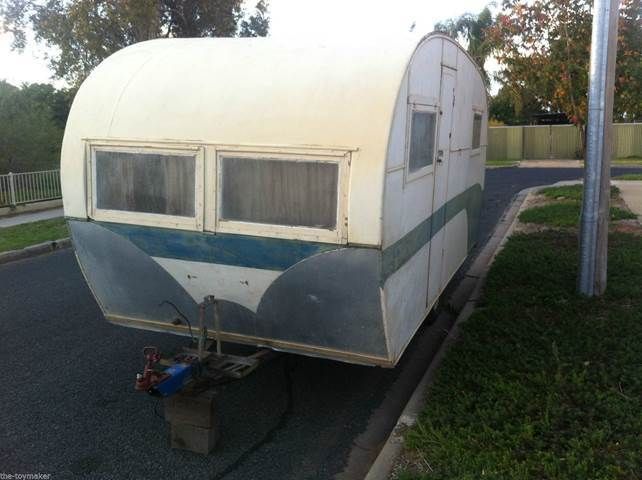 The Ebuy listing included a photo of the Glen nameplate located on the A-frame of the caravan: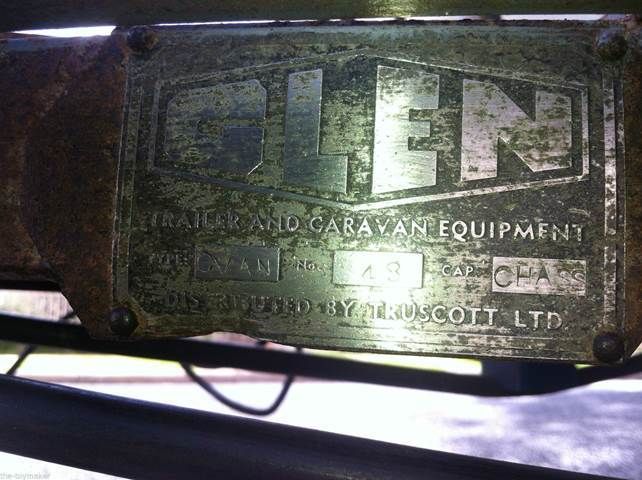 Note that the nameplate refers to 'Glen Trailer and Caravan Equipment' 'distributed by Truscott Limited' and the details of the chassis: type - caravan; serial number - 43; and capacity - chass(is).
The most recent reference to Glen occurred a day or so ago when a van was listed for sale on the forum by
Larrikin Larry
and
Lyneth
here
: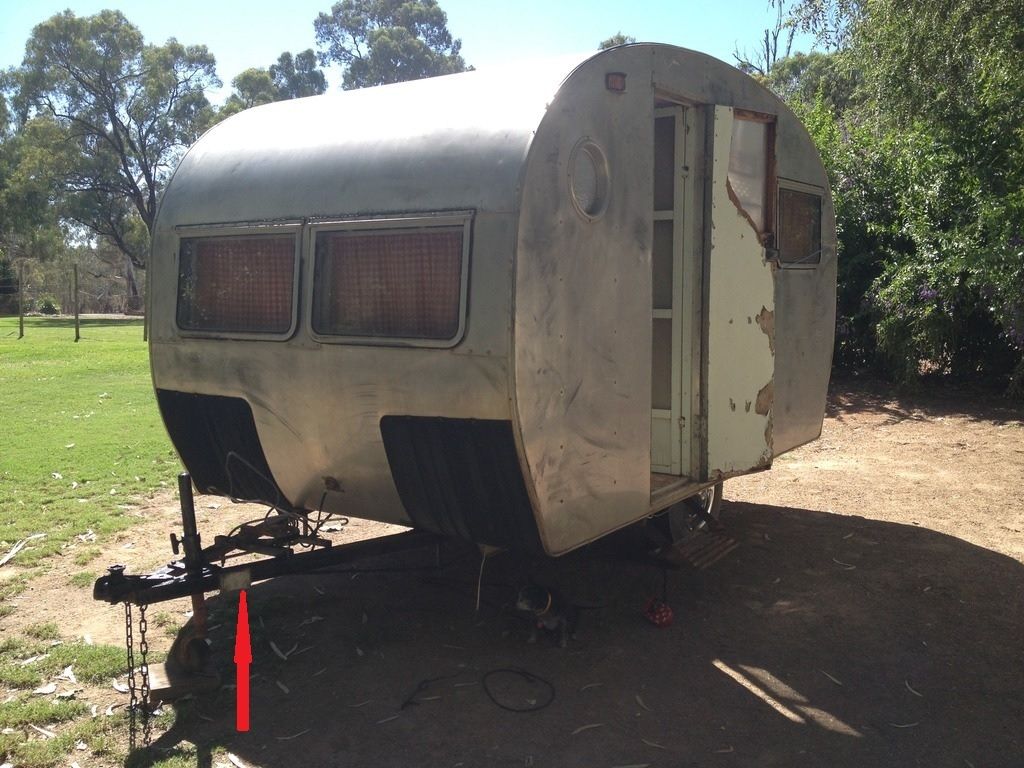 I think the arrow in the above photo indicates the location of the following Glen nameplate (Larrikin Larry or Lyneth can correct me if I'm not correct):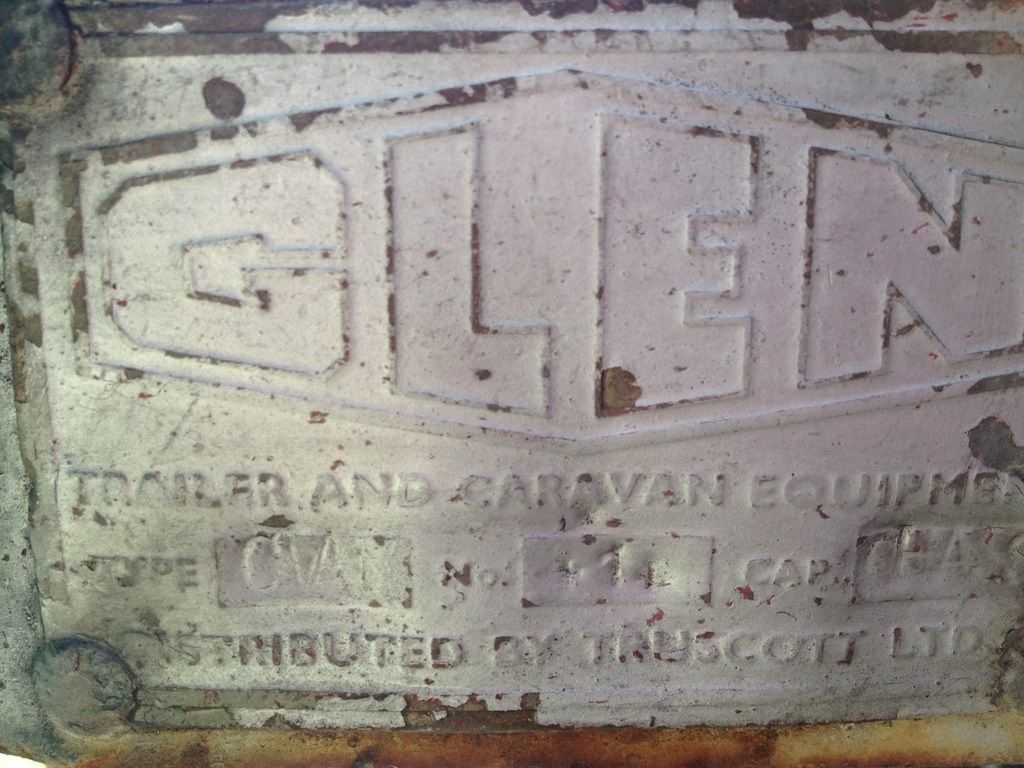 The specifications of the chassis are the same as for the Hardy Van, except for the serial number. Interestingly, the shape of this caravan and some of it's internal features suggest that it may also be a Hardy Van.
A search on Trove reveals that Truscott Limited were 'automotive merchandisers'. The first Truscott advertisement referring to Glen trailer and caravan equipment was published in the Adelaide
Chronicle
on Thursday, 24 February 1949 (page 48):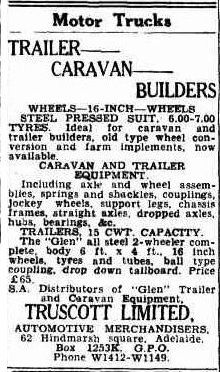 (Source: National Library of Australia
nla.gov.au/nla.news-article93328573
)
The advert indicates that Truscott supplied a large range of hardware for the caravan builder, that Glen produced ready built trailers (but no mention of building caravans), and that Truscott was the South Australian distributor for Glen. This last fact implies that Glen may have sold equipment directly in other states, or that it had other distributors in other states.
Truscott advertised their caravan wares extensively for the next few years. This next example of their adverts, published on Saturday, 22 December 1951 in the Adelaide
Mail
(page 30), offered a free illustrated 'Glen Trailer and Caravan Equipment' catalogue, which it asserted would be of 'great interest to Trailer and Caravan builders':
(Source: National Library of Australia
nla.gov.au/nla.news-article55743186
)
Truscott's advertisements referring to Glen continued until December 1954. The next to last of their advertisments available via Trove was published in the Adelaide
Chronicle
on Thursday, 30 December 1054 (page 34). The advert continues to offer caravan running gear components and an illustrated catalogue but does not refer to being the South Australian distributor for Glen. However a second advertisment does offer Glen trailers and caravan chassis in two sizes - 9 ft and 13 ft.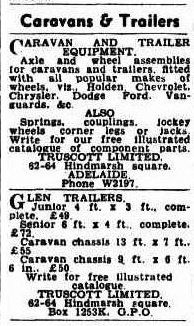 (Source: National Library of Australia http:/nla.gov.au/nla.news-article93983250 )
Because Truscott advertised that they were the 'SA distributor' for Glen caravan equipment, it invites the conclusion that Glen equipment was manufactured outside South Australia, as suggested above. In 2006 when Mikeosborne posted the photo of the caravan he saw with a Glen chassis, it was proposed that there might be a connection with the
Glen
caravans produced in Glenhuntly, Victoria by Lewis and Matthews. While this is still possible, it seems unlikely for two reasons. First, so far we have only seen Glen chassis used for caravans built in South Australia, and none for Victorian built caravans. If the chassis were manufactured in Victoria and then distributed elsewhere, you would expect to see some Glen chassis used for Victorian caravans. Second, advertisements for Glen caravan equipment and Glen trailers only appear in South Australian newspapers. So perhaps Glen equipment was manufactured in South Australia but sold by Truscott as Glen's retail agent? Perhaps the reference to 'SA distributor' for Glen in the 1949 advert meant that Glen had plans to sell their products around Australia, but the plans never came to fruition?
Hopefully future posts will help us find out more about the origins of Glen caravan equipment.
Don Ricardo