Post by Don Ricardo on Sept 10, 2011 21:35:36 GMT 10
Rowvan
Manufactured by Bill and Mary Rowe
William Street, York, South Australia
Later 83 Robert Street, West Croydon, South Australia
followed by 372 Main North Road, Enfield, South Australia
---
Following is a compilation of information about the history of Rowvan from various threads on the forum.On 1 September 2011, Franklin1 wrote:
The following article appeared in a
Caravan World
magazine, Oct 2005, and helps with the early history of Rowvan Caravans...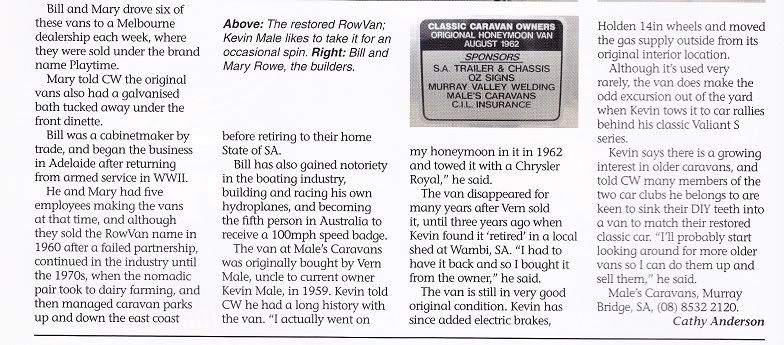 ---
EARLY HISTORY OF ROWVAN
Contrary to the information provided in the above article, other information collected by forum members indicates that the Rowe's owned and built Rowvans from 1949 to sometime between 1958 and 1960, when they sold the Rowvan name to Keith Odgers after a failed partnership, as per the article. It is not known at this stage whether Keith Odgers was the partner involved. According to
Cobber
, the original Rowvans ranged in size from 9 ft to 16 ft, although only photos of vans approximately 10ft and 12 ft have been posted on the forum (see below). The internal layout of the vans differed with some having the dinette at the front of the van, and others having a rear dinette. This may be related to the size of the van.
The signage on early Rowvans indicates that the Rowes operated from
William Street, York, a suburb of Adelaide
. This suburb is now known as Beverley (thanks to
Raym
for this information).
On 24 February 2008, Trodler posted:
The van vou have is actually a Rowvan built in SA by Mr and Mrs Rowe.
They built vans under their name and they also built vans unnamed and shipped them out to their suppliers who gave them their own brand. ( Mr Rowe wasn't really concerned about the naming as long as he was paid.)
If you have a look in the cupboard and up under the sink there should be a date written in chalk of when it was built, it may even have the builders signature.
Subsequent research has revealed that caravans built by Rowvan were sold as
Playtime
in Victoria, and as
Farrell Caravan Centre
caravans in South Australia. (Click on the links for further information about these on-sellers of Rowvan caravans.)
---
Rowvans built between 1949 and the mid to late 50's followed the same basic design, although changes and updates were made over time.
The Rowes do not seem to have been into advertising their caravans. There are no examples of newspaper advertisements of pre-1960 Rowvans, and Rowvans are not mentioned in Keith Winser's annual
Australian Caravan and Touring Manual
publications prior to 1962 (although Playtime, Hawthorn and Farrell vans were included in the latter). It may be that there was sufficient demand from Rowvan's on-sellers that there was no need to advertise.
Consistent early Rowvan characteristics (pre-1958?) included:
Double cambered roof

No external wheel arches

Tudor style ceiling

Distinctive stove alcove with angled side walls
It should be noted that the first three characteristics are common to a number of South Australian built vans from the 30's through to the 60's and are not exclusive to Rowvan. However, the last characteristic is exclusive to Rowvan.
Following are photos of Rowvans posted in order of what I think is approximate build date.
The earliest Rowvans had wooden framed windows with 90 degree angled corners.
Rowvan - history unknown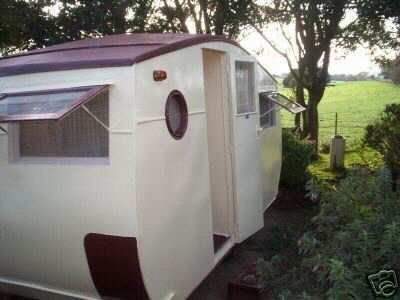 Trodler's Rowvan: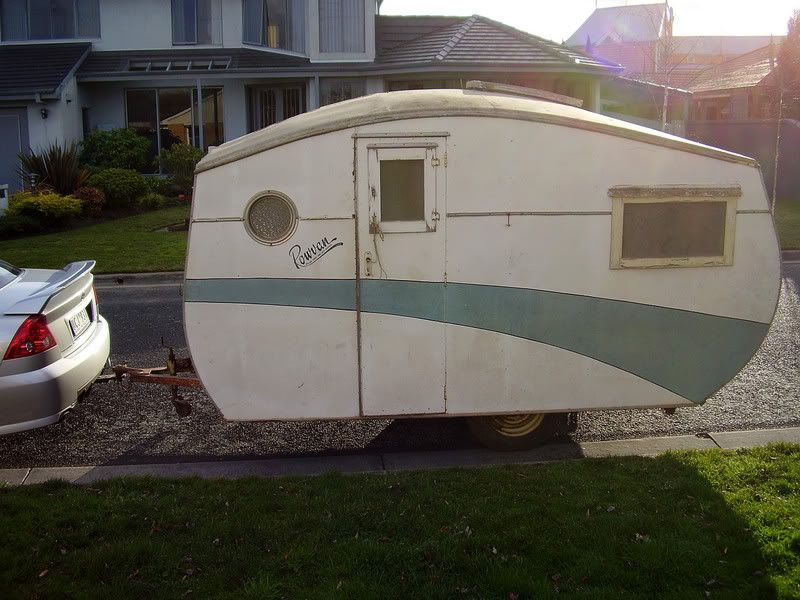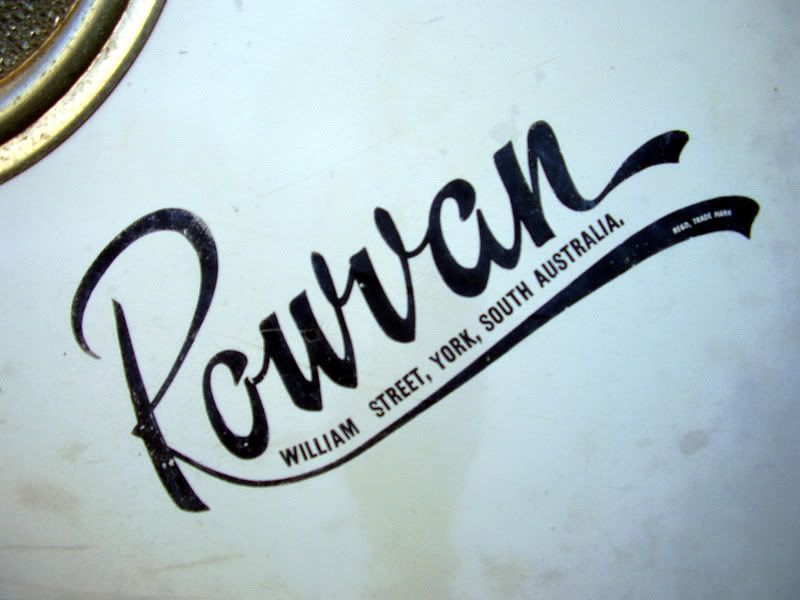 Further photos of this caravan can be found on the Our Touring Past website
here
.
Neilncheryl's Rowvan: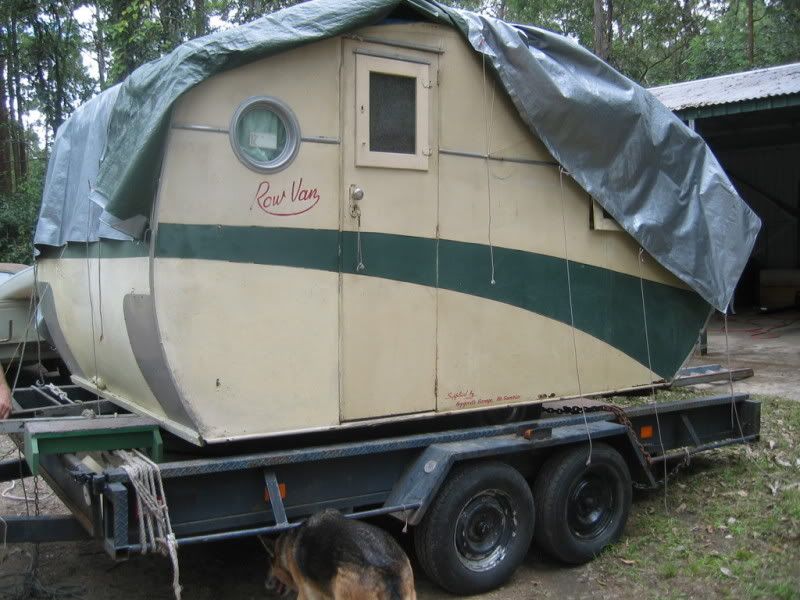 And the same van after being refurbished: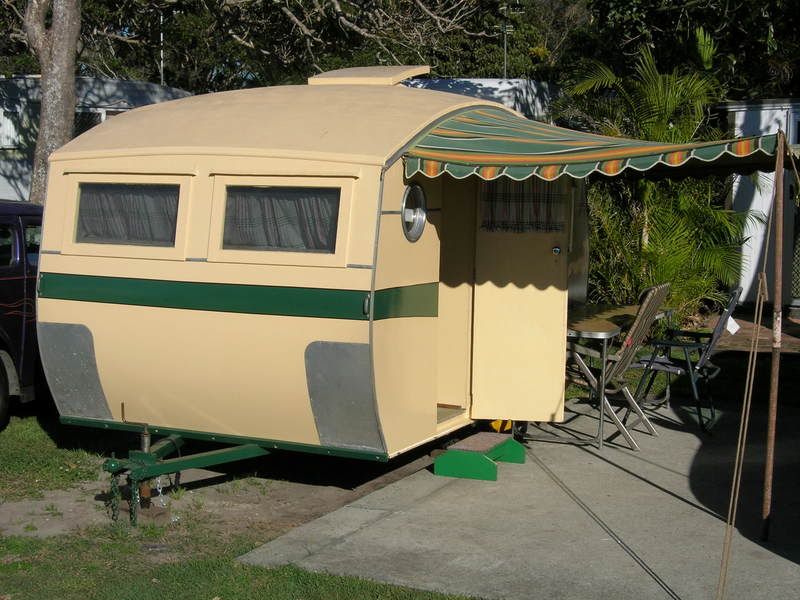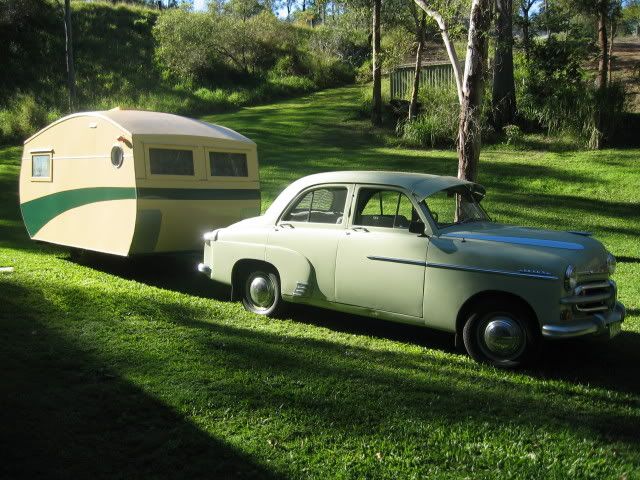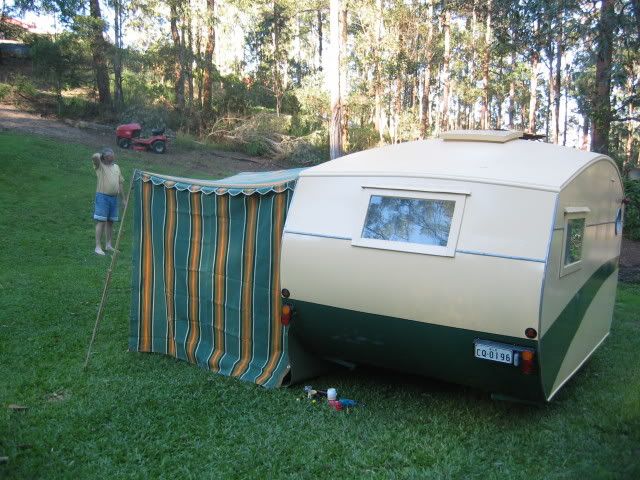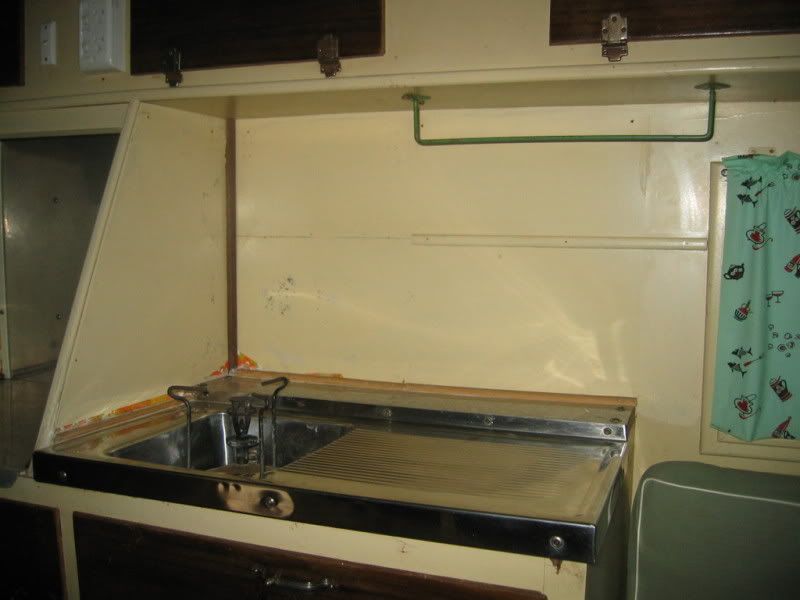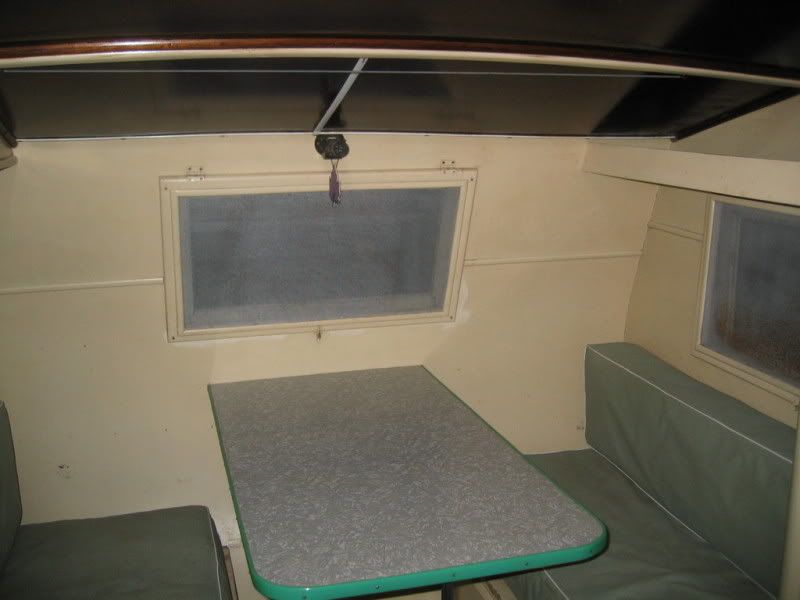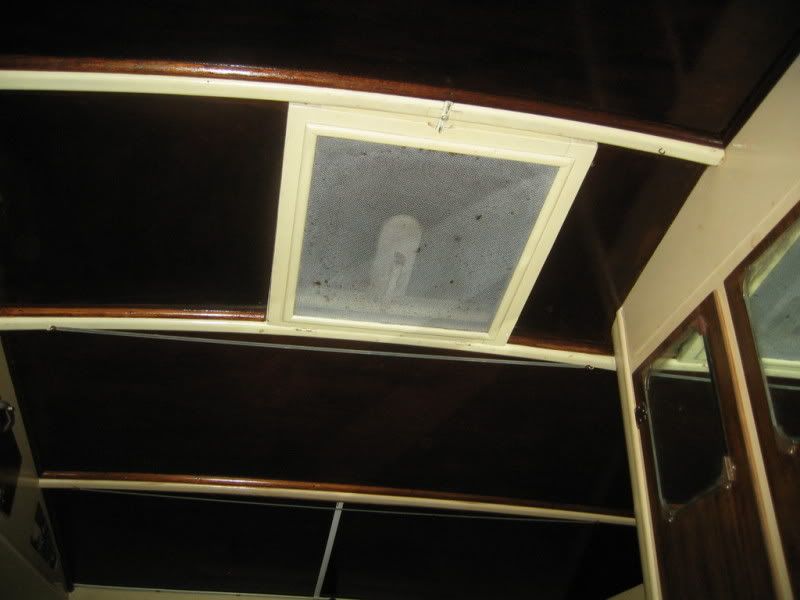 Later Rowvans used Bosse and Eunson style wooden framed windows, with the curved inner corners. These windows were commonly used between 1953 and 1957, so it is safe to assume that these vans are from the mid-50's. Note also the full width front and rear windows.
10 ft Rowvan from Mt Gambier - photos posted by Roehm3108 in 2007: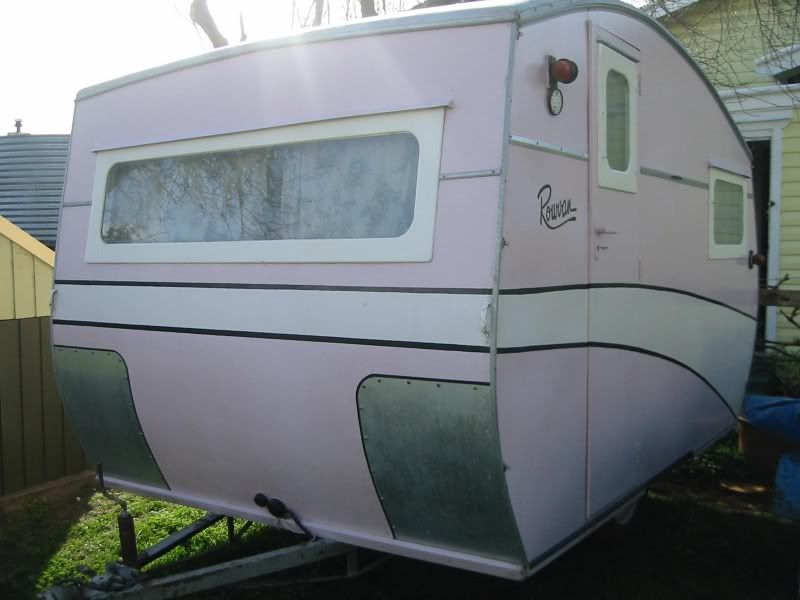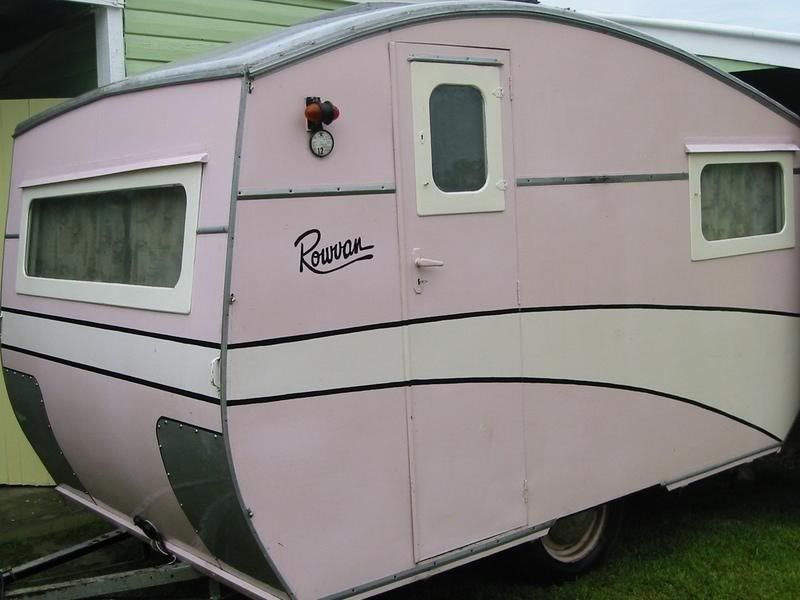 Roehm3108's own Rowvan acquired in 2011.
The internal photos show the characteristic Tudor ceiling and distinctive stove alcove. Note also that this is a longer van than the 'pink' van above. This van has a longer section between the door and the front of the van and the porthole window which was incorporated into most Rowvans pre-1958: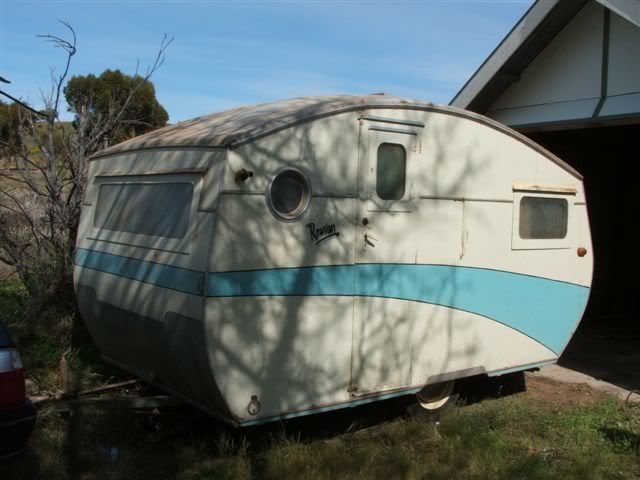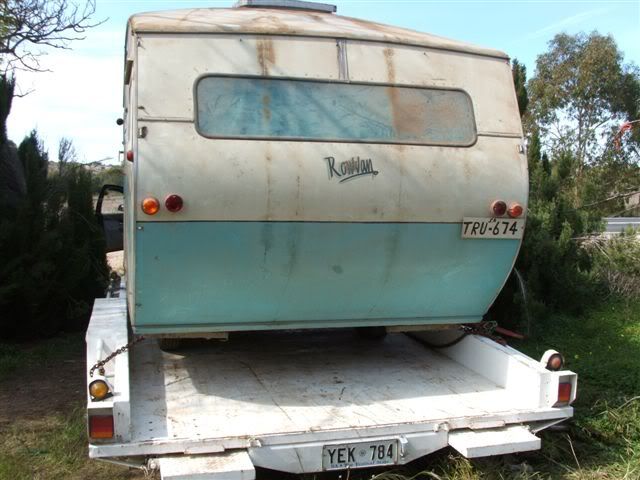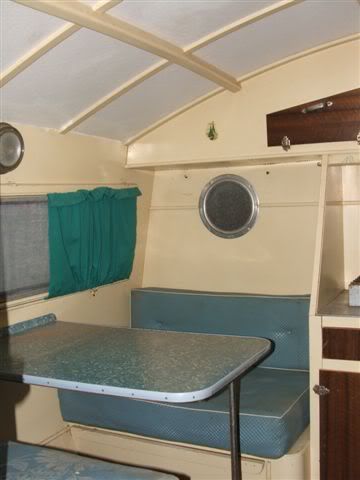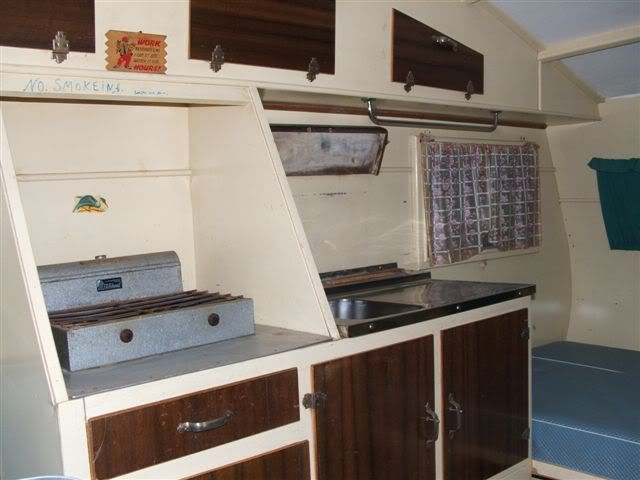 Further photos of this van including some great historical photos can be found
here
.
Rowvan seen at Pinnaroo in 2010 by Urkel1965
Note that this van has rubber seals around the side and front windows (in contrast with the previous vans shown) and has an external wheel arch.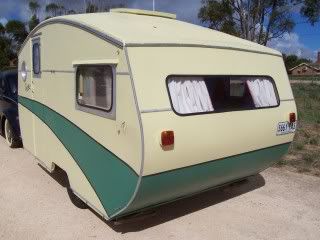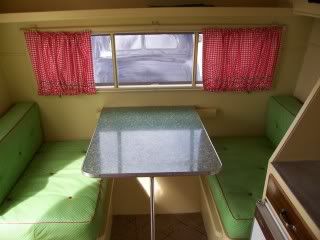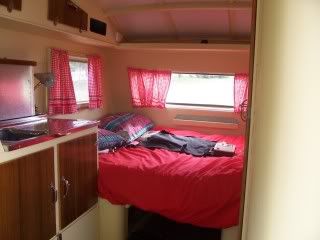 The following photos are of a later Rowvan with aluminium framed windows purchased by Ditzygipsy in 2006.
The design of the van has been significantly changed and a number of the Rowvan characteristics found on earlier vans are no longer present. (Note that the rear window is not original.):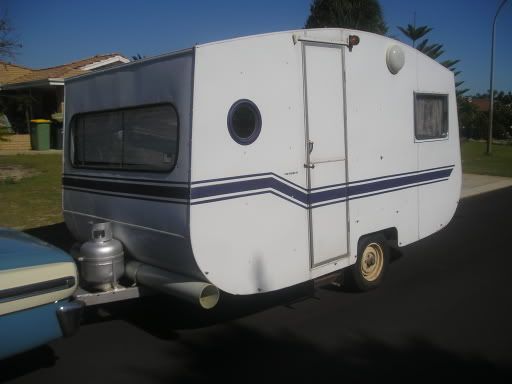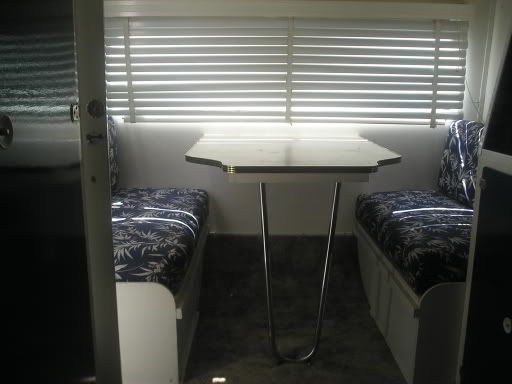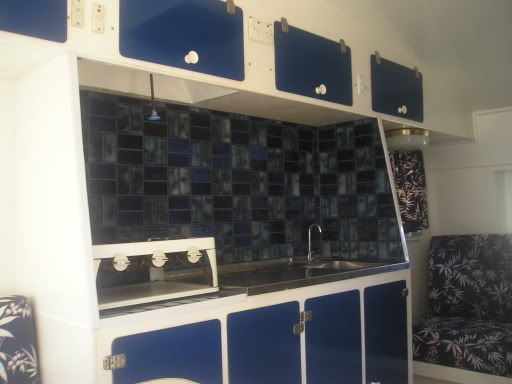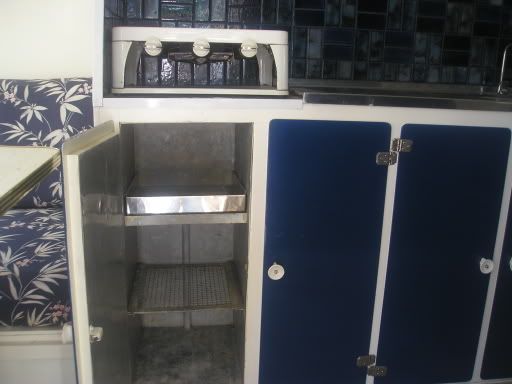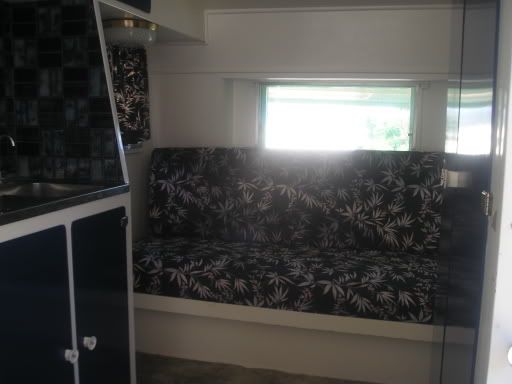 Editorial note - September 2017:
This van was identified as a Rowvan when it was purchased in 2006 by Ditzygypsy, however in the intervening years we have developed a pretty good understanding of the styling of Rowvan caravans. Based on that, it is clear that Ditzygypsy's is very different to any of the Rowvans shown on this thread. The identification of the van as a Rowvan must therefore be questioned.
---
LATER HISTORY OF ROWVAN
The article posted by Franklin1 which commenced this post states that the Rowes sold the Rowvan name in 1960. Based on the following advertisement from an early 60's edition of Keith Winser's
Australian Caravan and Touring Manual
, the name
may possibly
have been sold to
Keith Odgers
who seems to have been involved in various aspects of caravan sales and supplies in the early 1960's: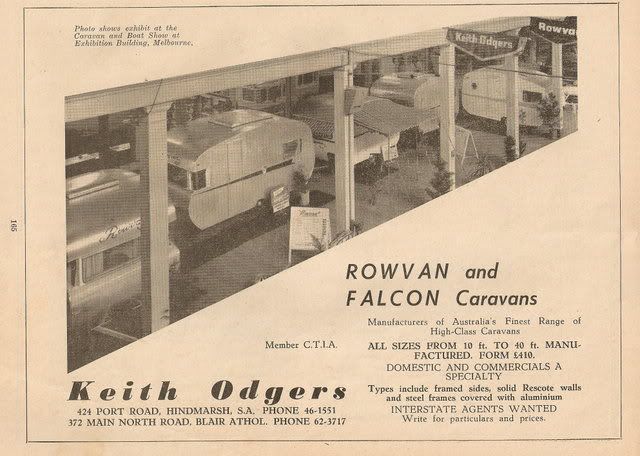 This advertisement appears to show a Rowvan model very close in design to the van shown in the
Caravan World
article.
Keith Odgers' name also appears in this listing for Rowvan caravans from the 1962 edition of Winser's
Australian Caravan and Touring Manual
posted by
Cobber
: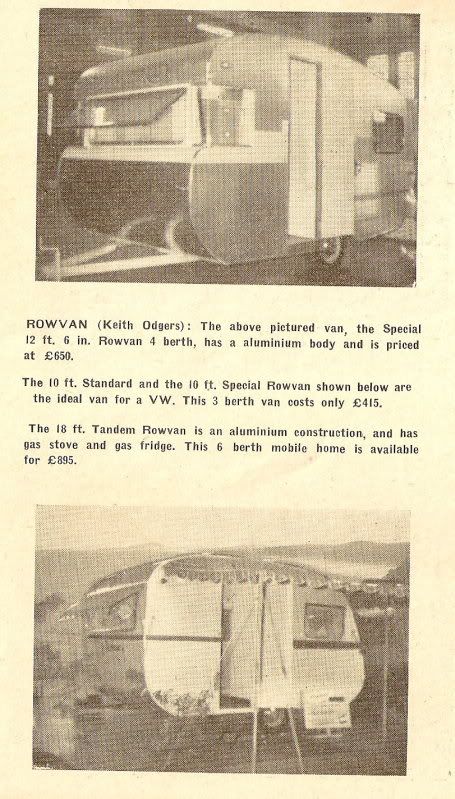 Very late 50's and 1960's Rowvans appear to have adopted what appear to be fairly universal design cues for Australian caravans of the period. Following are some examples of Rowvans from the 1960's.
Rowvan sighted by Dave01 at Indented Head, Victoria in May 2011: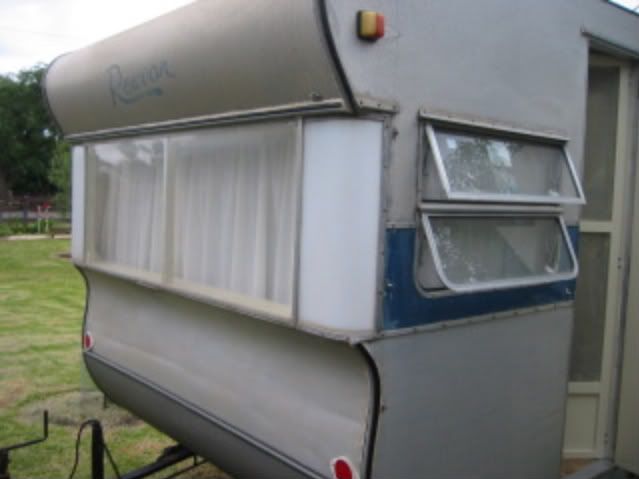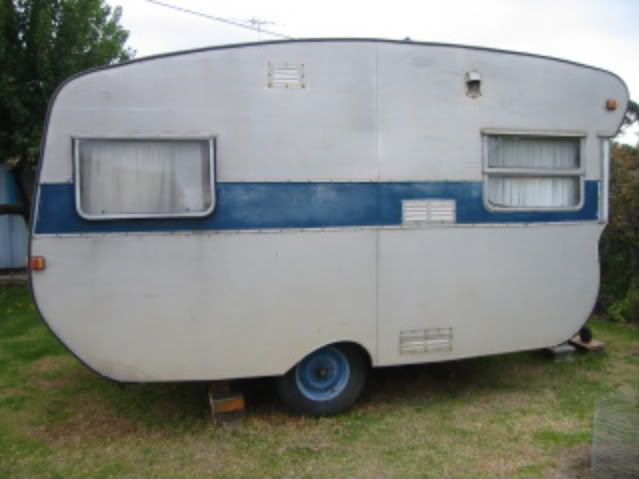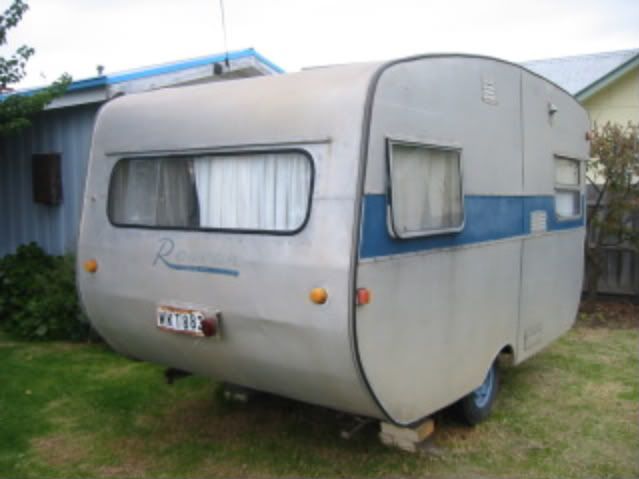 Note that the Rowvan signage above gives an address of
372 Main North Road Enfield, South Australia
. However, a Rowvan discovered (and now owned?) by
Olfarts
, which appears almost identical, has signage which gives an address in
83 Robert Street, West Croydon, South Australia
. West Croydon is adjacent to Beverley (formerly York, and close as the crow flies to William Street, York which was the Rowes' original location).
One obvious difference between these two vans is the shape of the wheel arch. The wheel arch on Olfarts' van (below) is similar to the shape of the wheel arch on a couple of the late 50's Rowvans and
may
indicate that it has an earlier build date than the van seen by Dave01 (above):
Rowvan rescued by Olfarts and young friend Zac in March 2010, but sadly to no avail (it fell apart during the rescue):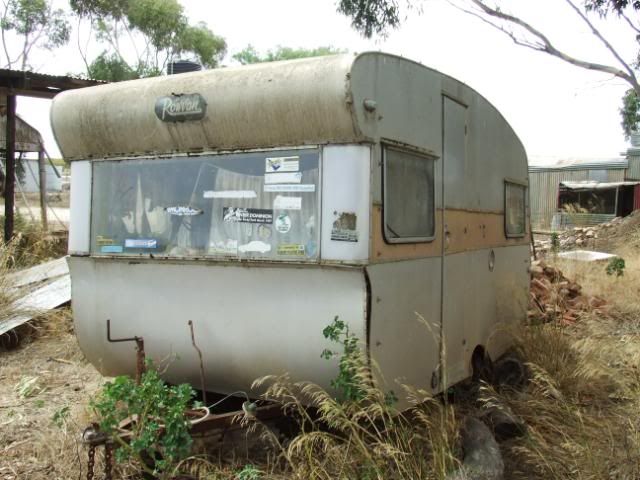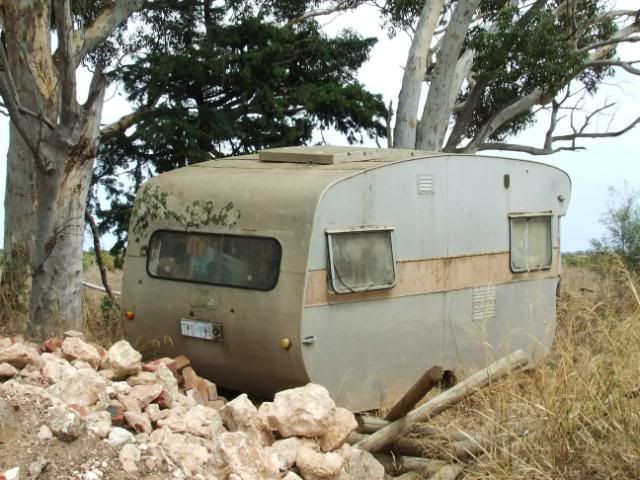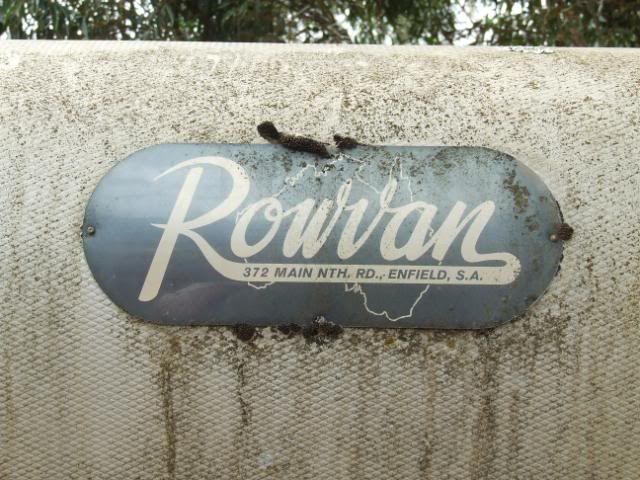 Note the address on this signage is also 372 Main North Road, Enfield, South Australia.
Rowvan acquired by Dragonfly in April 2010 - serial number 805:
Dragonfly was informed that this van was built in 1965.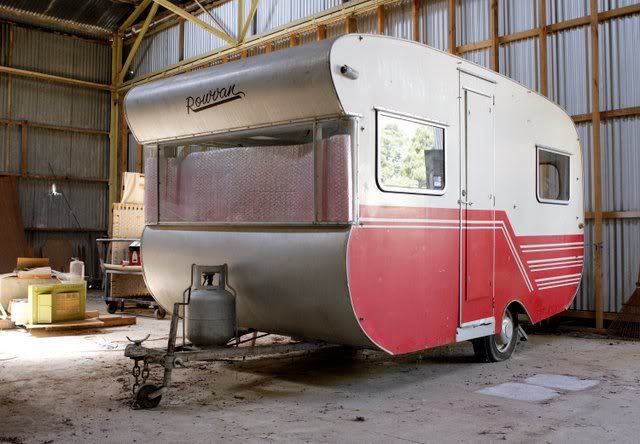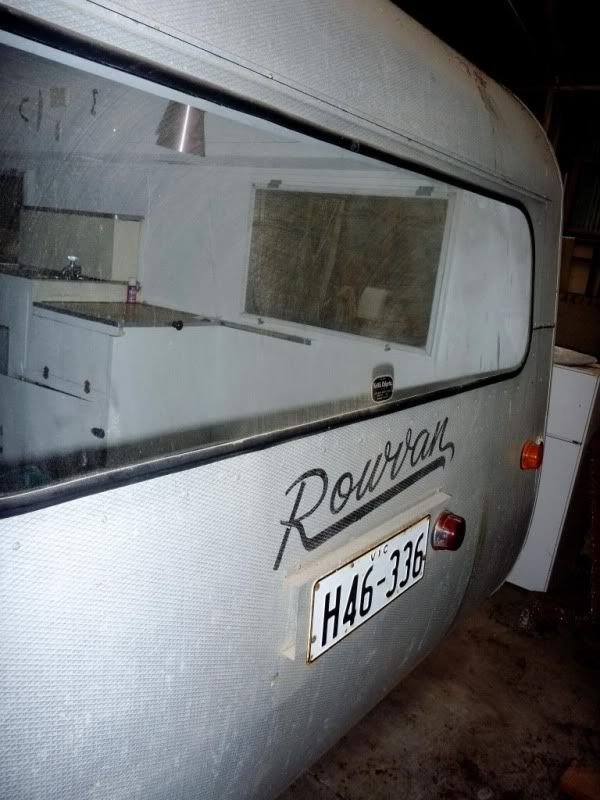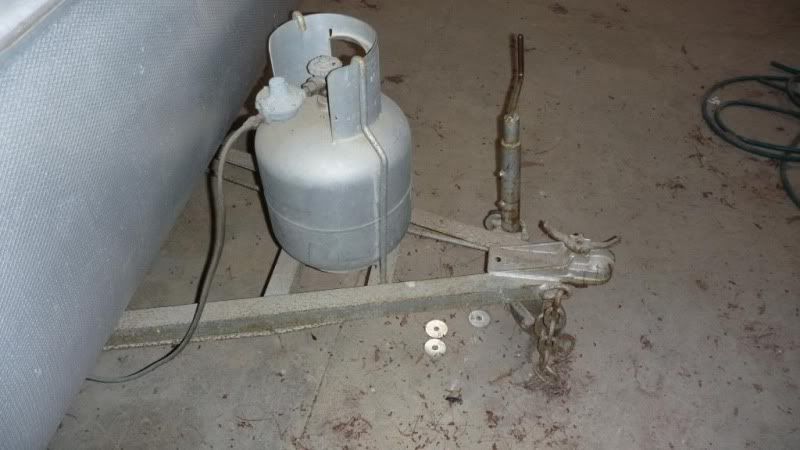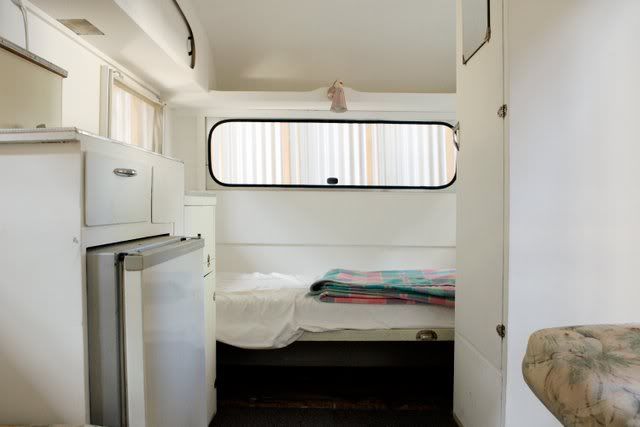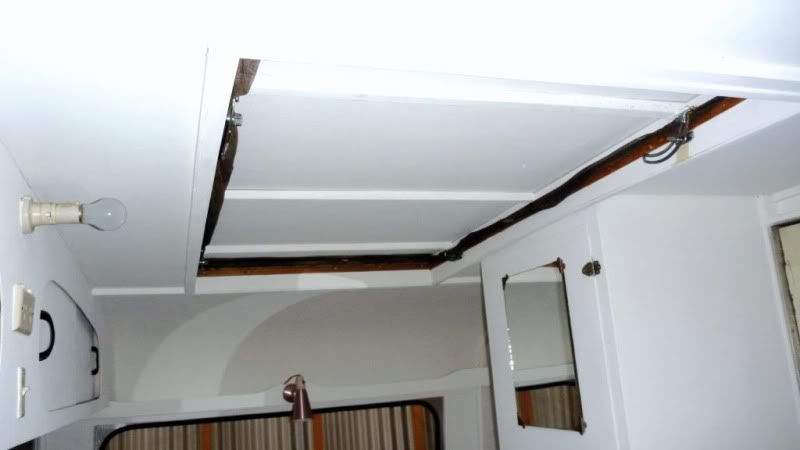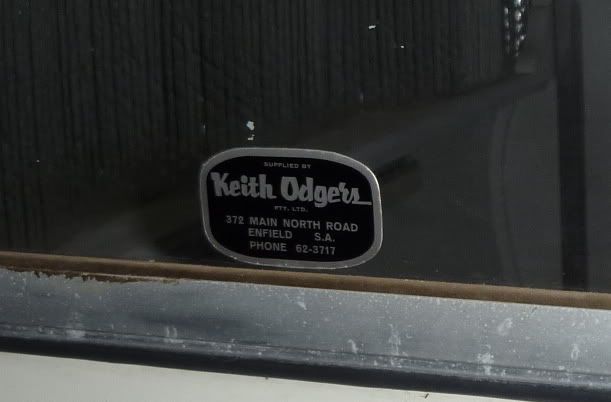 The sticker on the back window says
"Supplied by Keith Odgers Pty Ltd, 372 Main North Road, Enfield SA"
. This is further evidence of the connection between Rowvan and Keith Odgers, and it appears that the Enfield address was his business address.
---
As demonstrated in the photos posted above, the Rowvan logo remained relatively consistent throughout the 50's and 60's, consisting of the word Rowvan, usually on a 30 or 45 degree angle, and underscored by a line which in almost all cases was the tail of the 'R'. However in 2006,
Retro1
reported seeing a Rowvan in Burra, South Australia with the following logo: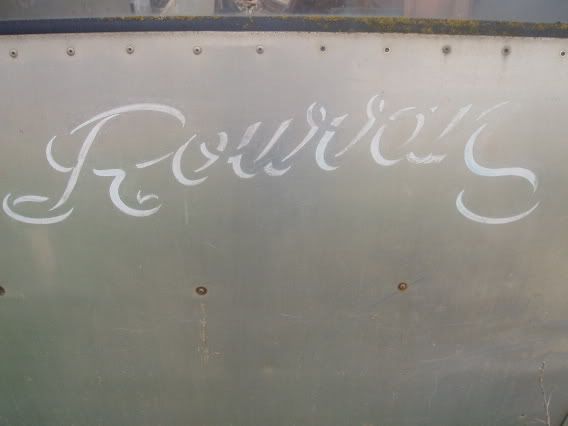 This logo is similar to the one on the 1959 Rowvan shown in the
Caravan World
article at the beginning of this post.
Don Ricardo