Post by Don Ricardo on Nov 10, 2007 20:34:02 GMT 10
In July 2007, a Gason caravan was advertised on Ebay and purchased by "ALLSAINTStennisclub"
Gason caravans were produced by the motor trimming and body building firm of A F Gason Pty Ltd in Ararat, Victoria. Founded by Frank Gason in 1946, the firm carried out a range of work including car and truck body building, panel beating, upholstery work, and car hood and side curtains. Work in the first few years included converting an army ambulance body into a caravan for woodcutters, converting vehicles into utilities and even re-covering prams and strollers.
In 1947 Frank built his first tractor cabin, which was to become the staple product of the firm for more than three decades. However, Frank's first venture into building caravans from the ground up occurred in 1949 when he commenced building a luxury caravan for his own use. But, once completed he found it hard to justify having invested so much into it, and sold it to a neighbour for 700 pounds ($1,400).
In 1951, Gason's contracted to build 13 caravans for the State Rivers and Waters Supply Commission. Frank's biography records:
"The commission employed bulldozer drivers whose job it was to clear the stock and domestic water supply channels which dissected the flat northern plains of the Wimmera and Mallee, and formed one of the largest open-channel water systems in the world. The drivers were able to clear two or three miles during the day, and they needed sturdy caravans on site, towing them along the channels. Each caravan was to adequately accommodate one man."…I built a prototype model…The caravan was fitted with a single bed, a table, a wardrobe, a food cupboard, a 10 gallon water tank and a stainless steel sink. It was lit by a pressure vapour lamp, and at the front was a platform for carrying two drums of fuel".
Production of the Rivers and Waters Supply caravans was interrupted in Christmas 1951 when Gason's premises were burnt down (see burnt van in photo below). However, production was later resumed in a temporary factory and all the caravans were delivered to Murtoa.
The order for the Rivers and Waters Supply caravans was followed by an order for twelve caravans for the Grain Elevators Board in 1953 and 1954. Built to provide mobile accommodation at different grain silos during harvest, each caravan was 16 feet long and was equipped with four single bunks, a table, wardrobe and basic cooking and storage facilities.
At about this time, Gason's began to build caravans to order for individual customers who wished to use them for business or recreational purposes. These vans ranged in length from 13 feet to 24 feet and were all built using essentially the same design. The frame for the front and back of the vans were provided by 'bows' (ie curved ribs) supplied by a manufacturer in Melbourne who made them 'ready to use', and also supplied other caravan builders, possibly including Franklin in Ballarat. However, the design used by Gason's allowed the length of the van to be extended simply by extending the framework between the two ends. The vans could therefore be built to whatever length the purchaser desired.
The external skin of the built to order vans were bondwood with the roof being bondwood covered in canvas. The vans were painted either green, grey or yellow.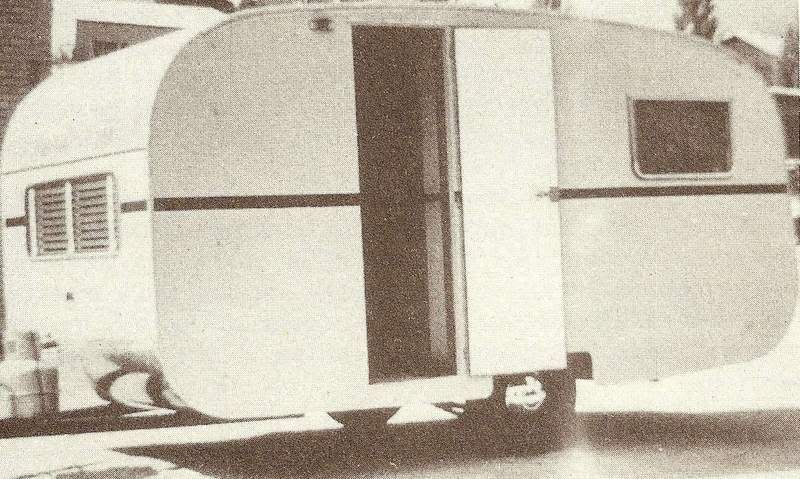 While the external design of Gason's built to order vans was uniform, the inside fitout was highly individualised according to the needs of the purchaser. Some were fitted out to provide luxury accommodation for holiday makers while others were fitted out with extra cupboards, etc, to provide a mobile office and showroom for travelling salesmen. The 13 foot models were 2-berth vans, but intriguingly the largest of the Gason vans built – a 24 footer – was also 2-berth. This van was built for an earthmoving contractor who needed to also provide eating facilities for his workmen. The van was therefore built to provide sleeping quarters for the owner and his wife, as well as a dining area with a table large enough to seat 8 men at once.
Several of the built to order vans still exist, including the van recently auctioned on Ebay (photos below).
The 24 foot van with seating for 8 referred to above is currently stored undercover in a shed at the Lake Goldsmith Steam Engine site in Victoria, and was recently checked out by Les Gason, son of Frank and current Managing Director of Gasons. The majority of built to order Gason caravans were constructed for people living in the Ararat district, and most of the vans still in existence are located around that area.
As well as these normal 'stand alone' caravans, Gasons also built two vans on truck chassis in the mid-50's. The first of these was built in 1956 for Bert Rodda of Geelong and consisted of a luxury caravan built on to an International truck chassis. The van was used as a mobile home and was frequently driven from Geelong to Adelaide and return for business meetings.
The second of these vans was built in 1957 for Harold McMillan of Ararat, and consisted of a 24' van built behind a complete International truck cabin, and was quite separate from the truck cabin. The van was skinned with marine ply and a fibreglass roof. The McMillan van is still in existence in Ararat, although it has now been clad in aluminium sheeting.
In 1960 Gason's were successful in tendering for the construction of 12 caravans for the Shire of Upper Murray in NSW at a contract price of 600 pounds ($1,200) per van. The vans were constructed with steel frames and clad in aluminium. Under the contract, each van had to be delivered to Mathoura, NSW and the vans were towed there one by one behind Gason's Zephyr station wagon or a Vanguard utility.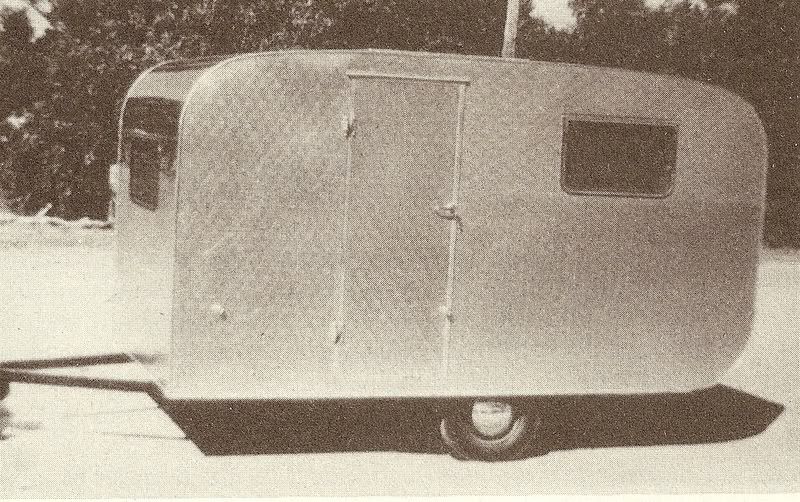 In addition to building vans, Gasons also had a fleet of 6 standard vans that were available for hire to the public. Providing this service was not entirely trouble free. Hirers sometimes treated the vans with little care. On one occasion a van had to be retrieved some distance from Ararat and was found to be trashed inside.
In 1962, Gasons came to the conclusion that it would be better for them to specialise in the production of one product, rather than spreading their resources over a range of products with relatively small volumes. While the firm enjoyed producing caravans, they were conscious of the fact that other caravan manufacturers such as Franklin in Ballarat were well established and had moved ahead of Gasons in design and production methods. On the other hand Gasons were Australian leaders in the production of cabins for tractors and industrial machines. Gasons therefore decided to cease production of caravans and to concentrate on the tractor cabins. At the same time the fleet of hire vans was also sold. In the 10 or 12 years prior to 1962, it is estimated that Gasons produced around 50 built to order caravans plus the vans built for government authorities.
As it happened, by the mid-1980's the market for tractor cabins disappeared as tractor manufacturers began to sell tractors with their own cabins already fitted. As a result, Gasons moved into the production of farm implements. There was, however, one other venture in the automotive arena, which occurred towards the end of the 80's. Gasons entered an arrangement with Australian Classic Cars to build a replica of the MG TD, called the TD 2000, which used Nissan engines and running gear.
When Australian Classic Cars ran into difficulties, Gasons bought the assets of the company. 100 vehicles were built all up. However the business was sold when Nissan closed its manufacturing plant in Australia.
Today, Gasons continue to produce a range of agricultural implements, such as air seeders, etc, which were first developed in the 1970's. The firm also produces solid fuel and gas heaters sold under the brand names of Eureka and Jindara.
The history of A F Gason Pty Ltd is probably very typical of engineering firms located in small country towns which have provided significant employment for local residents. However to survive they have had to be astute enough along the way to change their products in accord with changing times. For Gasons, the production of caravans has been part of that history. Equally, although Gasons produced only a relatively small number of vans with a fairly localised distribution, the company and its caravans form part of Australia's touring heritage.
Note: If anyone knows the identity of "ALLSAINTStennisclub" that purchased the Ebay Gason caravan, or the van's current location, please let me know. It would be good to keep track of it if we can.
Don Ricardo
Sources
:
J Schubert,
Cab Sir? The Story of Frank Gason
, Published by A F Gason , Ararat, 1987
A F Gason Pty Ltd,
60th Anniversary booklet
, 2006
Personal interview with Les Gason, Managing Director, A F Gason Pty Ltd, August 2007