Post by Don Ricardo on May 26, 2020 22:34:10 GMT 10
Photos can be posted on the forum using the ADD ATTACHMENT button located next to the 'Subject' box in the 'Create Post' or 'Create Thread' windows

(but see for extra information below if you are wanting to post photos from your mobile phone).
If you post photos using ADD ATTACHMENT there are a couple of things you need to know:
There is a maximum of three photos per post. (That limit is set by the platform website, not our forum.)


Photos are limited to 1 MB in size, so you may need to reduce their size to attach them to your post (more information here).


The photos appear in your post in a small size, although people viewing them can click on them to enlarge them.


Photos posted using ADD ATTACHMENT are only posted on a TEMPORARY basis and expire after about six months. This is also due to the way the platform website operates, not our forum policy. This means that your photos will disappear from your post after their expiry date.


If your photos are posted in the 'Down History Lane' section, and they have historical value, they may be re-posted for posterity using a permanent method by the Forum admin team unless you advise us that you do not wish this to occur.
While the ADD ATTACHMENT button is a convenient way of posting photos, it also has the limitations listed above. If you intend to be a Forum member for more than a short while (eg you are only posting to obtain information about a caravan you inend to sell, etc), the Forum Admin Team
recommends
that you post photos via
Flickr
or
Postimage
or another suitable photo storage website. Instructions for posting photos via Flickr or Postimage can be found by clicking on the blue links in the previous sentence.
Using Flickr or Postimage to post photos looks more complicated, but is pretty easy once you've done it a few times and get the hang of it. It results in photos that are easier for forum members to see, they are posted on a permanent basis (unless you choose to delete them at some point), and you can post more photos per post, and larger megabyte size photos.
Extra information if you're using 'Add Attachment' to post photos from your mobile phone:
If you're wanting to post photos from your mobile phone, when you press 'Create Thread' or 'Reply' you will see the following screen: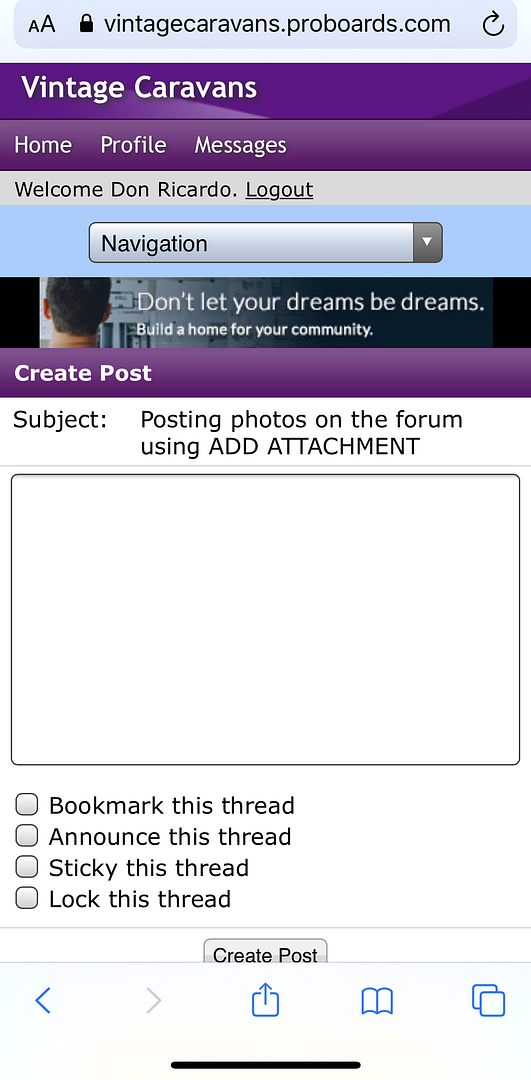 As you will see there is no 'Add Attachment' button showing on the screen, so scroll down the screen to the bottom and you will see two buttons at the bottom right showing 'Dashboard' and 'Desktop' (see arrow):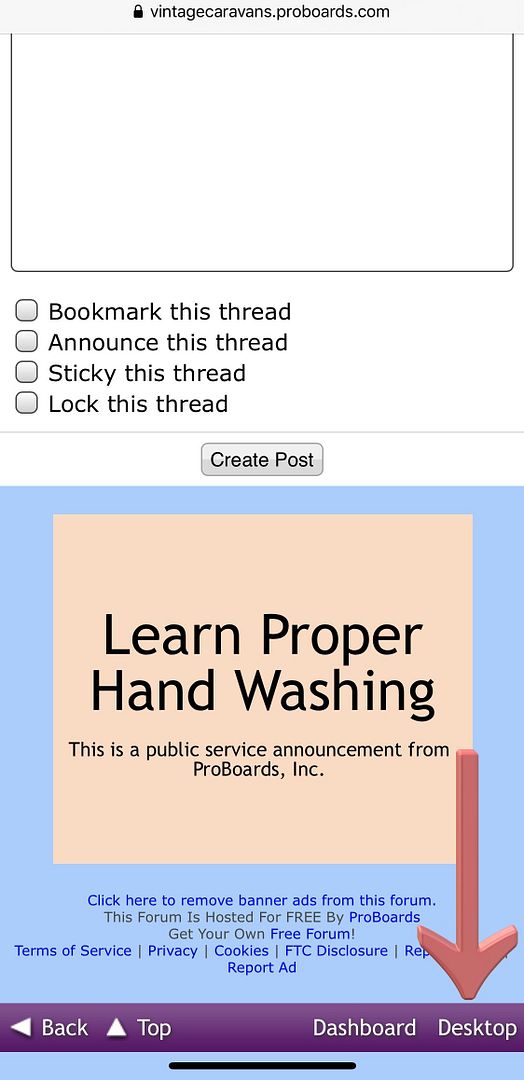 Click on the 'Desktop' button and the screen will change to the following, which includes the 'Add Attachment' button (see arrow):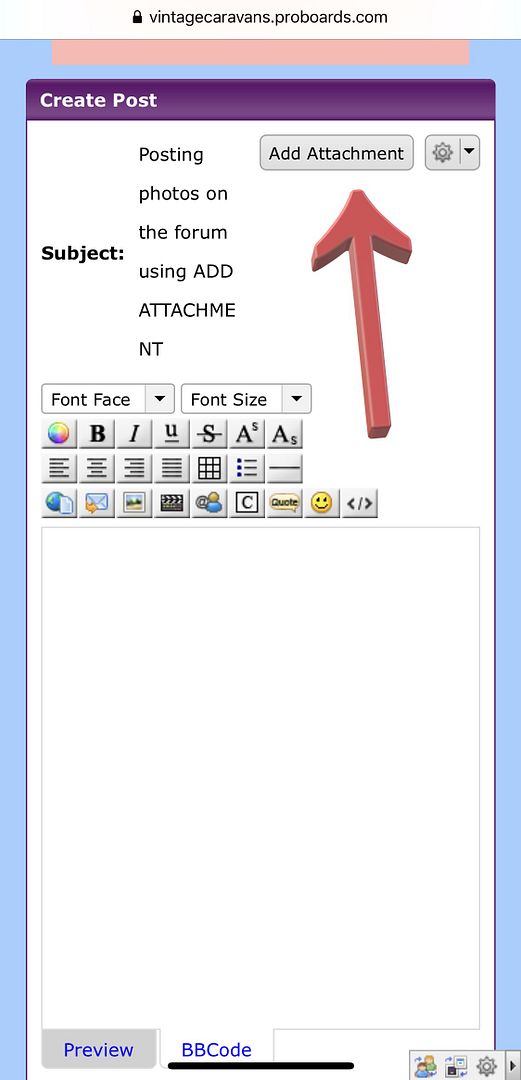 The 'Add Attachment' button will allow you to post a photo from your phone. There are also other buttons which allow you to format your text the same way you can on a desktop computer or tablet.

Don Ricardo
For the Admin Team