Post by murray on Aug 8, 2019 20:53:49 GMT 10
Members,
I was approached recently to see if there were anybody who would like to display their vintage/classc caravan at this event.
Details and contact are below.
They were hoping for room for up to 10 vans to be displayed.
Note that you must contact the secretary Doug Murphy first and not just turn up.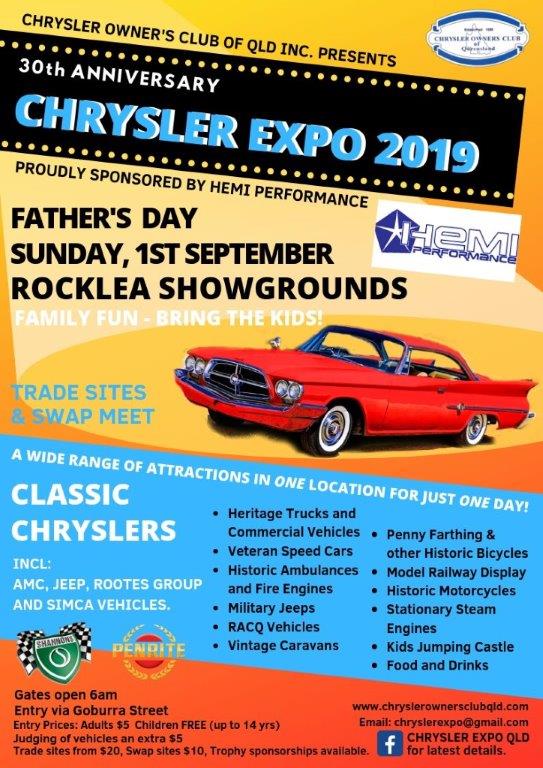 We at the Chrysler Owners' Club would welcome vintage and classical caravans tp participate in the forthcoming Chrysler Expo on September 1, Fathers Day, at Rocklea Showgrounds, Brisbane.
The theme of this year's Expo is on vintage and historic vehicles and things mechanical, such as the steam roller and/or stationary engines and Penny Farthing and historical bicycles. There will be a wide range of exhibits, as you can see from the map in the attachment. We think with the wide range of exhibits, plus movement (eg historic bicycles and the historic buses giving kid rides), and sound will be an attracting and entertaining formula. New, different and dynamic. Virtually every Club and enthusiast collector approached, has signalled they will be participating with exhibits. The RACQ is supportive with advertising and a display from their museum.
In order to develop this event into a future, premier, must see, annual event on the Brisbane calendar, we invite you to be involved at this first event.
Just an idea. A few minutes (7?) drive from the Showgrounds, is the Rocklea Markets, one of Brisbane's biggest. Gates there open at 6 am and there are numerous stalls selling all sorts of stuff. If you wanted, you could position your van at the Showgrounds and duck up to the markets for awhile. Given the number of exhibits and the capacity of the Showgrounds, we could probably accommodate up to say ( the first 10) vans.
And yes there are attractions for the kids, including the model railways display, the bus rides and a jumping castle. Please let your friends know about this premium event. Details of the 2019 Expo are shown on the attached flyer and map and the information below.
If you would like to come, please contact me (and if you have a classic Chrysler vehicle, you will be doubly welcome)
Regards
Doug Murphy
Secretary ,
Chrysler Owners Club Qld Inc
doug@realres.com.au
Mob 0402 845925
Exhibitors
Penny Farthing and Historic Cycle Club Qld Inc
Historical Motor Cycle Club of Qld Inc
South Coast Restoration Society
Veteran Speed Car Association (Qld) Inc
Historic Commercial Vehicles Association
RACQ Museum
Military Jeep Club of Qld
Vintage and Classical Caravans?
Fire Brigades Historical Society (Qld) Museum
Qld Omnibus and Coach Association
Logan District Model Railways Association
Mr Ian Fordyce (heavy vehicles)
Mr Hank Blessing (historic trucks)
Details of the 2019 Expo
The Venue: Rocklea Showgrounds Brisbane
Entry and Exit: For exhibitors and presenters, entry and exit is from Goburra St near the intersection with Pegg Rd. this is the rear exit to the grounds. Patrons will enter from Goburra St near the Service Road, and exit onto the Service Road.
Time: For exhibitors and presenters, 8am - 12 noon. We request you stay to around 12 noon. The Swap Meet and and parking of Chrysler vehicles starts earlier from 6am.
Locational Position: Refer the map below. The Penny Farthings and historical cycles will be against the fence on the dirt track near the Show Office, while
the model railway exhibit will be under cover in front of the Show Office. There will be a bus stop close to the Show Office,
where the vintage buses can pick up kids for free rides.
Safety and Security: If your exhibit requires 'fencing off' would you please bring lanyard or rope and posts.
Signage: To help promote you or your Club, we will provide you a corflute sign with your Club's initials and name in full.
Comfort Factors: We suggest you bring a gazebo or small tent and a chair.
Some Other Things: Chrysler Club will give bottles of cold water and a voucher for free coffee to each exhibitor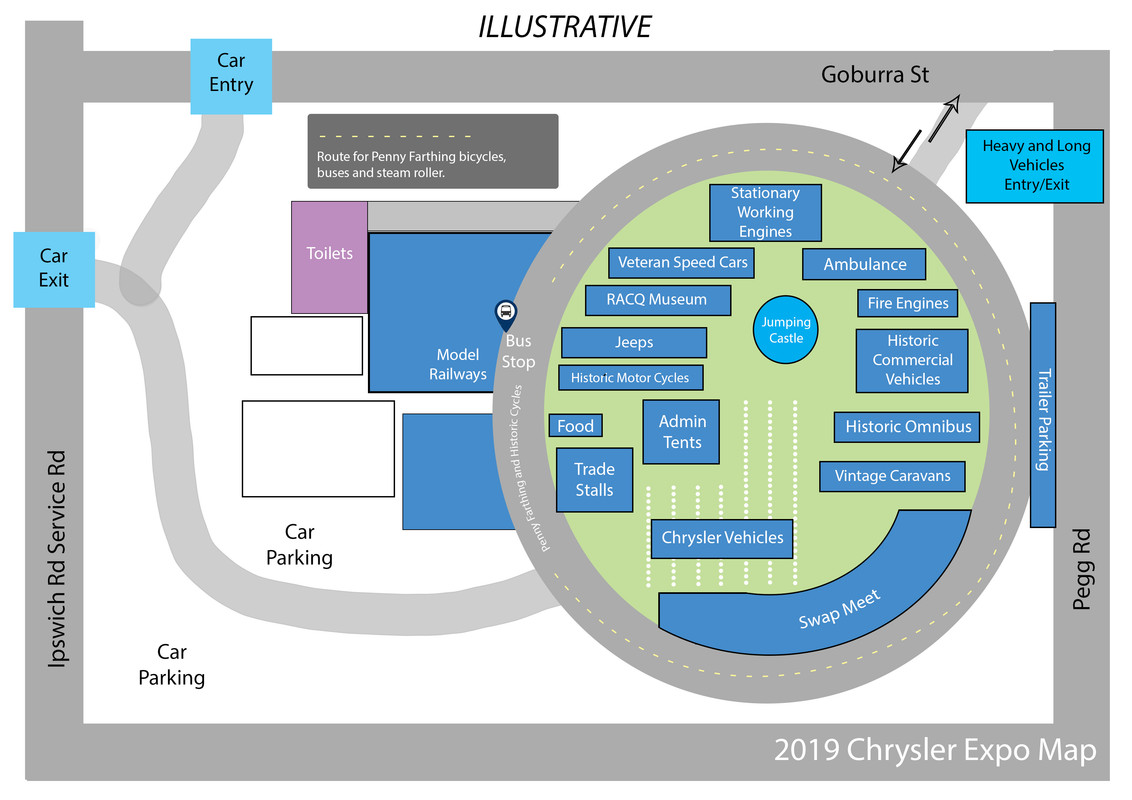 anonymous upload picture
[/a]