Post by Don Ricardo on Aug 17, 2015 23:29:52 GMT 10
SOUTHERN CROSS CARAVANS
Manufacturer and location unknown
---
On 1 August 2008, Franklin1 quoted from the Sydney Powerhouse Museum website in a post about John Jennison's role in the caravan industry:
"According to Keith Winser, noted Australian author on cars and caravanning during the 1960s, caravan production in Australia had its origins in 1928 when R.J. Rankin, a young Sydney businessman keen on the outdoors, built his own caravan...

"Another pioneer was John Jennison, an engineer, who in 1932 built the Jennison Road Cruiser...Other pioneers of the industry included Propert, Ambassador, Southern Cross and Castle. Between 1950 and 1953 there were at least 60 registered caravan manufacturers in Australia including Viscount and Millard in NSW, Franklin and Coronet in Victoria, Chesney in Queensland and Tru-Line in Western Australia..."
[emphasis added].
---
Franklin1 followed up his first post with the following observation on 2 August 2008:

I'm somewhat cautious about taking the information from the Museum as 'gospel'. I generally use their information as 'indication only', since there are sometimes some inconsistencies with what we've found elsewhere...
The other interesting thing about the information above is that we are still to see a
Southern Cross
caravan, to represent the pioneers (we know about the Properts, Ambassadors, and Castles). [emphasis added]
cheers,
Al.
---
Southern Cross caravans have continued to be a mystery, and we are still to (knowingly) see a Southern Cross van in the wood, so to speak. However, earlier today I came across two advertisements in the Melbourne
Age
newspaper of 5 December 1960 referring to Southern Cross caravans: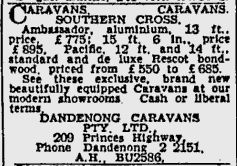 (Source:
The Age
, Saturday, 5 December 1960, page 64)
The implication seems to be that both Dandenong Caravans and Carapark acted as agents for Southern Cross caravans, which suggests that they were not built in Victoria.
The Dandenong Caravans advertisement seems to suggest that Southern Cross produced two model ranges, an aluminium clad range called the Ambassador and a rescote clad (bondwood) range called the Pacific. However, the Carapark advertisment seems to make a distinction between the aluminium Ambassador caravans and the rescote clad Southern Cross caravans.
How all this hangs together, I've got no idea at this point. But I wonder if the reference to Ambassador caravans is to the South Australian built aluminium Ambassadors
here
?
The other confusing aspect of all this is that the advertisements referring to Southern Cross (above) are from 1960, surely too late in the history of Australian caravans to be referred to as a pioneer by the Sydney Powerhouse Museum? So maybe the Museum was referring to a different Southern Cross? Having said that some of the brands referred to on the Museum website and quoted by Franklin1 above were actually relative latecomers and not pioneers of the caravan industry as such, thus justifying Franklin1's warning about treating the info as gospel.
Whatever the case, hopefully this post is a step towards hunting down the history of the elusive Southern Cross caravans.
Don Ricardo