Post by Don Ricardo on Aug 9, 2014 22:15:20 GMT 10
Hi all,
During the years the forum has been operating, there have been a number of discussions regarding photos of 'coach-style' (or 'trailer coach-style') caravans which have been posted on the forum. Most often the discussion has led to speculation that the vans concerned had been imported from the UK, the USA or New Zealand, where coach-style caravans were much more common. However, there is now sufficient evidence to indicate that a small number of Australian caravan manufacturers built coach-style vans in the 1930's.
The purpose of this thread is to provide an overview of the production of coach-style caravans in Australia, with the hope that it may stimulate further discussion and/or unearthing some examples of this style of caravan from the 30's.
Following is a list of manufacturers who are known to have built and/or sold coach-style vans:
Home Comfort (John Martin's) [South Australia]:
click here
for further info.
The coach-style van is the caravan in the middle of this group of Home Comfort vans on display at the 1938 SA Royal Show: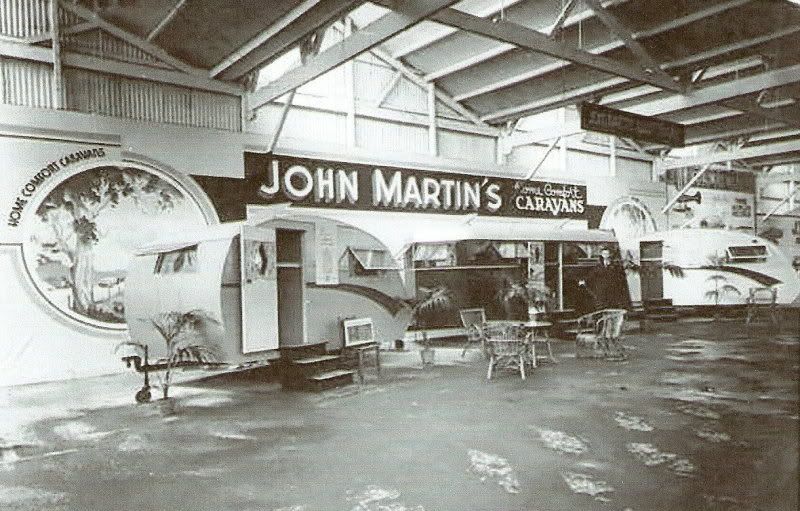 Indian Trailer Coach Co [Queensland]:
click here
for further info.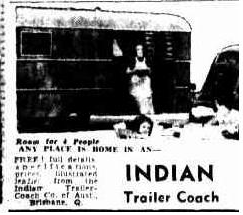 Land Cruiser (Caravan Construction & Hire Pty Ltd) [Victoria]:
click here
for further info.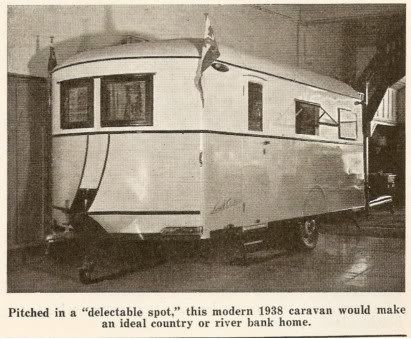 Properts Pty Ltd [NSW]:
click here
for further info (additional information about the early years of Propert to be added).
The coach-style caravan in the bottom left-hand corner of the photo below is a Propert "Open Road" model caravan on display at the 1939 NRMA Camping & Caravan Exhibition: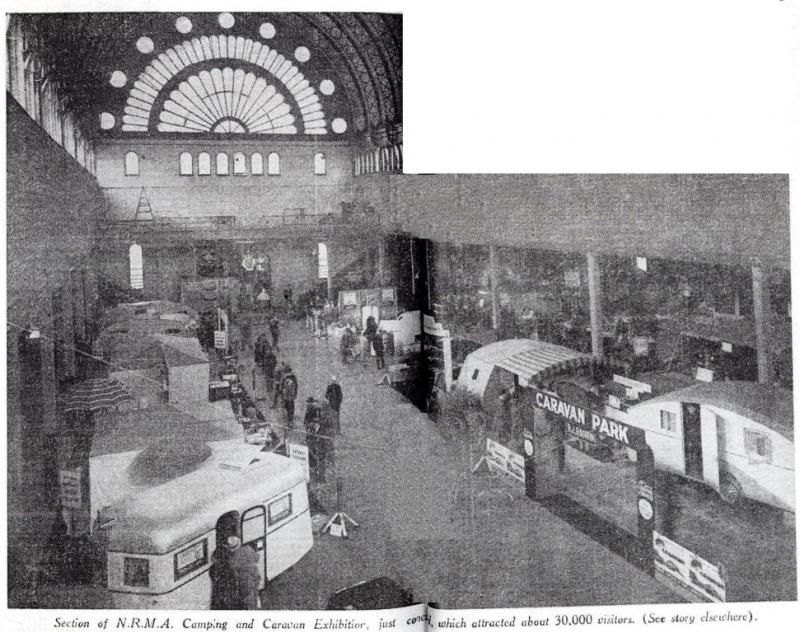 (Source: Thanks to
Griffin
for this photo.)
Star Caravans [WA]:
click here
for further info.
In addition to the examples of manufactured coach-style vans shown above, Australian author John D Porter also provided plans for coach-style vans in the various editions of his book
How to Build Trailers
. Examples were the 'Brisbane' clad in leather...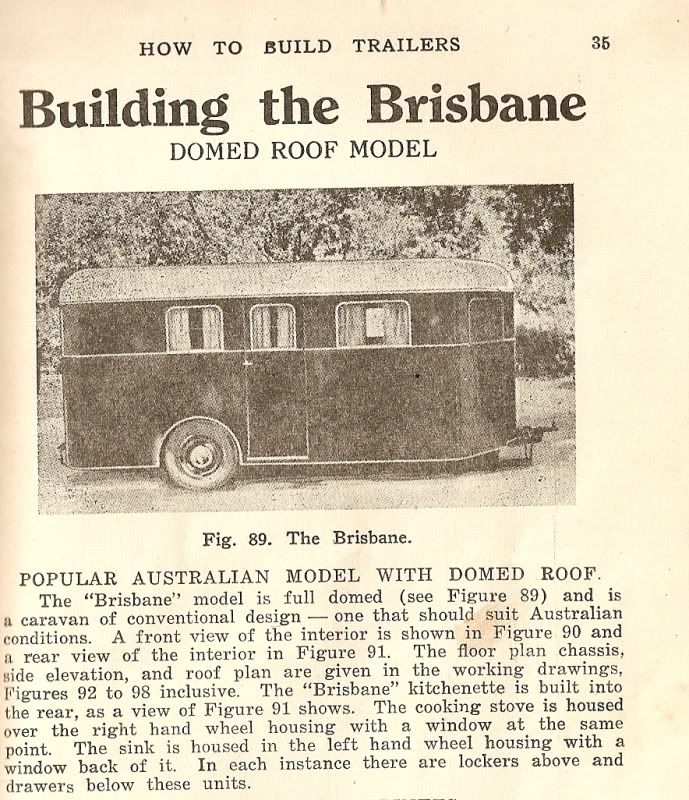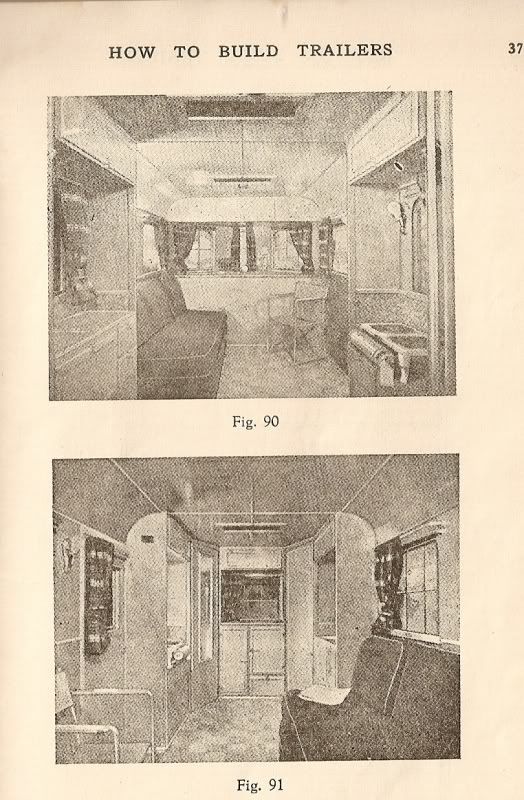 (Source: John D Porter,
How to Build Trailers
, sixth edition (1946), pp 35 & 37)
...and the steel clad 'Cruisemite De Luxe':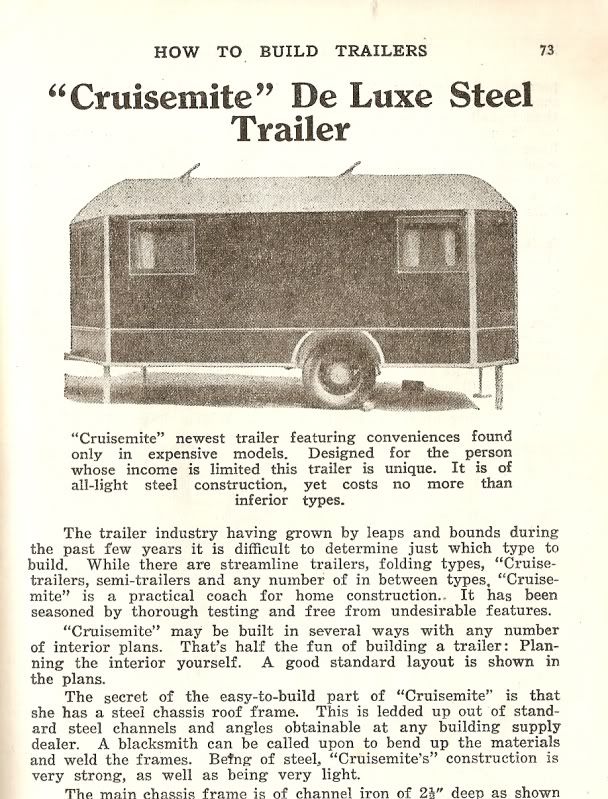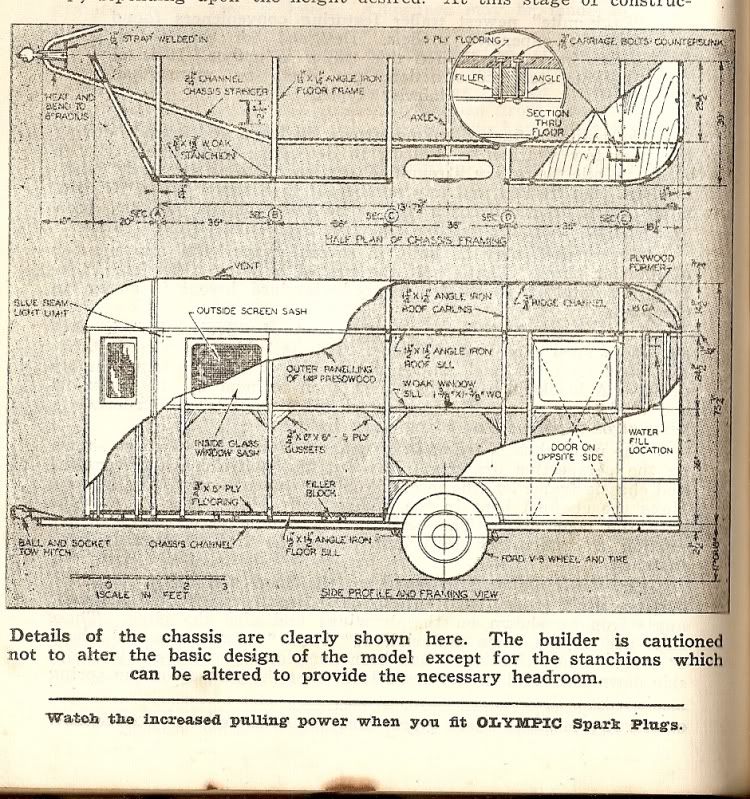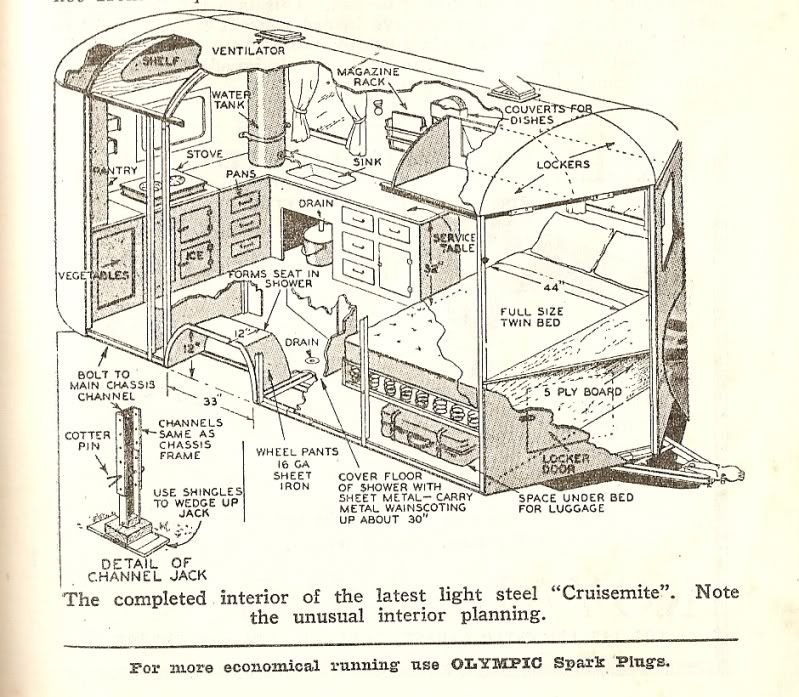 (Source: John D Porter,
How to Build Trailers
, sixth edition (1946), pp 73, ,74 & 77)
The most complete record we have of a coach-style caravan being used in Australia are the photos of the 'Wildeshott' caravan taken in 1939 from the collection of John Jennison (manufacturer of Jennison Cruiser and Jennison Pathfinder caravans):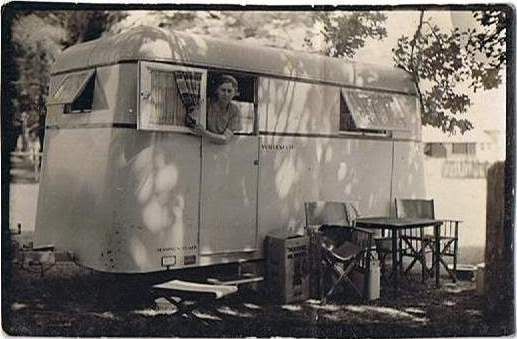 We have not been able to establish the origins of this van, but previous analysis seems to indicate that the writing on the rear of the van says 'Jennison Coach'. Further photos of the 'Wildeshott' van can be found
here
.
There are also examples of coach-style vans to be seen in various photos from 1930's caravan club rallies - see for example the caravan attracting a lot of attention in the middle of the oval in this photo from the 1937 RACV Caravan Club rally at Barwon Heads...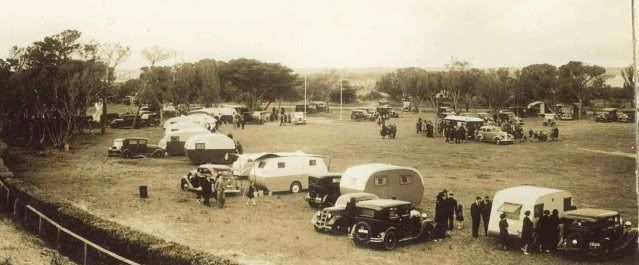 ...and the second van from the left in this photo from another 1930's RACV caravan rally: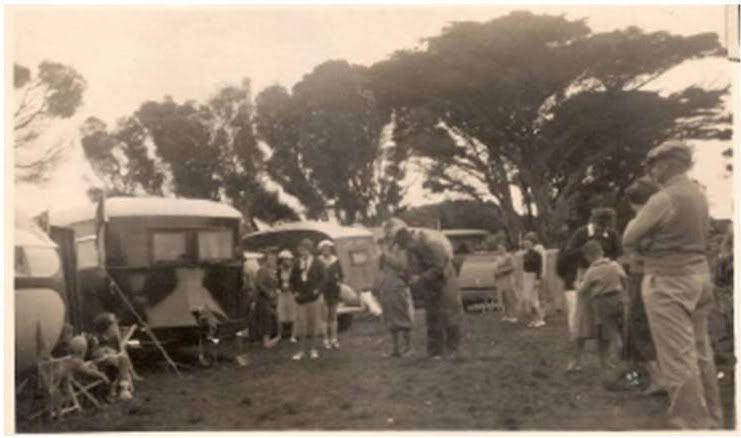 Regrettably there is only one example of a 1930's coach-style caravan known to exist at this point (and in truth there may never have been very many). This van is owned by forum member
Austin125
and is shown here under cover - you can just make out the bow front of the van: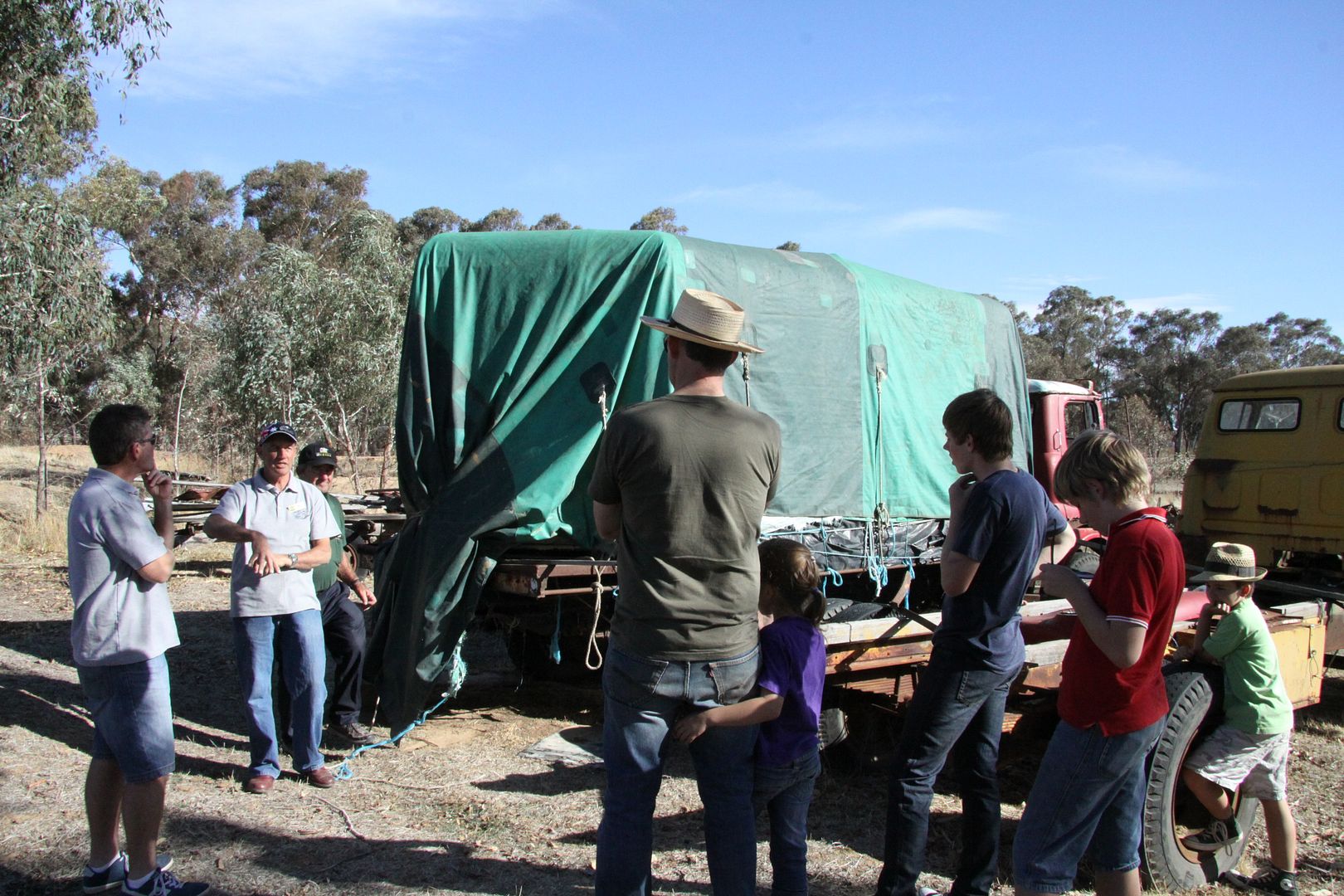 I am hoping we may be able to persuade Austin125 to post some photos of this van.
I suspect that there are scarcely any remaining coach-style vans in existence because many of them were clad in leather or painted canvas (as is Austin125's van), and were therefore even more susceptible to the weather than even bondwood vans.
In terms of style, it could probably be argued that the successors to the coach-style caravans are the aluminium toaster style vans built by Carapark and a few others, with the rounded corners and edges to the roof.
If anyone knows of other Australian manufacturers of coach-style caravans, has contemporary photos of 1930's coach-style vans, or knows of any such vans still existing, please feel free to add to this thread so that we can add to the accumulating body of knowledge.
Don Ricardo