Post by Don Ricardo on Aug 2, 2014 18:12:25 GMT 10
WINSTON CARAVANS
Manufactured by Winston Mfg Coy (Winston Manufacturing Company)
143 Parramatta Road, Granville NSW
---
1946, the year following the end of WW II, saw strong growth in the caravan industry, with some of the pre-War manufacturers such as Caravan Park and Don having re-commenced building caravans after the hiatus of the war. However, it seems that a number of new enterprises decided to try their hand at building caravans and the pages of the daily newspapers of the time contain many advertisements announcing the offerings of the new start-up manufacturers.
One of the new caravan builders in Sydney was the Winston Mfg Coy which began advertising its caravans in May 1946, with advertisements such as the following published in the
Sydney Morning Herald (SMH)
on Wednesday, 1 May 1946 (page 19):

(Source: National Library of Australia
nla.gov.au/nla.news-article17980149
)
Deciphered, it reads: "A coachbuilt job by Winston is a Caravan of distinction. Sturdy, light, reliable. Early delivery."
Two further advertisements published in the
SMH
a few days later on Saturday, 4 May 1946 (page 20) read:
(Source: National Library of Australia
nla.gov.au/nla.news-article17990491
)
The statements "Streamlined Caravans, any size, design. Best materials, workmanship, latest 16 inch wheels. Quick delivery" and "We build caravans of quality and distinction, furnished or unfurnished. Consult us with your problems", suggest a degree of flexibility that may indicate that Winston was still setting up and didn't necessarily have set designs of its own.
However by July 1946, Winston was promoting its caravan building activities as follows in a series of adverts in the
SMH
of Saturday, 27 July (page 22):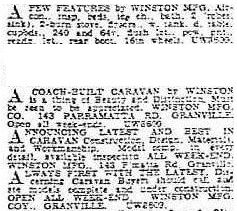 (Source: National Library of Australia
nla.gov.au/nla.news-article29767568
)
According to the first advert - and translating the abbreviations (who said that modern texting abbreviations are new?) - Winston caravans included the following features: airconditioning (probably referring to a roof hatch or similar), innerspring beds, ice chest, bath, two wardrobes, sink, two-burner stove, flyscreens, water tank, dining table, cupboards, 240 volt and 6 volt flush lighting, power point, reading light, rear boot, 16 inch wheels. That's not a bad list of equipment for the time. Note in particular the reference to the 'rear boot'. Was that a storage space under the back divan accessed from an external door, or something else?
Despite the proud claims of the "latest and best" and "always first with the latest", it seems that the Winston flame only burned brightly for a short time. Less than a year after the first advertisements for the Winston Mfg Coy appeared in the
SMH
, a notice of an auction for Winston's plant and stock was published in the newspaper of Wednesday, 16 April 1947 (page 13). A lot of materials were there for the taking, including 1 ton of quality bolts and screws (undoubtedly all slot head!!):
(Source: National Library of Australia
nla.gov.au/nla.ews-article18021742
0
It seems that the Winston dream of manufacturing caravans was over.
Don Ricardo