Post by Don Ricardo on Aug 25, 2013 16:03:05 GMT 10
CORLETT
Manufacturer: Walter F Corlett
Stephen Street, Norwood, South Australia
---
The following photo of a Corlett caravan appeared in an advertisement for the Caravan Centre in the 1958 edition of Winser (see full advertisement
here
).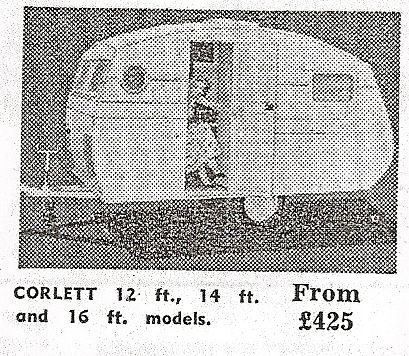 At first sight the Corlett van appears very similar in shape and design to a Rowvan. Note for example the apparent lack of external wheel arches, a la Rowvan. However, by comparing the photo of the Corlett with a photo of a Rowvan that appeared in the same Caravan Centre advert (immediately following), it is evident that there are some subtle but important differences: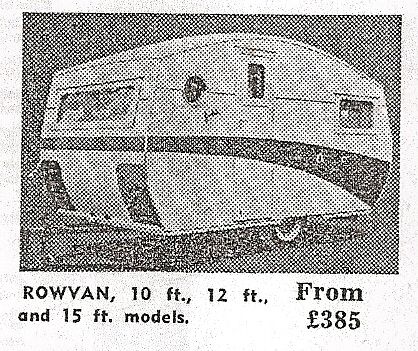 The widest part of the curve on the rear of the Corlett is in the bottom half, whereas on the Rowvan it is in the middle. This is even more evident if you look at the pic of a Rowvan side on (see photo at the bottom of this post).

The rear of the Corlett curves in more at the top towards the roof than on the Rowvan.

The roofline of the Corlett at the front (and presumably the back) has a noticeably higher curve side to side than the Rowvan.

The front of the Corlett curves in less at the bottom than on the Rowvan.

The Corlett had two separate windows at the front while by 1958, Rowvan had changed to a single wide window.

The hatch on the Corlett is centred while on the Rowvan it is placed to the rear of centre (evident from the pic of the Rowvan below).

There is a subtle difference in the placement of the porthole and rear side windows on the two vans.

The jockey wheel winder on the Corlett has twin handles, while the Rowvan only has a single handle (compare with Rowvan photo below).

The Corlett advert says that the vans come in 12 ft, 14 ft and 16ft sizes, while the Rowvan advert states that they come in 10 ft, 12 ft and 15ft sizes.
On the basis of these differences, I am inclined to think that the Corlett was not built by Rowvan, but by another independent South Australian manufacturer.
Back in 2009
Vantoura
mentioned Corlett as a separate brand when discussing South Australian built caravans, so perhaps he has some info that can assist us?
Thanks to
Raym
for providing this information to be posted.
Photo of Vantoura's Rowvan for comparison purposes: