Post by Don Ricardo on Aug 22, 2013 23:36:17 GMT 10
CARAVAN CENTRE [SOUTH AUSTRALIA]
534 South Road, Edwardstown, SA
The name 'Caravan Centre' was used by two companies which manufactured or sold caravans in the 1950's. One of these was based in South Australia (this thread) and the other in Queensland -
see here
.
It is unknown whether there were any links between these companies. If anyone has information which shows a connection between the two, we will combine the threads.
---
Hi all,
I haven't had much of a chance to post on the forum of late because of the demands of my work.
However, a while ago there was some discussion on the
History of Caravan & Camping Ind Assoc SA
thread about an advertisement in Winser's 1958
Australian Caravan and Touring Manual
. The advert was placed by the Caravan Centre located in Edwardstown, South Australia, and contained photos of a number of South Australian built caravan brands, some of which were unfamiliar to us. It appears that the Caravan Centre acted as a retail outlet, or as an agent, for a number of South Australian manufacturers.
Unfortunately the images of the advert on the thread referred to above were a bit small to be able to read the text. However, following the previous discussion and to my great excitement,
Raym
sent me a more readable copy of the advertisement, together with some information about various caravan builders from the Pink Pages (equivalent to our current Yellow Pages directory) from the same period. I haven't been able to post the info Raym provided due to lack of time, and I apologise to him for that.
Things have quietened down a bit for me, so here we go...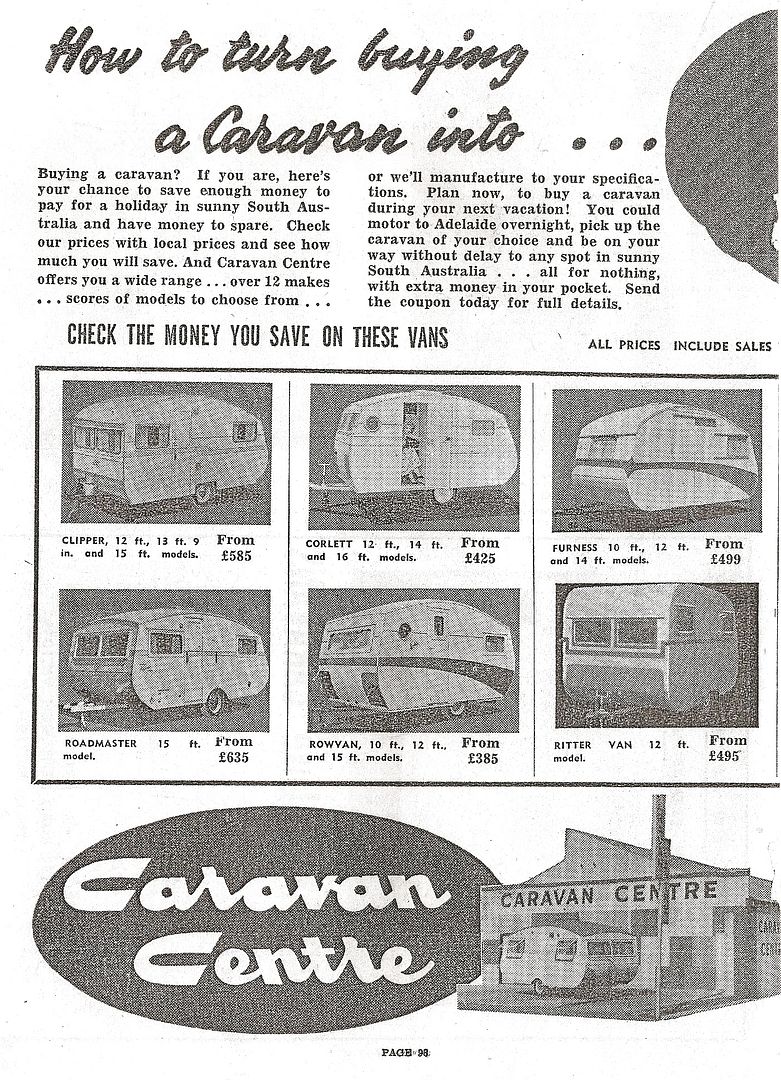 (Source: Keith Winser,
Australian Caravan and Touring Manual, Book 10
, 1958, pp 98 & 99)
Although it appears that the Caravan Centre in South Australia did not manufacture caravans or sell them under their own brand names, I have created this thread to assist anyone who may be seeking information about one or other of the Caravan Centre companies.
With the info Raym supplied I have been able to piece together some information about the brands shown in the above advertisement, and will post that info over the next couple of days.
Thanks again to Raym for taking the trouble to assemble this information and forwarding it to me.
Don Ricardo