Post by seeshell on Nov 21, 2012 10:30:15 GMT 10
Hi All

WARNING: this is a long post about vintage style formica.
Trying to find actual vintage formica in reasonable condition is very difficult, and even if you do find it you might struggle to find it in sufficient quantity. I thought others might end up being in the same position – looking for replacement laminate for their vans if they're not lucky enough to find what is there in perfect or pretty good nick. I hope the information we've found will be useful to someone else in a similar position.
Background
In the early and mid-1940s, most laminate was made for industrial purposes, and was in a very limited range of colours. In 1949, Formica Company introduced the Color Range, which included six patterns each in several colorways and ten solid colors all available in "both standard and cigarette-proof grades."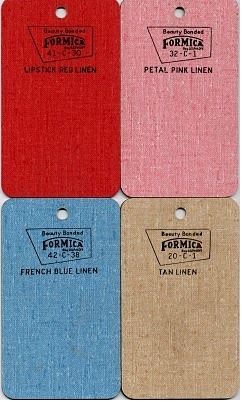 In 1953 they upgraded the offerings with the exception of Linen and Wood finish, which continued; the new patterns were synthetic designs, including speckles, lines and other amoebic shapes.
By the early 1950's, one-third of the new homes built used laminate. If you're interested in reading more about formica's history (a wonderful phenolic plastic!) you can find it here at
Formica History
.
In fact we found a formica catalogue from 1953 which shows some of the early offerings (including the linen formicas):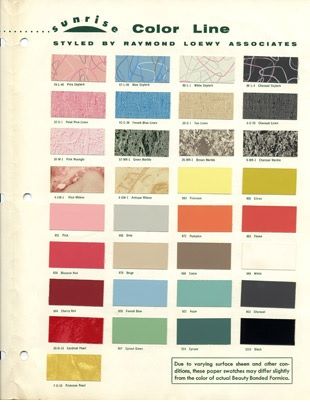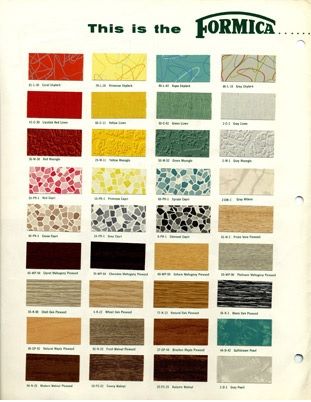 Abstract Formicas
The lovely, and still available, cracked ice and boomerang formicas were more popular in the mid to late 1950s, which is a bit late for our van. However, if you need them and they suit your project, you can still get them at
www.barsandbooths.com
. A range of boomerang laminates are available, and cracked ice comes in grey/silver, yellow and red (sadly no green or blue).
Bars and Booths are overseas, so shipping I think would be dear (they roll it in a tube for shipping to you). I understand sheets are about $425 USD (compared to a normal sheet of laminate which might be about $290AUD) – at the time of this post of course.
Other vintage and retro patters are not available – see options later in the post.
Solids and Linens
Our project required the earlier solid colours or a linen look. So we began to look for modern equivalents – there certainly are some, but not in the colours appropriate to earlier vintage vans. Pionite do offer some nice selections in vintage colours (but more 1960s): Cradle of Liberty (blue), Cavalcade South (cream), Tropical Getaway (avocado), Summer Heat Wave (tangerine), and Azzura (dark teal?) – all to be found at
Pionite
. Other companies do offer abstracts or fabric looks in their current ranges (which does tend to make it a bit cheaper!) – but generally in earth tones.
Solid colours are readily available, but tend to be a little different than earlier colour pallettes. Laminex and Formica brands still do offer a very large range of colours and you may find one that suits you (not all colours are available in Australia).
Other Options
[url=http://www.wilsonartcontract.com/portfolio/laminate/custom-laminate/[/url]WilsonArt[/url] has a custom laminate division (in the USA) - we spoke to Terri Hoelscher, the Manager of Custom Laminate Service who was very helpful. Her contact details are:
Terri Hoelscher
Manager, Custom Laminate Services
WILSONART INTERNATIONAL, INC.
10501 NW H.K. Dodgen Loop
Temple, TX 76502
P: 254-207-6436
F: 254-207-6525
E: hoelsct@wilsonart.com
We are working through the order process now - Halifax Vogel Group are the local distributors of Wilsonart in Australia. The rep in Victoria is Stephen Dorrofield.
Stephen Dorrofield
State Manager - Victoria
Halifax Vogel Group Pty Limited
25 West Park Drive
Derrimut Vic 3030
P: 03 93943151
F: 03 93943129
M: 0413 117796
E: sdorrofield@hvg.net.au
Once you have your sample and are happy with it (through Terri in the USA) you need to place your order through the local Halifax Vogel Group representative (at agreed local prices). The PO and the design order are sent back to the USA and the run begins for what you ordered.
There is also a local provider who does one off runs of laminate in Burwood, VIC
Surface Squared
– no doubt there are others.
While it may be a bit more dear to print custom runs, usually you will only need one or two sheets for your whole project; most sheets seem to be 4' by 8' in the old money but I understand some places will do a 3' by 8' sheet, which might mean less wastage.
You will need to have some art or an example to copy. In our case we just got lucky; Wilsonart, who we contacted, already had a scan of the vintage 1951 Formica Petal Pink Linen, and were able to ship us a sample of it in about 10 days - and the sample size is nice and big so you really can get a sense of what it will look like. I'm pretty happy with it (it really is much more red than pink!):
If you were interested in reproducing something you already had (like some of the very nifty but unobtainable patterns) it might mean taking a picture to someone who could do the art, or finding an example like an old table from which they can take photos or do art. They will ask you for a colour reference (a four colour Pantone code) – most graphic designers will have a book you can look at to choose the right colour since what you see on your screen may differ from theirs, and this needs to be done in person (unless you have access to a pantone book!).
Best of luck with all your renovation projects!
Cheers
Seeshell