Post by kaybee on Nov 3, 2011 21:33:47 GMT 10
Hi all, some may have seen a reference on another thread about this van at a clearing sale in Wandin,Vic last weekend.....it seems to have followed me home

, so here's some pics and a bit of commentary ....
.....the sale was on a well concealed property deep in a valley , entry was by a plain gravel drive that opened up into a large cleared area where a massive shed had been built out of reclaimed materials ......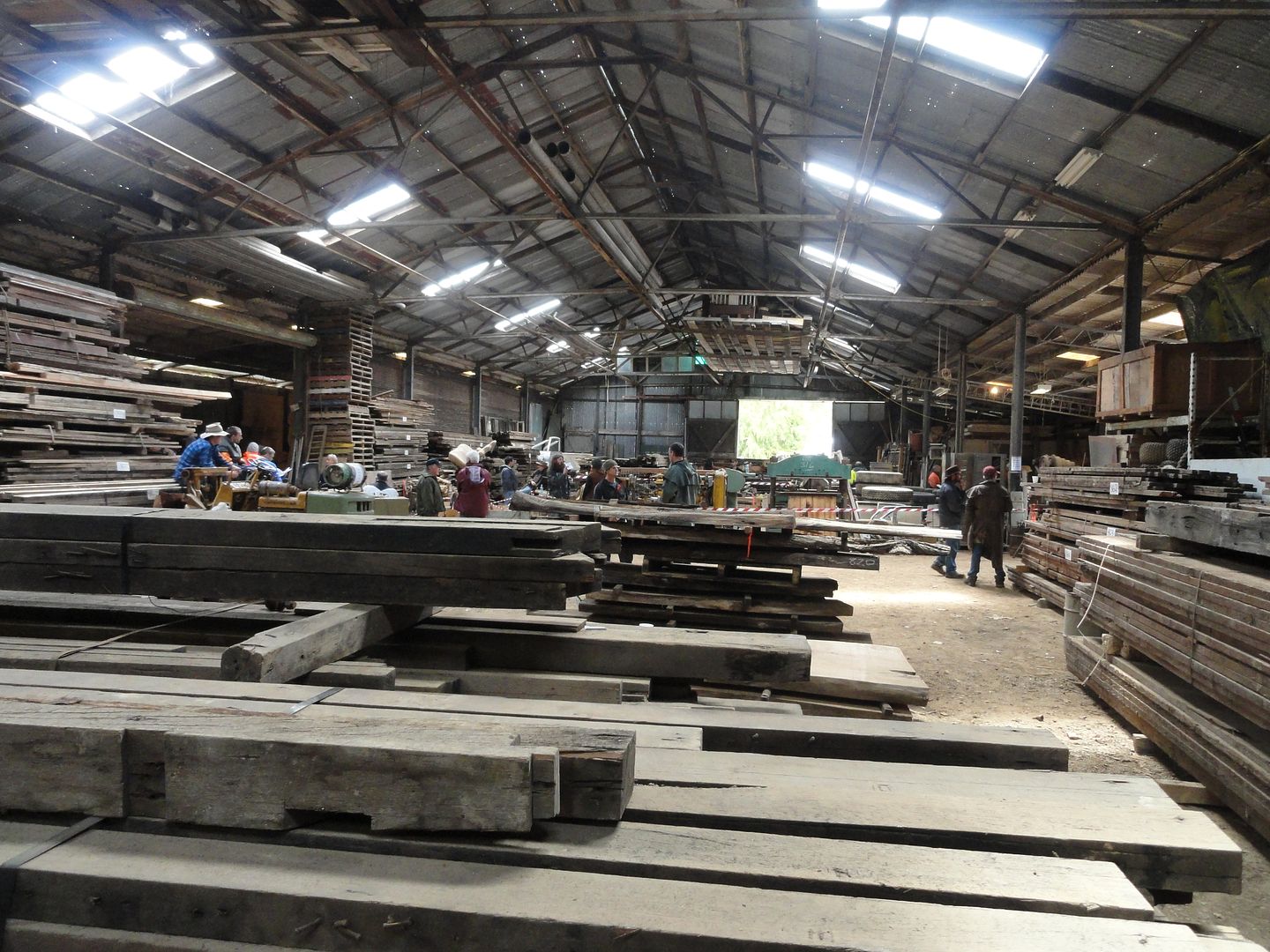 ....this is one direction ,below is the other....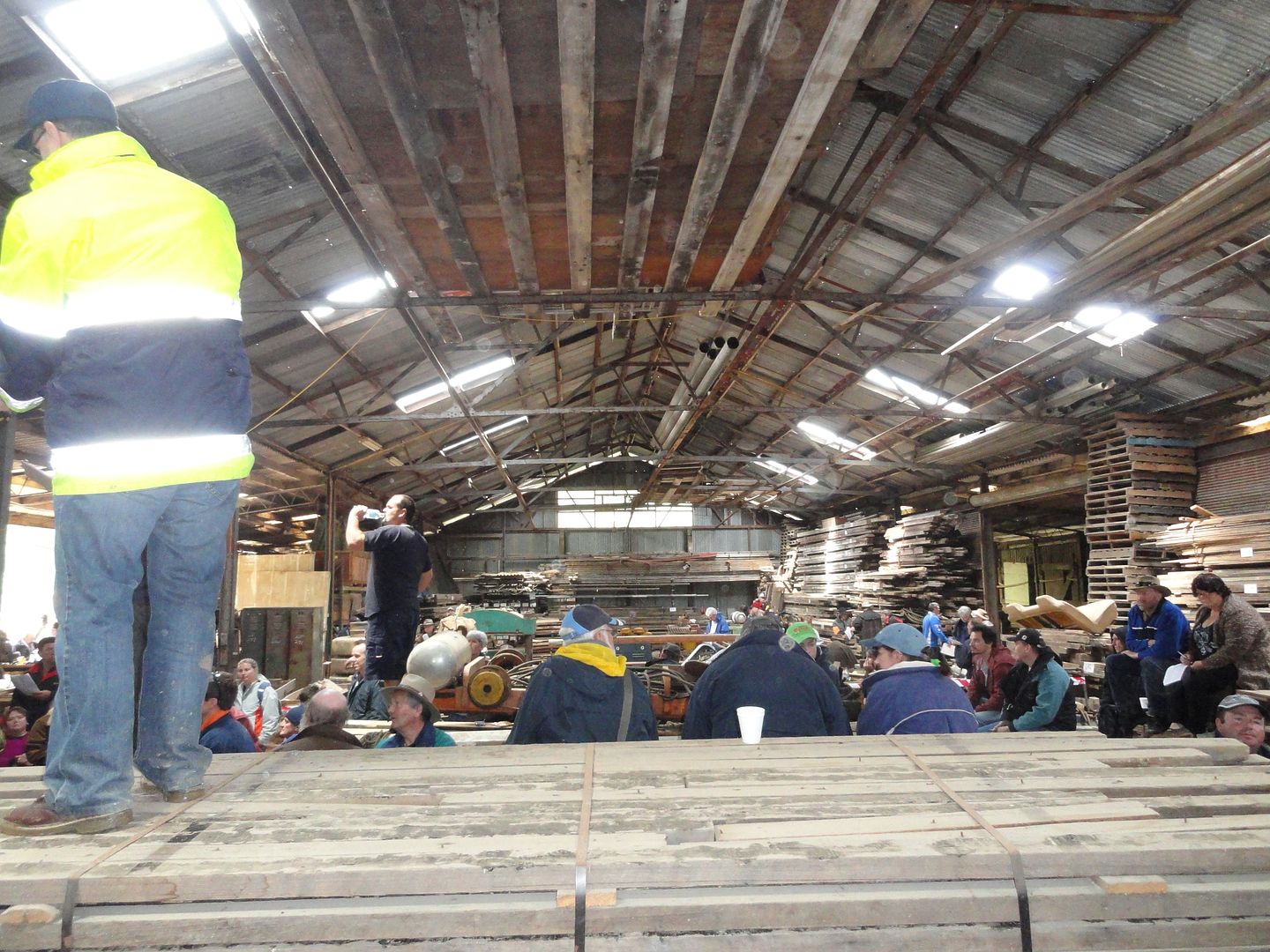 .....and they had a bit of wood....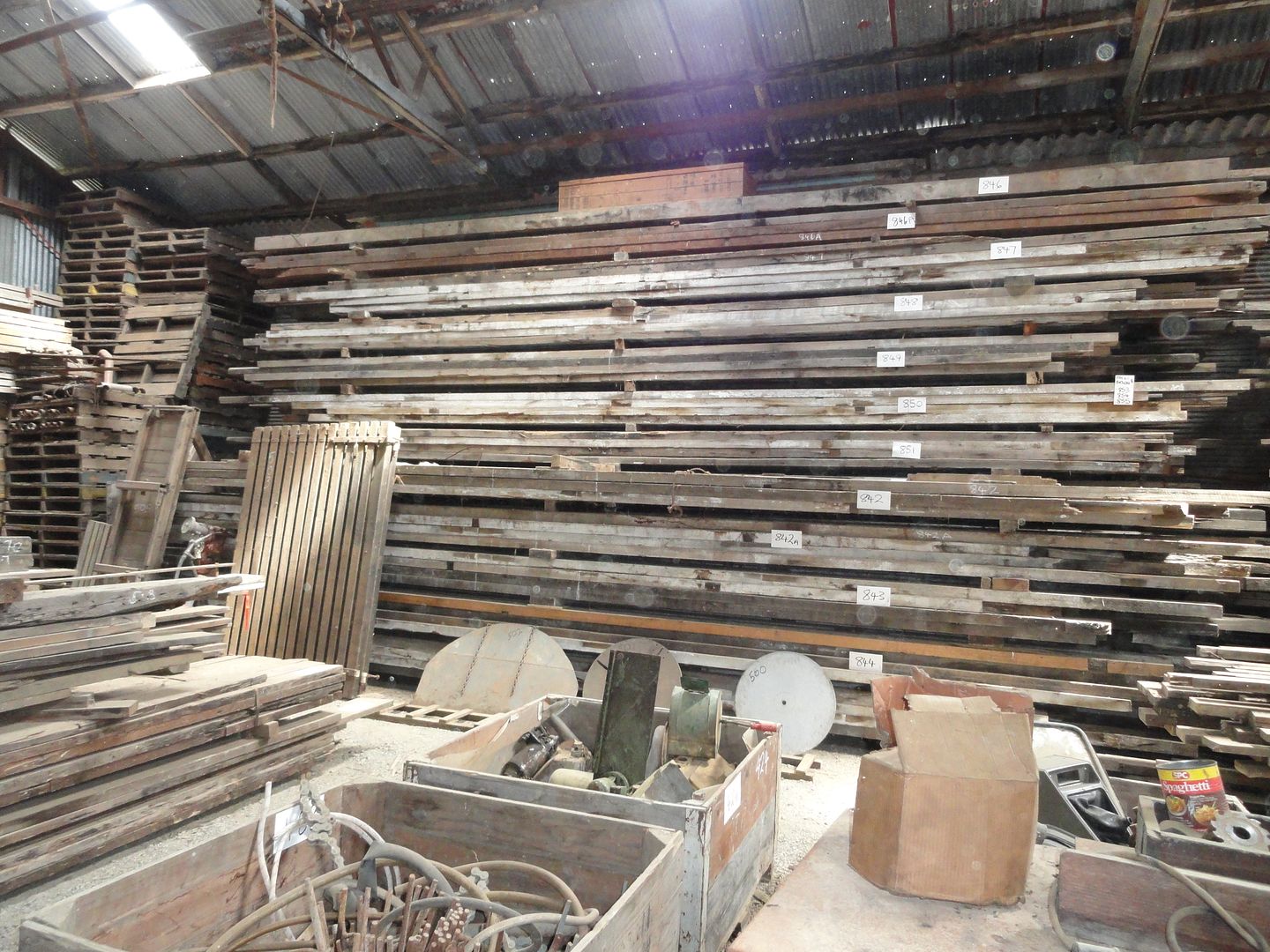 ....that top plank is about 8" high by around 25 ft long . It's a bit hard to convey the overall size of the place in photo's, and this was just the main area.....on either side was another annexe as well.....
....outside was the van , it hadn't really started to get muddy at this point.....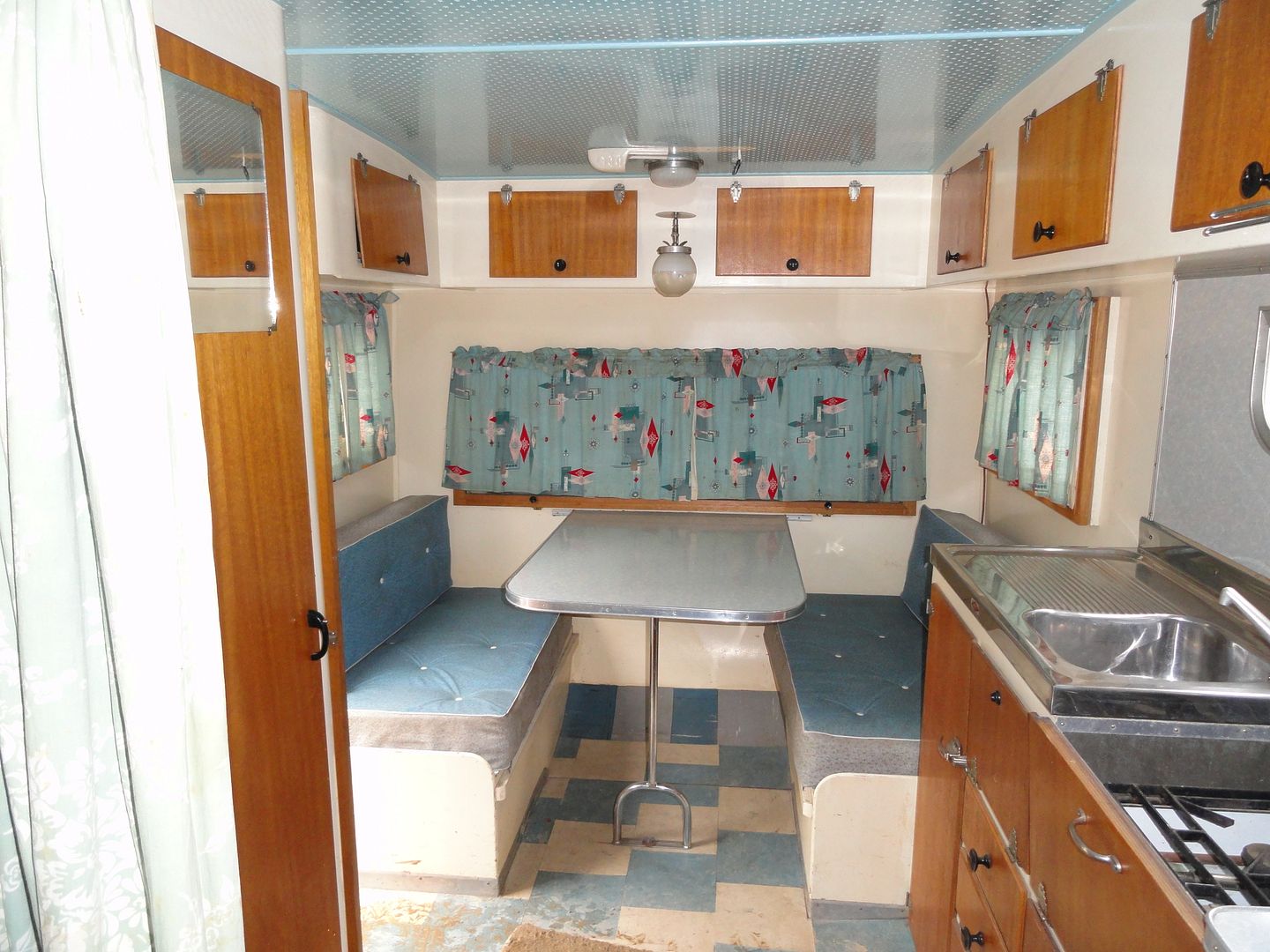 .....inside looking to the front , original cushions in blue and gray, laminex in perfect condition ,blue and white lino tiles on the floor , neat old curtains should come up well with just a wash , gas lamp over the table.....and the roof is painted Masonite with beaut little star shaped perforations stamped into it. It's really in great condition for an unrestored van.......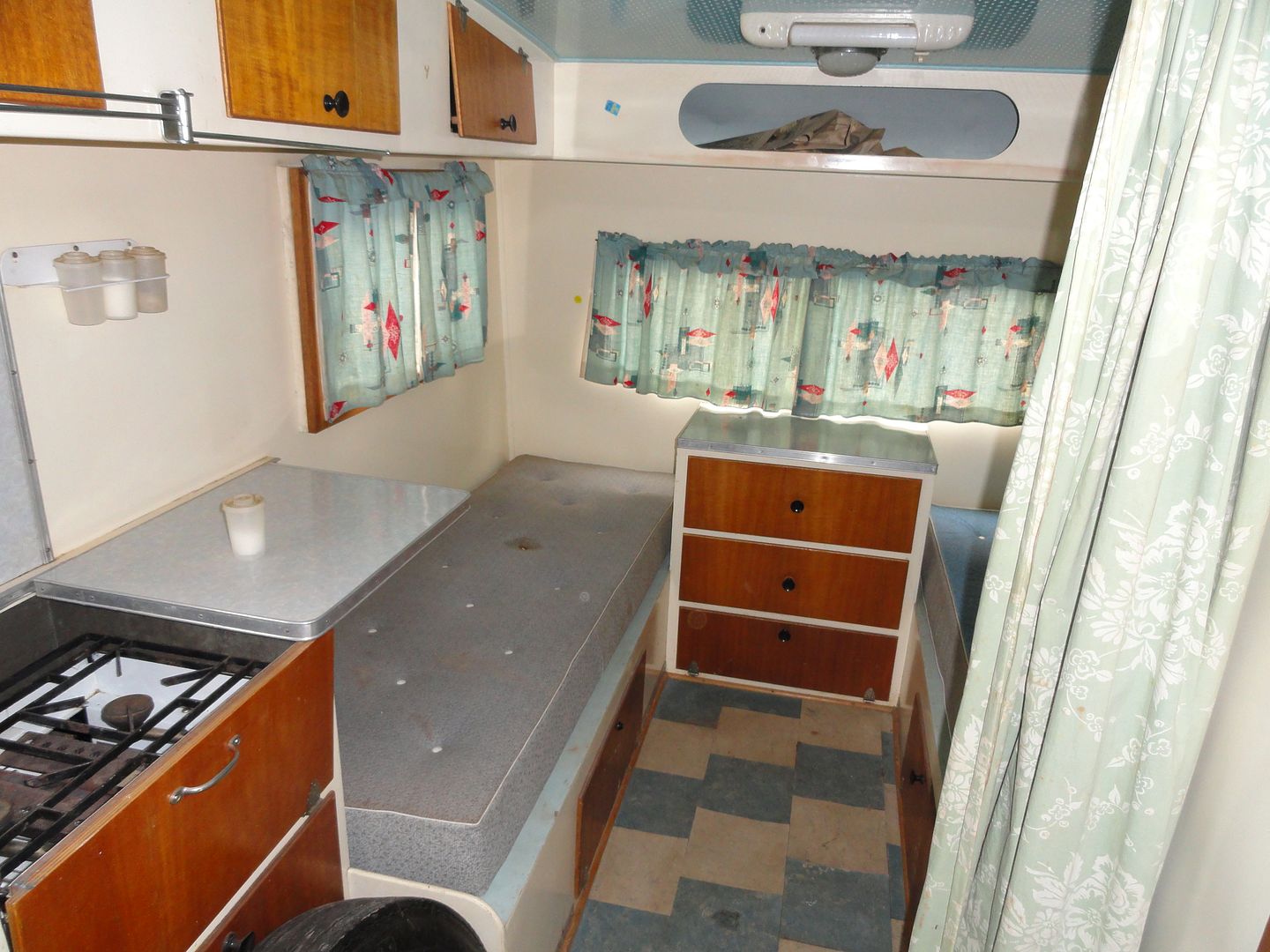 ...looking to the back , single beds either side with original material coverings, blue on one side,gray on the other.....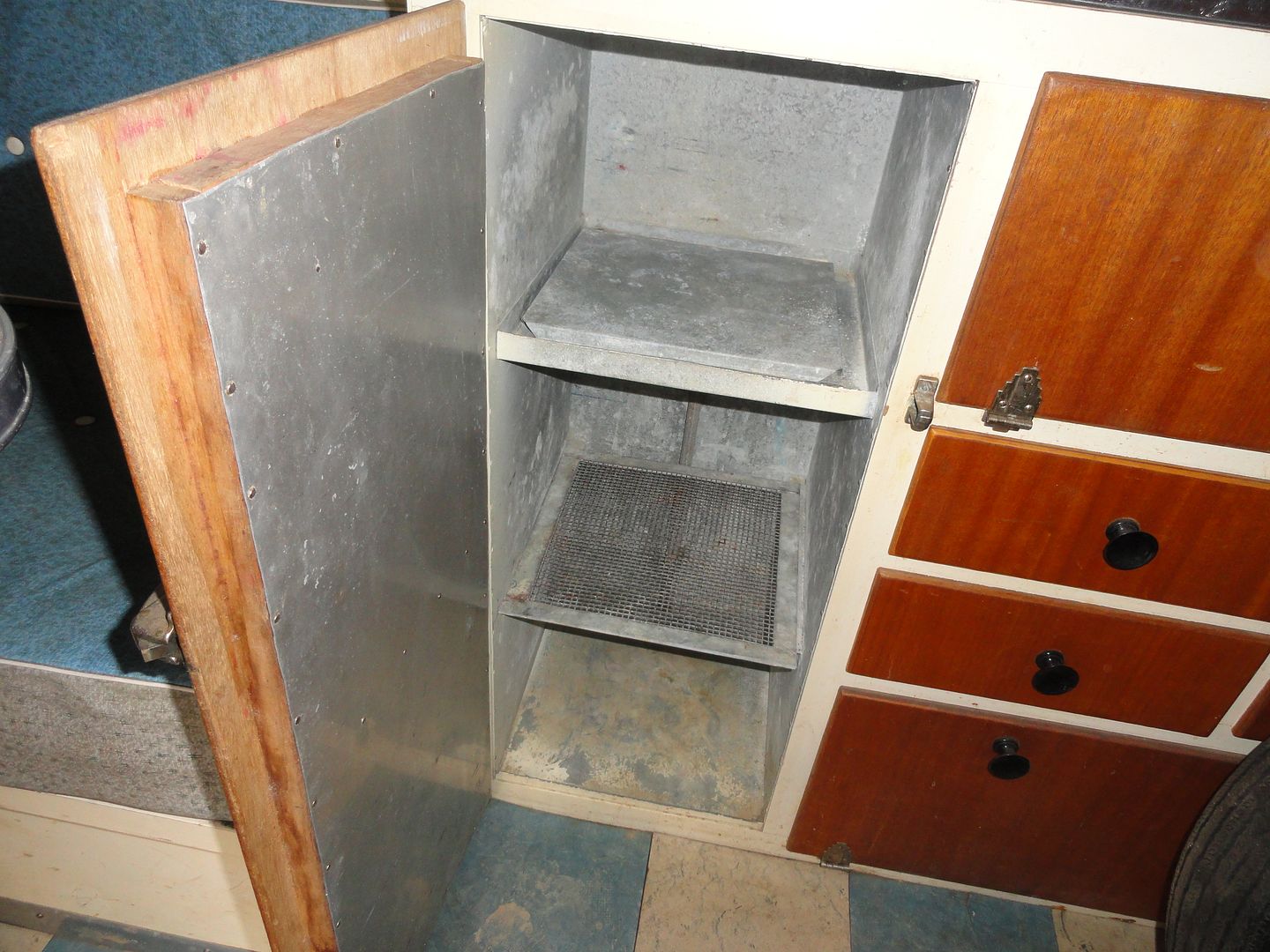 ...icebox.....
....cabinetry is in near mint condition too....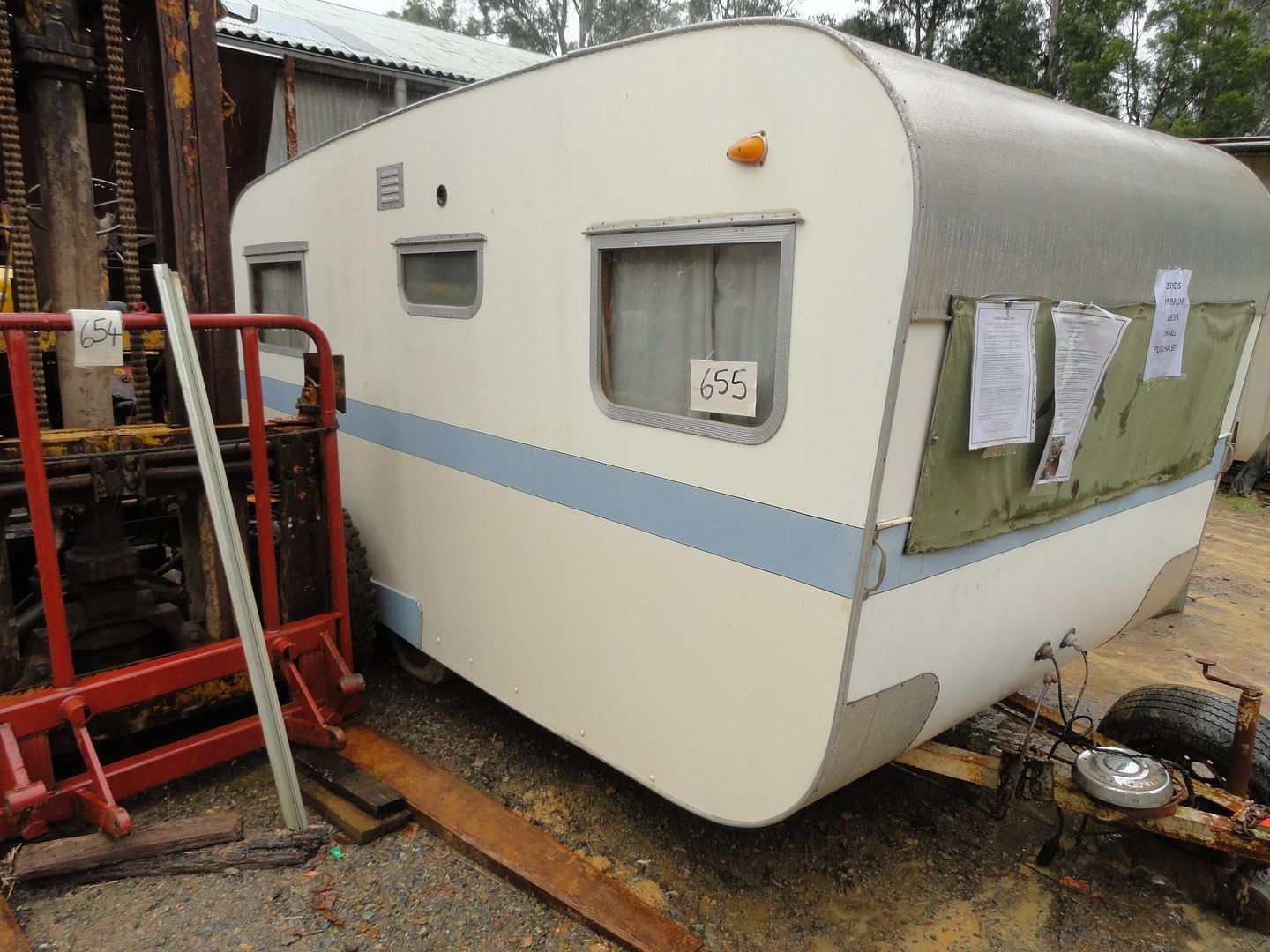 .....but we hadn't gone to buy another caravan...we were chasing Flatheads.....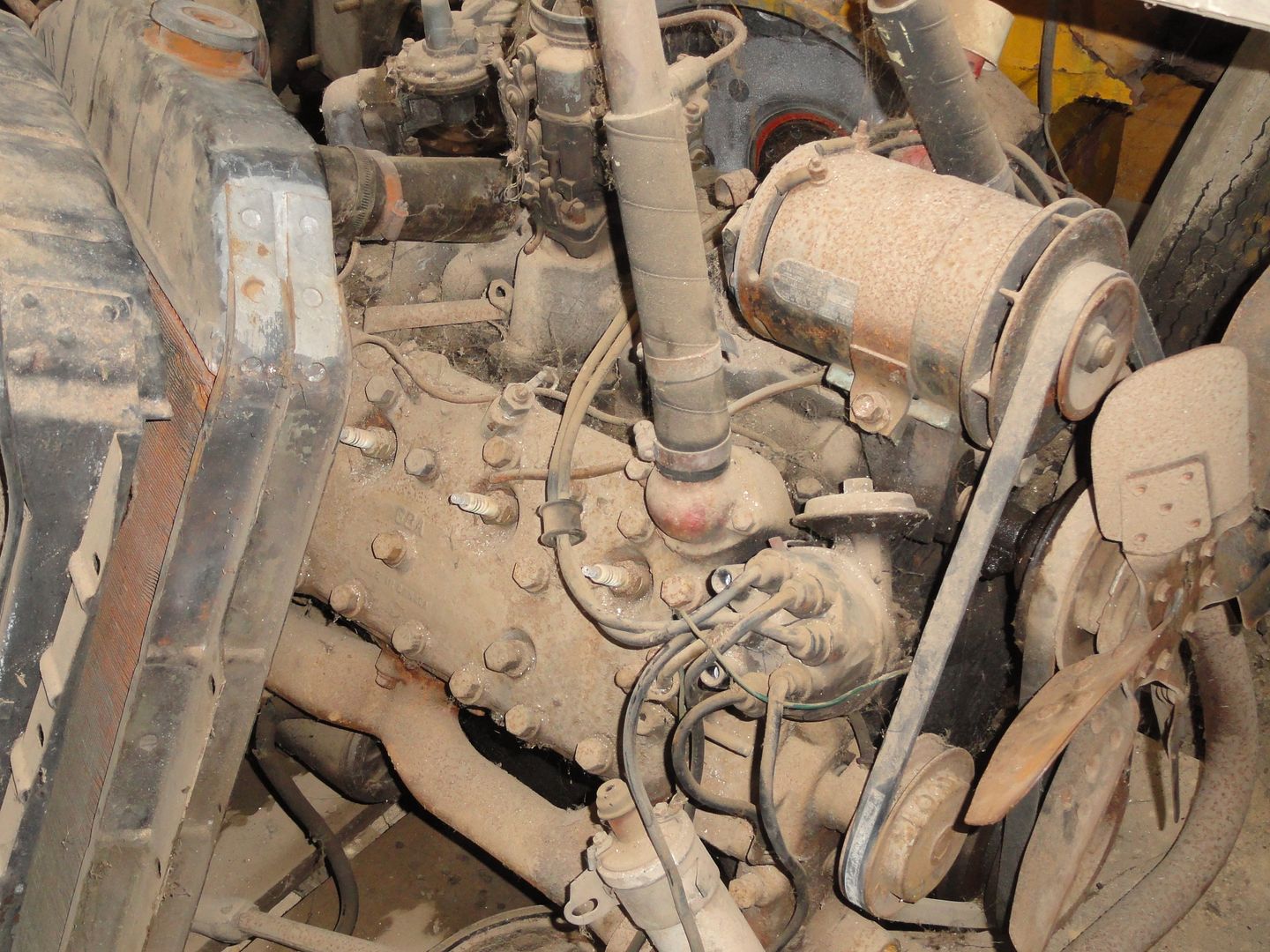 ...no Reddo
...not fishy type Flatheads , Ford V8 Flatheads ;D
...of which they had a few......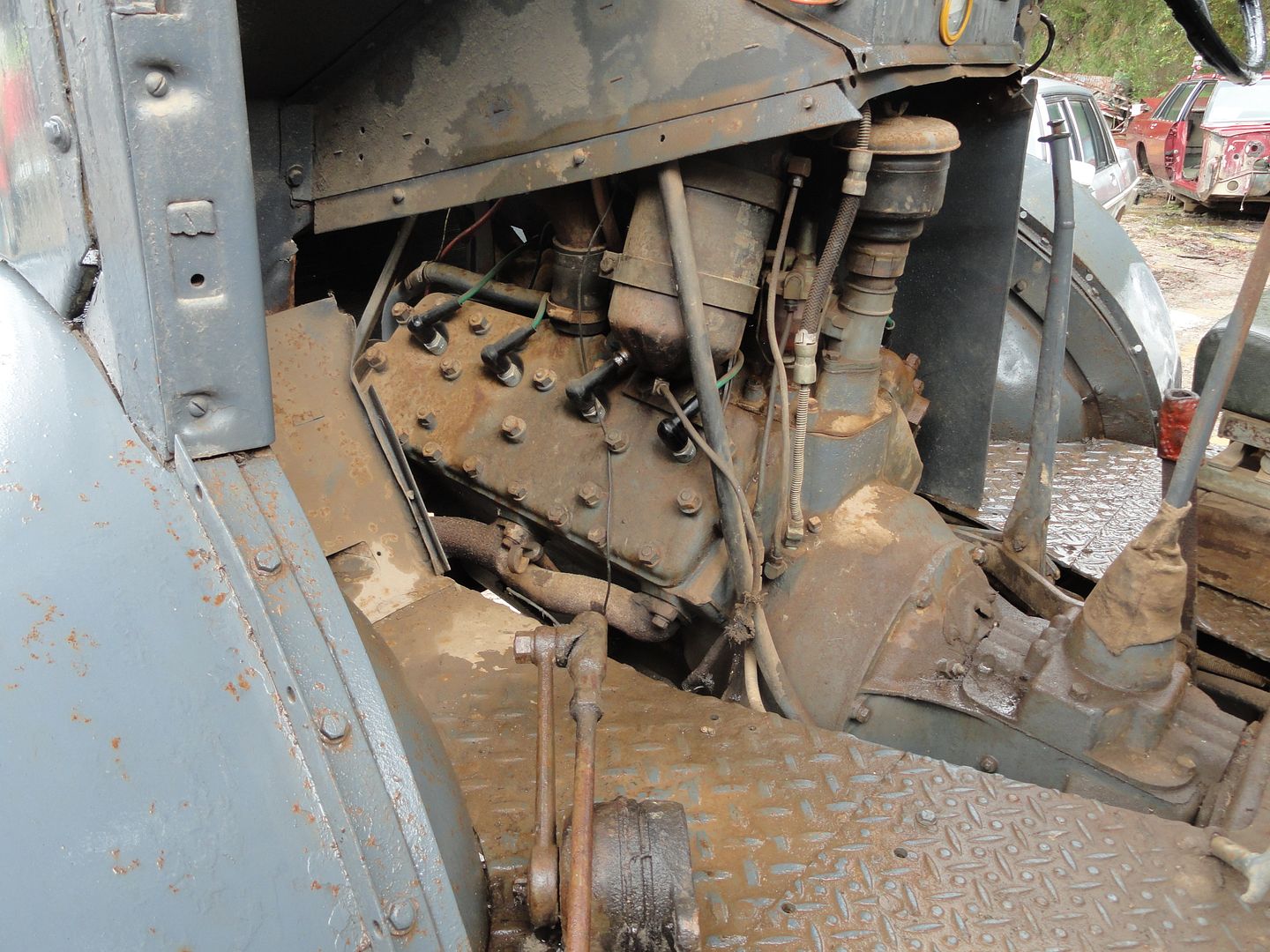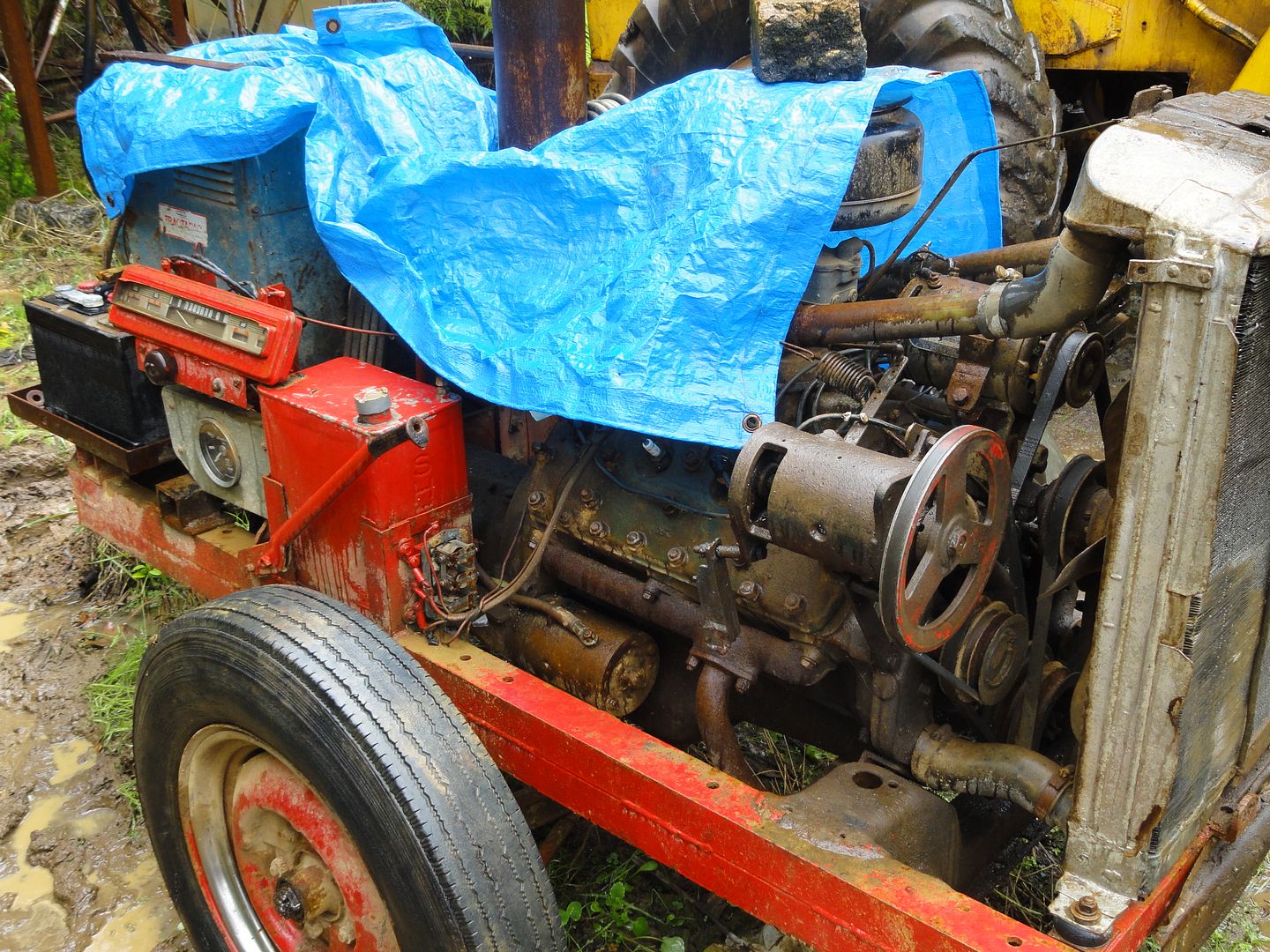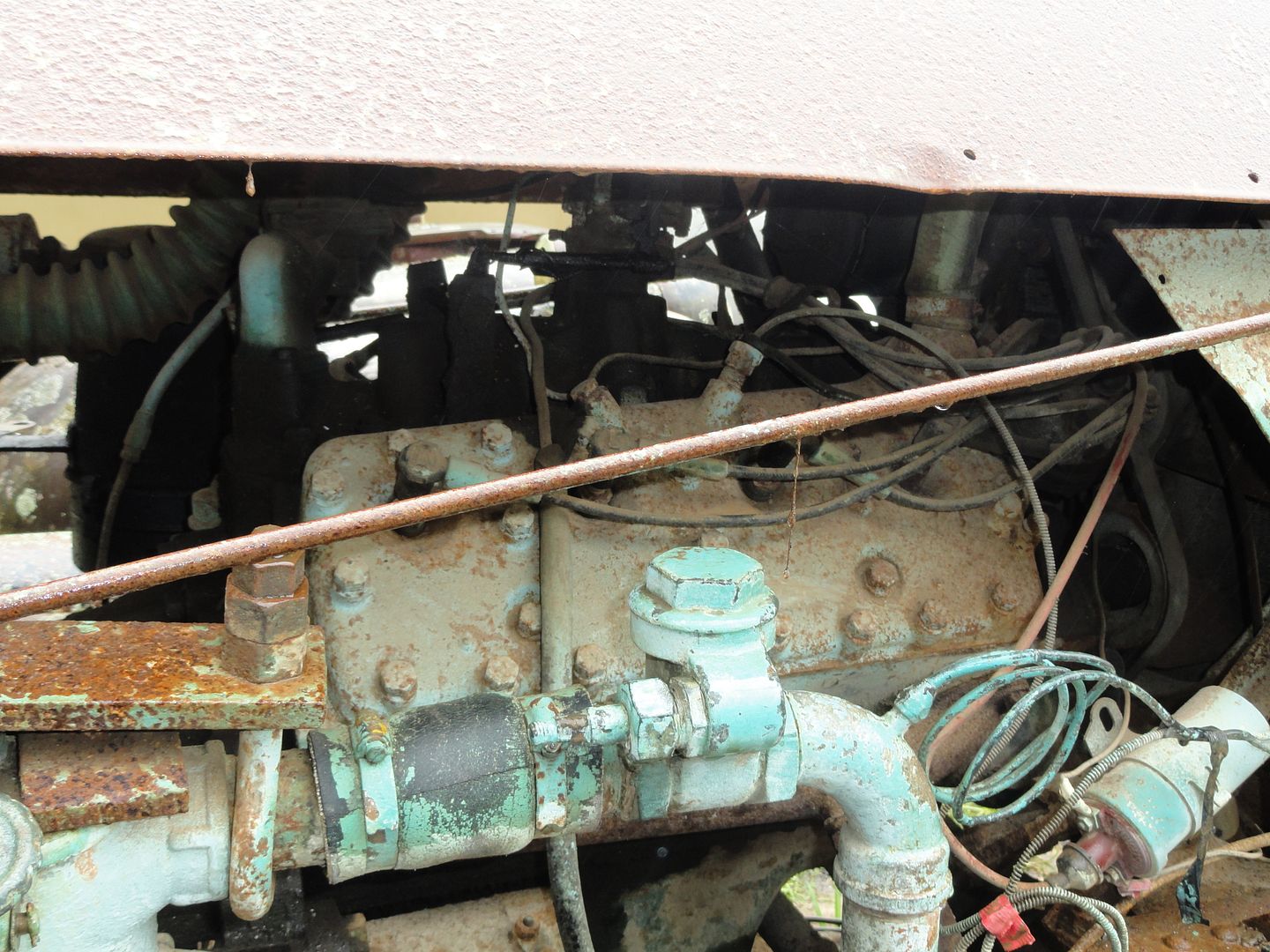 ...plus a few vehicles as well...
....this Blitz based crane was used in the erection of the big shed...nearly ended up with it following me home too when the bidding suddenly leapfrogged about a 1G with me being the last one on the count
....fortunately someone else took up the challenge and I was saved ;D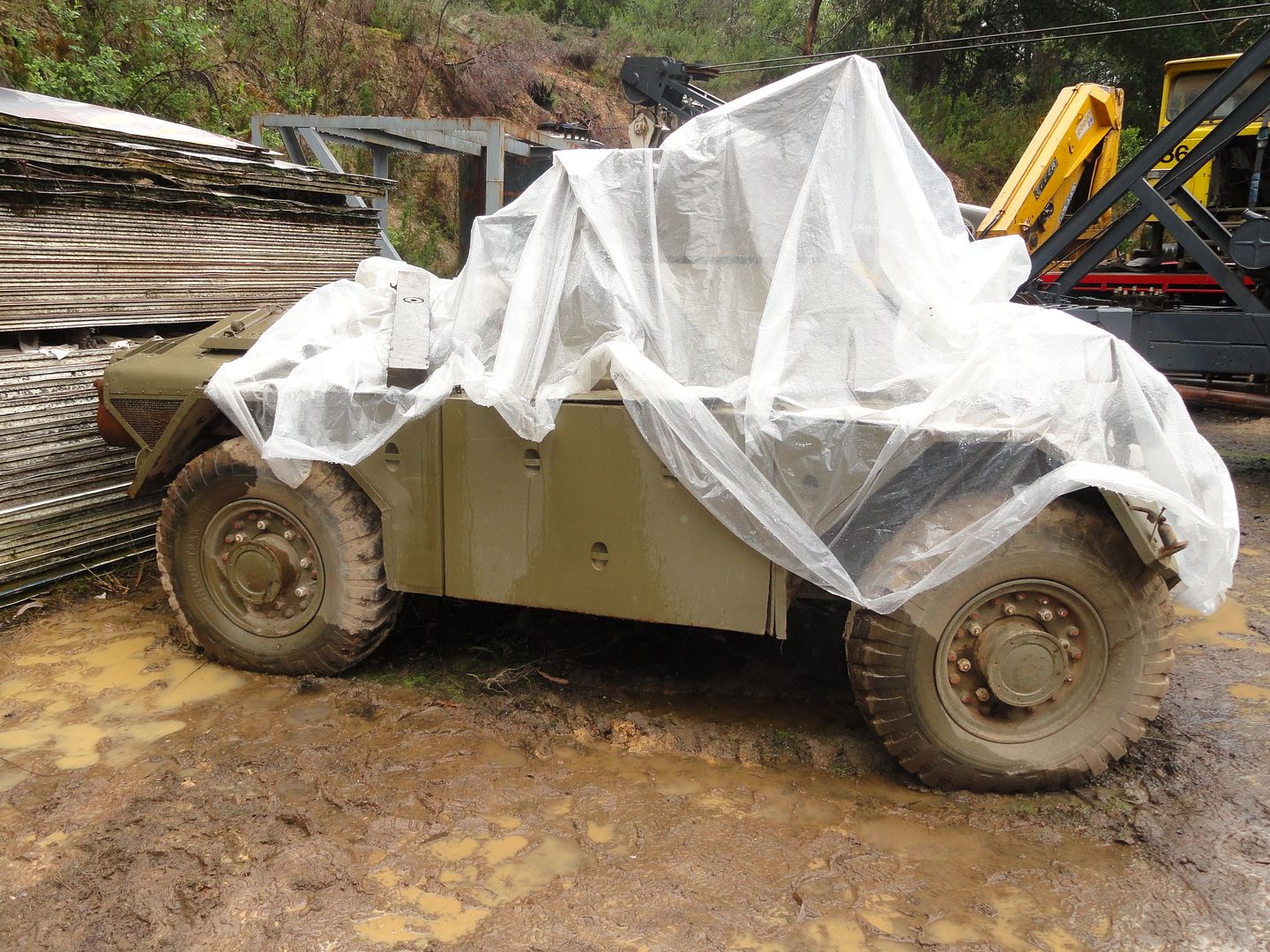 Daimler Ferret scout car...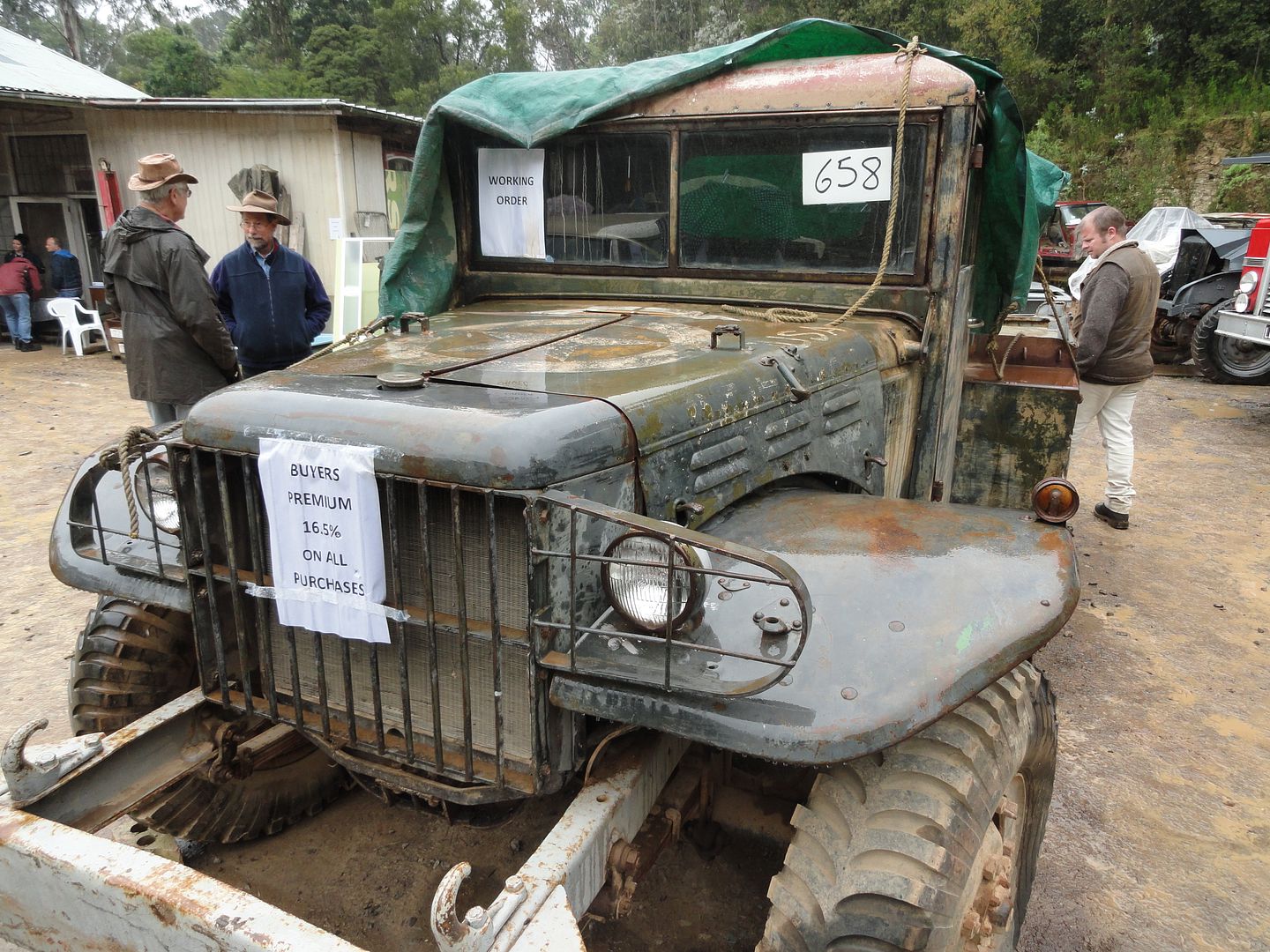 Dodge 3/4 ton Weapons Carrier....still has the USA marking on it , had one of these some years back and loved it so I bid on it,didn't win it.....
;D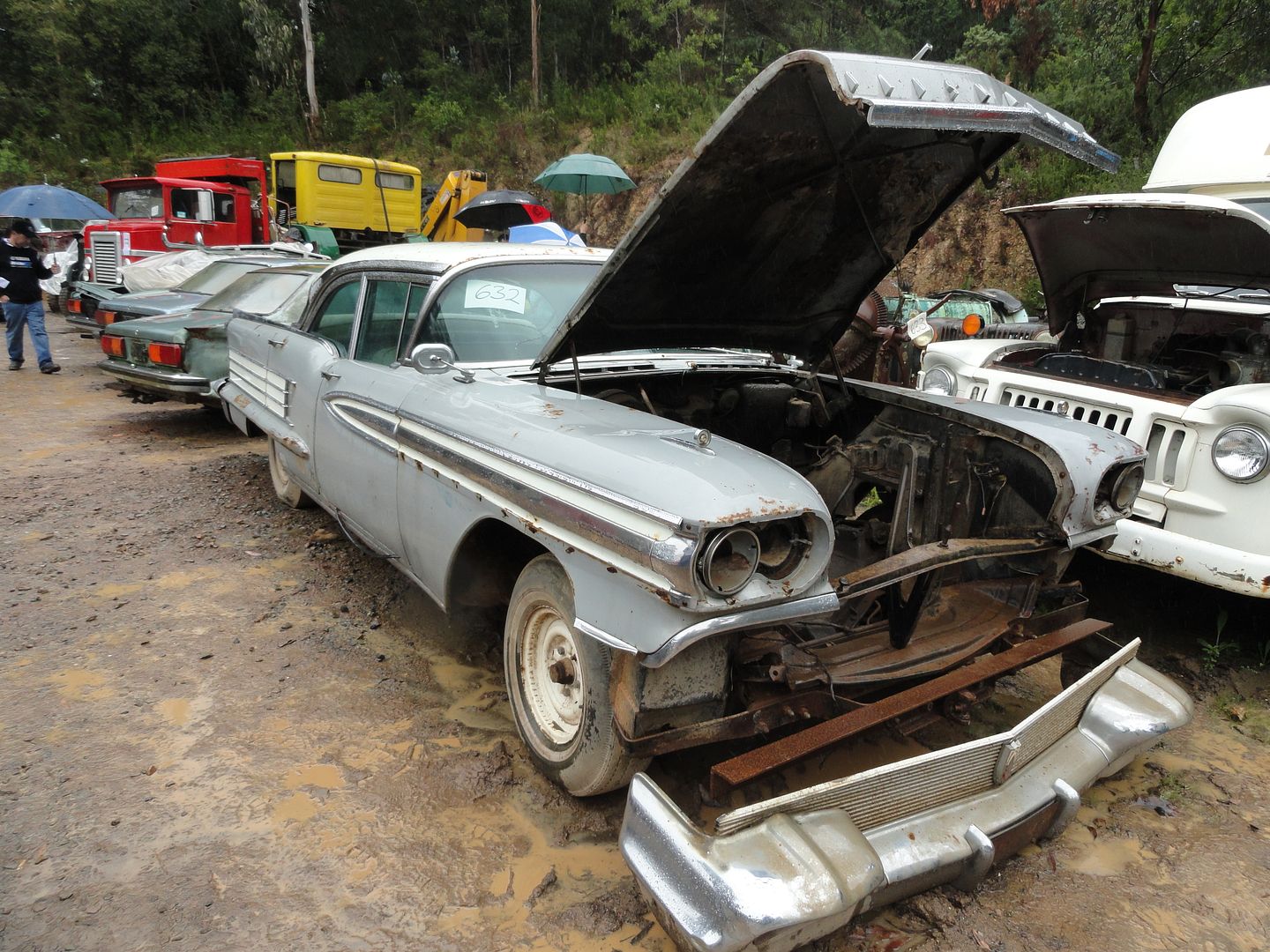 '58 Oldsmobile....plus a few assorteds in the background...the Bedford van off to the side was an ex-Myers van , still running and sounded great....the big Inter down the back was an impressive rig , it had a Cat Diesel , tandem steer and tandem drive, air bag suspension and that big crane halfway down the tray, sounded super tough when they fired it up!

...the star on the show was this '57 Olds 88 pillarless wagon , been here and converted since it was new, in very good condition and running order. Just needed exhaust , tyres and brakes due to being in storage for about 25 years ( I think that was the figure spoken of).....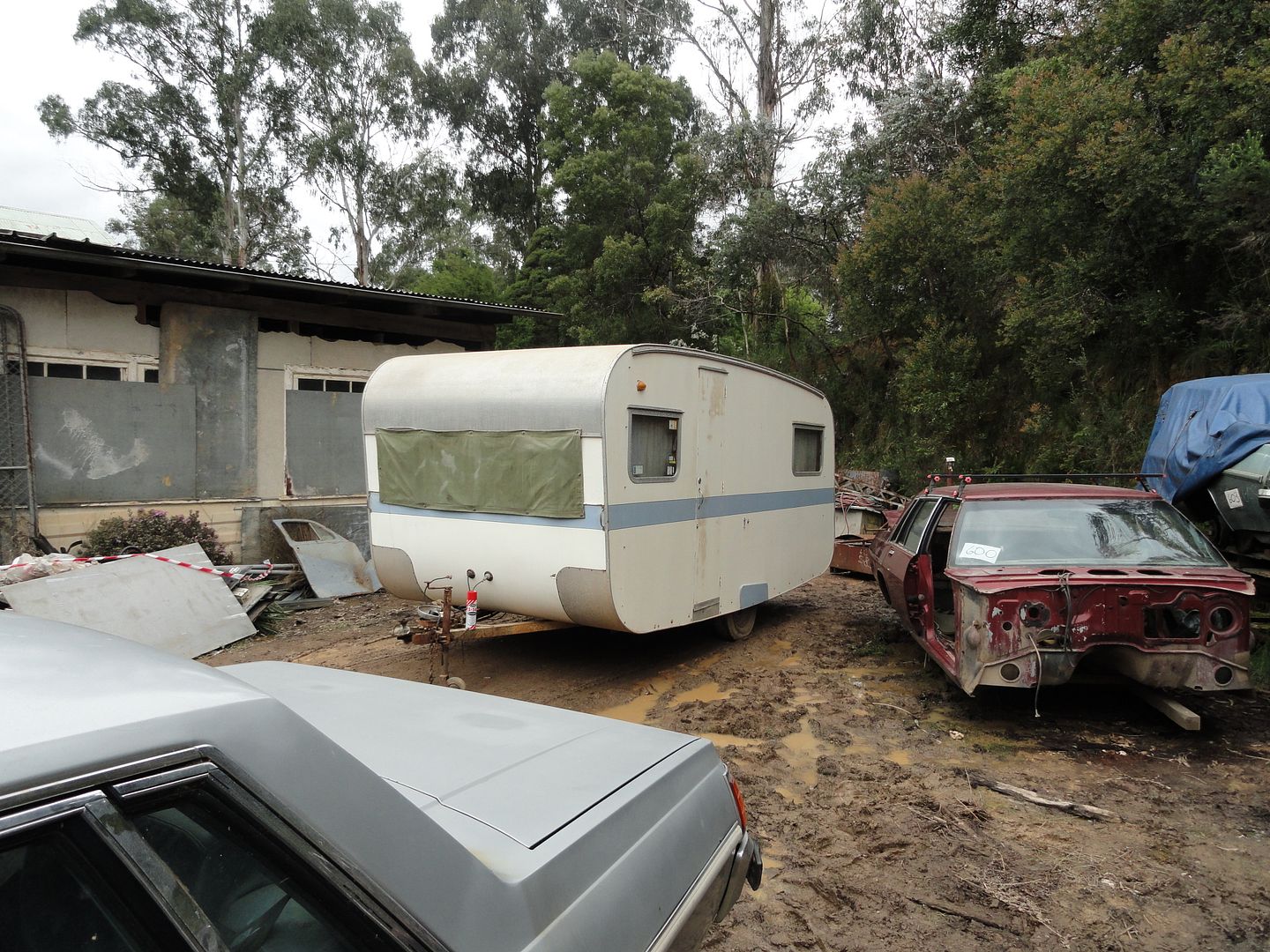 ....this is the next day...pick-up day...by now it's seriously muddy, everywhere ;D.....also in the mix were a heap of Statesmans ,some mint WB's and a few earlier ,a couple of wrecked out shells too....access to the site was limited ,there was only the cleared space where the 2 Olds sat.....so it was fairly chaotic come pick up your stuff time....we were lucky enough to get in early after the timber auction finished up on the Monday....hitched the van up after blowing up the tyres ( why do you suppose both valves got themselves right up high under the wheel arches , necessitating grubbing around in that mud? :

.....and set off for an uneventful trip back home with it. Mentioned before that buying the van wasn't part of the days plan , but a guy was overheard to say he was going to buy it and put it on his block and turn it into a "rock and roll caravan"...whatever that is
.....didn't sound too good for the long term survival of this lovely old van , so I thought I might just have to save it....so I did. Don't quite know what to do with it , so if you think you could give it a good home that doesn't involve a whole heap of retro trashy add-ons , give us a shout and come check it out!
....the only Flathead we managed to catch on the day was part of this nifty Ford V8 welding outfit...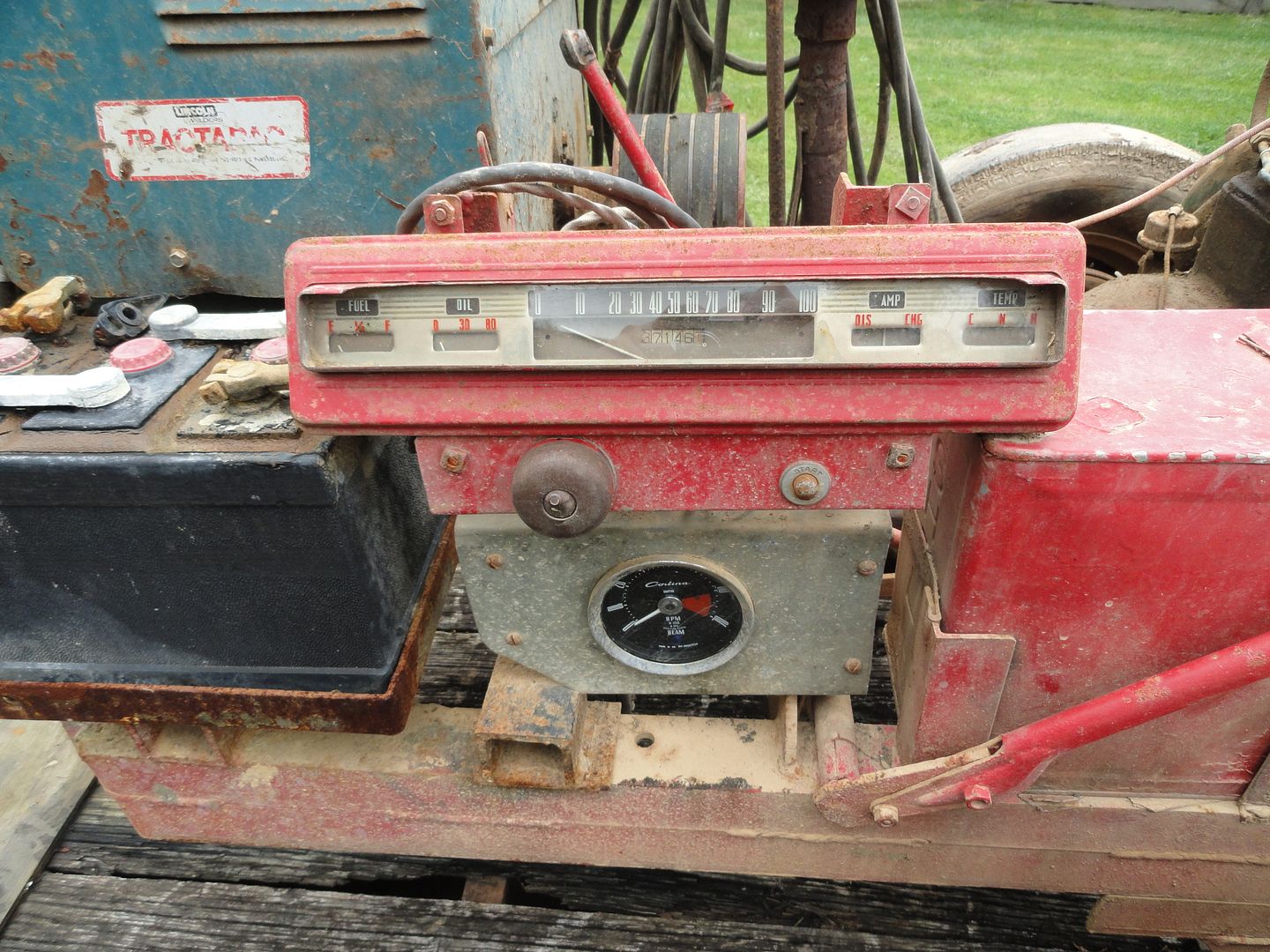 ..looks like a '46 Ford car had been wrecked out to form the basis of the rig , it has the whole axle and brake assembly including the wheels and trims , V8 and matching gearbox mounted to the Ford front crossmember , even the instrument cluster was used...along with a Tacho from a GT Cortina.....and an earlier '36 Ford radiator up front....cool as.....
....so there you go, hope you enjoyed it...we did....cheers, Col.