Post by cobber on Sept 11, 2011 19:26:33 GMT 10
A couple of months ago a bloke I know.... lives in Western Australia, asked me if I would look at a 9ft. home made, 1951 plywood caravan in Sydney for him.
No worries.
Thanks for the opportunity Mark (damn now you know his name

)... because it turned out to be an interesting couple of days... first checking out the van and then today picking it up............... for you
Turns out the van was designed and built by an engineer named Wally Ward.
Anybody into the history of yacht racing will know of Wally ward, he was the designer of many yachts that were built by Ron Swanson and also Jim Perry...... one of them "Cadence" won the Sydney to Hobart in 1966.
Yachts designed by Wally Ward are still to this day admired as being beautiful yachts, and you can
pick one up right now if you are quick
....... sorry you weren't quick enough, it's gone.
Anyway, he not only designed this caravan... he built it.
On first inspection I was impressed how it was built for strength and lightness..... and absolutely no wood rot anywhere. It had many ingenious features obviously designed and manufactured by Wally Ward.
The suspension... I could not see how it worked without taking a wheel off in cramped conditions but I could see it worked so I didn't bother.
I told Mark it was worth buying to use at Cowra next year and then take to Beverly ….......... should have told him it was a dud and then bought it myself, it is a cute van girls.... without a doubt.
OK , photos.
These were taken after I got her home.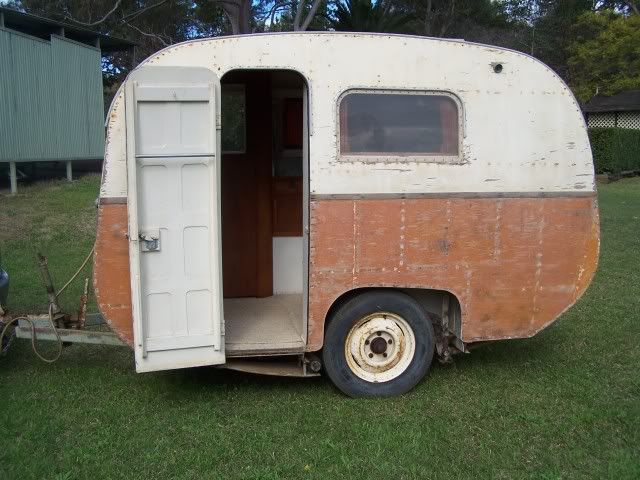 The near side has been rubbed back.... the off side hasn't.
This next photo shows the normal position of the wheel in the wheel arch.
When I first looked at the van I was shown how either.... or both sides of the van could be lowered to level the van on sloping ground or to get it into a low garage doorway.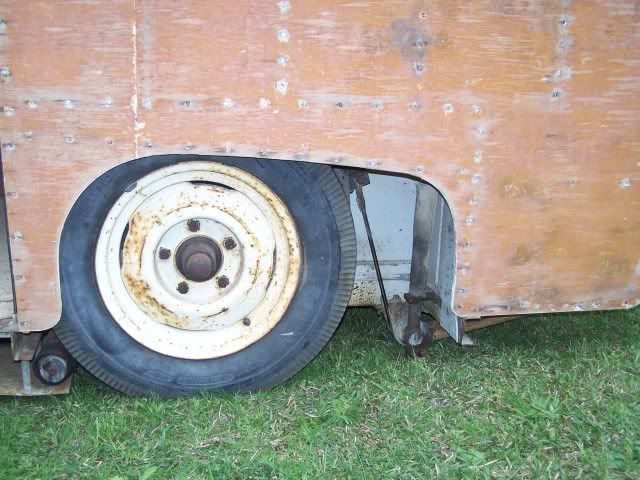 So when I got her home I couldn't wait to get the wheel off to see how that was done.
She has independent suspension and It's done by turning a nut at the end of that tube going toward the rear of the van.
If you can't see how it's done by the photos you might have to wait until Cowra

The steady legs are operated by a square nut just behind the wheel, you can see the multi purpose handle that does it all..... including the Jockey wheel.... which isn't exactly a wheel, photos of that later.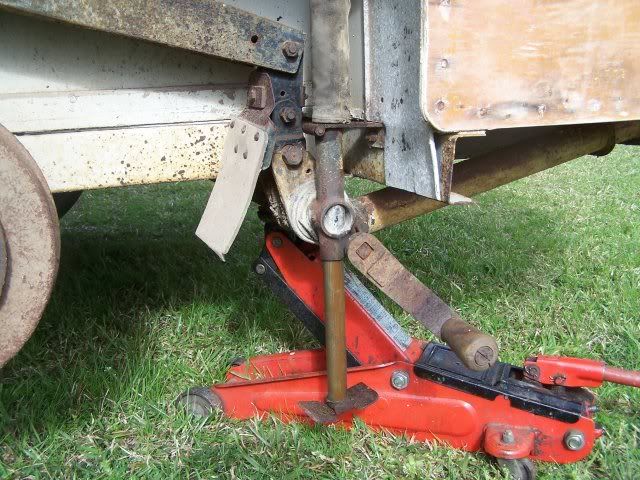 There are many more ingenious ideas in the way door catches and other bits and pieces are made.... Wally Ward made them all in his workshop.
Was it a pain free recovery ?................................ almost

Cobber.