Post by hilldweller on Jun 19, 2011 17:55:24 GMT 10
OK here goes. This is going to be a slooooow thread. The story so far: saw pic of cute retro caravan, that's cool, be nice to have one of those as the ground's getting harder each time I sleep in the tent, know nothing about caravans but hey, they're only little, how hard can it be….
And then there was this, stripped out by previous owners and everything thrown away, hole in roof, hole in floor, no jockey wheel, broken panes, one wheel in need of replacing (and no they're not Holden rims – Austin A55, as it turns out), no hardware at all, not even a door handle etc. But it's about the same vintage as me and it's an awesome shape. Sold! OMG it's fiberglass! What's fiberglass? Will it shatter if I tap on it??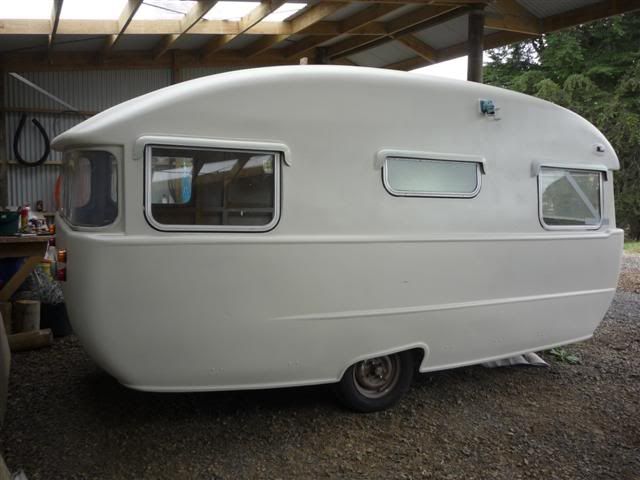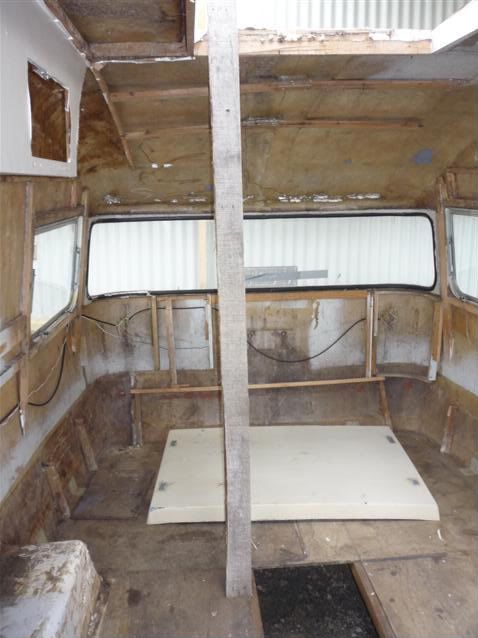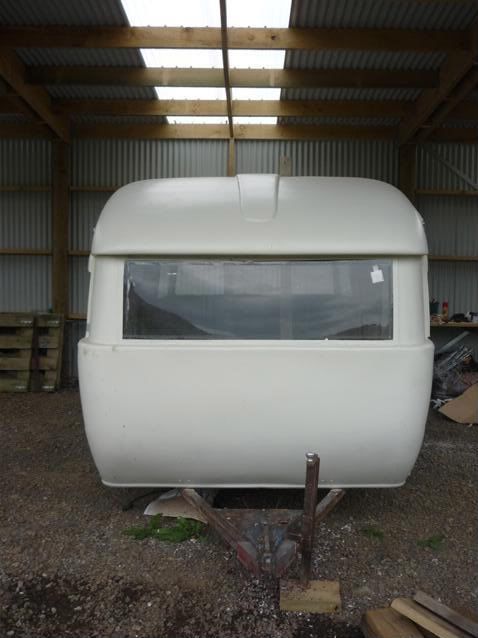 Wirebrushed and rust-treated the chassis, removed a quarter inch of paint from the drawbar after which the brake lever thing moves back and forth, though whether it has any effect on the brakes remains to be seen.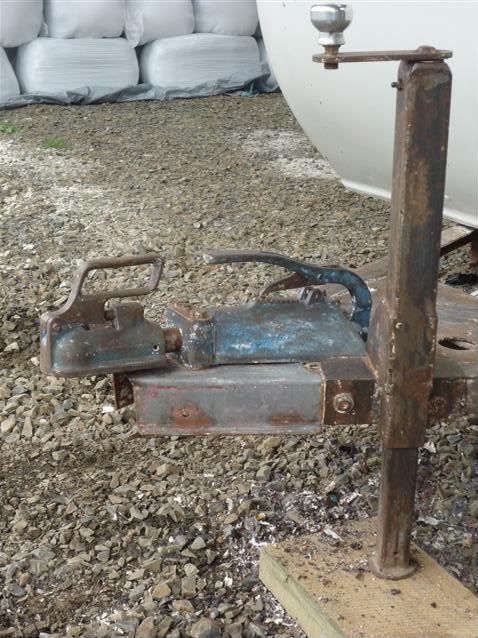 Then new floor 'cos it's hard to do anything else with a hole in the floor. And polystyrene underneath.
How do you build seats? First and most important, you find a helpful website with friendly people who know what they're doing ;D and lots of pics.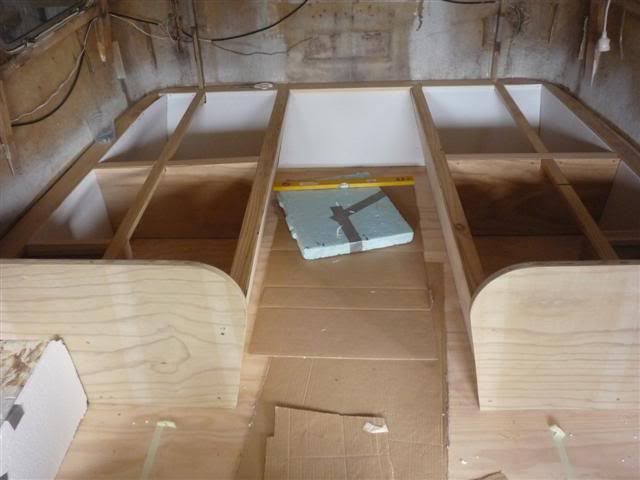 Shouldn't there be some straight lines around here somewhere, right angles even? Nope, just curves, odd angles and lefts and rights that aren't quite mirror images. Perhaps the spirit level will help? Nope, though it does confirm something going on underneath that means the whole thing's inclined to lean just slightly to the right. (Temporarily fixed by letting air out the left tyre).
Had to do a bit of fibreglassing – a strange and messy business LOL but boy that stuff sets hard ;D.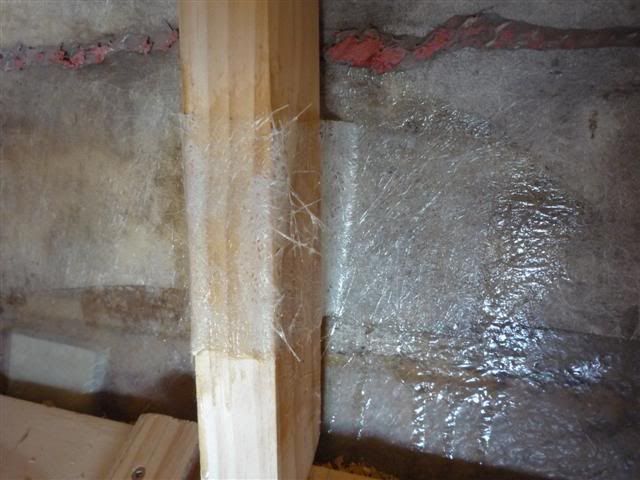 Then I got brave and attacked the framing around the hatch. The timbers running lengthwise are real timber and sound but the cross pieces are delaminating ply.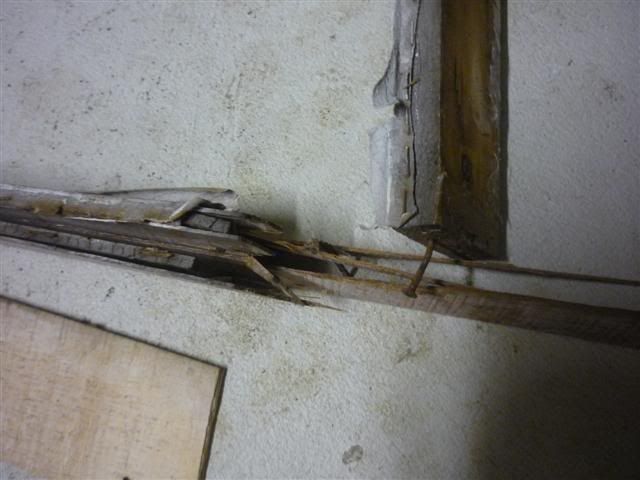 And there's no way to attach the hatch – the complete absence of hardware on this van is bizarre. Tried to be gentle in the hope of getting a usable template but it just fell to pieces and this is what was left.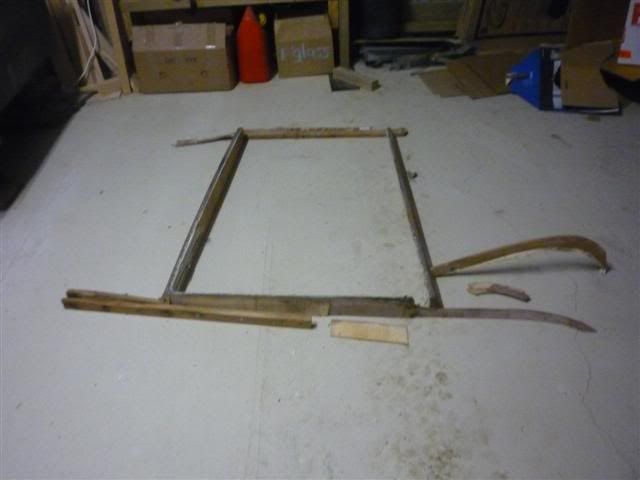 The fiberglass on the other hand is STRONG and looks good, albeit it's rather saggy on one side after years with no support.
And that's about where I'm up to. Want to replace the hatch framing and attach the hatch so I can take the van to a mechanic, sort out whatever's making it lean, get the brakes investigated and a jockey wheel and stabilisers attached and maybe even a bracket for a gas bottle and one for a spare tyre. But I think the top cupboards need to be in place first as the hatch framing extends across and butts up against them, and that means the wardrobe too, and for that I probably need to fix up the missing framing on that side…. Made a start on replacing framing bits today. Will post more pics when there's something to show.