Post by Don Ricardo on May 14, 2011 20:22:26 GMT 10
FIESTA CARAVANS [VICTORIA]
Manufacturer unknown
Manufactured in Mildura, Vic
---
Kelvinmounsey posted the following on 6 February 2010:
Hi, I purchased this van a few months ago and was hoping that someone could help me with the year. The only numbers I can find on it are right up the front near the coupling. 213. They are rather big and done in a dot form. I really love the van and have been working on it since I bought it to get it up and running.
Kelvin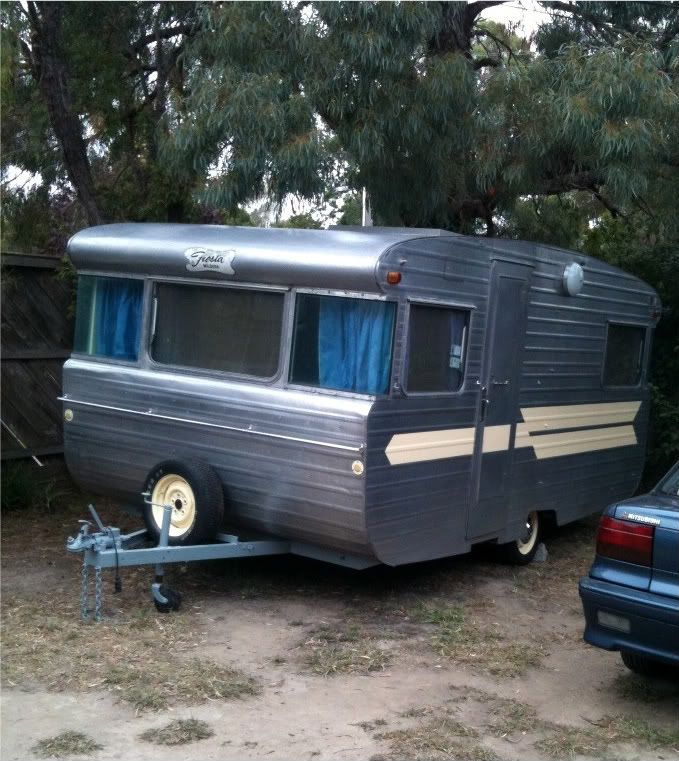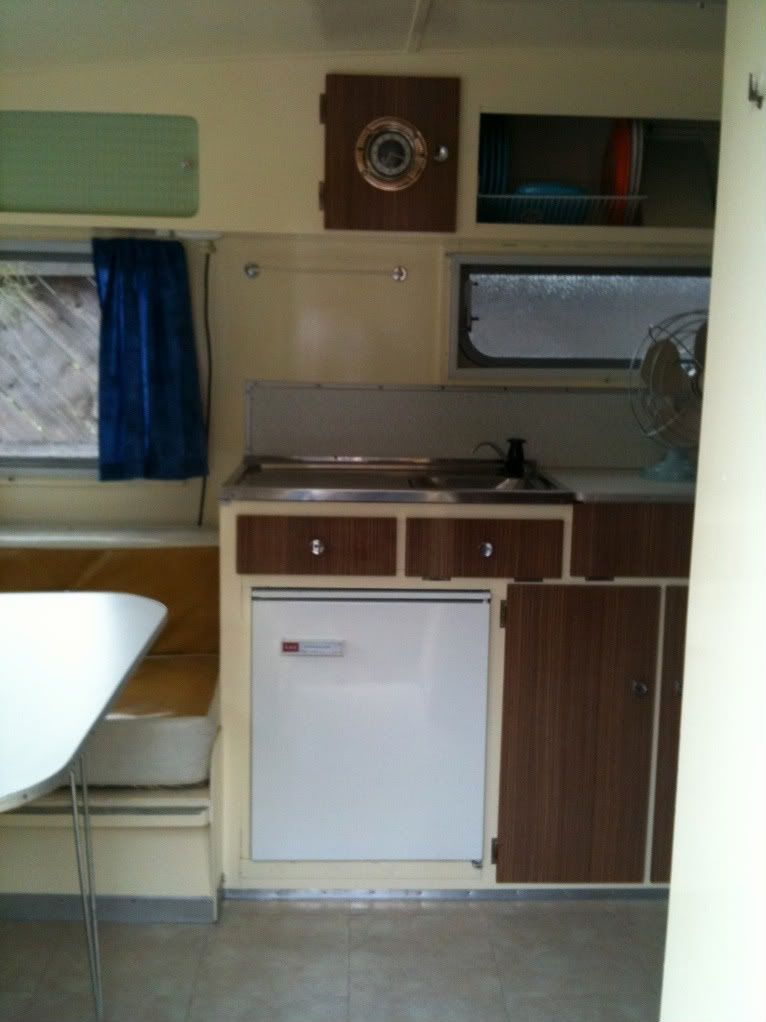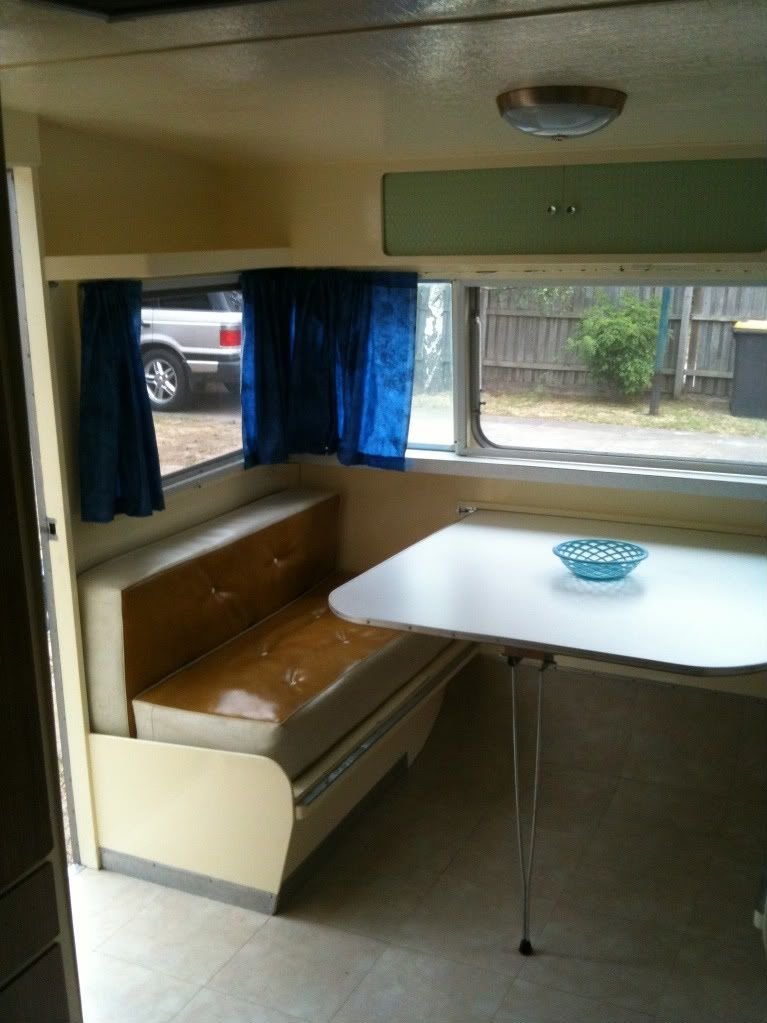 ---
On 8 February 2010, Franklin1 replied:
G'day Kelvin, and welcome to the forum! ;D ;D
...Trying to nail the year of a van is often difficult, and full of "ifs, ands, buts and maybes". And considering your van is the first Fiesta we're aware of, not having other Fiestas to compare it with also contributes to the difficulty.
So, what I'm about to say is of a general nature only. The profile on the aluminium cladding was being advertised from the latter part of 1963 up to 1966. If you haven't already discovered the advert, have a look at Reply #2 in the following thread:
Aluminium cladding "library"
All the interior looks like it would be typical of vans from the mid-1960s, although what's throwing me a bit is that brown pump-action tap. Those taps start to appear in vans from around 1968 and later, so if this is the original tap in your van, it might indicate a later date than the mid-60s.
The major manufacturers had all changed over to the white painted "acrylic" exterior cladding by 1969, so I presume all the smaller companies followed suit to remain competitive. That means that your van is unlikely to have been made later than 1969.
That's the best I can do for you, Kelvin. If the tap has been changed at some time over the years, then my best guess is the van is a 1963-1966 model. If the tap is original, then I have to put the date up around 1968-69, and say that it was made with some cladding that was left over from the mid-1960s...
cheers,
Al.
---
To which Kelvinmounsey responded the same day:
Hi Al,
Thanks for your reply. When I bought the van I thought it was 70's. But after looking around I though maybe not. I think they were actually made in Mildura. But not really sure. I have seen a few around. One on ebay in Mildura and One on a website that looks identical to mine but with blue strips.
The hubcaps that were on the van were almost rusted off. But I could make them out to be EH Holden. Which is 63 to 65. But someone could have just put them on. The sink tap could have been changed, I don't really know. The sink has been removed at some point. As the screws are non original and a piece of timber is missing from across the front of it.
Im happy whatever year it is.

It will look great behind my parents 68 Chev Impala.
Thanks
Kelvin
---
Don Ricardo then wrote:
Hi Kelvin,
...Like Al, I haven't come across a Fiesta brand caravan before, either. But Google is a wonderful thing! I managed to find a link to this photo of a Fiesta caravan which, according to its owner, was built in Mildura in 1970:
(Source:
www.flickr.com/photos/26217912@N06/4201537276/in/set-72157623040739464/
)
The van in the pic is smaller than yours but the profile of the aluminium cladding appears to be the same, the decorative stripe on the side is the same, and many other details appear to be the same.
So, there are now two Fiestas we know about, and as the say in the classics, the plot thickens!...
Don Ricardo
Addendum:
Kelvin I've just read the info you posted while I was writing the above. I presume the pic of the van I posted is the one you were referring to?
---
Hughdeani then added the following on 9 February 2010:
Hi Kelvin,
Great looking Fiesta you have there.They were made in Mildura.I remember seeing lots of silver ali and white ali vans around,but no bondwood ones or any wiyh windout windows.So they must have been sixties to early seventies.Hope this is of some elp to you.
Cheers
Hughdeani
---
On 10 April 2012, Kelvinmounsey added the following information about his Fiesta van:
Hi everyone,
It has been a while since I have visited this site again but I just have to share this story with you. Quite a while ago I purchased an old caravan, a Fiesta Mildura. I posted some pictures up on the forum asking if any body knows any information about that make of van. I did get some great information. Thanks

Since then I have been holidaying in Hester, dragging him all over Victoria. But just this weekend past on my way back from Ballarat I was driving down the freeway doing only 80km/h because I thought I was going to get blown off the road. A lady pulls up beside me waving her arms and tooting her horn telling me to pull over. I pulled over thinking that there was something wrong with hester, she runs up to my car (she looked to be in quite a state of excitment) She tells me that her Father made my caravan. She was so happy to see one on the road still she called her mum who wasnt far from where we were and she came out to have a look at the van too. I showed them through Hester and they said he looks just like it did when it was new. They told me the fiesta brand, made by her husband, were made in Mildura in the 60's. My van was most likely made in 1964. Both ladys were very nice and now I can get all the info on the Fiesta caravans straight from the Lady who actually made the curtains for the original vans.
Its just amazing who you can come accross on any given day.