Post by Don Ricardo on Apr 17, 2011 17:01:24 GMT 10
Eicke & Provis
Designed by W A Norman and
manufactured by Eicke & Provis
Cnr Glen Osmond and Fullarton Roads, Parkside SA
---
Eicke & Provis 'Folding Fly-Proof Caravan' owned and used by Australian artist, Hans Heysen in the early 30's: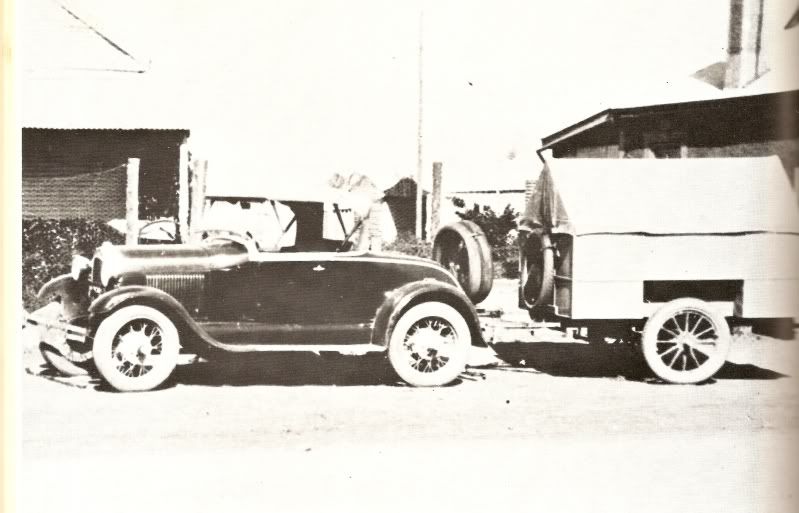 Caption:
The Model A Ford and caravan 1932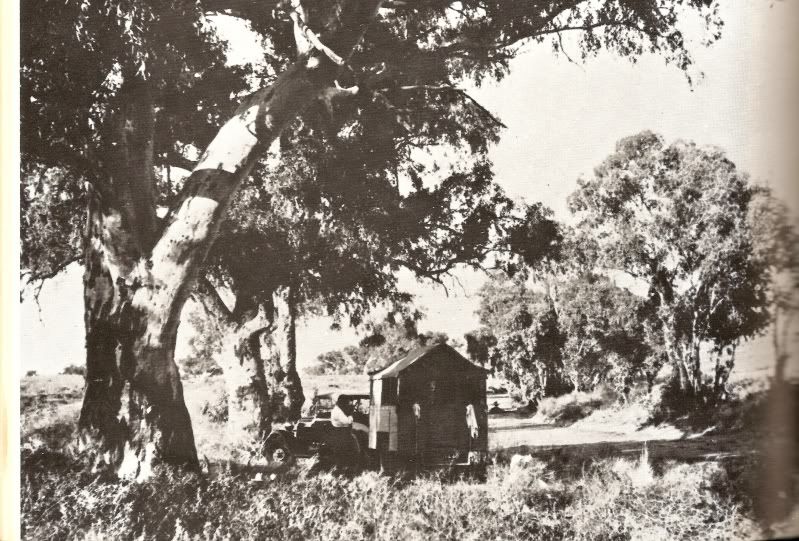 Caption:
Camping in the Flinders with the Ford and caravan, 1932-33
According to Heysen's biographer, Colin Thiele:
"At the end of 1931 David [Heysen's son] left Scotch College; he was almost nineteen years old, well built, extremely capable with his hands, and a good driver. For some years he had been taking his two young brothers to school in a Model A Ford Roadster. Whey therefore, shouldn't he and his father now make a trip to the Flinders together? It was an excellent arrangement. They would tow a small trailer-caravan with collapsible sides and roof, and camp as they travelled. David would be chauffeur, mechanic, cook, watchdog, and courier; father would paint.

"They gave the trailer a trial run to the South Coast and then, at the beginning of March, 1932, set out for the north. Apart from minor mishaps with wheels and springs, the trip was a good one and they were soon in camp on the Brachina Creek, Aroona. Here they stayed for a month. To David it was a revelation and his letters home to his mother became something of a diary as he recorded his daily tasks and surprises. He erected a wireless mast 45 feet high and listened to the daily news of civilization: the official opening of Station 5CK, Jack Norris's morning greetings directed specifically at them, the opening of the Sydney Harbour Bridge, the death of Phar Lap, the thrill of the Great Eastern Steeplechase at the Oakbank Racecourse on East Monday - won by Jo's horse, Archeson."
(Source: Colin Thiele,
Heysen of Hahndorf
, Rigby Limited, Adelaide, 1969, p 208. Photos facing p 209)
---
In many ways,
Henry Eicke
personified the early Australian caravan builders (and indeed others around the world). Advertisements in the Adelaide
Advertiser
reveal that in 1907 Eicke was in partnership with a Mr Kaethner, with
Eicke & Kaethner
being listed as coachbuilders. All through the 1910's and up to 1926, the paper lists advertisements from Eicke selling various horses and horse drawn vehicles, the latter of which were very possibly produced by his coachbuilding business.
However by the early 1920's he was in partnership with a Mr Provis, as part of
Eicke & Provis
. The early 1920's also saw Eicke adapting his business to a new fangled form of transportation - the motor car. In 1924 Eicke & Provis were advertising for a 'coach and general smith capable of assisting motor engineer', and although in 1926 they were still advertising a pony trap, harness and pony for sale, they had begun to advertise used cars for sale in 1925. Advertisements for used cars and trucks, and important items things such as batteries, continued to be placed in The Advertiser until at least 1937. In 1933, Henry Eicke was described in an article discussing an industrial relations case involving the motor industry, as the owner of a: "Mixed motor business involved in body building and repairs employing three motor mechanics, three wheelwrights and a trimmer".
It is no doubt Eicke's background and experience as a coachbuilder which led to their involvement in the fledgling caravan construction business through the development and sale of the
'Folding Fly-Proof Caravan'
in the late 20's and early 30's. However, the camper trailer design of Eicke & Provis' caravan was soon to be replaced by fully enclosed 'trailer caravans', and it appears that Eicke & Provis did not, or chose not to, follow the emerging trend, because there seems to be no further evidence of them being involved in the caravan industry.
There is further information about the Eicke & Provis caravan, including their advertising brochure and more photos, in a short video film posted on You Tube by the Caravan & Camping Industry Association of South Australia here
Don Ricardo
---
For more information about the history of Eicke & Provis and the Folding Fly-Proof Caravans, see further down this thread.