Post by Don Ricardo on Jun 23, 2010 23:44:57 GMT 10
ROAD CRUISER CARAVANS [SA]
Manufactured by Jack Newcombe
20 Stonehaven Street, Rosewater Gardens, SA
Note: Road Cruiser caravans should not be confused with
Jennison's Roadcruiser or Road Cruiser models
or
"Roadcruiser [NSW] caravans
.
---
On 27 April 2009, Olfarts wrote:
Has any one heard of "Road Cruiser" caravans?? They were built here in SA from early 1940s until early 1960s...I will post some interesting pics and information about Road Cruisers.
Their windows apparently had the rising sun etched into them.Which was a trade mark,any way pics latter on tonight...
Dave
---
Olfarts then posted the following on 28 April 2009:
Here we go.
First pic is one of a new ID plate for the Road Cruiser the gentleman i spoke to found in his dads shed after he passed away.
The second is of a photo of one of his dads caravans,lantern roof and all.
The gentleman i spoke to was kind enough to give me several sheets of his fathers original letter heads, the paper quality is fantastic. Note its in color as well...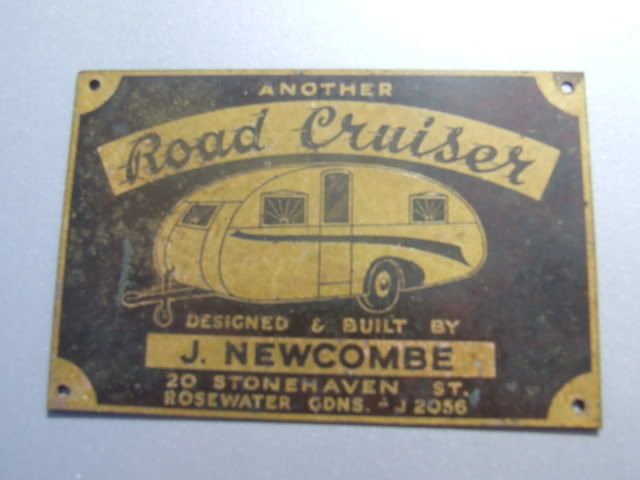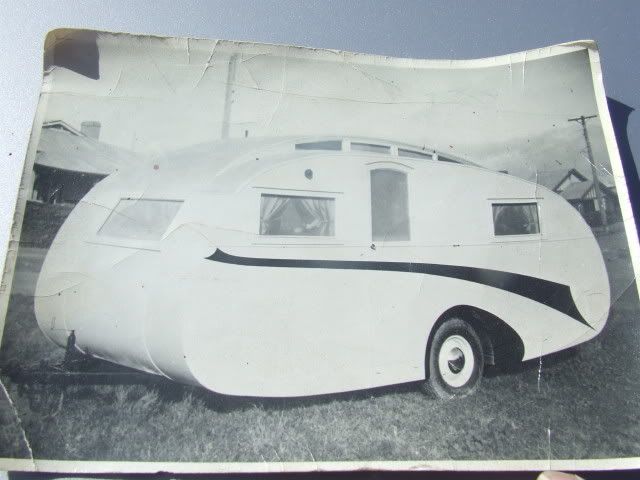 And now for pics of the factory letter head,i have about 5 of them.
The owner was a Mr Jack Newcombe, John his son is the gentleman i spoke with at Goolwa yesterday. They moved from the address shown on the ID plate to Goolwa in the 1940s...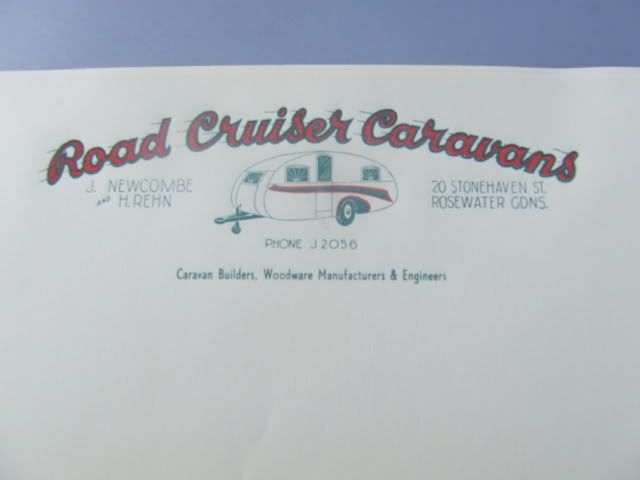 ---
Later the same day, Geoff & Jude asked:
hi all
is it possible that mark's big beautiful bondy from mildura could be a road cruiser.
they look pretty similiar don't ya reckon.
geoff 'n jude
---
JBJ responded:
Hi Geoff & Judy,
I had similar thoughts when I saw Daves posting. It would appear to match the advertising & photo very closely, plus come from the same area . Too much coincidence not to be so.
Sometimes history gets uncovered . I think this is one of those times
JBJ
---
Don Ricardo then posted:
Hey Geoff 'n Jude and JBJ,
Nice pick up! The thought hadn't occurred to me, but I went back through the posts and came across the following post by Mark T about his Mildura van which he purchased from the Rigby family: thanks guys for your comments .........Reddo, I think it'd be about a 16 footer

.
Anyway, grandad Rigby's motor business was going well, and since he sold caravans from his Motor business, he ordered a new caravan to be custom built by Jack Newcombe, a tradesman who built boats, caravans & whatever else.
The new caravan was to be the
biggest & flashest
caravan with many "
Don
" like features, bath, fold out basin etc.
Here's some pics of the new van built in 1959 ............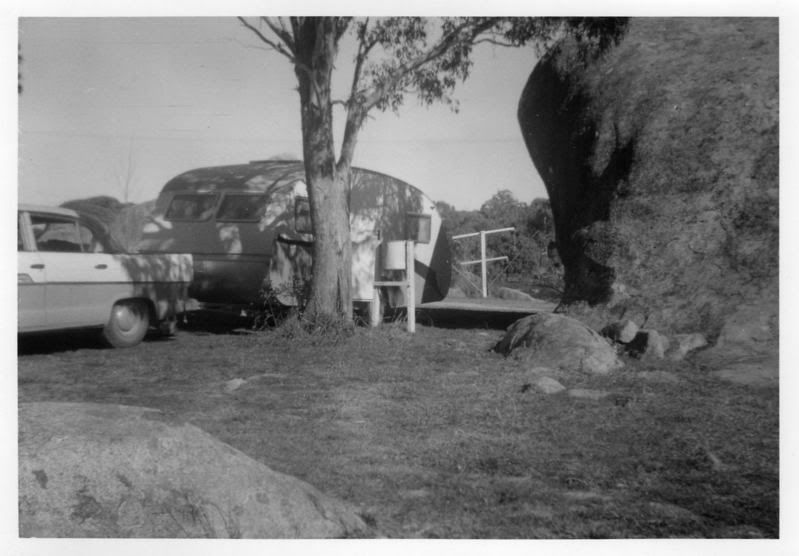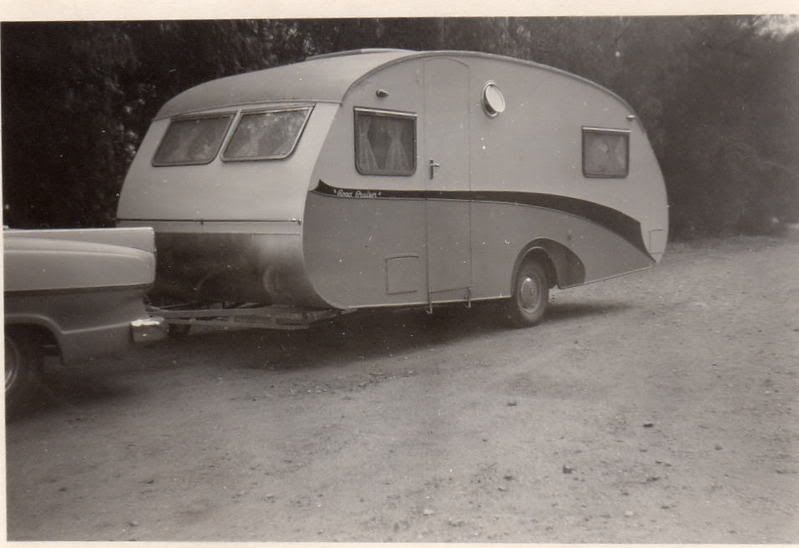 The caravan is 18 foot long, and is a longer version of the original with many similar design features ..............and still single axle.
This would have to be the longest caravan I've seen that retains a 'rounded' shape, most caravans of this size are somewhat squared off......consequently its a
big, beautiful looking old bondy
............


Now if you've got good eyes...check out the writing on the flash on the side of the van in the last photo...yep, "
Road Cruiser
".



Seems like Mr Newcombe did maintain the basic shape and style of his vans right through to the 60's, although it appears that he lost the lantern roof in favour of a hatch along the way...
Don Ricardo
---
Don Ricardo's post also provided a link to the following pics which had been posted by Mark T on 3 January 2008: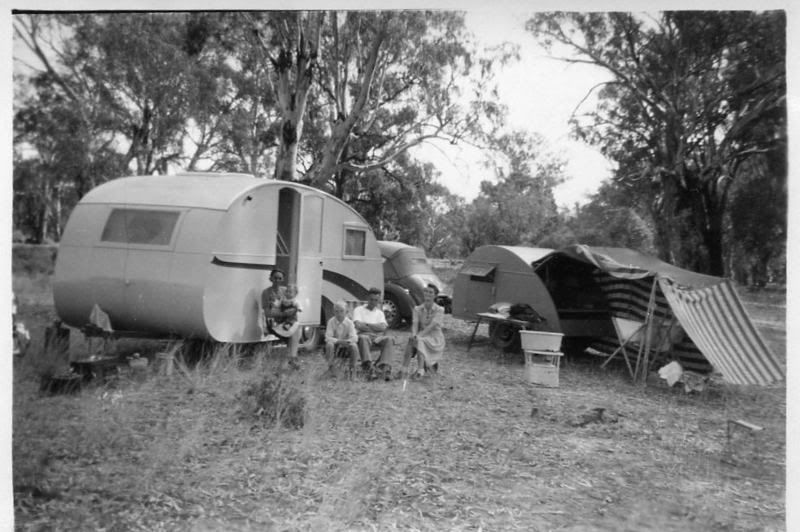 ---
Still on 28 April 2009, Geoff & Jude responded further:
hi don
the first couple of photos in your link are actually the same van as dave's old photo (single front window, barn door) not mark's BBB. The ones in your post are of mark's BBB with two front windows.
i guess your find proves 'em to be road cruisers though.
good one dave and don.
geoff 'n jude
---
Don Ricardo then posted:
Hi Geoff 'n Jude,
You are correct - the first couple of vans in MarkT's thread are not of his 'Big Beautiful Bondy from Mildura', but apparently of an earlier Road Cruiser model. However, they are not of the same van as in Dave's photo. The van in Mark T's thread doesn't have the lantern roof and also doesn't have the window to the left of the door that can be seen on the van in Dave's photo. What is more, the van in Mark T's couple of pics appears to have a mild version of the 'South Australian roof' - cambered both ways, and I would guess from the pic clad/covered in canvas. So we now have pics of three Road Cruisers it would appear.
In Mark T's thread it says:
"...Glen Rigby from Mildura sent me these pics from the family photo album of a caravan his Grandad had professionally custom built in the 30's/40's .....his Grandad used to sell caravans from his Motor business in Mildura", and then later: "...grandad Rigby's motor business was going well, and since he sold caravans from his Motor business, he ordered a new caravan to be custom built by Jack Newcombe..."
I'm guessing from this that Grandad Rigby may have been an agent for Road Cruiser, seeing that he had at least two of them himself. Mind you I am only guessing...
Don Ricardo
---
On 29 April 2009, Mark T wrote:
well bugga me dead ;D ;D .....this forum never ceases to surprise me

I have a "dinky di ......ridgy didge" Road Cruiser caravan sittin' in the Beverley shed
wow
.......this post has jogged my memory ......when I first got the pics of the BBB, I couldn't read the writing on the side of the BBB, so I emailed Glen Rigby to ask his dad what it said ......and yep, the reply was "Road Cruiser"


.....and no, I haven't found an ID badge on the caravan, but I've never looked for one either ......I always thought it was custom built to order


The BBB from Mildura is a class act, a supurbly constructed, well appointed, and brilliantly designed caravan, even to the point of being surprisingly light for its 18 feet in length and size ......I can push it around the Beverley shed on my own without bursting a stent ;D ........and its an absolute stunner to look at
......
...So .......finally the cumbersome name "BBB from Mildura" can be dropped in favour of "Road Cruiser" ......yay !! .....I like it .......
...Great work Dave

......and to G & J, JBJ, Jennison & Don R for their powers of observation......another mystery unraveled .....
Mark
---
Contemporary photo of MarkT's 1959 Road Cruiser with its Rolls Royce or Bentley tow car posted on 9 January 2008...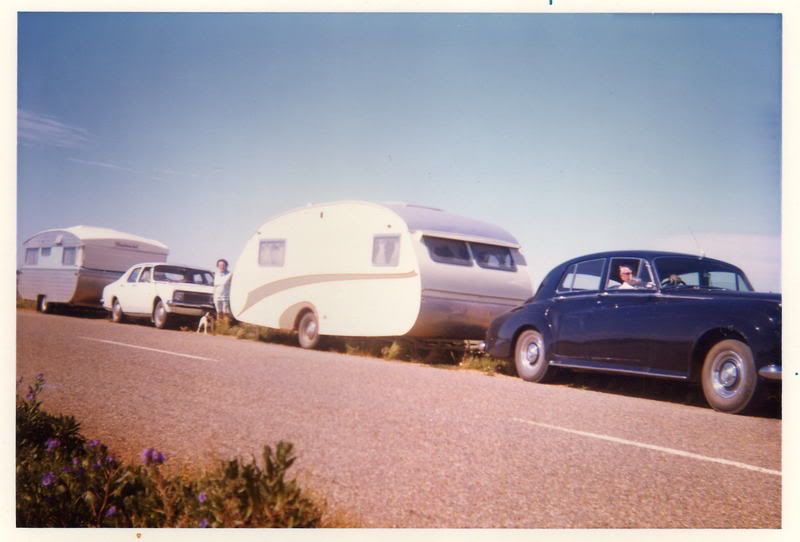 ...and photos of the van in its current livery posted by Mark T on 11 June 2009: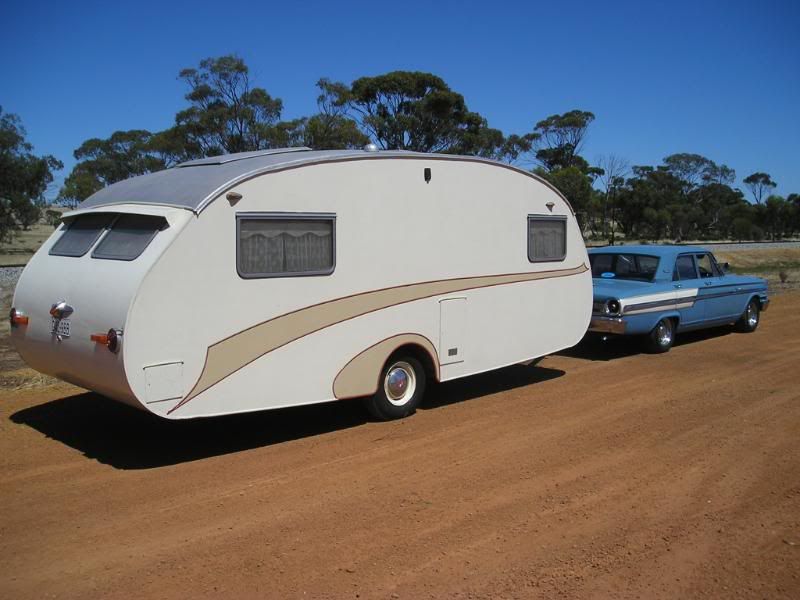 Internal photos of the van posted by Mark T on 15 January 2008: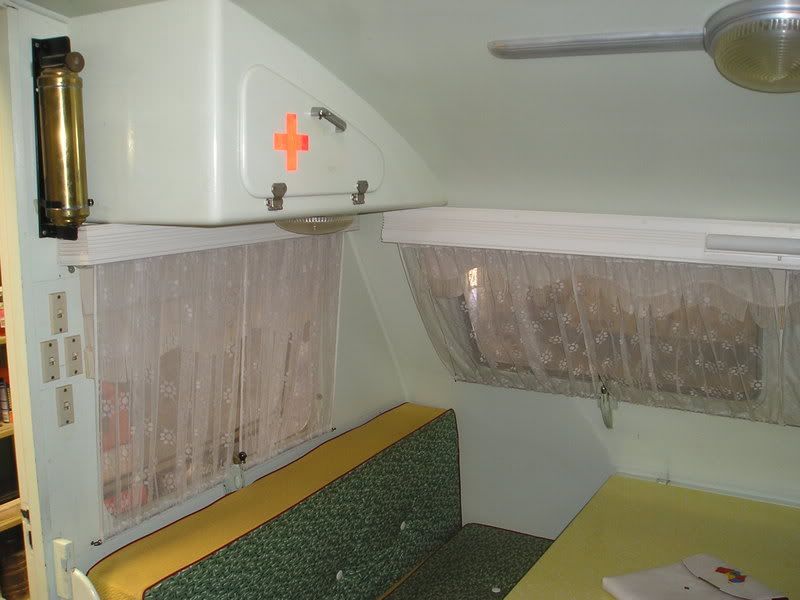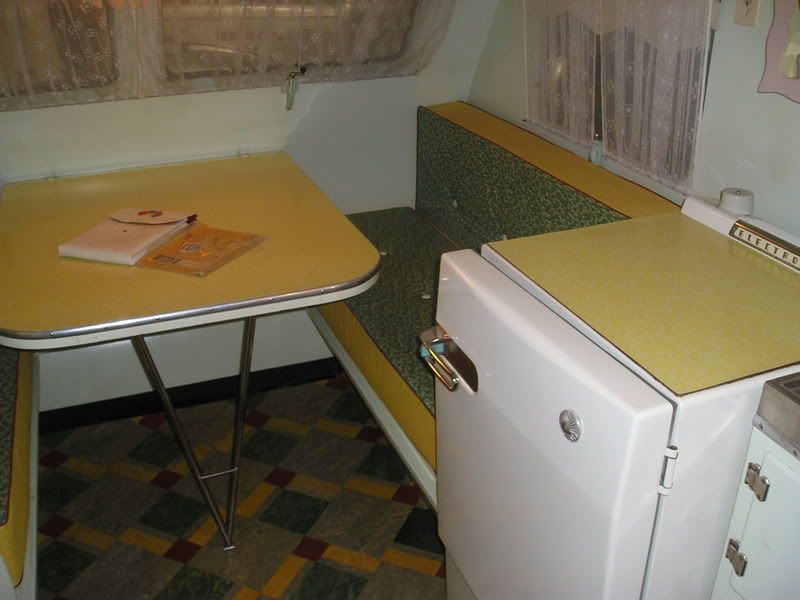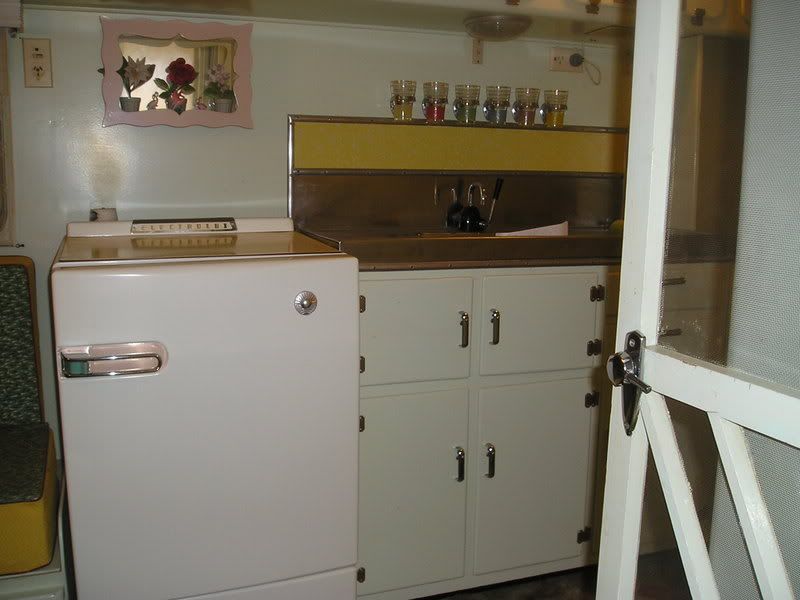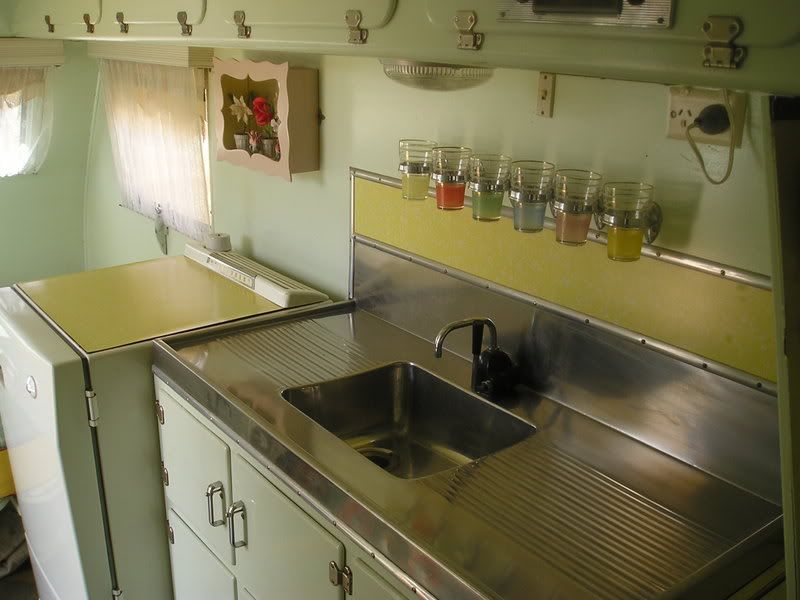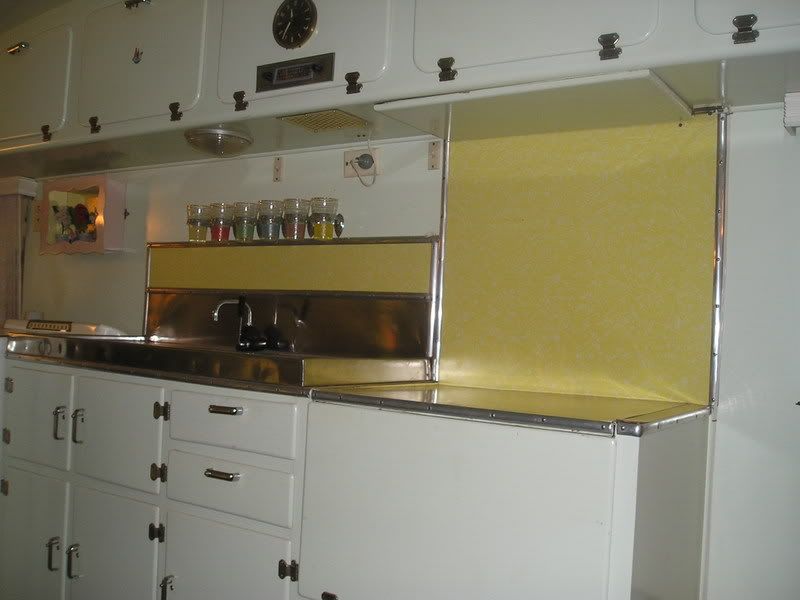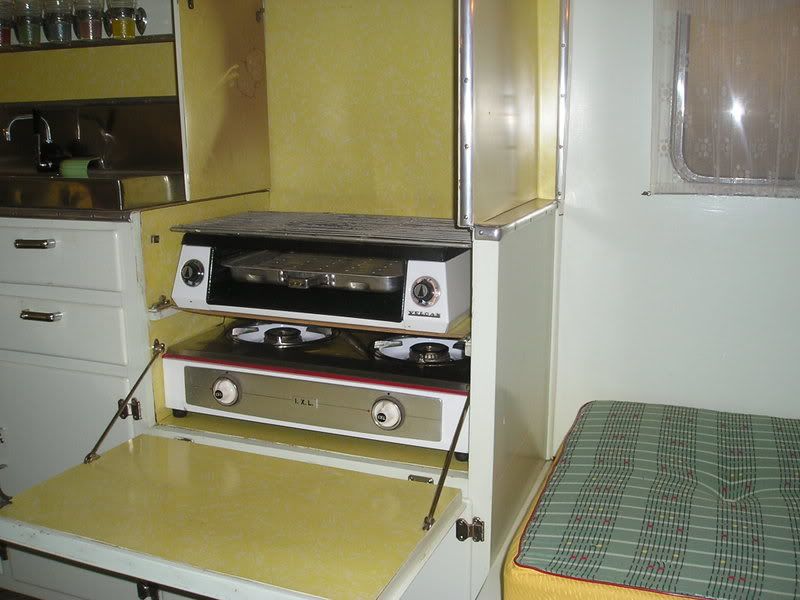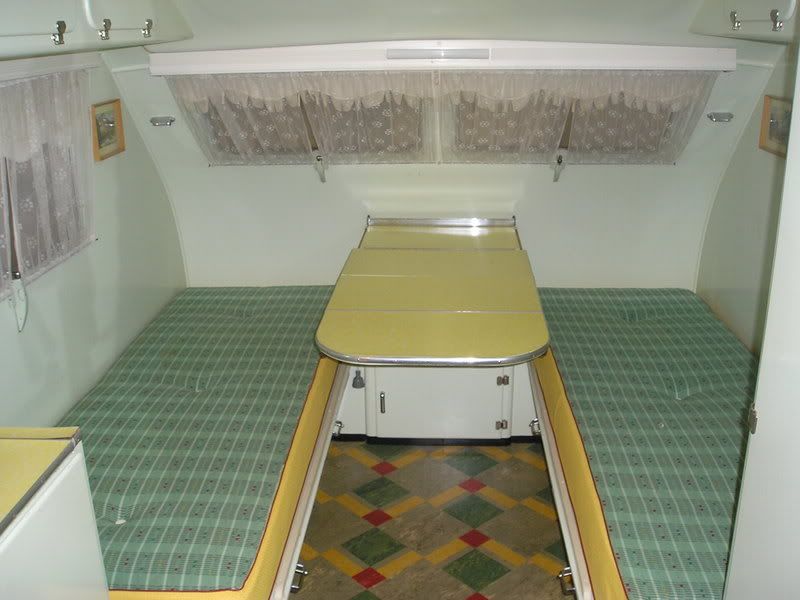 Table between beds (seen above) folded back: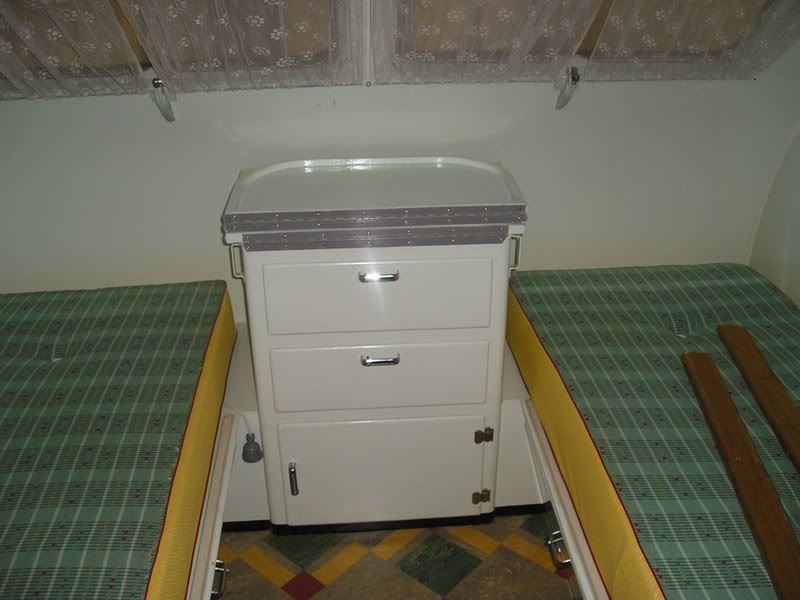 Three 'wardrobe' doors...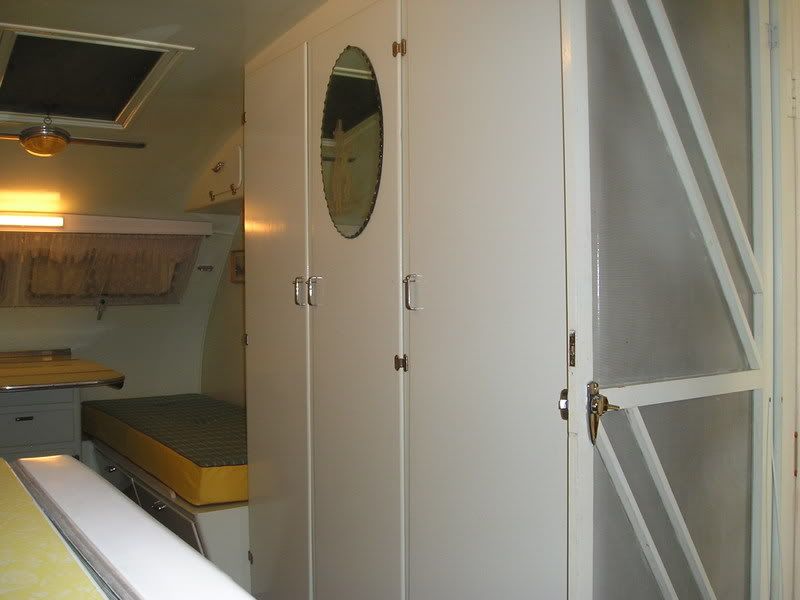 ...but behind one is the bathroom: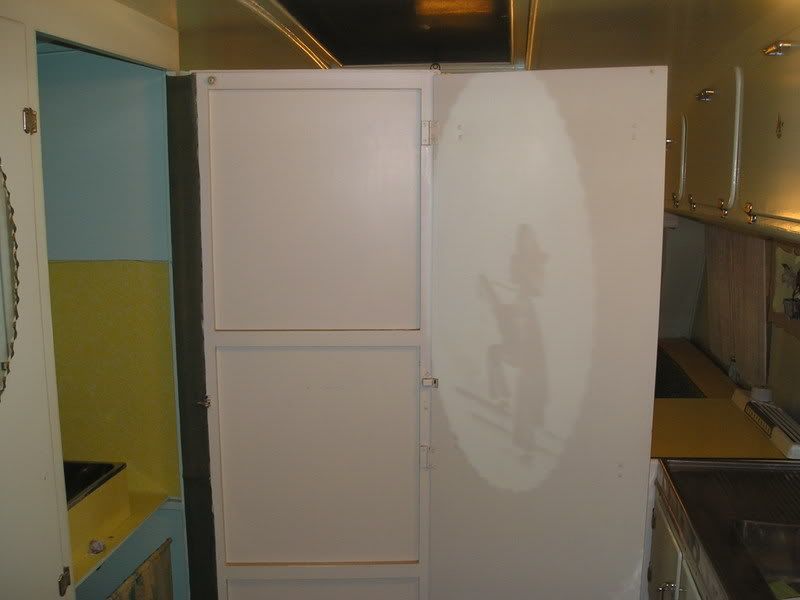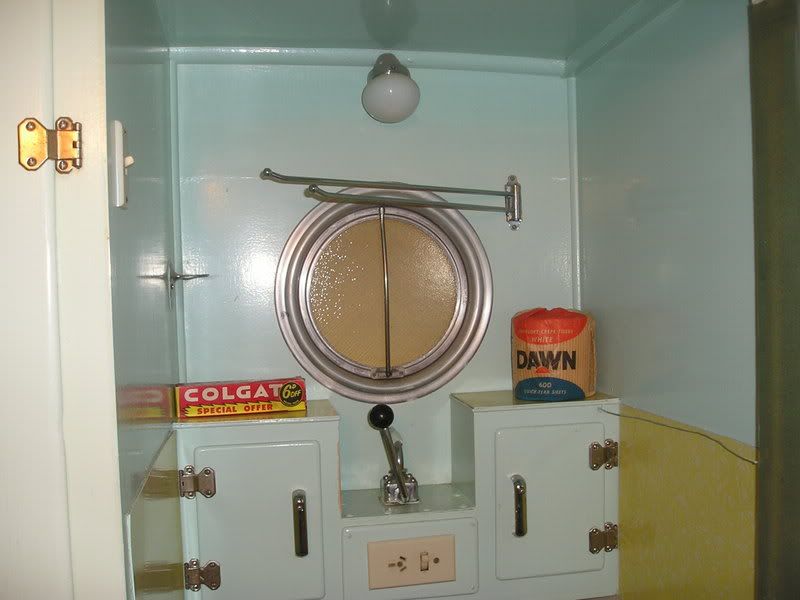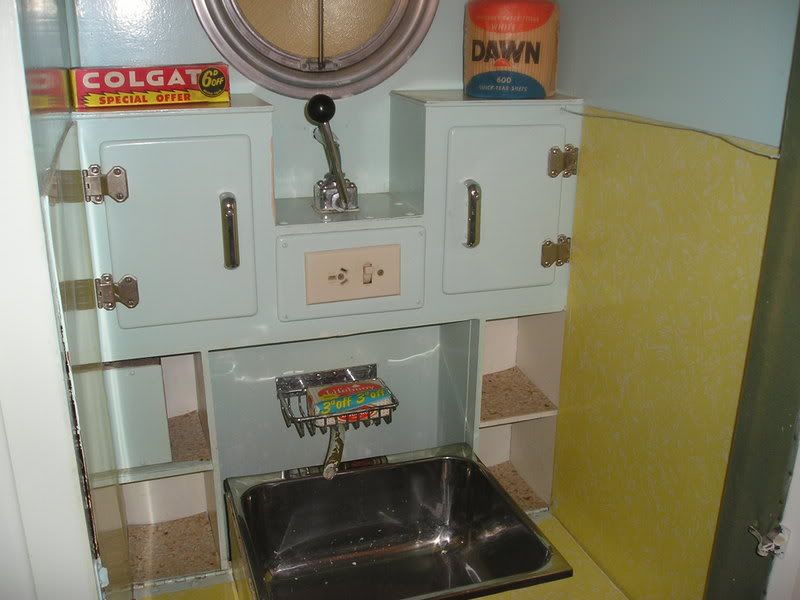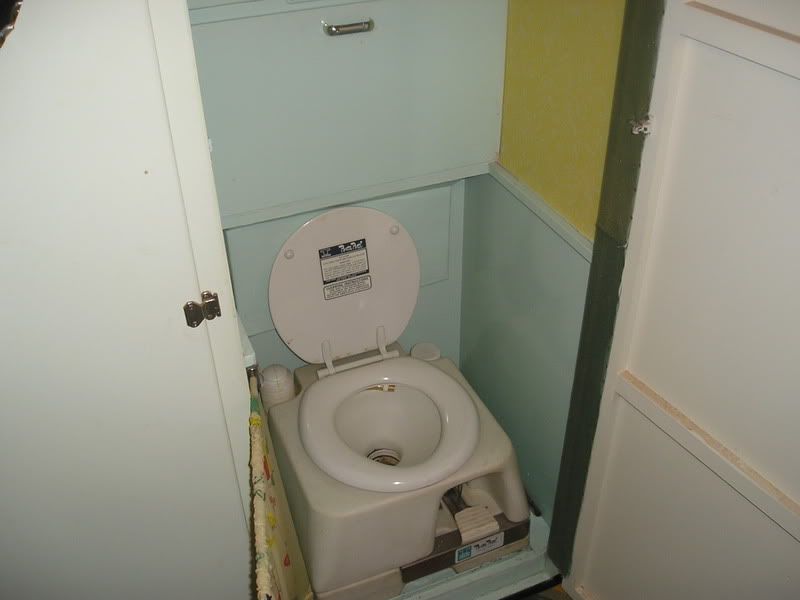 Upholstery: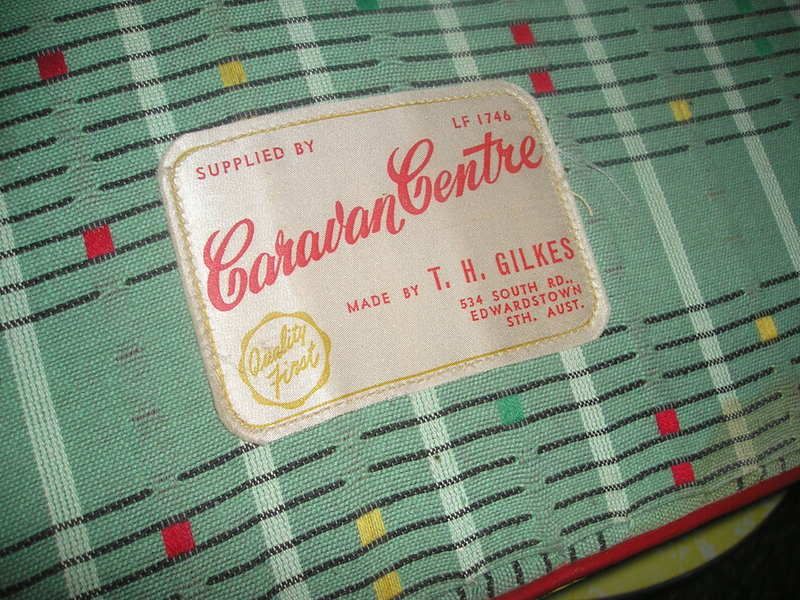 A-frame...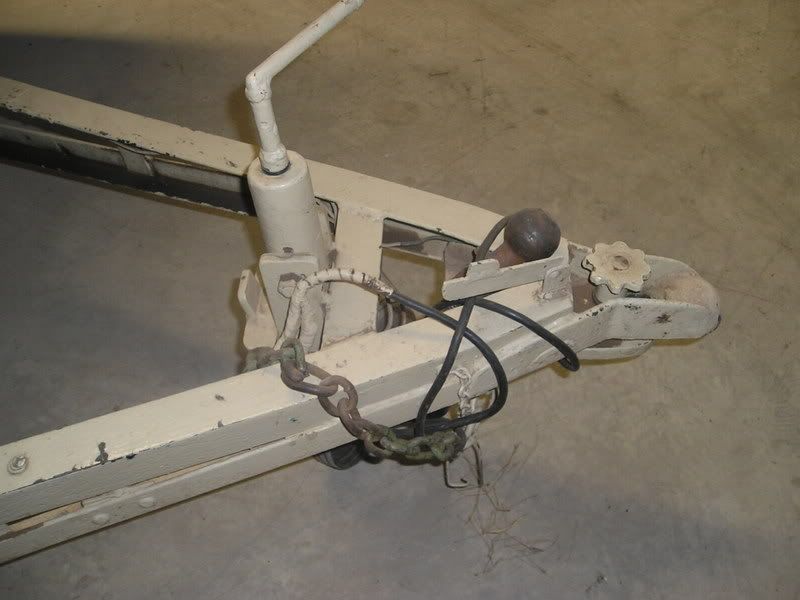 ...and stabilisers: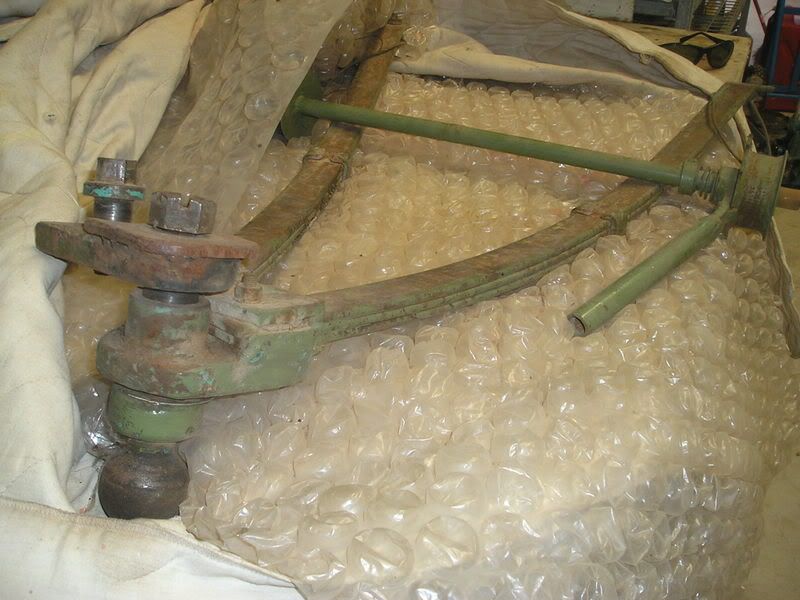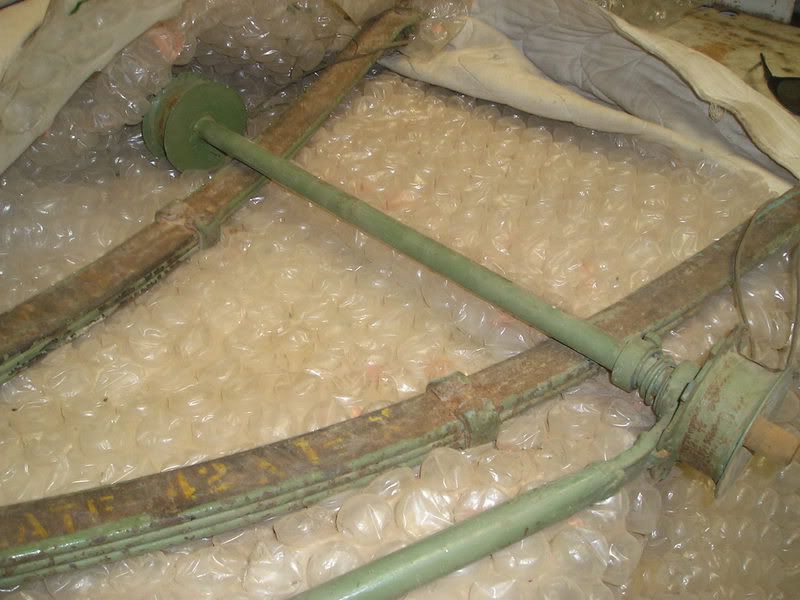 Further detailed pics of this caravan can be found
here
.
---
On 17 May 2009, Andrew82 wrote regarding a 1948 Road Cruiser caravan:
Boo yah!!
Went along for the Copper coast Cavalcade, I will post more pics in another section but amongst the 500+ cars and bikes there was a few old vans but this one really took my interest
Driving in the parade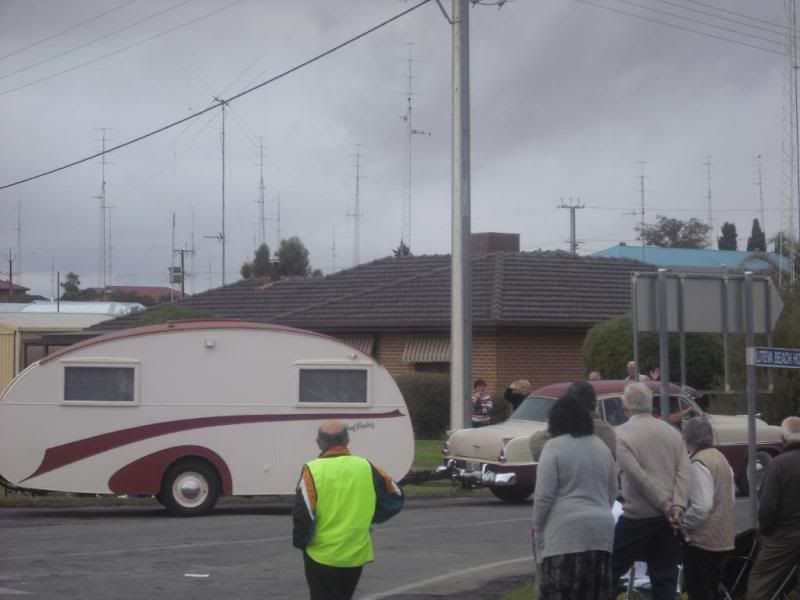 When I got to the finish on the oval I made a bee line for it.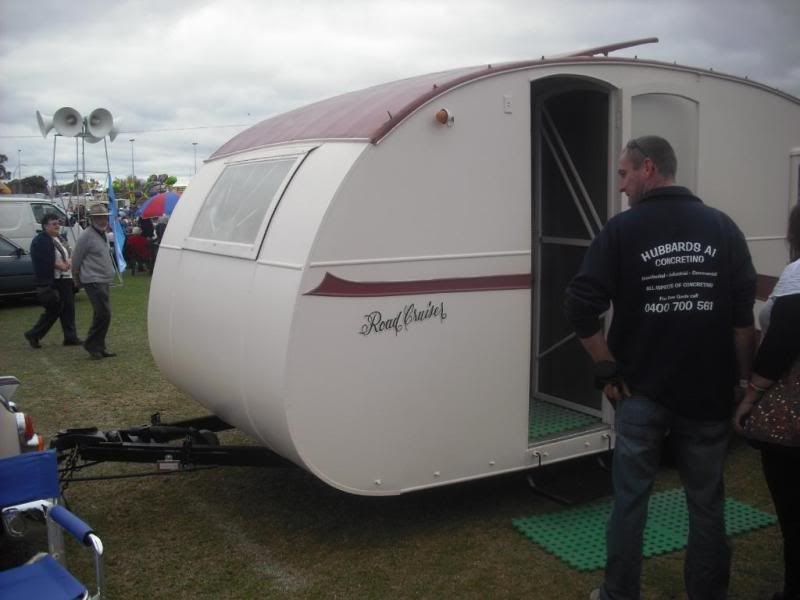 I wasn't the only one interested in it, there was a constant stream of people going in and out of it and I over heard one ederly lady jokingly say that the owner should charge admission!
Tow car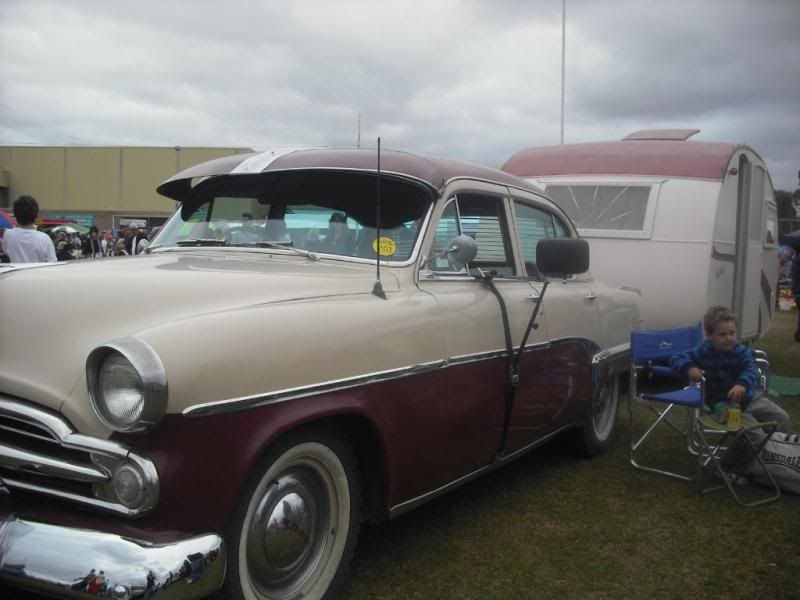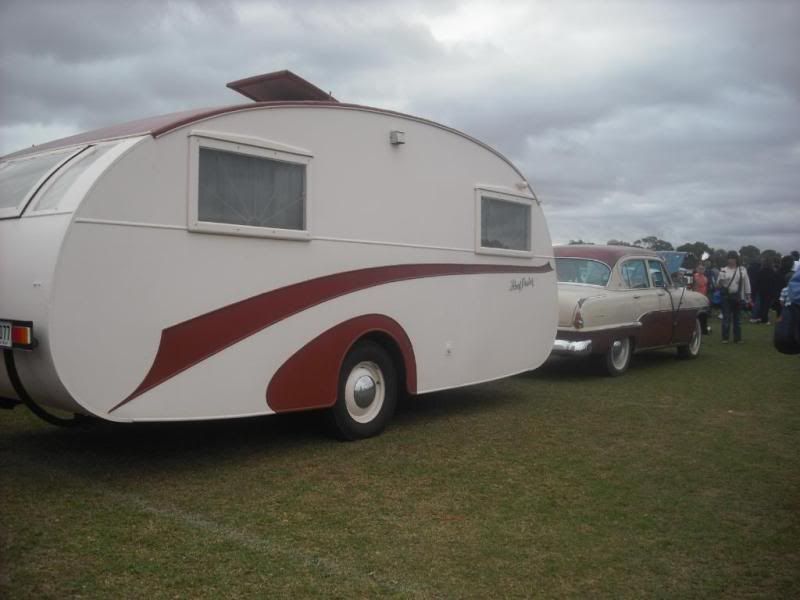 Kitchen
Bath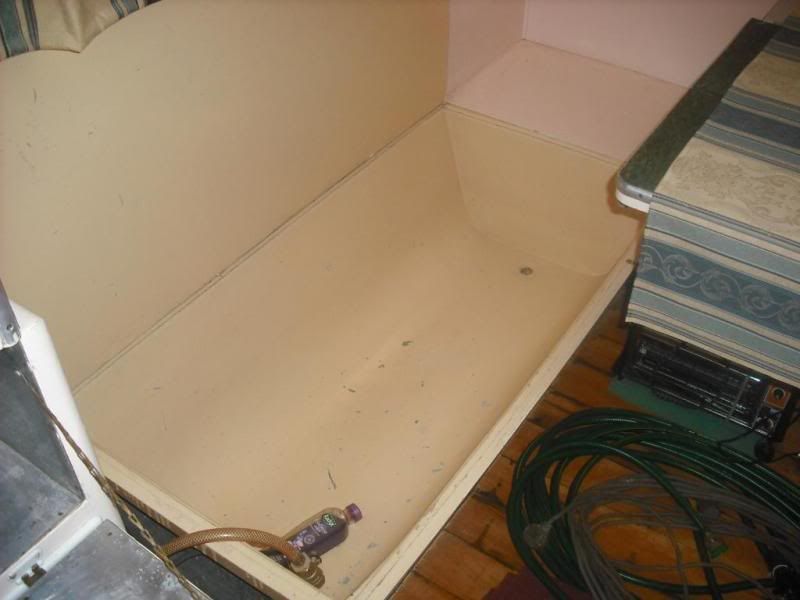 ...Now for details....
I had a chat with the owner who is from Paskerville (about an hour from Adelaide on the way to Moonta, kadina etc) and he was only too happy to fill me in. I also mentioned to him how Olfarts had discovered a name plate and some other memrobelia and it had caused alot of discussion on the best website known to man!!
The story goes that his Uncle bought it brand new in 1948 to go on his honey moon. After that it got used a few times then sat in the shed. About 5 years ago he caught up with the uncle and he jokingly said "I'll give you $100 for the old van" the reply was "don't worry about it, if you want it you can have it" apparently it was really neat and just needed a quick tidy up like a coat of paint etc. A truely lovely old van and I feel very priveldged to have seen it, been in it and to be able to share it with you fine people. Hopefully the owner joins this great forum.
---
Some additional photos of the Road Cruiser caravan inspected by Andrew82 were also posted by another contributor to the forum soon after (identity unknown - can anyone tell me



)