Post by jodel1050 on Feb 26, 2010 17:11:29 GMT 10
It was getting hot in Perth so we loaded up the car & recently purchased Franklin 15 foot VV Wanda & together with Auster the dog & the wife headed due South to Flinders Bay CP in Augusta. A beautiful spot about 10 to 18 Deg C cooler than Perth, but notably windy. Apparently the higher the OAT's in Perth the windier it is in Augusta.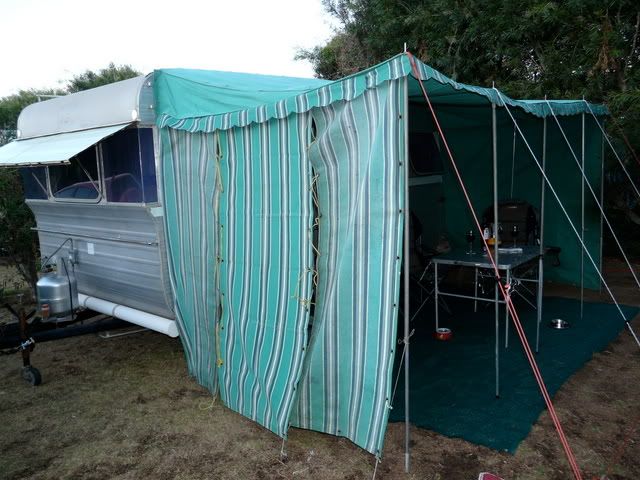 First time set up of the awning- a good dose of WD40 was needed to get the brass sliders down the track. Good job I remembered the step ladder.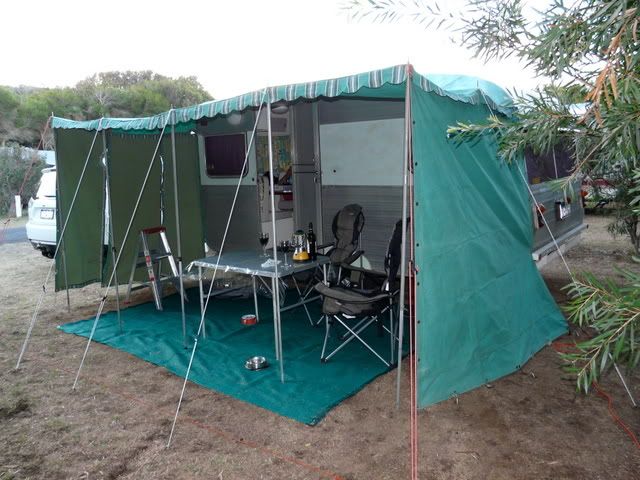 The outdoor annex was very pleasant & a great place for a glass of red & a good book.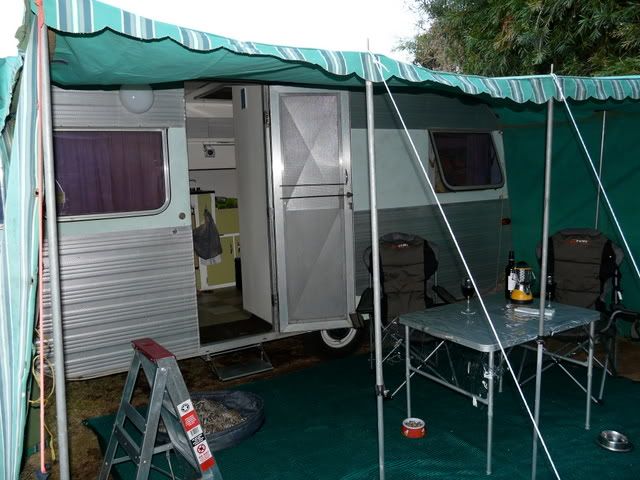 Flash view of the outdoor area. The annex is in quite good repair for something 50 or so years old, but does need a good clean & some of the ropes just rotted - good job I had my OzTent gear with me.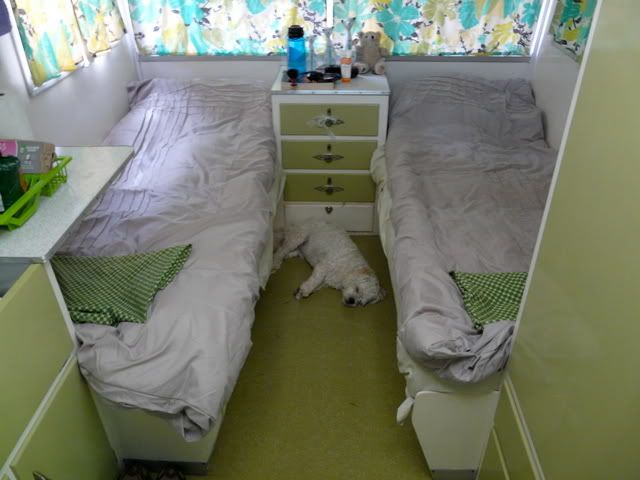 Auster's favorite afternoon nap spot. The beds were surprisingly comfortable if a little tight for me at 183 CM (beds are 184cm) but I slept 8 to 10 hours at a stretch with no problem.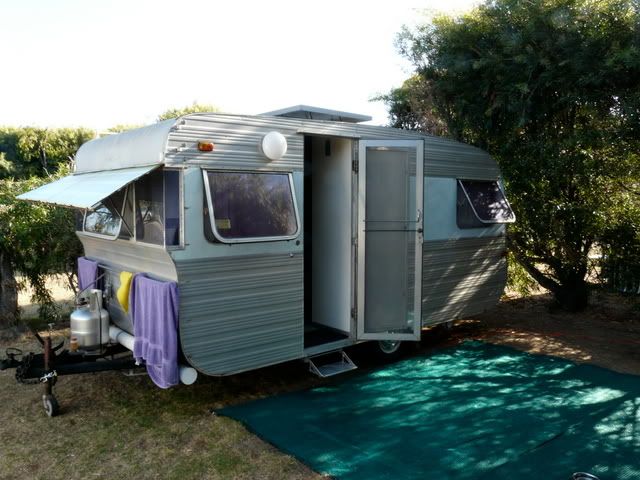 Wanda with annex now down & packed ready for next days trip home. It was damp in the early mornings & we did not want to take a soggy awning home with us. The caravan park bays were quite secluded & enclosed by trees on 3 sides. Very nice. Also the Northern dog beach was great for Auster & we walked 2 to 3 hours along it every day - he just slept the rest of the day/night.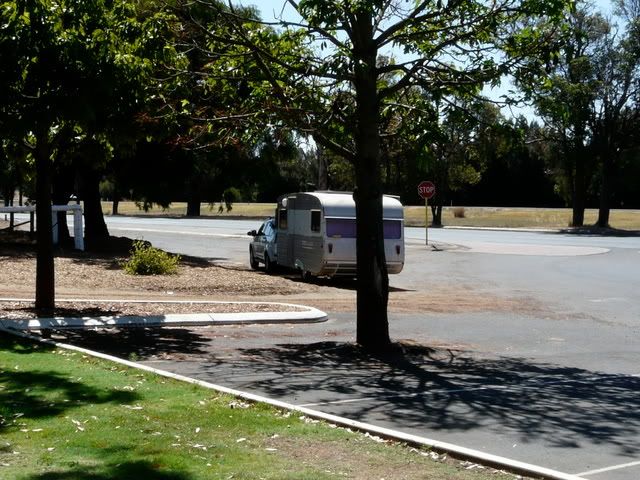 Coffee & fuel stop on the way home at Stratham Downs. Wanda did impact the fuel burn, and consumption went from a typical 9.7 L/100km down to 13.3 L/100km, which is still not too bad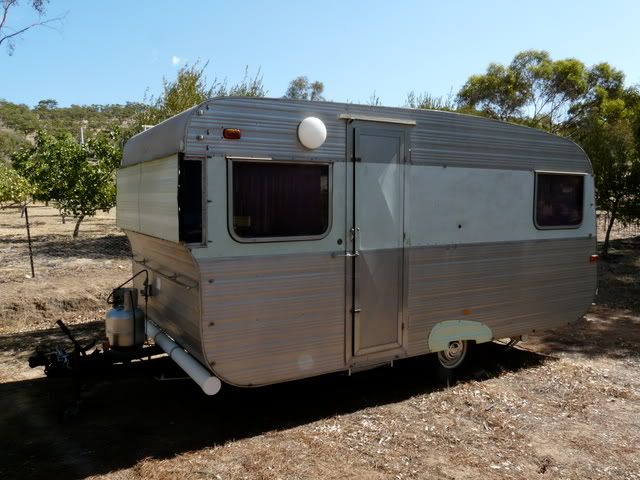 41 Deg C where we keep poor Wanda - even burnt my hand on the roof putting on the cover. This photo for Franklin1 to add to his library.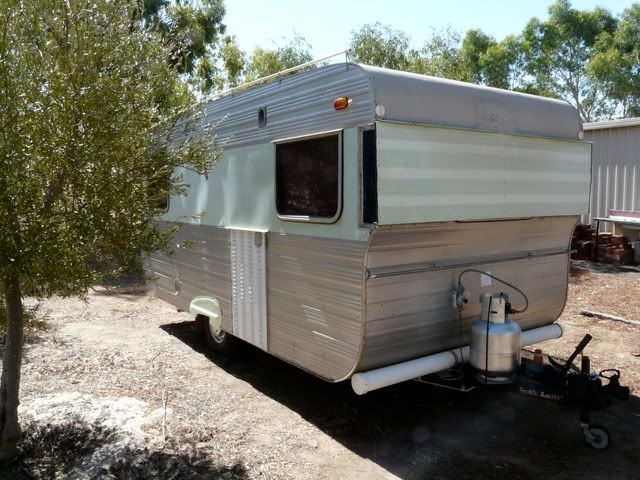 Gas bottle pressure tested & recertified until 02/2020 - last done in 1968?
Lefthand rearish view.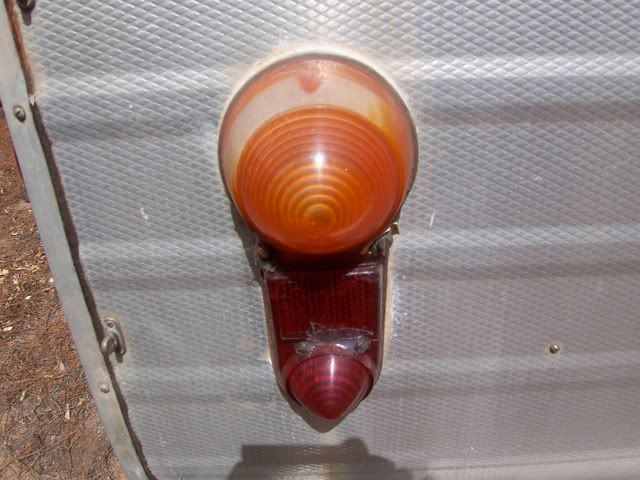 Lucas L593 Reflex rearlights from the 1957 to 1959 Austin A55 Cambridge. We lost the R/H rear tail light, and after digging out half an inch of old silicone, some judicious levering with various implements from a Swiss army knife all the way to a large screwdriver the problem was a simple blown bulb - not so simple as the bulb is corroded & is one with what is left of the bulb holder. Need a serious rewire & possibly more than just a new lense cover?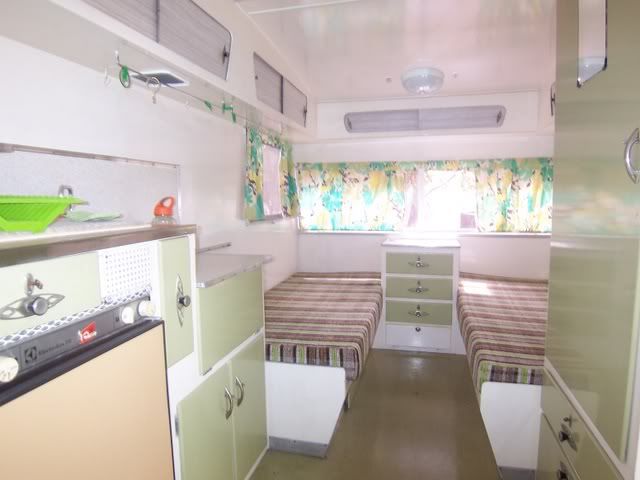 The Electrolux RM212 fridge worked a treat, but for the first day & night I ran it on gas as I could not tell if it was working on 240V - it is so quiet, and no lights or any indication that it was working. However it was & so for 6 days we did use the 240v. Great little freezer too. Also experienced a small leak from the rear left hand window - its OK it dripped on my pillow. It only rained for an hour which was good & silicone fixed the leak the next day, but I do need a shed to take the old girl apart & reseal/replace any rotted areas, not that we have found any yet, but I'm sure they are there.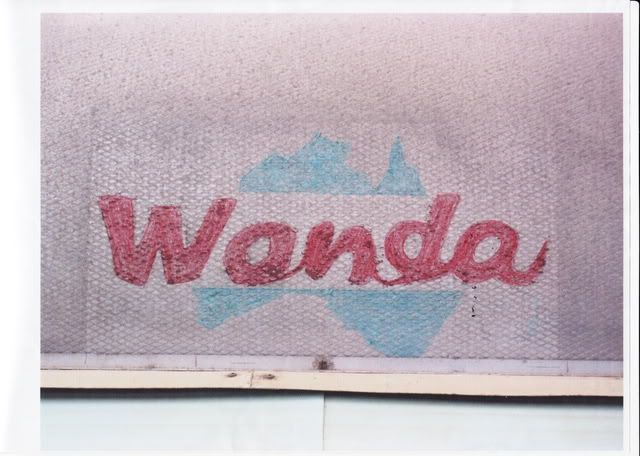 How Wanda logo will look once I paint it from its current faded state at both ends.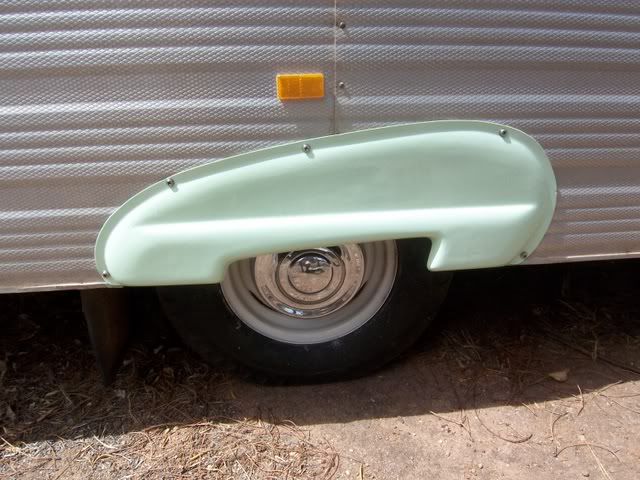 The spats look nice though & had recently been refurbished prior to our purchasing the van.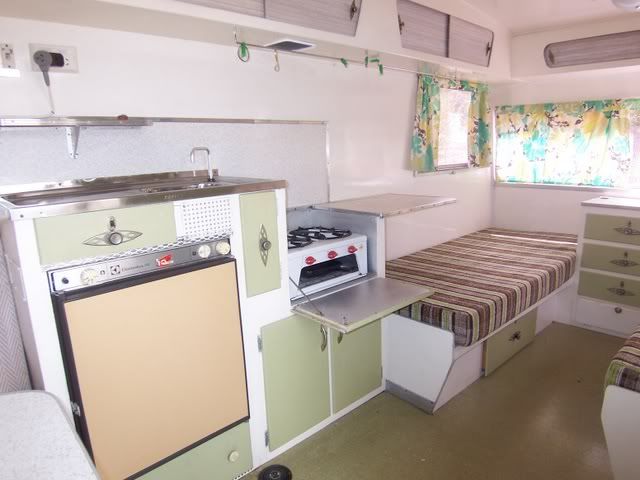 The stove worked a treat as did the old whistling kettle. I did most of the cooking outside on a gas burner & JetBoil, didn't want to stink the van out. Also found the best fish & chips in Augusta just down the road. All in all a great trip. We will fix the lights maybe even with temporary new modern lights until I can source a complete set of 1957-59 A55 Cambridge lights. Also need a 1/2 to 1 acre block with just a shed & a bathroom on it - shed must have clearance for 2.4 mtrs +. Our friends is only 2.2 mtrs?