Post by Don Ricardo on Feb 14, 2010 18:32:26 GMT 10
CARACRAFT
Manufactured by Caravan Industries Pty Ltd of Hurstville/Taren Point for sale by
Carapark Pty Ltd at
66 Parramatta Road, Summerhill and later Ashfield, NSW
---
On
30 October 2008, Stu8
posted pics of his caravan which he estimated as being mid-60's and had a sticker on the rear saying
'Caracraft'
: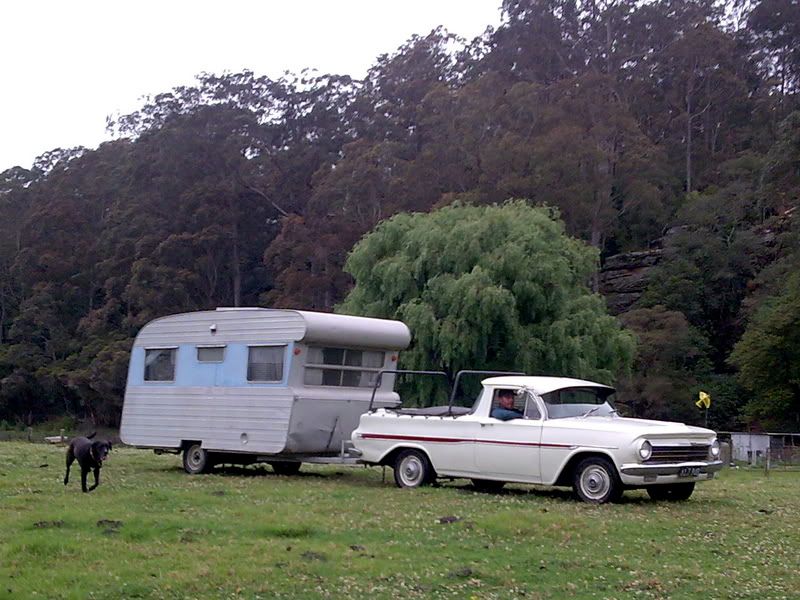 More photos of Stu8's van including inside photos can be found
here
.
---
Stu8 also posted pics of his van on the
Classic Caravans forum
, and on
29 October 2008 Franklin1
(Millard1399 on the C V forum) responded:
"Hi stu, and welcome to the gang!

From what I can find out so far, Caracraft caravans were sold during the years 1965 to 1967 from the location of 66 Parramatta Rd., Summer Hill in Sydney. What's significant about that street number is that at No.70 (two doors up) was the Carapark caravan factory. The advertisements in the old newspapers show both the Carapark and the Caracraft name, so there appears to be a link between the two names. I can't find any mention of Caracraft either before 1965 or after 1967..."
---
On
5 November 2008
, some joker called
Don Ricardo
also chucked in his oar



:
"Hi Stu,
...I've done a bit of a search through the V V forum, and can't find any previous mention of 'Caracraft'. I've also googled the name (as you may have done yourself) and the only couple of references are to boats.

Because of the location of the Caracraft sticker (on the rear only, under the window) my guess - and it's only a guess - is that Caracraft was a caravan sales place, or maybe a caravan and boat sales place, rather than a manufacturer. I note that Al (Franklin1) has suggested a link between Caracraft and Carapark because their business addresses were so close, so maybe Caracraft was Carapark's used caravan business where they on-sold trade-ins, or something like that. All this is pure guesswork of course..."
---
Then on
8 January 2009, Franklin1
posted the following on the Classic Caravans forum:
"Hold the phone, stu!!...I think we might be getting somewhere. I've discovered an advertisement from Saturday 19 Feb 1966 placed by the Carapark caravan company in Sydney.

The advert says,

"Planning your winter vacation touring Australia? We will assist you with buying a caravan, hiring a caravan, building a caravan.

Vans for sale:
Caracraft, Alum, 4 berth
Caracraft, Alum, 6 berth
Hunter, Alum, 6 berth
Sapphire, Alum, 4 berth."

I know that the Hunter is definitely one of the Carapark models, but before you came along I'd never heard of the Caracraft or the Sapphire model names before. So with a more in-depth search of the archives, I've found this advertisement...

Wednesday 27 January 1965

CARAPARK SYDNEY PTY LTD

Caracraft - Alum - Caracraft

What's new at Carapark at a popular price

CARACRAFT

And so, finally, we have confirmation that the Caracraft name does exist, and that it was one of the many Carapark models produced over the years, this one starting in Jan 1965.

I still reckon your van is the spitting image of a Fleetwind, which now makes me wonder whether Carapark bought the Fleetwind business and continued the Fleetwind design under the Caracraft name. But, that's a puzzle for another day...

cheers,
Al."
---
Further confirmation of the link between Caracraft and Carapark was provided by the following advert posted by
Franklin1 on 16 July 2009
on the
DHL Carapark thread
. The advert dates from September 1967 when Carapark had apparently ceased to produce their own vans and was acting as an agent for other manufacturers: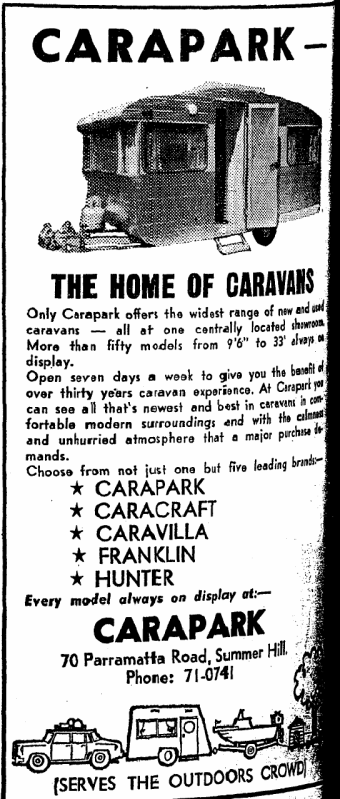 Note the reference to both
Caracraft
and
Caravilla
.
---
So while the link between Caracraft and Carapark has been established, the relationship between the two is still uncertain. The origins of Stu8's van is also still uncertain. Reference to the Carapark thread makes it clear that it was not a Carapark as such.
If anyone has further information about
Caracraft
(or
Caravilla
for that matter), or about the manufacturer of Stu9's van, they are most welcome to post it.
Don Ricardo