Post by bobt on Jan 17, 2009 22:40:43 GMT 10
Finally I have my very own vintage thingie me bob…. ;D
I stumbled upon this in May last year while out playing with my toy cars.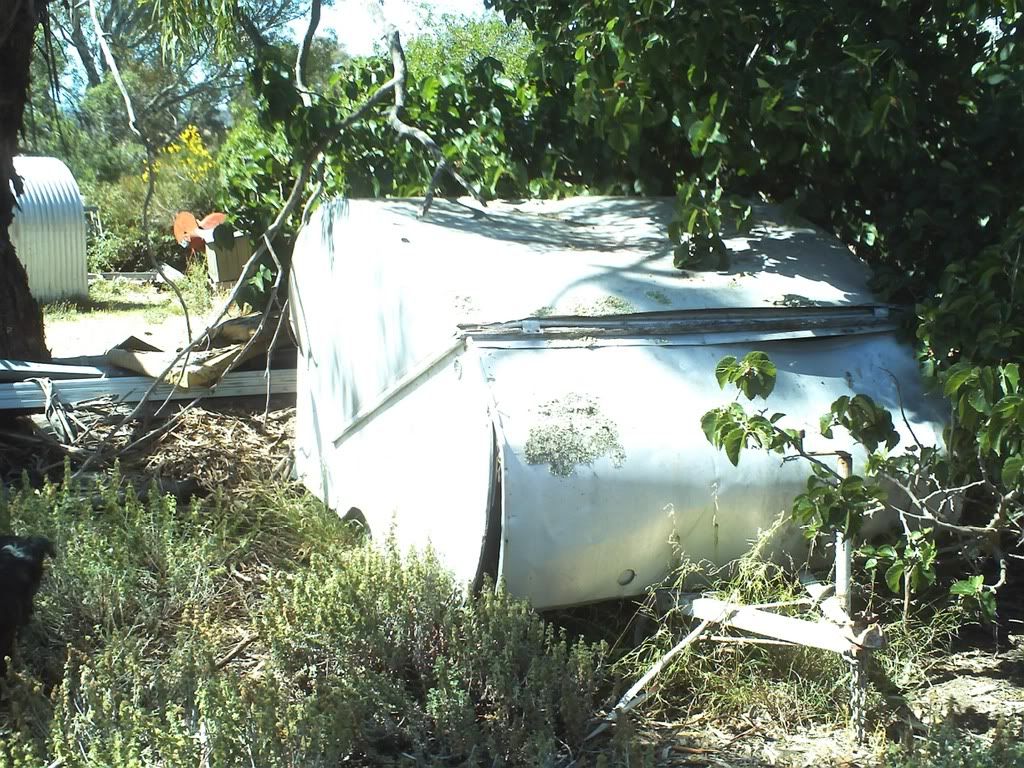 The owner offered it to me and in my wisdom I thought I best talk to my dear be loved wife first.


So after relaying thoughts about how nice it would be to be able to camp out in comfort with the car club crew and perhaps hang out with the vintage caravan forum and the kids could use it too. She said "You will do what ever you want to do regardless of what I say, you always do Remember When I Said……………….YOU DID IT ANYWAY" ;D ;D Good so I had her approval!!!

Well being prepared for this moment I had the owners contact details, I had some friends ready to help, the retrieval gear was ready and the trailer was sporting new tyres just for this trip.

I rang the owner to arrange a time and day to collect it. No answer on the telephone. I rang and I rang and I rang… for months and months… no answer. Getting a little frustrated by this time.
I had everything in place, approval from the boss, tools ready and willing helpers. I thought I could be in a spot of trouble here.
So I called on a car club friend who lived in the area. Some more time goes by and finally he gets hold of them.


So a time is agreed.
Today was the day, so off I go to collect it. Most excited………….
We had to dismantle a fence move tree branches and dig its wheels out , finally we freed it.
The donors did not want to be in the photos……
and loaded it on to the trailer…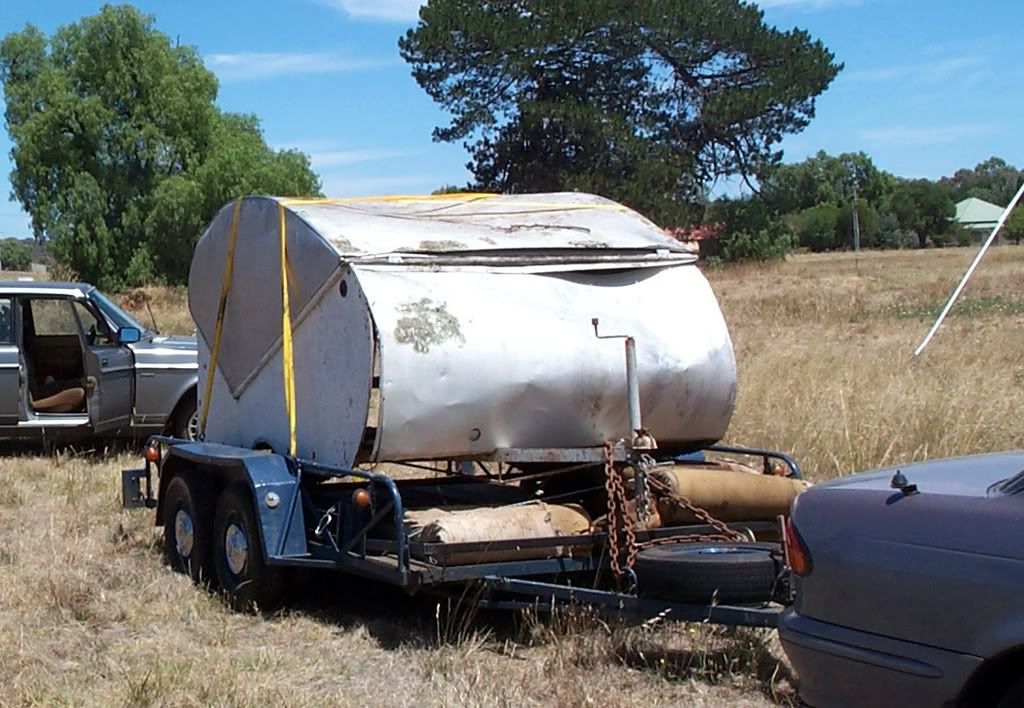 Looks okay in the photo hey…………………..



So after tying it down securely I buy the conscripted labours lunch.

After this we head off down the Calder Freeway. Beautiful sunny day,

talking about what I was going to do to it, fittings fixtures colour schemes, it is almost light enough to tow behind A7, heaven help the other road users….
Woooof (no not a dog barking) I look in the mirror to see that the front aluminium roof panel has just torn off. Guess it was not secured enough to handle 100 kph down the highway…...


So we stopped, walked back and collect the now loose roof panel. Used every last length of rope in the car and tied the roof down so the remaining bits wouldn't come off. Even used a roll of duct tape (loverly stuff). From then on it was 80k all the the way home…. Sorry to those who got caught behind me…

Finally got it home and unloaded it….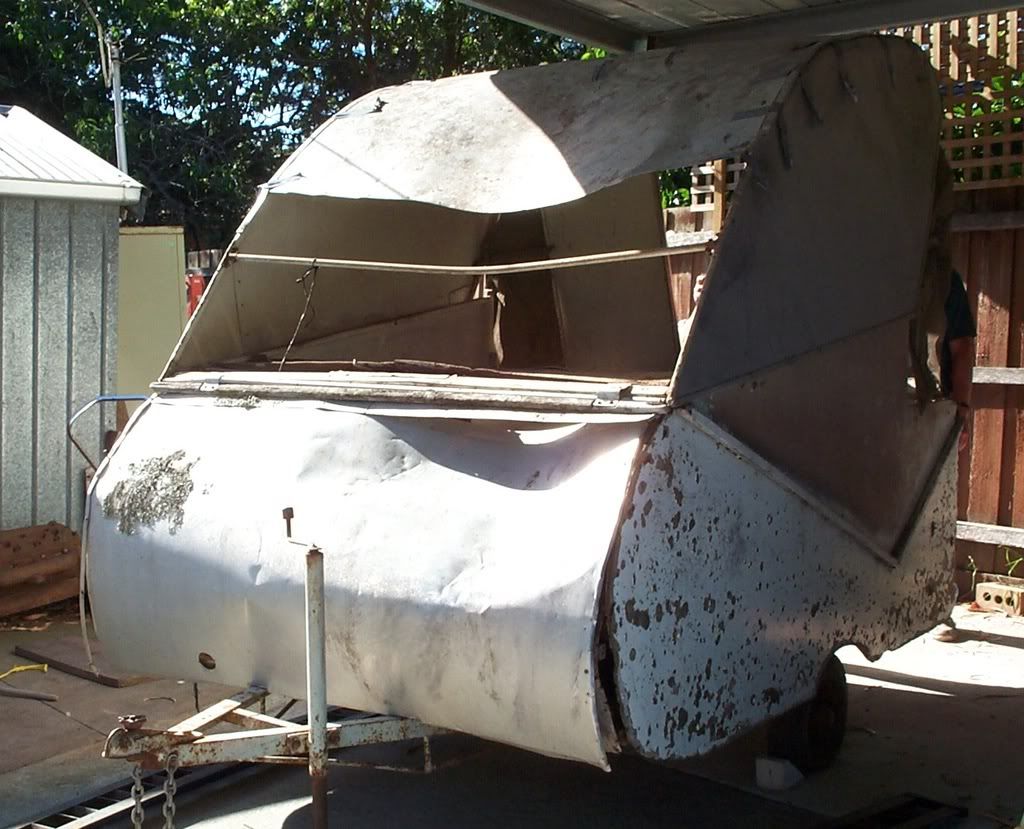 The missing roof panel…. The front aluminium didn't fair too well either…
Yep I can stand up inside… wife's first criteria….
My daughter said "OOOH MY GAWD WHAT THE H%$#LL"
Good thing the wife is away…..
Well it is 10'6" long, overall the body is 8' long and it is 5'6" wide. The lift up roof is framed with metal electrical conduit and clad in textured aluminium, no lining. The main body is masonite with the most minimal of a frame I have ever seen. Inside it has 2 single bunks toward the front running down the length of it with a cupboard each side at the rear. The cupboard on the near side appears to be where the stove once was. There is an ice chest at the front between the two bunks.
The donor owned it from new. He told me it was a prototype, couldn't remember when or where he brought it. His wife told me he had it when they got together in 1970….

I am thinking it could be late 60's.
Has anyone ever seen one of these before???
When I have recharged the camera batteries I will take some more happy snaps…
Bobt
Oooh SH#T daughters talking to wife…….. gotta go………………