Post by Don Ricardo on Jun 6, 2023 13:23:19 GMT 10
Hi Lewis and Rivella,
Prompted by your posts over the last couple of days, I did a bit of a newspaper search to see what I might be able to find about the Glen Caravan Co, and thought you might find the following information interesting.
The first newspaper advert for Glen Caravans I've been able to find is this one published in the Melbourne
Age
on Saturday, 25 May 1946 (page 22):
This description of the caravan in the advert matches the photos we have in the other adverts. One of the most unusual features of the vans were the wind-up windows. I don't know of any other caravans that had that feature. The advert also states that the windows of the Glen were 'large plate-glass'. That just tells you something about earlier pre-war caravans, because the pictures of the Glen caravan indicate that the windows were relatively small compared to later caravans from the 50's on.
There were further adverts for Glen Caravans regularly placed in the
Age
over the following years up until 1953. The last advert for actual caravans placed by Glen appeared in that newspaper on Saturday, 18 April 1953 (page 38):

You will see that this is a very simple two line advert, and I wonder if Glen stopped producing caravans at about this time?
With one possible exception, after April 1953 any adverts for Glen caravans were for second hand vans being sold by private owners. The possible exception is this advert printed in the Age on Wednesday, 16 November 1955 (page 16):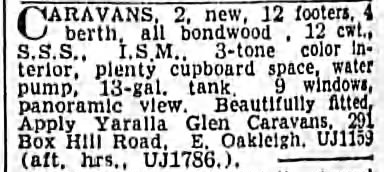 This advert offered two new 12ft caravans, and refers to 'Yaralla Glen Caravans' at an address in East Oakleigh. Later adverts for Yaralla indicated that it was involved in building caravans, but after that initial advert only referred to 'Yaralla Caravans', not 'Yaralla Glen Caravans', so whether there was some connection between Yaralla and Glen is an open question. Box Hill Road in East Oakleigh doesn't exist now, but East Oakleigh is not a world away from Glen Huntly so maybe there is some connection? I wonder if Yaralla was formed out of the split between Mr Lewis and Mr Matthews? (For more info about Yaralla Caravans
click here
.)
In any case, even though the last advert for a Glen caravan actually being offered for sale by Glen itself was in 1953, Glen Caravans continued on as a joinery company, and in later years as 'Glen Caravan and Joinery'. Glen had regular adverts in the Age seeking joiners for many years. The last of these appeared in the Age on Saturday, 25 January 1969 (page 58):


The advertisement is for joiners required for the assembly of 'House type Windows', which suggests that by that stage Glen was involved in manufacturing fittings for house construction.
In the mid 60's, Glen's address changed from 820 Glen Huntly Road, Glen Huntly to 1254 Glenhuntly Road, Glenhuntly. As Rivella told us in a post higher up this thread, this resulted from a renumbering of properties along the road. (The change from 'Glen Huntly' to 'Glenhuntly' reflects a variation of spelling that can be seen in the Glen Caravan adverts, and gets argued about in Melbourne still!)
Rivella and Lewis, maybe the above information will trigger some memories? If so, we'd be interested to hear anything you can tell us. Does the name 'Yaralla' mean anything to either of you? And do you know if Abraham Lewis retained the Glen Caravan business after the split from Matthews, or was it Matthews that continued on with that firm?
Don Ricardo