Post by Franklin1 on Nov 24, 2007 20:51:47 GMT 10
1958 advertisement from the RAC Vic Caravan and Camping Guide: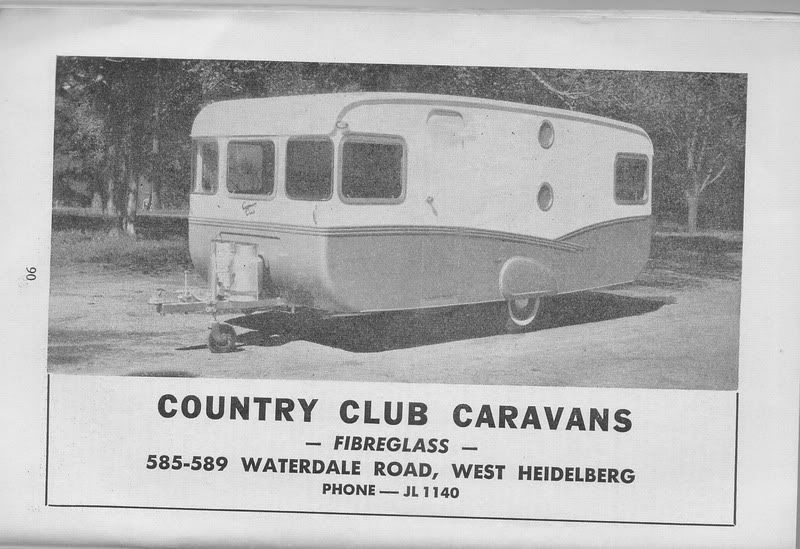 (source: posted by
gristy
, May 27, 2007)
The following information was posted by members in May, 2007:
cobber:
...As was mentioned in another thread it appears that it was the normal thing not to supply an outside light in manufactured vans....queer eh?
Can't imagine why you would want two portholes, one above the other

And get a go at the dolly wheel on that Country Club van

Trodler:
...The Country Club fibreglass van was Australias first full fibreglass van.
cobber:
Spot on Trodler young fella, The Australian Motor Manual of September 15th 1956 announced it would be the highlight of Melbourne's 1956 Caravan Show
jailbarjuice:
You're right Cobber, it must'nt have been much of a van, or else horribly overpriced, or marketed badly, or all of the above.
Look how many of them we know of ( NONE), & look how many Sunliners are out there ( probably a very big percentage of those that were built), as well as a lot of Olympics.
Sunliners & Olympics have proven that glass vans will survive, & its a shame that a few of these Country Clubs didnt survive, as they appear to be a fairly large & stylish van.
I always wonder why people would sink so much money & time into developing & producing a product that failed on its marketing.
gristy:
JBJ,I think that sometimes people in business who have a talent (for example to design and/or build a great van) don't have the other skills (eg sales and marketing) or $$ to make it a sucess. Maybe that was the case with the Country Club. Or perhaps it was too classy and then too expensive
Don:
Do you reckon that the two portholes on the Country Club might provide some light to a pair of bunks located on the side wall of the van? The van looks long enough to have bunks there, and the portholes seem to be in about the right place for that.
As no doubt you've seen, some modern vans (wash my mouth out with soap

) with bunks have small sets of windows to provide light and ventilation for each bunk. Maybe the Country Club portholes were the precursor to that?
cobber:
About the "Country Club" caravan.
JBJ, the article in Motor Manual describes the construction of the "Country Club" as ...
"This 16 ft. van has a balsa corestock shell (whatever that is

)covered with fibreglass and a moulded fibreglass roof which curves at the edges to meet the walls. The fibreglass skin, before
it is applied to the caravan walls, is as flexible as silk, but when the process is completed it wears forever, needs no painting, has the advantages of lightness, and will stand up to any type of weather without deteriorating".... end of quote.
In an earlier Motor Manual, April 2nd. 1956, it is said An entirely new model "Country Club" van will be shown at the Melbourne Motor Show , it goes on to say "The van will be of balsa-ply construction" etc,etc, but no mention is made of fibre glass in the
construction.
So from all that I get the impression they did make up a mould for the fibreglass roof but just slapped some fibre glass mat over the balsa-ply (whatever that is) walls to display it at the Caravan show later in the year.
Another Motor Manual, February 1st. 1956 tells us "The Willerby Caravan Co. have built a fully fibreglass Polyester resin panelled van"
Sorry folks... that was in England, so maybe Country Club were just trying to be the first to say "anything they can do we can do worse"

.
Actually at that time the Poms called fibreglass GRP, (Glass Resin Plastic)
Don, the bunk arrangement you suggest sounds like a reasonable theory, although it would make for an unusual layout inside the van because that April 2nd M M I quoted from above also said the van had a double bed at the centre rear. But then again, I am comparing what has been said about 1956 vans whereas Tinnie's brochure is showing the 1958 version which may have had a completely different layout.
Would like to see a "Country Club Caravan" in the flesh just the same.
Cobber.
Much later..... did a google on balsa corestock and balsa plywood
www.oakleywoods.com/company/balsaprop.htm
good stuff