Post by Don Ricardo on Jun 27, 2017 20:15:48 GMT 10
On 21 January 2017, Vintagevangirl posted
here
:
Hello all,
We have recently purchased a 1960's Fibreglass Skyline Caravan and she is still in original condition except for some wiring and lights.
We originally purchased it to retro and tow behind our 1960 Oldsmobile for shows etc but we have now discovered that she is rarer than we thought as a 'Mustang' a member on this site saw us at the Parkes Elvis Festival as suggested we look into her history before doing this. She maybe one the original Franklin vans before the mould was sold to Frank Kennedy???
I have read the Kennedy Thread but any further information that you can give me on her would be great.
She has the name plate Skyline in Blue front and back and on the draw bar is the number 993 welded onto it and has the number 993 F.G. drawn in pencil inside one of the top cupboards.
I cannot find any other plates or names on her, her Rego has 1961 but that was what the previous own select and is his birth year as the original papers did not have a year on them.
Unusually the draw bar and chassis is made from angle iron not C Chanel or tubular steel could also this give an indication of her age...
Thank you
Sylvia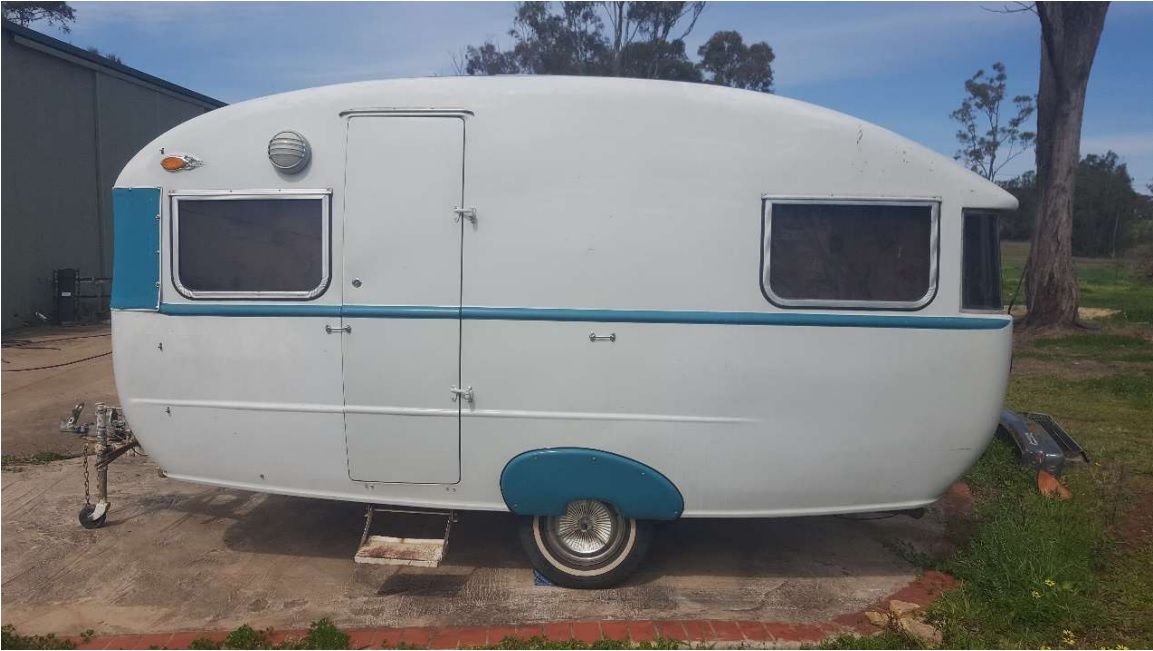 ---
And Don Ricardo responded on 22 January 2017:
Your van is from the Franklin mould, not the Kennedy mould - that is indicated by (1) the shape of the raised line along the waist of the van which has a little kick up at the front of the van, and (2) the front and rear windows which slope inwards from the bottom to the top. These are quite distinctive.
Franklin began producing the fibreglass 'Futura' model in 1963 or 1964 and continued it until at least 1968. We're not 100% certain where Franklin sourced their Futura model shells from. They might have produced the shells themselves, but they may also have had them made by Filam, which was a fibreglass production firm in Geelong. The interesting thing is that caravans made with the Franklin mould were sold not only as Franklins, but also as South Australian Clippers and Skylines.
In the 50's Skyline produced their own vans, but by the early to mid 60's they were also (perhaps mainly) selling caravans that they procured from other manufacturers. For example at one point they sold Skyline-branded Sunliners which were partly or wholly built in Geelong (possibly by Filam?). In line with this approach Skyline started selling Skyline-branded fibreglass vans from the Franklin Futura mould like yours in 1963. You can see an August 1963 advert for this van
here
...
We don't know how long Skyline sold this model for, whether it was just for one year or maybe more. A somewhat confusing element is that although we have seen several examples of the Skyline fibreglass van on the forum, the 'Skyline' nameplate/logo on each of them is different. But it is interesting to see that the 'Skyline' nameplate on your van appears to be the same as that shown in the line drawing for the 1963 Skyline fibreglass van you can see
here
.
So, what does that tell us about your van? You commented that the previous owner picked 1961 as the build date for the van, and explained why, but the earliest the van could have been built seems to be 1963, because that's when Skyline started selling it, describing it as a 'new' model. It could have been produced a bit later than that, but it is possibly significant that your van has the same nameplate as the one in the info we have for the 1963 Skyline fibreglass van. Irrespective of that, it is unlikely that your van was built later than 1968 because that's when the Franklin style mould stopped being used, as far as we know. Kennedy appears to have begun selling vans built from the Kennedy mould in 1969.
We don't know whether Skyline and Clipper obtained their shells for their fibreglass vans - or fully completed vans - from Franklin, or whether Franklin, Skyline and Clipper each obtained their shells from another third party, such as Filam. But now I'm going to do a bit of speculation! You told us that your van has the serial number '993' on the A-frame and '993 F.G.' inside one of the top cupboards. If you look at
this thread
on Franklin chassis numbers, you'll see that up until 1964 Franklin gave their vans a three digit serial number. From 1961 to 1964 the three digits were followed by a letter, that I think represented the year - so 'A' represented 1961, 'B' represented 1962, through to 'D' representing 1964. Your serial number of 993 fits the Franklin pattern, although I would have expected it to be '993 C' or '993 D'. Be that as it may, what might 'F G' represent? My guess is that it might stand for 'Fibre Glass' to indicate that the cupboard components were to be fitted to a fibreglass van. If I'm right, your van may have been produced by Franklin and given the serial number 993, and then sold as a Skyline. If that is the case then that would tell us that your van was produced in either 1963 or 1964, because after that Franklin changed the pattern for their serial numbers.
I think that is the most likely explanation, because if the vans were produced by an independent party, I can't imagine that they produced as many as 993, because there just aren't that many of them around.
There is a little bit of speculation in the above, but I hope that it at least provides you with some useful information about your van and its approximate build date.