Post by Don Ricardo on Mar 7, 2021 15:25:41 GMT 10
2021 VINTAGE CARAVAN NATIONALS

STRATHALBYN MOTOR MUSEUMS & ANTIQUES - Thursday, 6 May
On Thursday you are invited to visit Strathalbyn, located 50 kilometres from the Nationals venue.
Strathalbyn makes a reasonable claim to being the most beautiful town in South Australia and one of the prettiest towns in the country. Not surprisingly it is a classified Heritage Town. Its appeal lies primarily in the way the centre of the town runs along the River Angas and is characterised by a large area of parkland, known as the Soldiers Memorial Gardens. The park is edged by historic buildings and provides the village/town with a unique and quaint centre. The town is the location for a classic car museum and a classic car and automobilia broker, It is also renowned for its rich diversity of antique and second hand shops.
COLLECTABLE CLASSICS (including Morning Tea)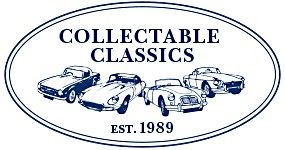 Collectable Classics was established in 1989 by Michael Finnis, and soon became Adelaide's leading seller of all types of sports, classic & unique motor vehicles, and automobilia. The business is now located at Strathalbyn and is operated by Michael's son Ben. The business is spread over several large buildings, and we have been invited to visit the premises to view the various vehicles and automobilia currently available.

You can visit Collectable Classics whenever you want during the day, but Ben has kindly offered to provide Morning Tea at 10.00 am in return for a gold coin donation for a local charity.
LOCATION:
5-7 Rankine Street, Strathalbyn
OPENING HOURS:
9.00 am to 5.30 pm -
but Morning Tea will be served at 10.00 amCOST:
Gold coin for morning tea
ALLOCATION TO GROUPS:
Depending on the number of people present, it may be necessary to divide people into groups after Morning Tea due to Covid-19 requirements.
GILBERT'S MOTOR MUSEUM
The Gilbert's Motor Museum is an initiative of the Strathalbyn Tourism Association. The Museum is located in the historic building owned and used by the Gilbert family since the early 1900's up to the closure of the business in December 2018. During this time Gilbert's manufactured Treblig bicycles and motorcycles, sold home appliances, motor vehicles including Buick and Holden, and farm machinery. They also had vehicle repair and bodywork facilities. Vehicles on display include those sold new from the premises, veteran, vintage, classic and motor sports vehicles. Of particular interest will be the display of racing vehicles from Rowley Park Speedway, kindly organised by the Veteran Speedcar Club.
LOCATION:
34 High St, Strathalbyn
OPENING HOURS:
10.00 am to 4.00 pm
COST:
Adult $8.00 or $6.00 as part of a group of 20+; children under 16 attending with an adult are free.
ALLOCATION TO GROUPS: Due to Covid-19 requirements, there is a cap on how many people can enter the Motor Museum at the one time. You may therefore be asked to sign up for a time to visit the Museum prior to the day.
ANTIQUE & SECOND HAND SHOPS
Strathalbyn isn't known as the antique capital of SA for nothing; it boasts six antique stores on High Street alone. There are others peppered throughout the picturesque rural town, so vintage shoppers, collectors, and those who just like to browse, won't be let down.
LUNCH?
Looking for lunch in Strathalbyn? Members of the
Vintage and Classic Caravan Group of SA
have recommended the
Commercial Hotel, located at 27 High Street, Strathalbyn.