Post by firefighter on May 23, 2017 17:24:26 GMT 10
2018 VINTAGE CARAVAN NATIONALS

Painters Island Caravan Park, Pinkerton Crescent, Wangaratta (Victoria)

Friday, 20th April to Friday, 27th April
Venue
The
Painters Island Caravan Park
is the closest park to the Wangaratta township and is situated on the banks of the Ovens River and connected to the town via a footbridge. Over the footbridge you will discover the new Ovens River Precinct which has an attractive cosmopolitan environment known to the locals as Wangaratta's mini South Bank. This area consists of restaurants and bars showcasing the region's world standard gourmet food and wine. The park itself covers 20 acres of picturesque treed land and is in the heart of Ned Kelly Country and close to historic and wine producing areas such as Beechworth and Rutherglen, as well as Bright, Chiltern and Corowa.
Accommodation at the park consists of:
140 powered grassy sites, many drive throughs
42 unpowered sites
18 Cabins, 2 with ramp access
Camp kitchen with 2 open fireplaces
For more information about the caravan park and its facilities go to the Painters Island website
here
. See also the map at the end of this post.
Unfortunately, pets are not allowed in the caravan park at any time because it is located on Crown land and state government regulations apply.
However, some pet owners may wish to consider basing themselves at one of the other caravan parks in Wangaratta. Anyone who does that is welcome to attend all Nationals activities.
Who can attend?
The Nationals are mainly intended as an Australia-wide get together for forum members and others with Vintage Caravans.
BUT
keep reading
, because we are aware that some forum members have classic caravans, and that other V V'ers like to attend events with friends who come in non-vintage vans. Other people come because they have an interest in vintage or older caravans, or want to be inspired by seeing 100+ vintage caravans together all in one place. All such people are very welcome to attend. The Nationals are partly about creating a spectacle of vintage vanning, but we don't wish to exclude anyone who would like to attend.
An option for those attending without a Vintage Caravan is to book an en suite cabin.
We encourage everyone to come to the Nationals for the full week so that we can have the opportunity to meet each other, admire each others' caravans, and participate in the program of activities. However, you are still very welcome to attend even if you can only come for a few days due to work or other commitments.
How do I book?
Contact the Park managers - Penny & Paul - by ringing 03 5721 3380, or by email stay@paintersislandcaravanpark.com.au
Cost:
$49.00 non-refundable deposit
$49 per night, powered site, 1-2 people , if staying 7 nights or more a 5% discount applies. Site has to be paid for in full when booking to receive discount.
$55 per night, powered site, 1-2 people, 5 days or less
$45 per night, unpowered site, 1-2 people, if staying 7 nights or more a 5% discount applies. Site must be paid for in full when booking to receive discount. No discount less than 7 nights.
Extra adults on either powered or unpowered sites are $15 per night, Children are $10 per night.
There are no ensuite sites but many of the sites are very close to the amenities. First in, best dressed!!!
Bookings can be made any time and a site is guaranteed up to 3 months prior to the event.
Program
The organisers of the Nationals are working on creating an exciting program of activities for the week. More information about these events will be announced closer to the Nationals. Keep a watch on the forum for more details and/or booking details.
Update: The program of activities for the Nationals is now available
here
What do I need to do now?
If you intend to come to the 2018 V V Nationals, we suggest that you book!
1. Ring Penny and Paul at the Painters Island Caravan Park to book your site (see contact details above).
2. When you book your site please give Penny and Paul your forum name if you have one.
3. Place a post on this thread letting us know that you've booked.
The purpose of steps 2 and 3 is to assist the organisers with their planning, and so that the organisers and the caravan park managers can reconcile their records of who's booked and who hasn't.
Are there any tours being organised before or after the Nationals?
A High Country tour from Canberra to Wangaratta is being organised for before the Nationals by
Koala
. For more information click
here
.
Other tours may also be organised. If you are interested in joining a convoy or a tour to or from the Nationals, or looking for some other vintage vanners to travel with, post on this thread with a suggested starting and/or ending point.
Any questions?
If you have any questions about the 2018 Vintage Caravan Nationals, please feel free to post them on this thread or PM one of the forum moderators.
We look forward to seeing you at the 2018 Nationals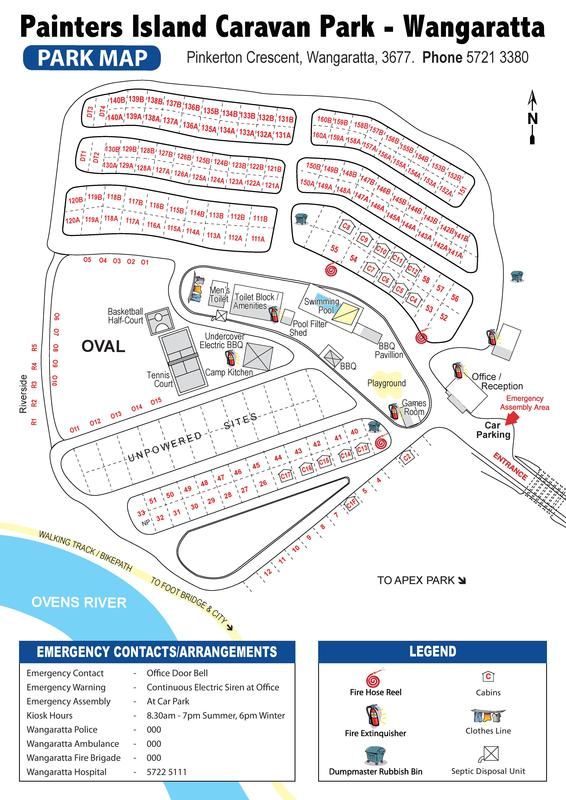 ---
A message posted in May 2017 from forum administrator Firefighter who was instrumental in starting the planning for the 2018 Nationals, but who sadly passed away in August 2017:


I would like to thank forum member Scot from Ballarat that told us about Wang and the caravan park while we were in South West Rocks as she stops in this caravan park for her Easter holidays every year.
Also thanks for his input to forum member, and moderator on the Classic Caravans forum, who also stops in this park a few times during the year.
Along with Moparman we called in on the way home from South West Rocks and checked it out and met Paul and Penny.
Thanks to Mark Taylor forum owner, Don Ricardo, Moparman, and Ralphndi for their input to the 2018 Nats.
Geoff