Post by Don Ricardo on Mar 11, 2017 17:06:39 GMT 10
CARA-HOME CARAVANS
Manufactured by Gwillam & Son,
95 Franklin Street, Annerly, Qld
---
Recently
Roybeth
posted about a Cara-Home nameplate that was listed for sale on Ebuy. Checking through newspaper references via Trove, Cara-Home appears to have been active from 1952 through to 1954, and manufactured by Gwillam & Son in the Brisbane suburb of Annerly.
The first information we have on Cara-Home is some caravans advertised by the Queensland
Caravan Centre
in the
Brisbane Telegraph
in Thursday, 20 November 1952 (page 25):

(Source: National Library of Australia
nla.gov.au/nla.news-article217244539
)
The Caravan Centre produced its own range of caravans including the Trailmaster, Lite Wate and Aristorcrat, but apparently the firm also sold second hand vans (such as the Jennison Pathfinder listed), and also appears to have had a batch of twelve Cara-Homes for sale.
Beginning in February 1953, we find adverts for Cara-Home caravans placed by the manufacturer itself, such as this one published on Wednesday, 4 February 1953 in the
Brisbane Telegraph
(page 20), which lists quite an extensive range of models: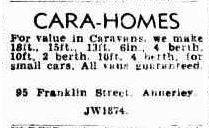 (Source: National Library of Australia
nla.gov.au/nla.news-article217188572
)
Unlike many caravan adverts of the era, some of the Cara-Home adverts included a photo of one of their vans so that we have some idea of what they looked like. This one was published in the Queensland
Dayboro Times and Moreton Mail
of Saturday, 21 February 1953 (page 3):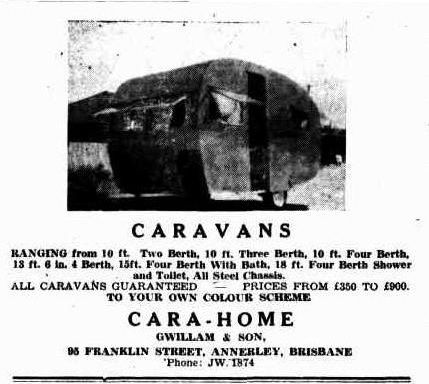 (Source: National Library of Australia
nla.gov.au/nla.news-article163727260
)
It appears from the photo that the Cara-Home had the typical curved style of the era, but an unusual aspect of its design is that it looks as if the tail of the van swept upward from the wheel arch. We have seen one or two caravans of unknown origin on the forum with similar styling. It raises the possibility that they may have been Cara-Homes.
Around the beginning of 1954, Cara-Home began to advertise that it had the 'largest caravan factory in Brisbane', as seen in this advert printed in the
Brisbane Telegraph
of Thursday, 4 February 1954 (page 34):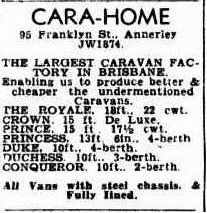 (Source: National Library of Australia
nla.gov.au/nla.news-article217205960
)
The claim about having the 'largest factory' seems like a big one, given that Brisbane was also the home of Chesney, Trail-A-Home and Clipper/Arrow, all of which were very well established caravan builders that had been operating for a number of years by that point (Trail-A-Home for example had been building caravans for at least sixteen years prior to 1954).
An advert published in the
Queensland Country Life
on Thursday, 4 November 1954 (page 4), provides the full list of Cara-Home caravans with some of their features:
(Source: National Library of Australia
nla.gov.au/nla.news-article217188572
)
The vans seem to have been quite heavy for their size, and this may reflect what they were fitted out with. The 18 ft Royale, for example, weighed 23 cwt and included both a shower and a toilet. Note that there were two 13 ft models (the Prince and Princess) and two 10 ft models (the Duchess and the Happy Days) which differed in layout and equipment.
This advert is also the last one for the brand that I have been able to find.
Cara-Home apparently had a strong relationship with sales people in Inverell, with a number of articles and adverts being published in the Inverell press. This article was printed in the
Inverell Times
on Wednesday, 24 June 1953 (page 12):

(Source: National Library of Australia
nla.gov.au/nla.news-article185849137
)
The article is a little difficult to decipher in parts, but reads as follows:
LUXURY CARAVAN IS FOR SALE
A Cara-Home four-berth caravan is for sale at Wilson's Used Car Park, in Byron Street, next to Campbell Bros.'
The Cara-Home unit, luxuriously equipped. has its own gas stove with sufficient gas for three hot meals daily for three months, a 6-volt one-plate battery and is wired with a 240-voltage power point.
Rich mahogany is used with cream handles for the lovely dressing table in the twin bed-room section of the Cara-Home, while curtains and furnishing draperies are in a rich red brocade to match. Carpets on the floor of the bedroom are also red.
Wall reading lamps in cream and cupboard space in that section of the Cara-Home all tone with the rich red and cream color scheme.
Other features of this luxury caravan include its light above the stove, 16-gallon water supply connected to the sink, a full-size wardrobe with mirrors, an ice chest, bottle and ? ? air ventilation, cupboard space on top and under beds, and a 4 ft by 2 ft bath.
The Cara-Home is on an all steel chassis and is guaranteed for five years.
Since its arrival in Inverell yesterday the Cara-Home has created a great deal or interest.
Mr. D. Gullian. who has the Cara-Home for sale, invites inspection.
On Wednesday, 16 December 1953, the
Inverell Times
(page 5) carried an advert advising that the new four-berth Cara-Home Princess was being displayed at the Junction Service Station:
(Source: National Library of Australia
nla.gov.au/nla.news-article185840423
)
The Junction Service Station was operated by Reg Coggan, who appears to have acted as agent for Cara-Home in Inverell.
March 1954 was 'show time' in Inverell, and on Wednesday, 3 March 1954, the
Inverell Times
(page 6) printed an advert which informed its readers that a display of Cara-Home caravans could be visited at the Show Ground: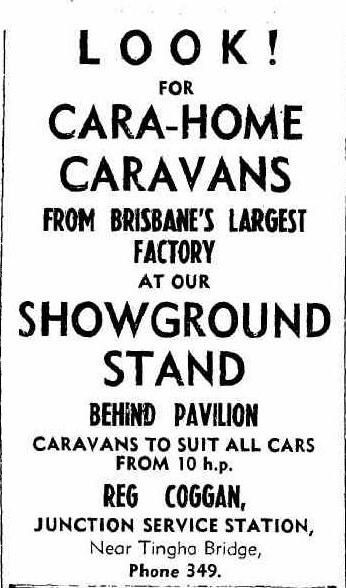 (Source: National Library of Australia
nla.gov.au/nla.news-article191364557
)
On Monday, 8 March 1954, the
Inverell Times
(page 22) reported on some of the local businesses that had goods on display at the Show. One of the reports was on the Cara-Home caravans put on show by Mr Coggan's Junction Service Station (right hand column below). Five different models were placed on display in rotation during the Show:
(Source: National Library of Australia
nla.gov.au/nla.news-article191358822
)
Note that Mr Doug Gwillam from Brisbane was in attendance during the Show. Doug Gwillam was presumably either the father or son member of 'Gwillam & Son', who were the manufacturers of Cara-Home caravans.
Note also that Carapark had a display of vans at the Show (see left hand column above).
Cara-Home continued to advertise in the Brisbane and Inverell press until early November 1954, after which there are no more traces of them in the newspapers, except for a few second hand vans. Whether they ceased manufacture around that point, or just didn't need to advertise any more, is unknown at this point.
Don Ricardo