Post by Don Ricardo on Jan 16, 2017 13:56:19 GMT 10
STREAMLITE CARAVANS [NSW]
Manufactured by Streamlite Industries
603 Victoria Road, Ryde, NSW
and later 500 Military Road, Mosman, NSW
and later 283 Pacific Highway, Atarmon, NSW
---
The Streamlite name has been used for caravans manufactured and sold by two companies,
Streamlite Industries
in NSW (to which this post refers) and
Farrell's Caravan Centre
in South Australia. It was suggested by
Bobshannon
in 2008 that it was the same caravans being sold by the two companies. However, an analysis of the adverts published by the two companies using
www.newspapers.com
and Trove indicates that sales of Streamlite branded caravans in NSW and South Australia took place in two different time periods which only overlapped by a month, suggesting that the caravans didn't come from the same source and that instead it was a case of two companies in different states using the same name for their products. There are quite a few cases of this occurring in Australian caravan history.
As shown below, the NSW Streamlite caravans were often advertised together with
Jennison
caravans in the same advertisements, and there is a clear corporate connection between the two brands. Streamlite caravans began to be advertised, then advertised jointly with Jennison Pathfinder caravans, in 1951 at around the same time as the Jennison Trailer Engineering Co was purchased by Richard Pym after the death of John Jennison. It has therefore been suggested that Pym was the owner of Streamlite Industries, and had been producing Streamlite caravans prior to taking on the Jennison company. This seems quite likely to be the case on the information we have, but we don't have any actual confirmation of that at this point.
The first advert for Streamlite that I've found in the
Sydney Morning Herald [SMH]
appeared in October 1951, and invited prospective buyers to inspect their new models at Ryde Motors Showroom in Victoria Road, Ryde, indicating some sort of commercial tie up with Ryde Motors. (I don't think the Ryde Motors referred to in the advert is the same as the modern Ryde Motors because it seems that the latter only commenced operating in 1971):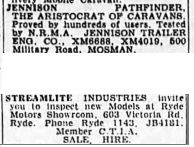 (Source:
SMH
, Saturday, 13 October 1951, page 23)
The same edition of the
SMH
also carried an advert for Jennison Pathfinder caravans (also shown above), without any connection indicated between the two. At that point Jennison was located at 500 Military Road, Mosman.
A brief advert a few days later tells us that Streamlite had caravans for both sale and hire:

(Source:
SMH
, Monday, 15 October 1951, page 9)
Two adverts published in the
SMH
on Saturday, 3 November 1951 (page 23) reveal that Streamlite was producing caravans clad in both aluminium and bondwood. This suggests that Streamlite - like Jennison - may have been relatively early adopters of aluminium cladding in the caravan industry: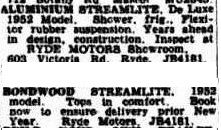 (Source: National Library of Australia
nla.gov.au/nla.news-article18237492
)
An advert appearing in the
SMH
on Saturday, 8 December 1951 (page 23) tells us Streamlite caravans featured refrigeration, a shower recess, and also that there was a 12 foot shell available. An advert for Jennison Pathfinder also appeared in the same newspaper:


(Source: National Library of Australia
nla.gov.au/nla.news-article18243235
)
The most interesting aspect of this pair of adverts is that it tells us that Streamlite caravans were now being sold from the Jennison premises in Military Road, Mosman.
From this point on, Streamlite caravans were almost always advertised in conjunction with Jennison caravans. For example the following advert published in the
SMH
on 21 December 1951 (page 12) offered Jennison Pathfinder, Hunter and Streamlite caravans. ('Hunter' probably refers to Carapark Hunter caravans):
(Source: National Library of Australia
nla.gov.au/nla.news-article18245450
)
The connection between Streamlite and Jennison is reflected in two further advertisements. The first is a Jennison Pathfinder advert from the 1951 Winser Caravan Manual: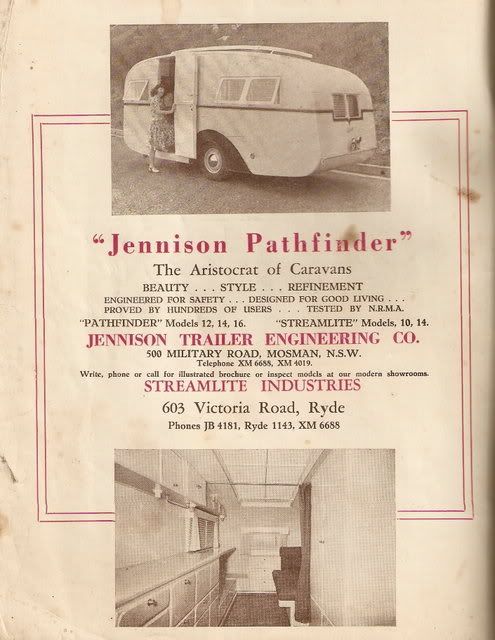 (Source: K Winser,
Australian Caravans & Touring
, 4th edition, 1951/2, inside front cover)
While the focus of this advert is clearly on the Jennison Pathfinder caravan, it also refers to the Streamlite 10 ft and 14 ft models, and to Streamlite Industries.
The second advert is this one which appeared in the NRMA
The Open Road
journal on 1 January 1952. The top line of the advert which has been cut off appears to be 'Jennison Pathfinder':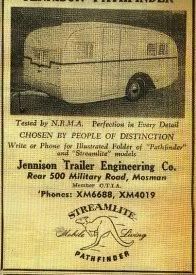 (Source:
Australian Classic Car
, April 2011, page 11)
Note the logo which incorporates both the Streamlite and Pathfinder names.
The following advert was printed in the
SMH
on Saturday, 8 November 1952 (page 25), and refers to both Jennison Pathfinder and Streamlite caravans, with the latter being smaller vans for smaller cars: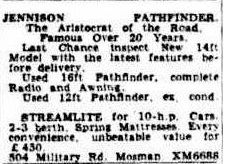 (Source: National Library of Australia
nla.gov.au/nla.news-article18289635
)
A similar advert appeared in the
SMH
on 31 January 1953 (page 23):
(Source: National Library of Australia
nla.gov.au/nla.news-article27527433
)
The last two adverts above are typical of those that appeared for Jennison and Streamlite caravans from 1952 to 1954. The last advert that I have been able to find for the NSW Streamlite appeared on 16 October 1954, and - just to buck the trend - only referred to Streamlite:

(Source:
SMH
, Saturday, 16 October 1954, page 24)
But
note that this time the address given for Streamlite was 283 Pacific Highway, Artarmon, which was the new location for Jennison caravans.
It has been suggested that the Streamlite might have been a Jennison product and a little brother (or sister?) to the Jennison Pathfinder, but nowhere in any of the documents do we find a reference to 'Jennison Streamlite', and the fact that the Streamlite was initially advertised quite independently, and from a different address, seems to make that unlikely. In addition, forum member
Jennison
(grandson of John Jennison) has no record of a Jennison Streamlite model, nor do other members of the Jennison family. So it seems that the Streamlite was a separate range of vans that came to the end of the road, so to speak, in October 1954.
Interestingly, on 13 September 1954 Farrell's Caravan Centre in South Australia published the first advertisement for its 'Streamlite 12' model caravan - just 33 days before the last advert was published in the
SMH
for the NSW Streamlite caravan. I am positing that this timing was coincidental and that Farrell's Streamlite 12 was a different caravan to the NSW Streamlite. It seems extremely unlikely that, if manufactured and sold in NSW for a few years, the sale of Streamlite caravans would suddenly change from NSW to South Australia, without ever being advertised in NSW again. And indeed Farrell's first Streamlite offering seems likely to have been a badge engineered Rowvan. Farrell's went on to sell several different models of Streamlite caravans until around 1957, when they too ceased to be advertised.
Regrettably we don't have any photos of the NSW Streamlite caravans (that we are aware of) so we cannot directly compare the NSW Streamlites with the Farrell's Streamlite vans, for which we do have photos. So all the above is based on an interpretation of some newspaper and magazine advertisements, and a comparison of timelines. I am happy to be corrected if anyone can tell us more about the NSW Streamlites, or about a connection between the NSW Streamlites and Jennison Pathfinders, Richard Pym, Ryde Motors or Farrell"s Caravan Centre.
Don Ricardo