Post by Don Ricardo on Feb 27, 2016 19:21:49 GMT 10
HIGHWAY CARAVANS [WESTERN AUSTRALIA]
Hired (and/or sold?) by Jack Stanbridge
Canning Highway, Como, Western Australia (TBC)
---
Photo of several Highway caravans outside Stanbridge's caravan hire some time in the 1960's and posted on the Cars Dad Drove Facebook page here
: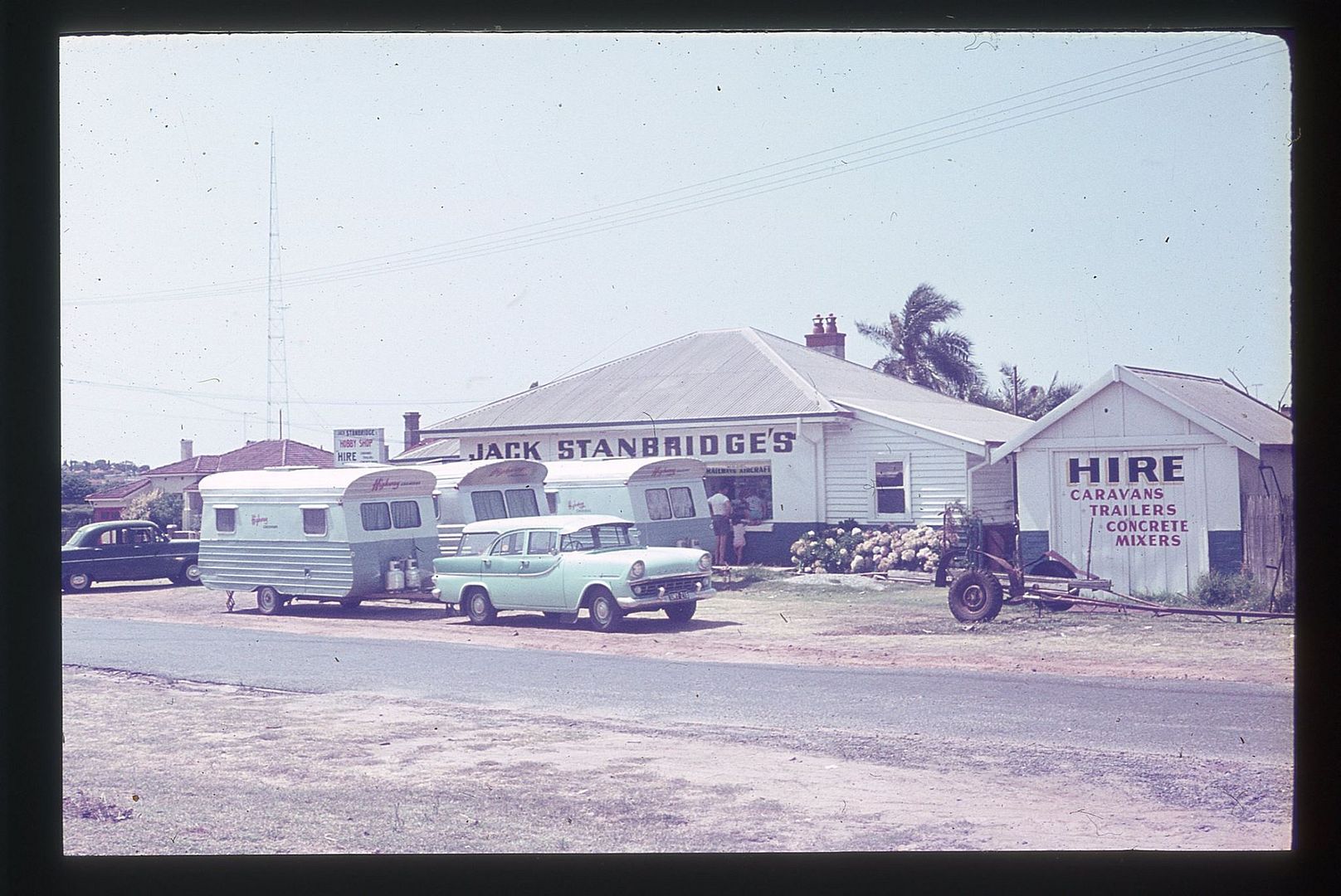 A comment accompanying the post states that the photo and several others
"...were taken by Jack Stanbridge, the well known hobby shop owner in Western Australia for over 60 years".
You can just see the facade for the Hobby Shop behind the nearest caravan.
It looks as if the Holden station wagon may have been painted to match the caravans. I don't know whether the vans were built by Stanbridge himself, by someone else on his behalf, or were a standard product of one of the Western Australian caravan manufacturers. Anyone know?
Don Ricardo
---
Postscript:
A google search brings to light a bit more information about Jack Stanbridge from the
West Australian Model Railway Club
website
here
. The following is taken from an item on Jack following his death (year not stated) and reveals that before his hobby shop became his main focus in business, he had a panel beating business. He was also a keen photographer. I'm thinking that the photo above was probably taken at the Canning Highway address:
"The Hobby Shop — as told by Jack himself in the December 1998 issue of 'The Branchline', his panel beating business at 5 Ascot Road [later renamed Great Eastern Highway] near the Causeway was supplemented in November 1948 by being able to sell Hornby trains and other Meccano products. In the 1950s when the land was needed for a large roundabout at the eastern end of the Causeway [now replaced by the flyover], he moved the business to 54A Canning Highway [trains on the top floor, panel beating down below] and later, when panel beating took second place and the hobbies were taking over, across the road to a little old house at No. 61. It seems that there were even 'branches' at 863 Albany Highway, Victoria Park and at 348 Wellington Street in the City.

"When No. 61 was needed for re-development, Jack moved the business to East Perth, initially and temporarily to Lord Street near the 'Norwood' and then to No. 19 Guildford Road, opposite the Mount Lawley subway.

Jack sold the business nearly twenty years ago and, very wisely, wrote in a caveat that the name 'Stanbridge's Hobby Shop' should remain. A subsequent owner moved across the road to the present location at 21 Railway Parade with a floor area about ten times that of No. 19."