Post by Don Ricardo on Apr 8, 2015 15:20:22 GMT 10
APACHE CAMPER TRAILER
Manufactured in the USA by Vesely Company
Distributed by Caravanland,
Scarborough Beach Road, Osborne Park, Western Australia
--- A relative has a Late 60's maybe early 70's "Apache" as an unfinished project that is available to someone interested in it. Pick up for free!
It is lift top steel tub with plastic fittings, never seen another in AUST! Some spares and original wheels may be available
This 'Apache' Van was imported under permit to Australia from USA, toured around and abandoned. After a chequed history left behind a shed.
Reasonably sound but requires much work. will probably be scrapped if no takers...
On 11 September 2014, Firefighter posted the following advertisement for Caravanland in Osborne Park, WA, which listed the Apache as one of the camping vehicles they sold: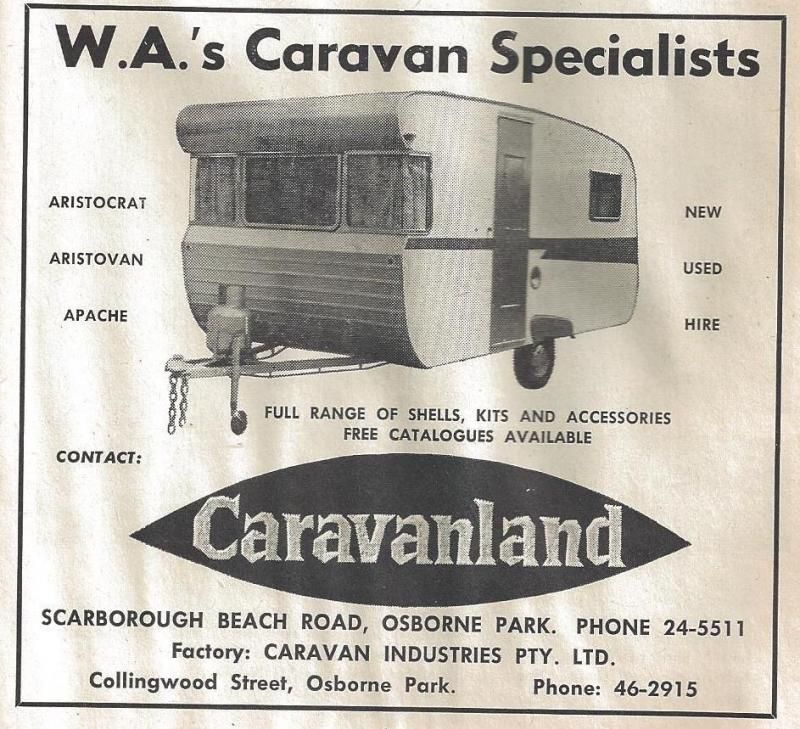 (Source: K Winser, Plans for Caravans, 12 edition, 1967)
---
Later that day Don Ricardo replied:
Thanks for posting that advert for Caravanland/Caravan Industries, Firefighter.
It's interesting to see the mention of Apache. For some reason the name 'Apache Camper' rang a bell for me, so I did a bit of googling and discovered that the Apache Camper was an American-built canvas sided camper trailer along the lines of our Jayco camper trailers. There is a brochure for the 1967 Apache models
here
.
I wonder if Caravanland was maybe acting as an Australian/West Australian agent for Apache in 1967? It would add another product to their sales line-up.
Funny thing is, there is a crowd called Eagle Trailers & Campers based in South Australia and Western Australia selling a modern style
Apache camper trailer
now. So not only is there a modern day Caravanland, but there is also a modern day Apache on the market!
I don't know where the modern Apache is built. Eagle Trailers & Campers emphasise that they are an Australian owned company, which makes me think that their products are very probably built overseas. Yes, I know, call me cynical. So it's possible that the modern Apache is descended from the 1960's Apaches. Maybe...