Post by Don Ricardo on Jan 27, 2014 16:30:33 GMT 10
Hi all,
Dona Ricardo and I are just back from our
'One Caravan Summer Tour'
,
and I thought you might like to see a few pics. There are few...so you might like to make yourself a cuppa first! I promise you there are some photos of vintage caravans in the post.
We headed off late on New Year's Day. After a night at Chiltern, our next stop was at Gundagai for a cup of coffee: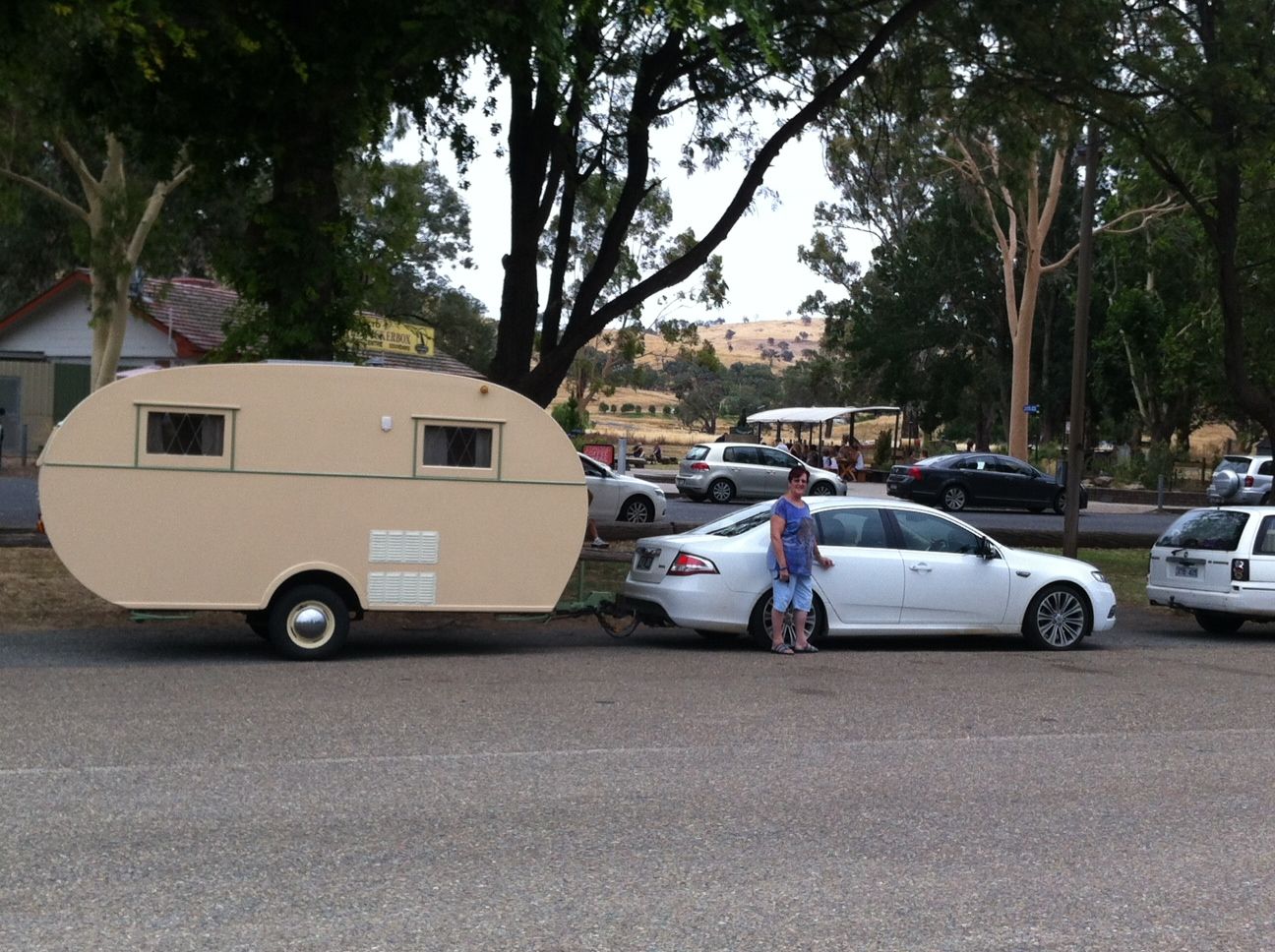 The cafe next to the Dog on the Tuckerbox statue has been pretty dilapidated and/or closed for the last couple of years, after a mega sized petrol station opened nearby. But it was great to see the cafe re-opened and refurbished and doing great business. The theme for the cafe is...dogs...everything doggy...books, tea towels, soft toys, ornaments, toys for your dog, you name it, they've got it if it relates to dogs. (The fountain is still being renovated.)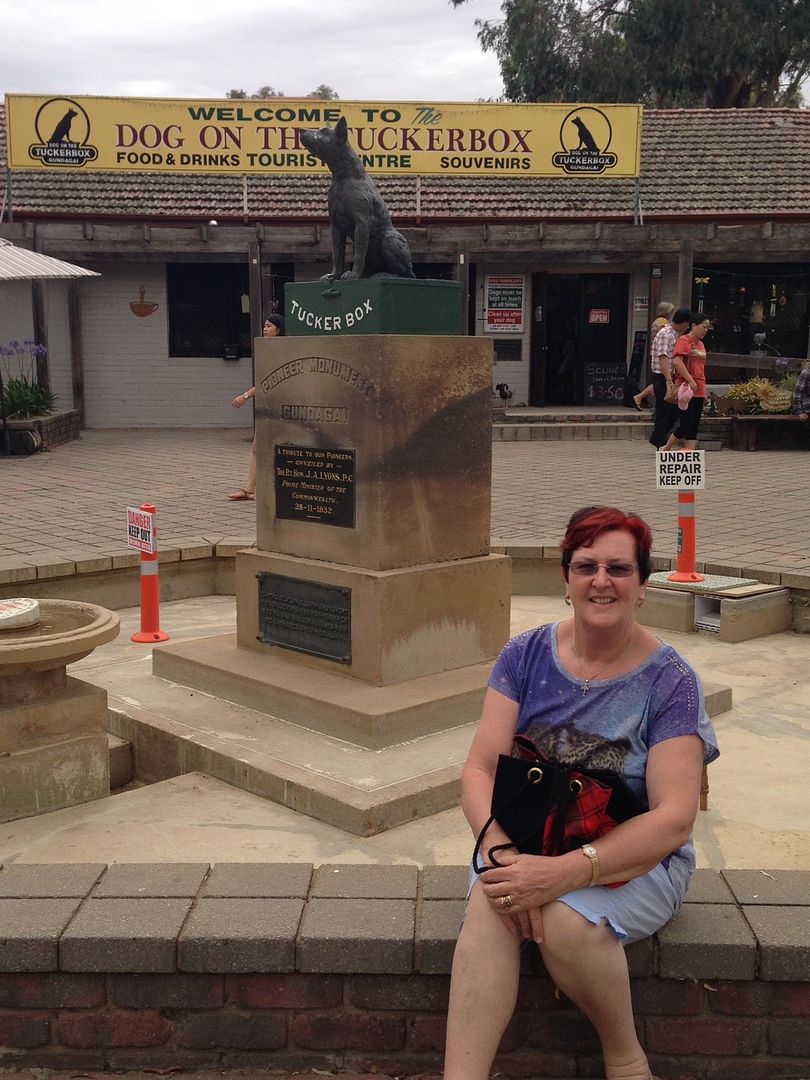 Our destination was the beach park at Tuross Head. Because we have been going there for a few years now we were moved - I like to say we were 'promoted' - to a new site which was 'absolute beachfront', as they say in the tourist brochures. The view was great:
Oh, hang on, that's looking along the campsites. Let's try that again...the view was great, whether you were inside...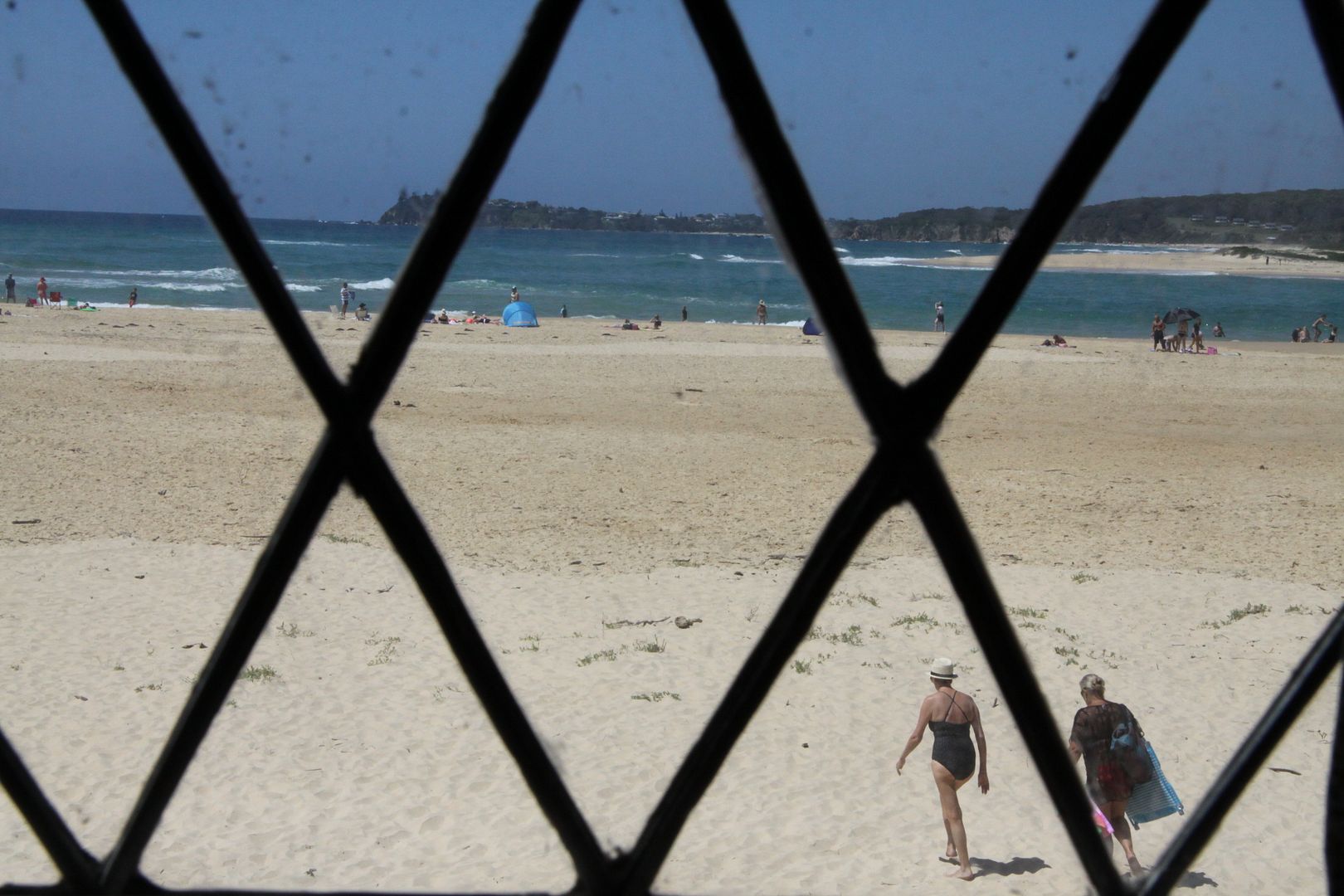 ...or outside...
...during the day...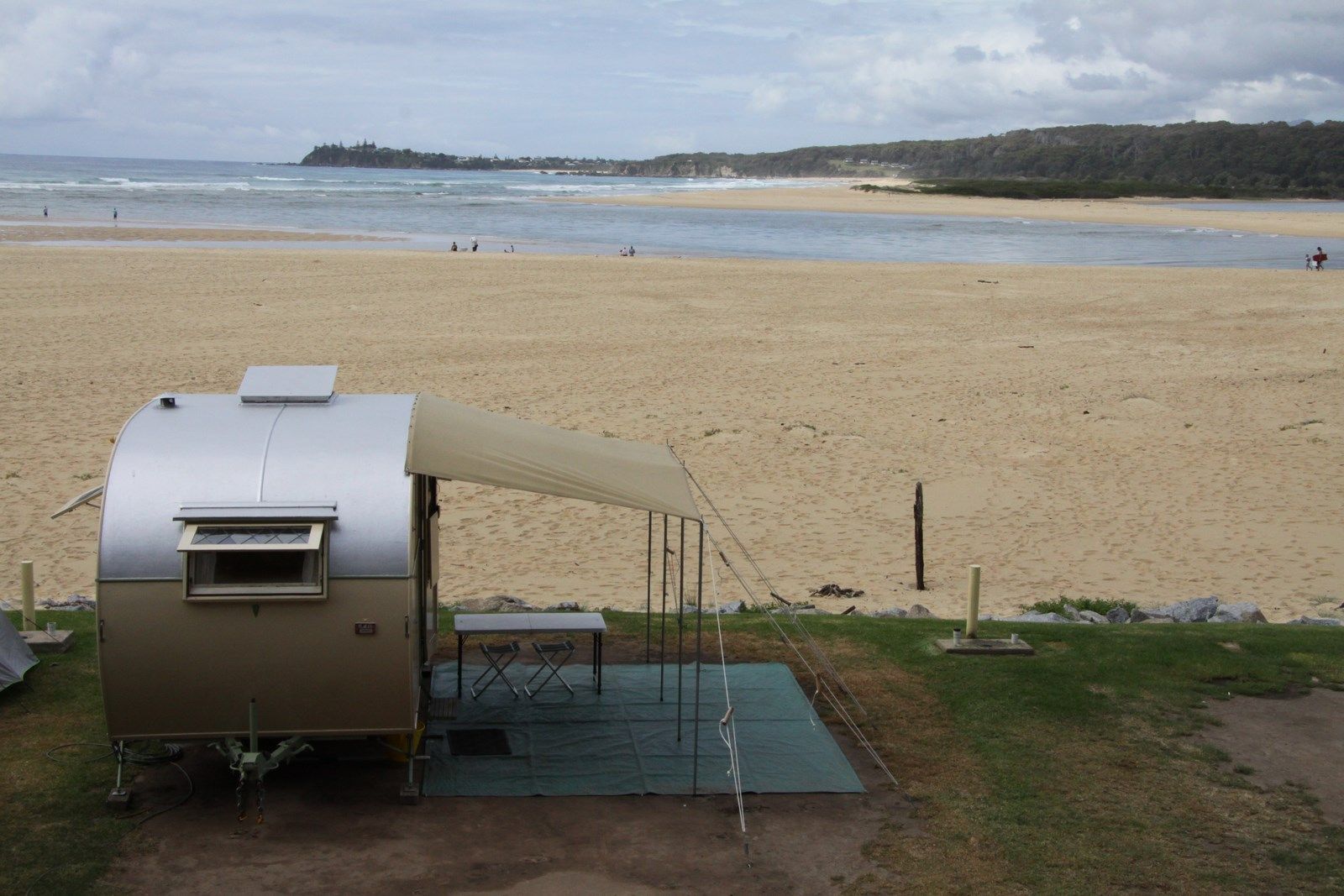 ...or at dusk: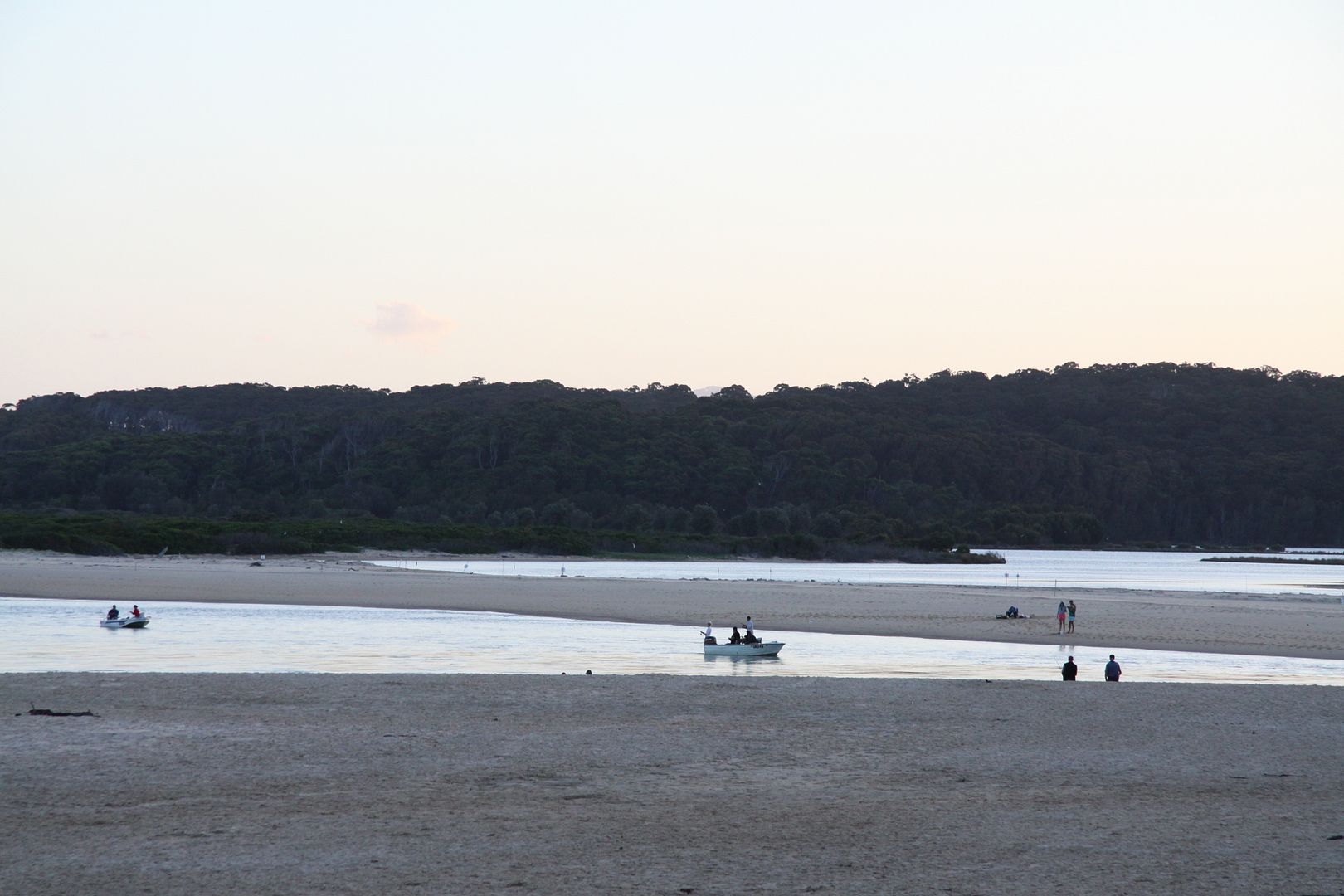 From where we sat we had a great view of Potato Point: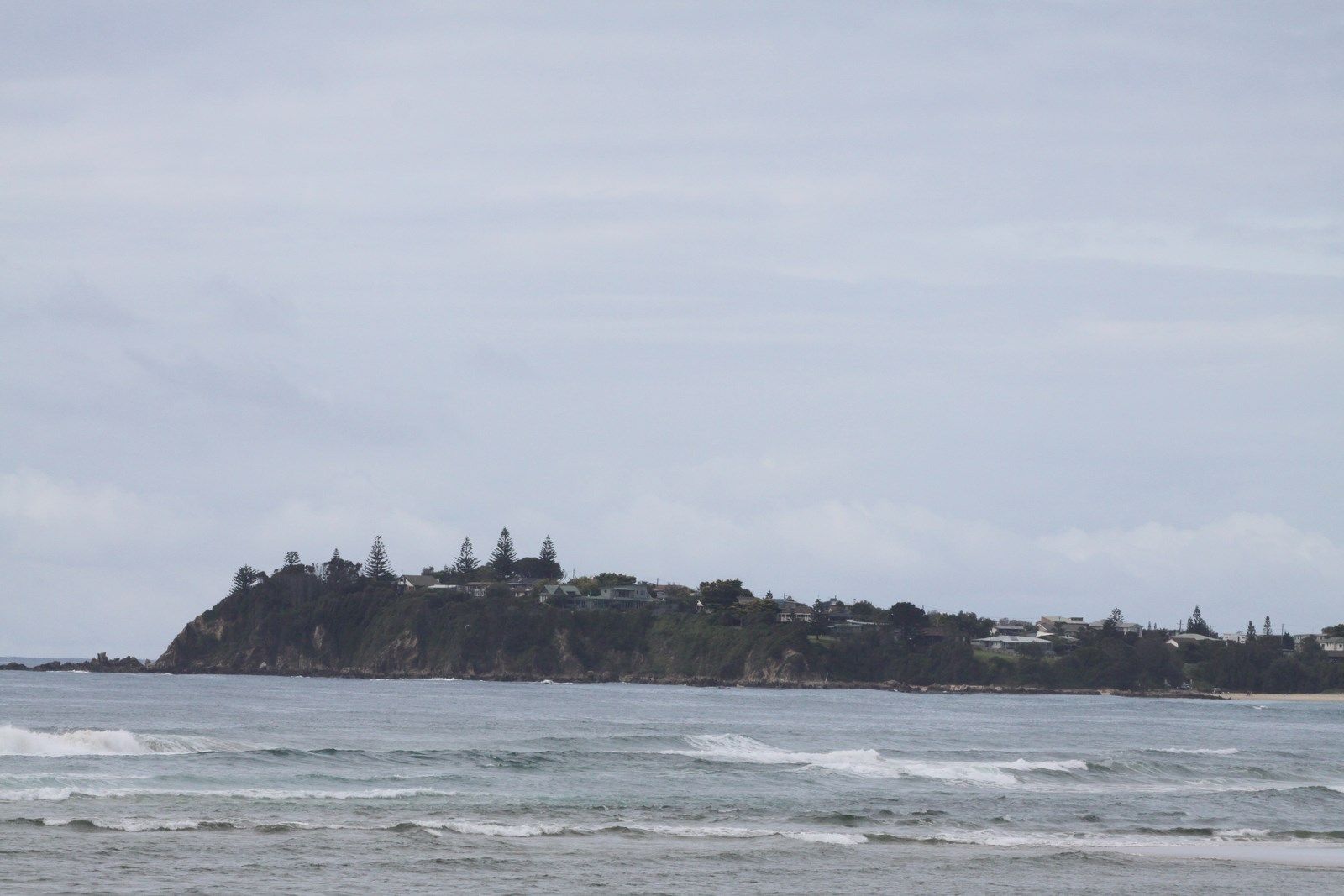 The camping area at Blackfellows Point: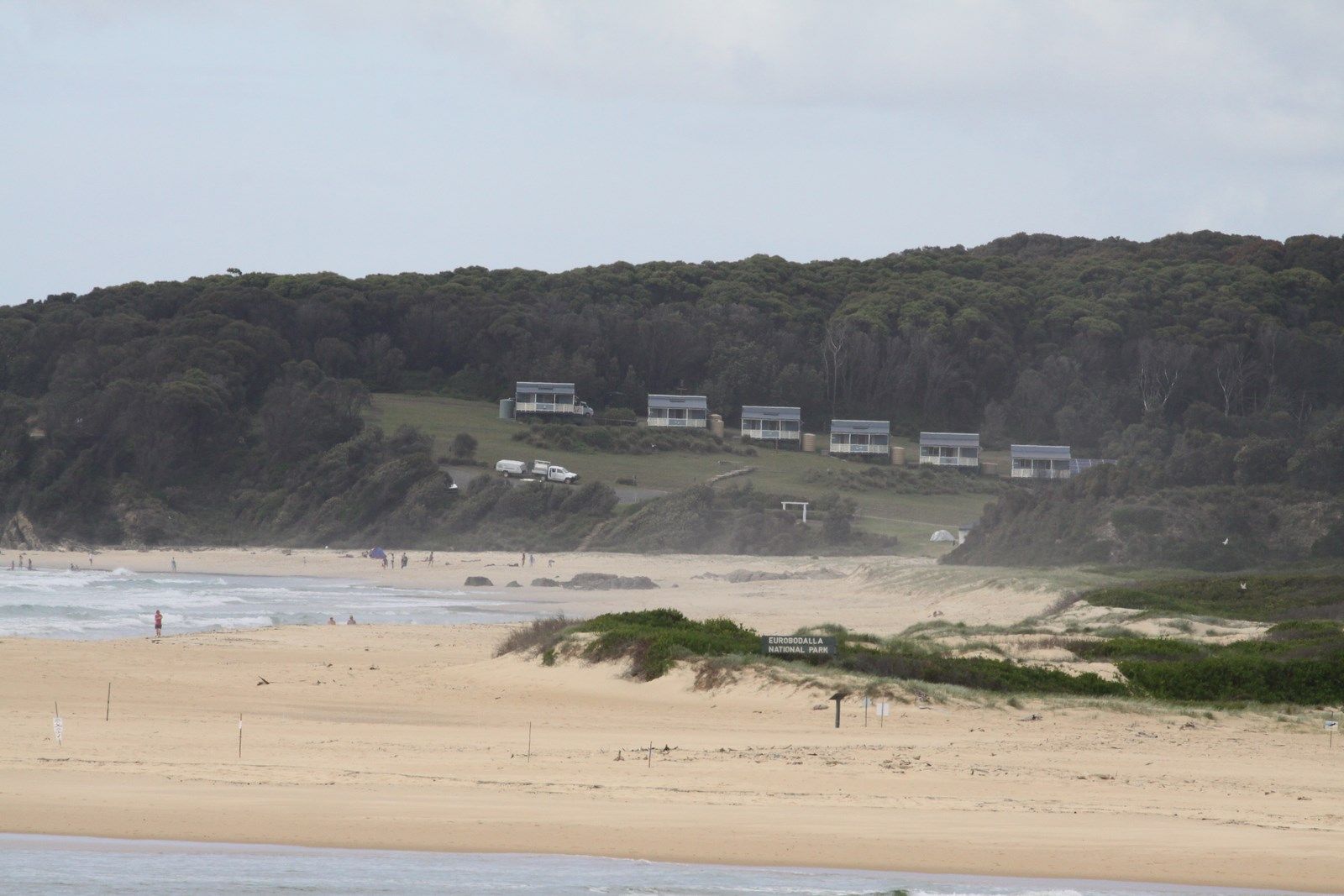 And further away, Montague Island: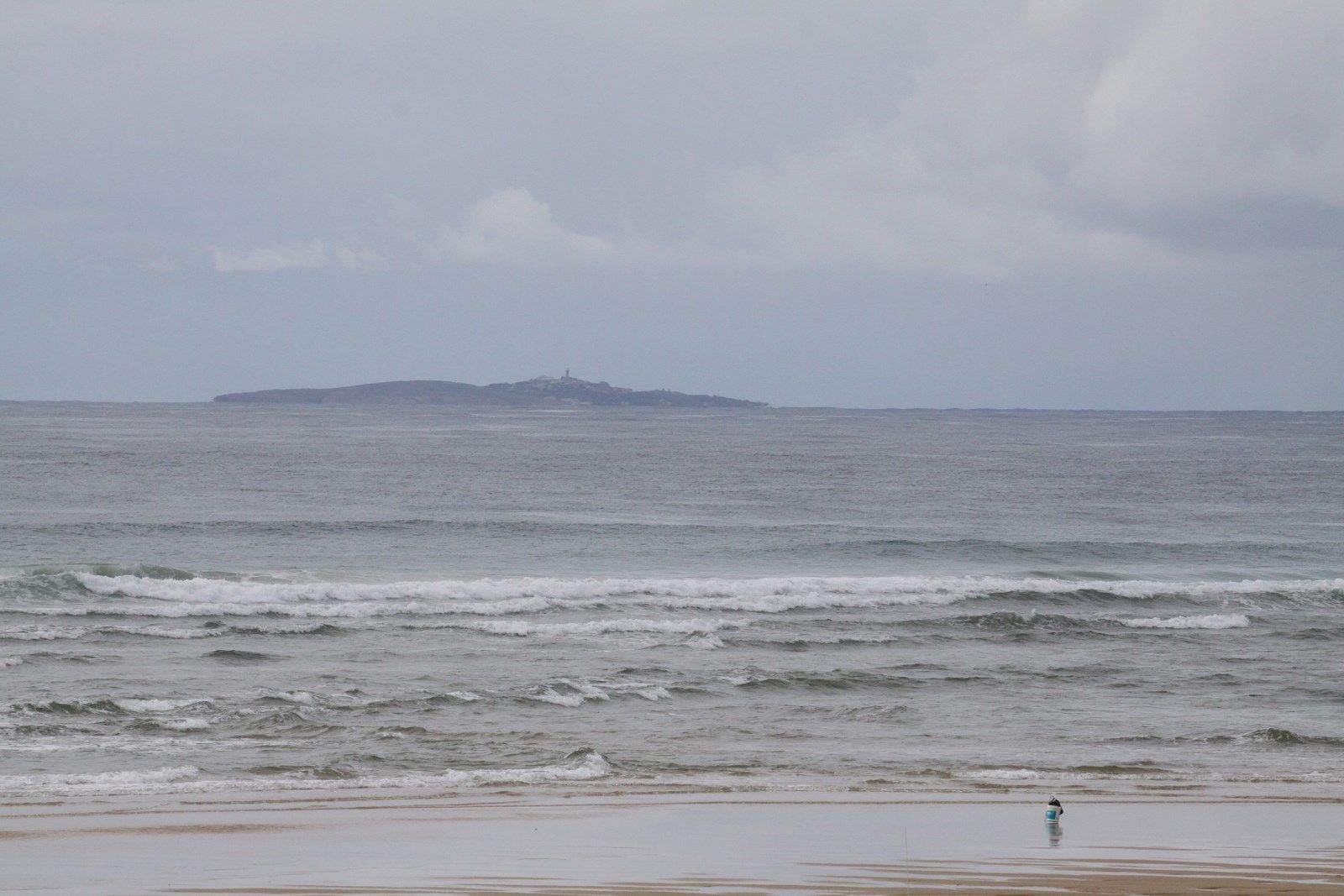 We had several meals at the Boat Shed on Tuross Lake: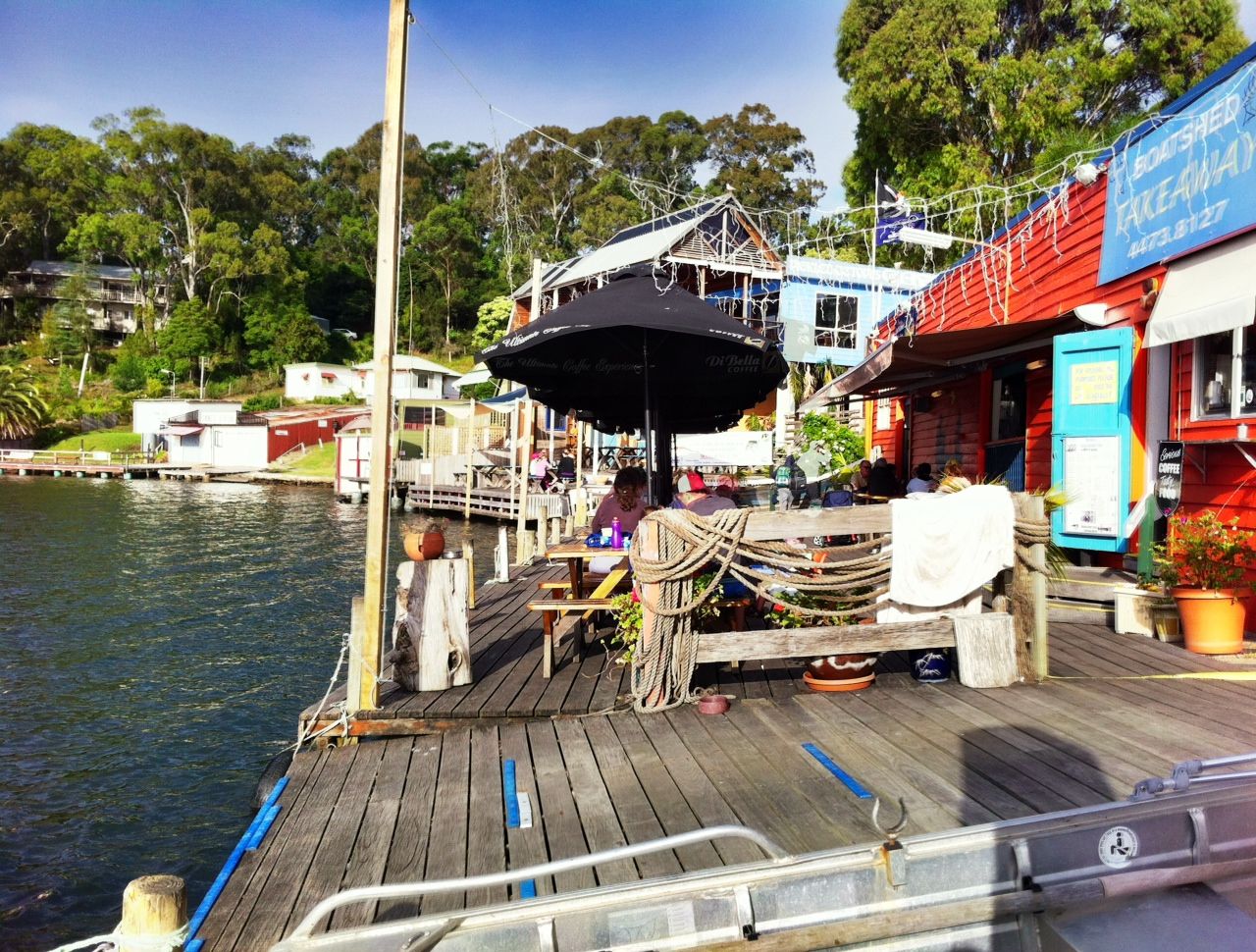 On one visit to the Boat Shed we saw a very nice Dodge Kingsway. Just the right colour to accompany the Don!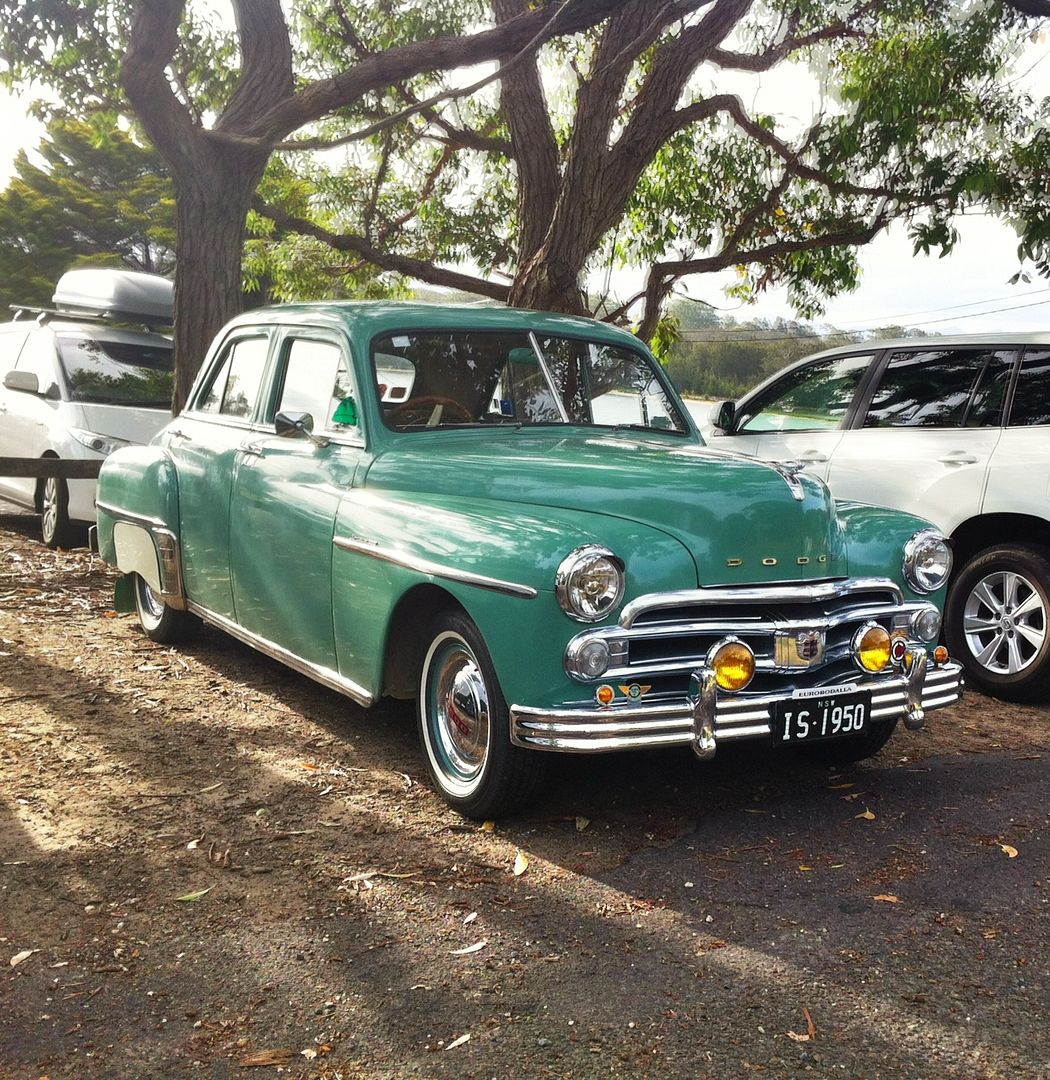 Apart from reading, swimming, resting and drinking coffee, we also did a couple of day trips to our favourite places, one of which is the beautiful little town of Central Tilba: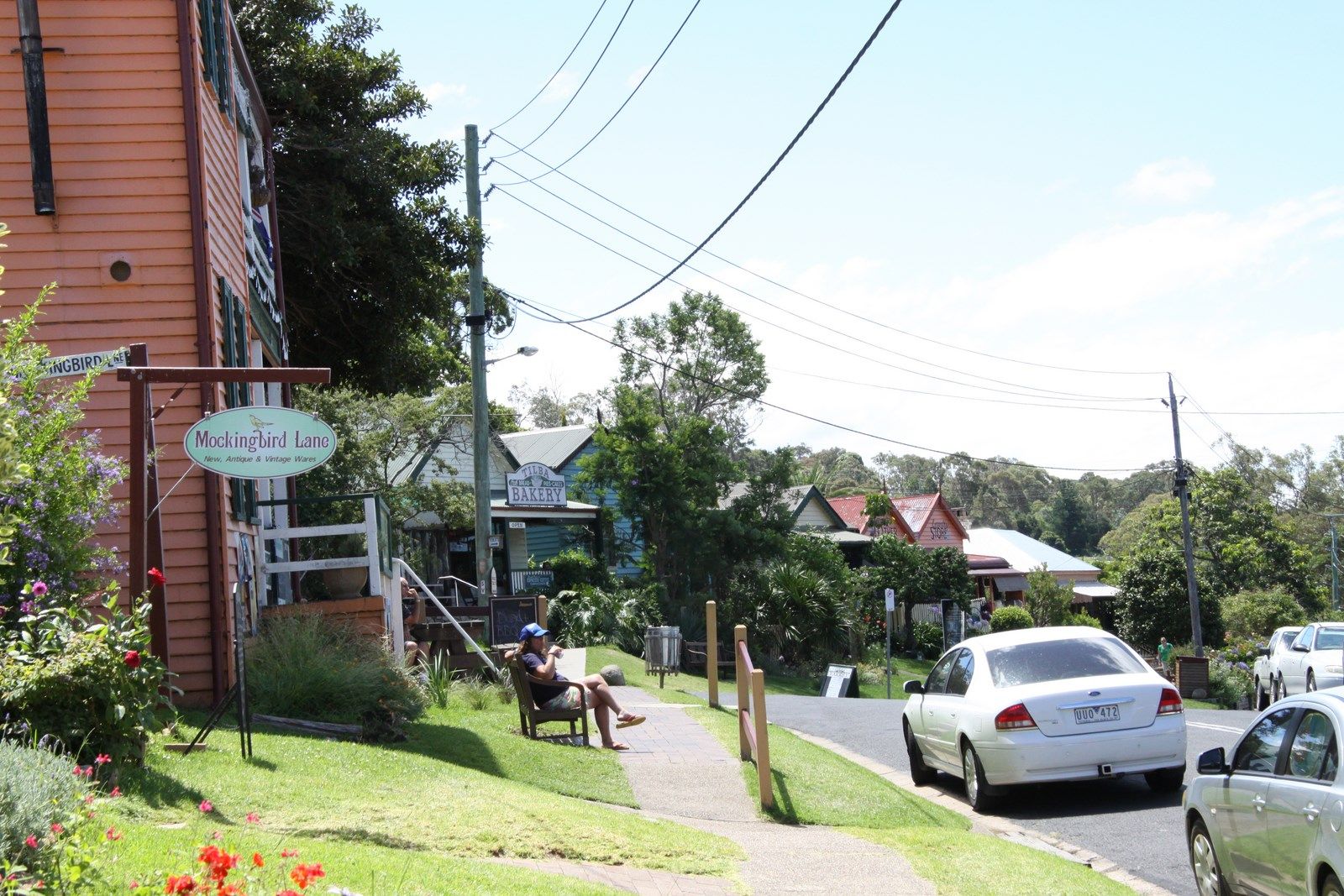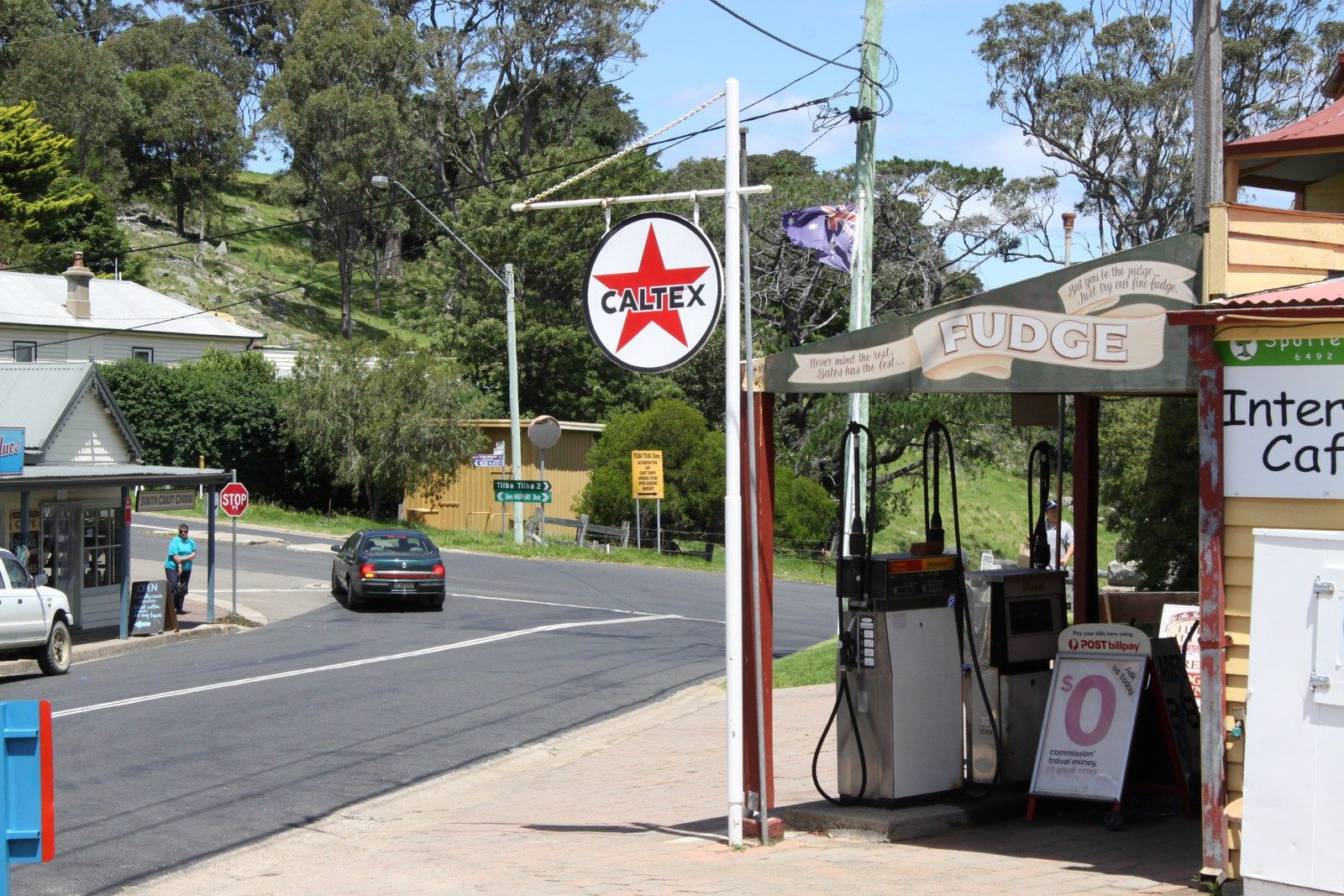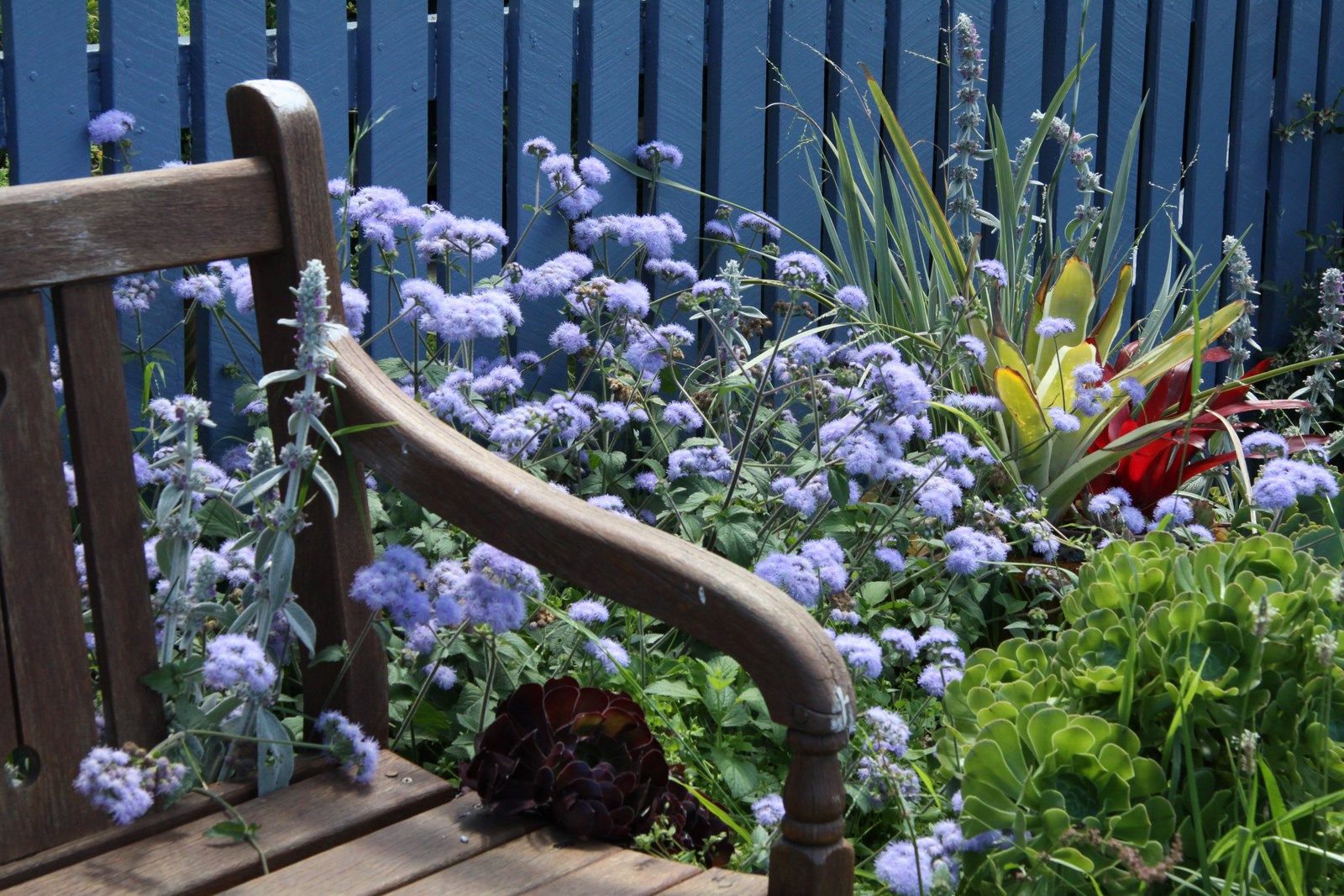 The scenery around Tilba is extraordinarily pretty: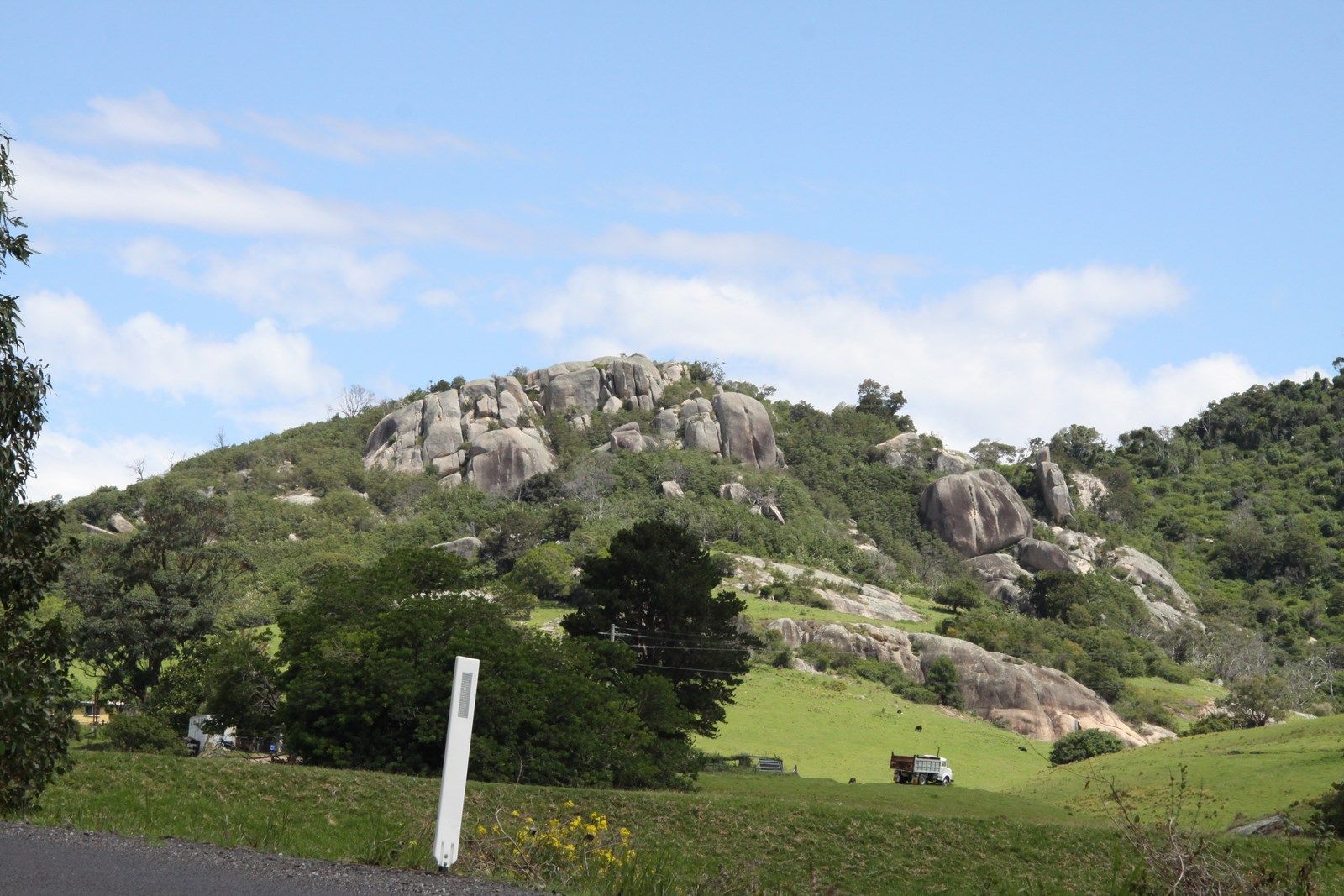 While in Central Tilba we noticed a rather nice looking vintage trailer. After getting home and looking at the photo I realised that there is a small aluminium wheel at the front which looks as if it was made to receive a belt. Maybe the trailer was a super spreader or seeder in its earlier life?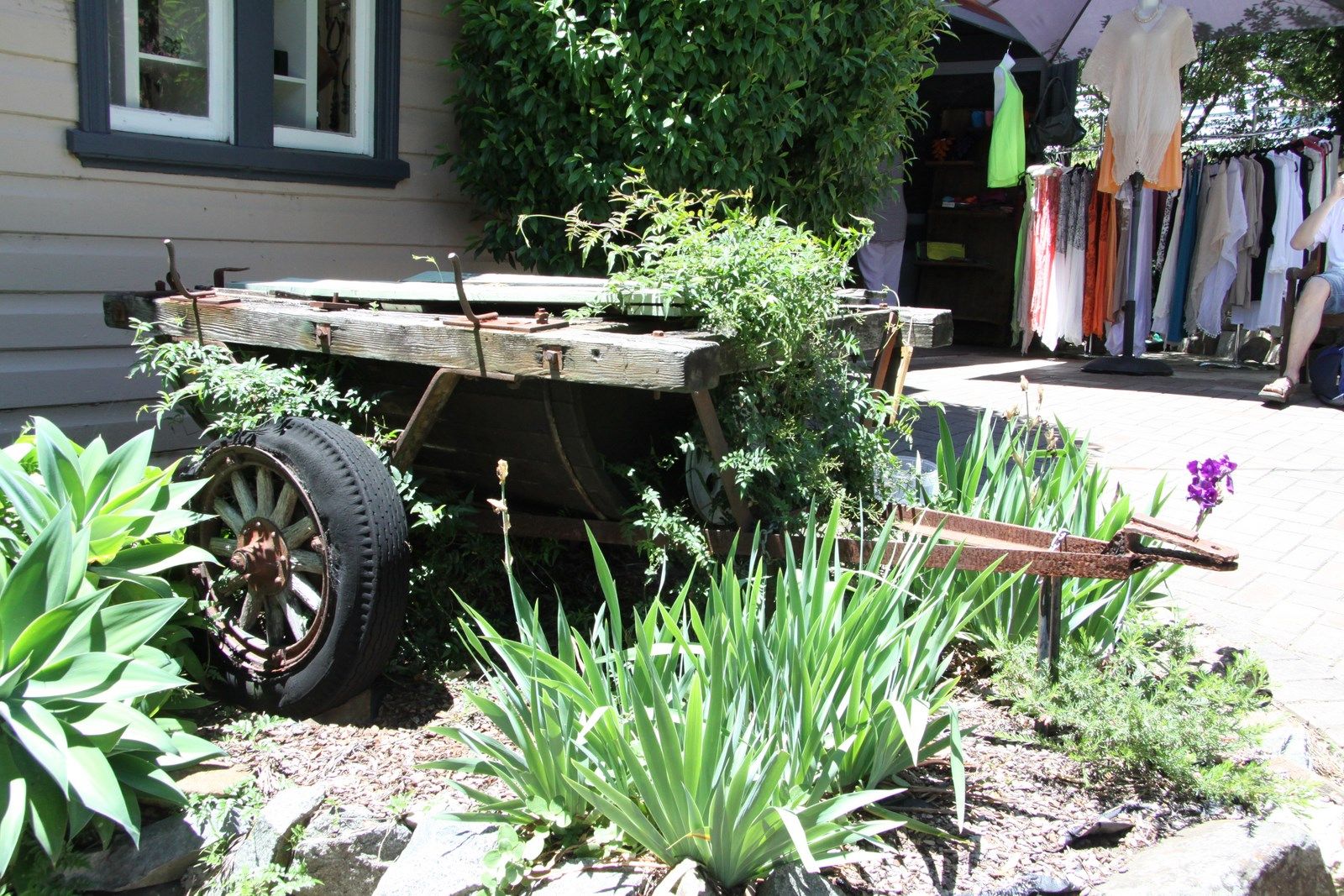 Another of our day trips was to Batemans Bay to take the cruise up the Clyde River to Nelligen, which we've done before but always enjoy. The cruise boat tied up at Nelligen:
The Kings Highway bridge over the Clyde at Nelligen: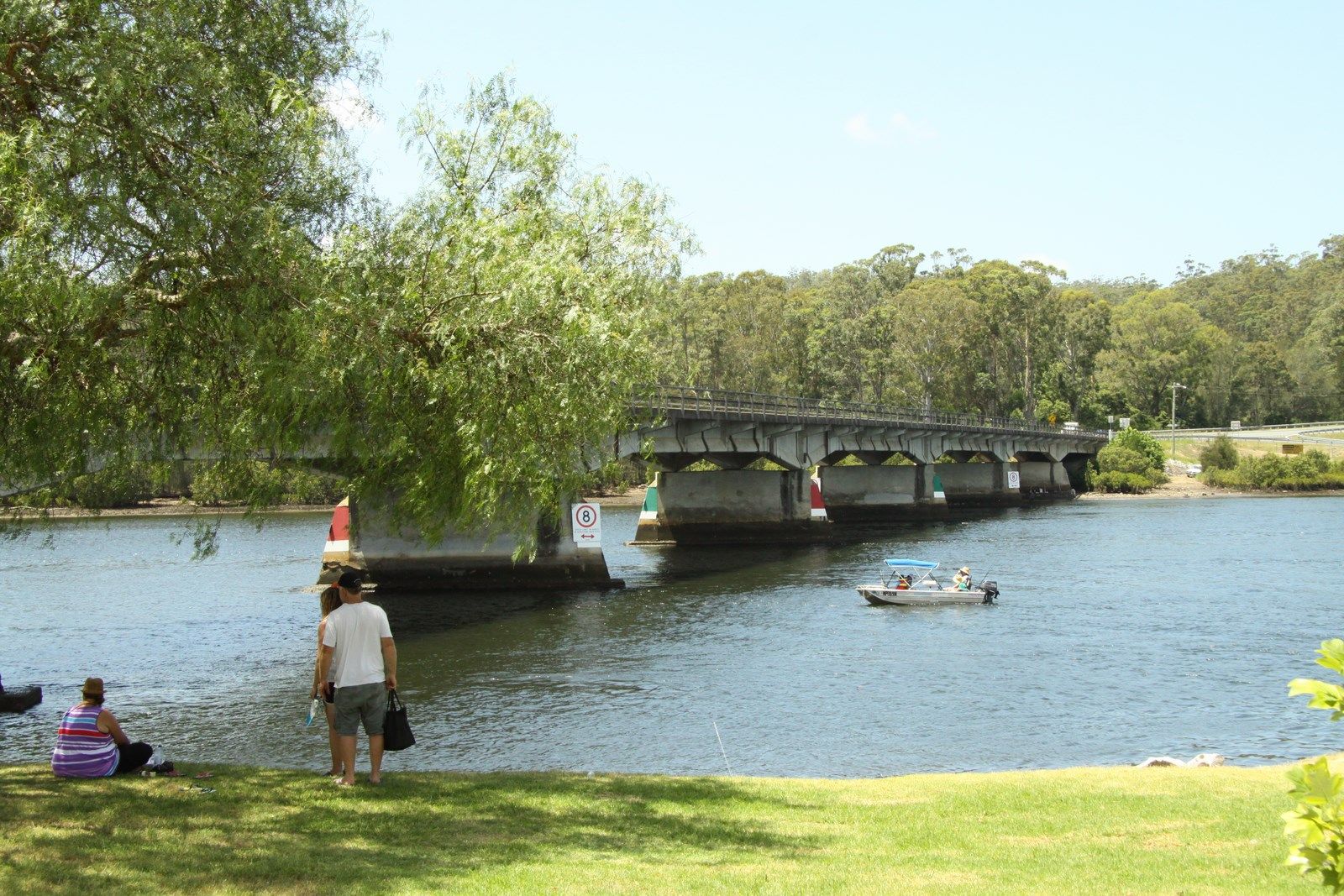 Some of the scenery along the river: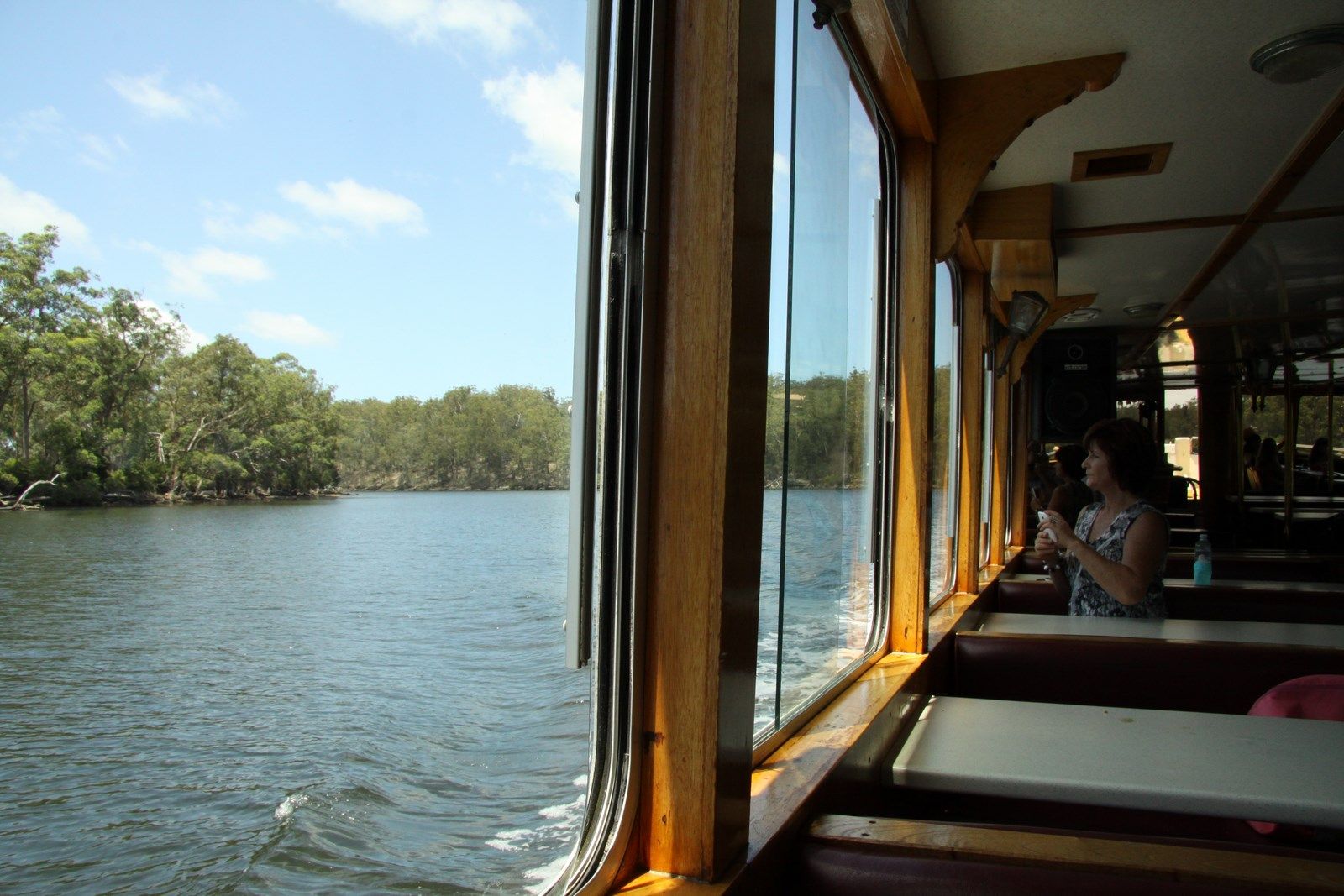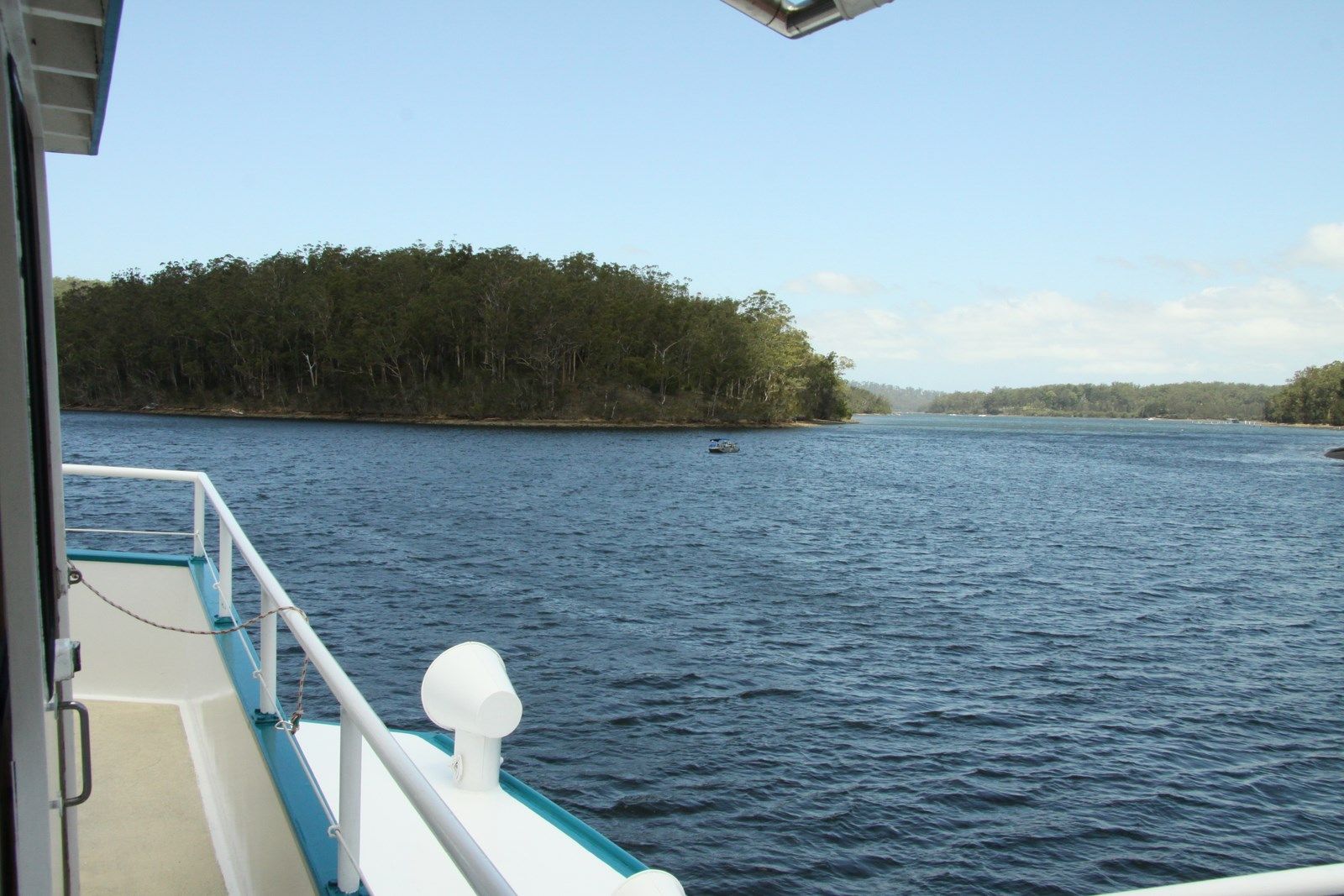 An oyster farm lease:
One of the old homesteads along the river: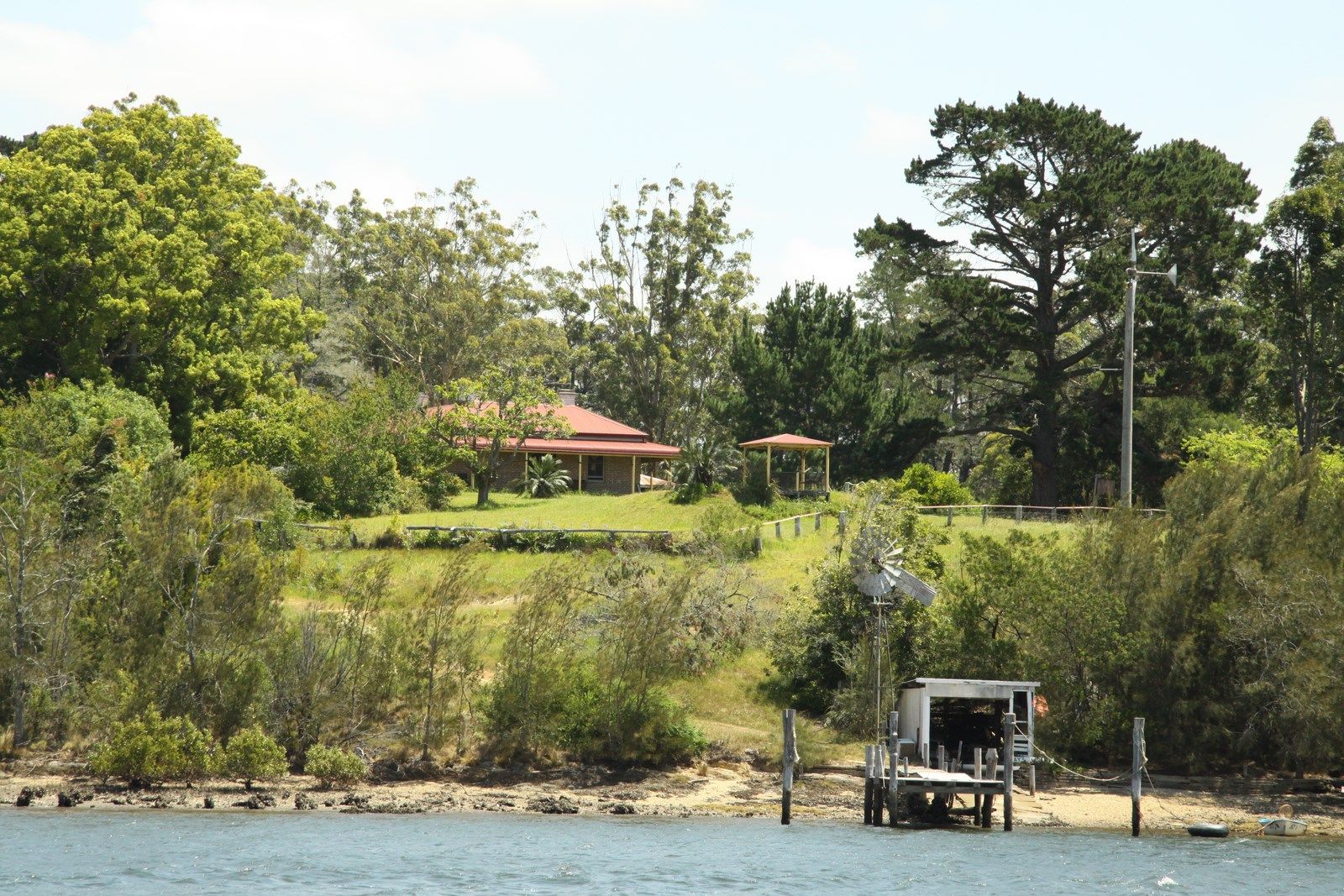 The bridge over the Clyde at Batemans Bay:
A nice photo from the stern of the boat for the Australia Day weekend (which is when I am posting this):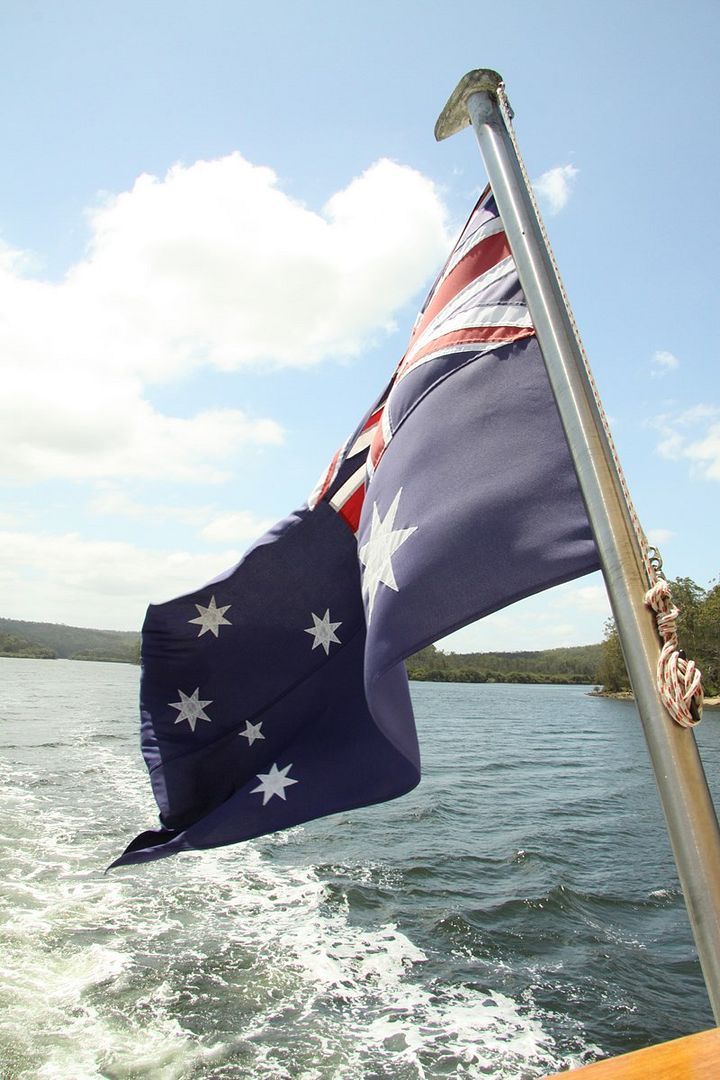 While on one of our day trips we also went in to see Deep Creek Reservoir which provides water for Moruya:

It was great to catch up with
Cruz, Buggsy
and some of their crew one evening, and then next day to check out some of the latest additions to Cruz's collection including her 'Tuross Starlight'. That's my name for it, but the van was built in Tuross Head and based on the design of the Starlight vans built in Alstonville up JBJ's way. It's a very nice van: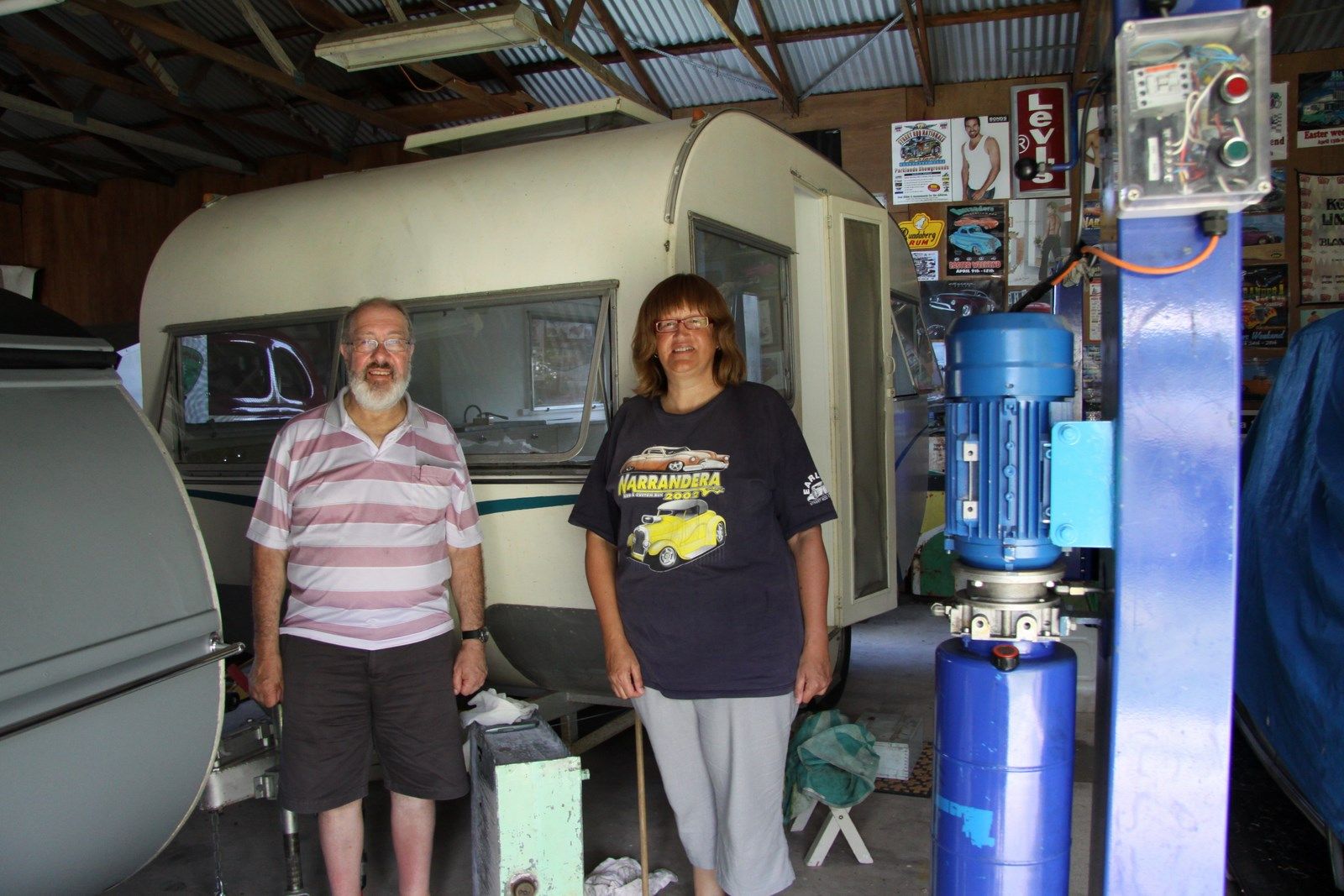 Cruz's new tow vehicle to replace the '46 Mercury: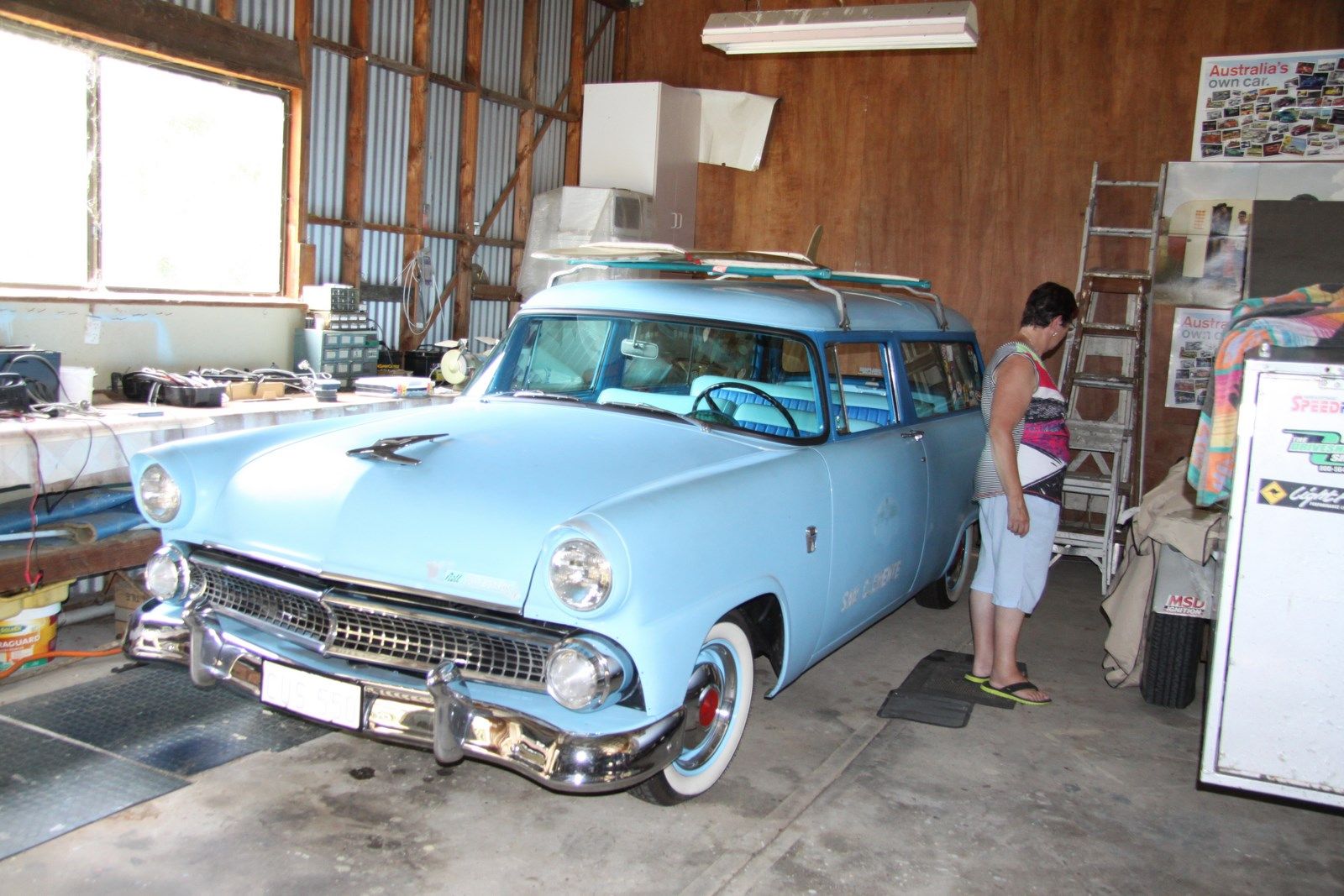 The result of a recent van recovery mission: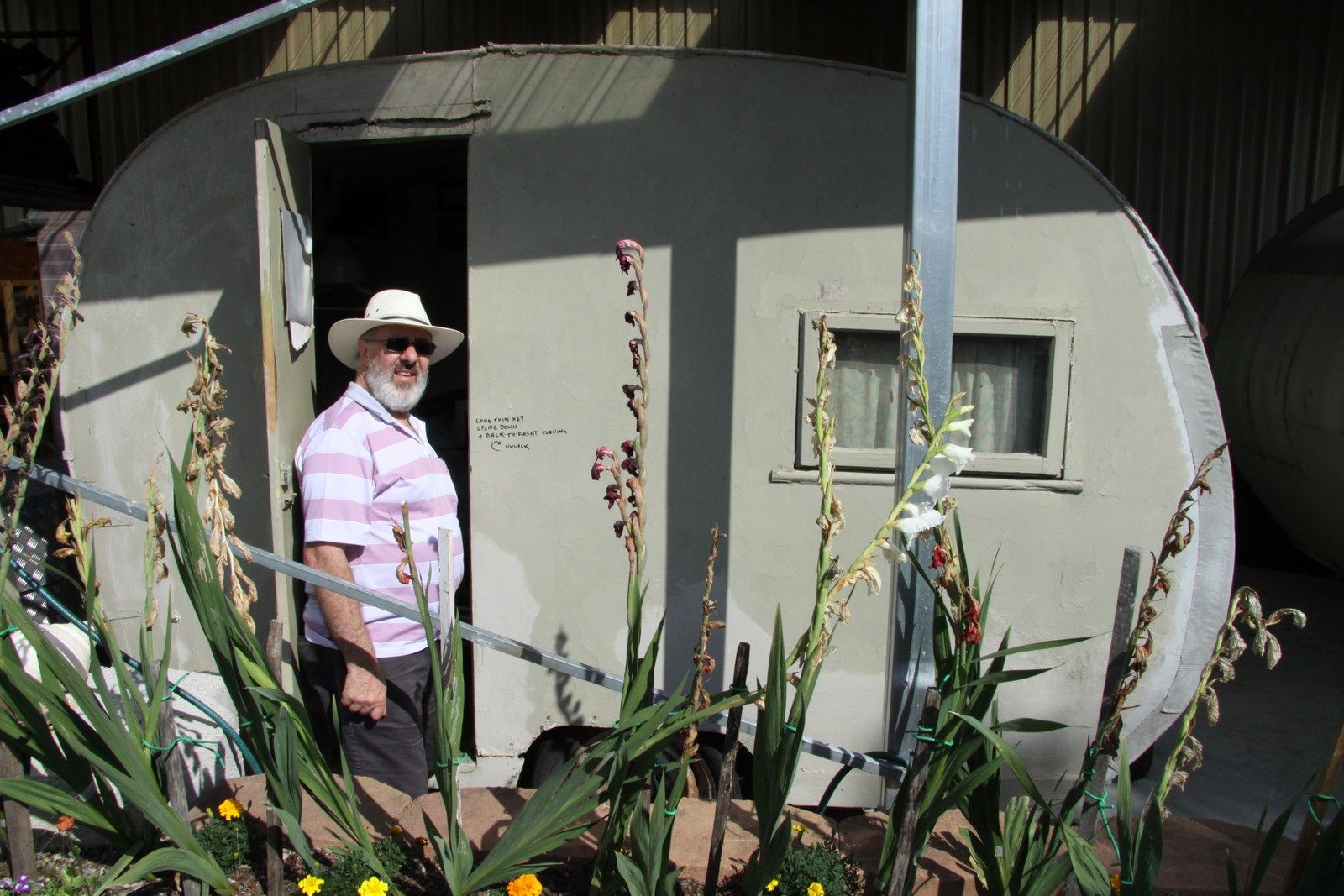 And another rescued from the same location, which looks like a Carapark Hunter kit van: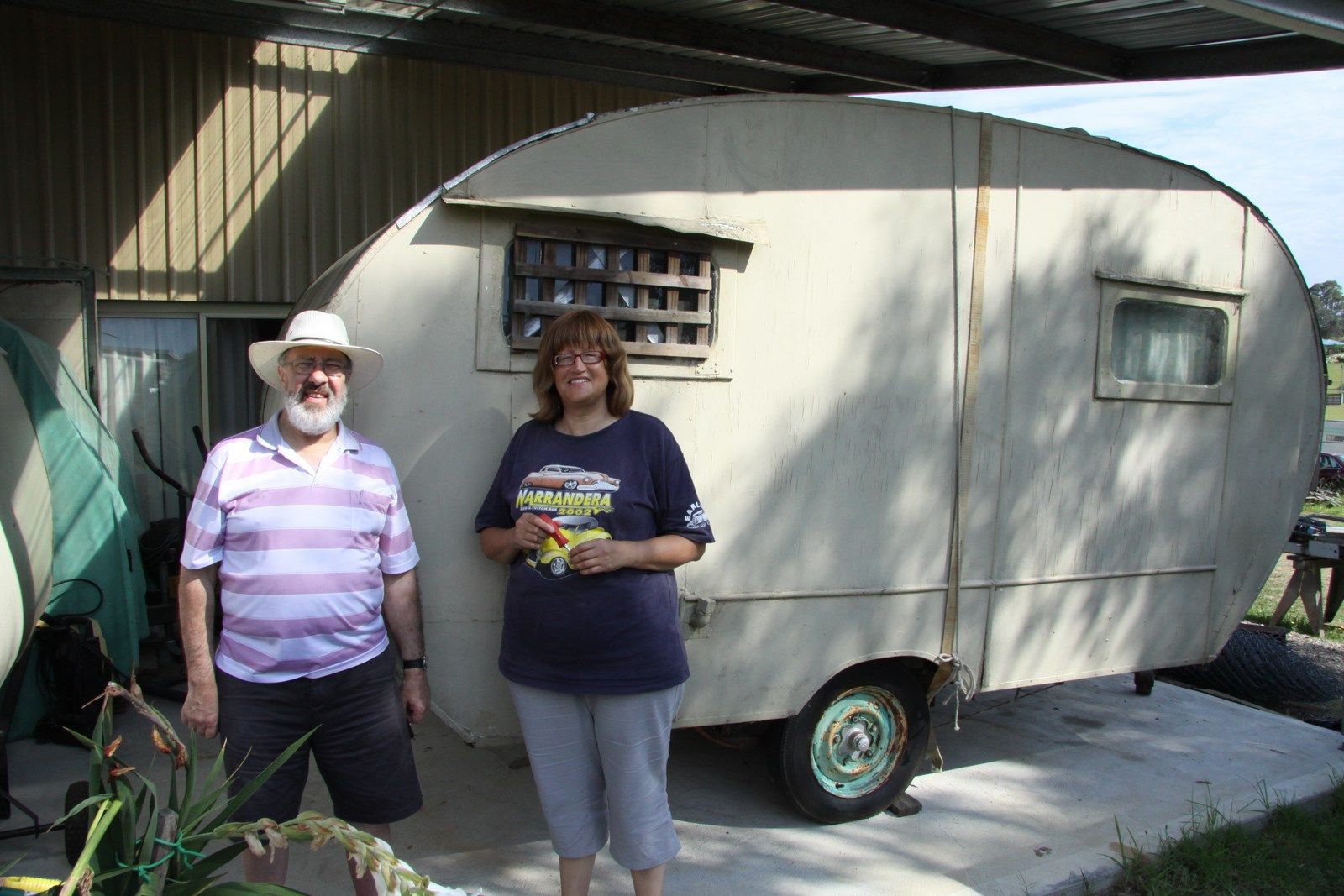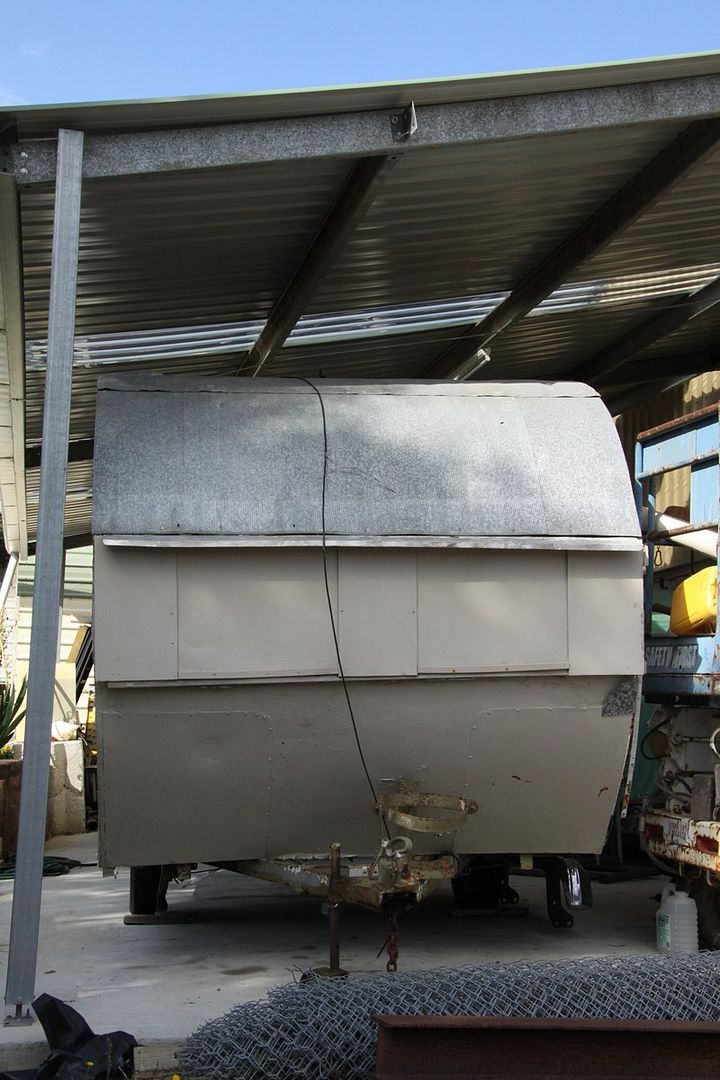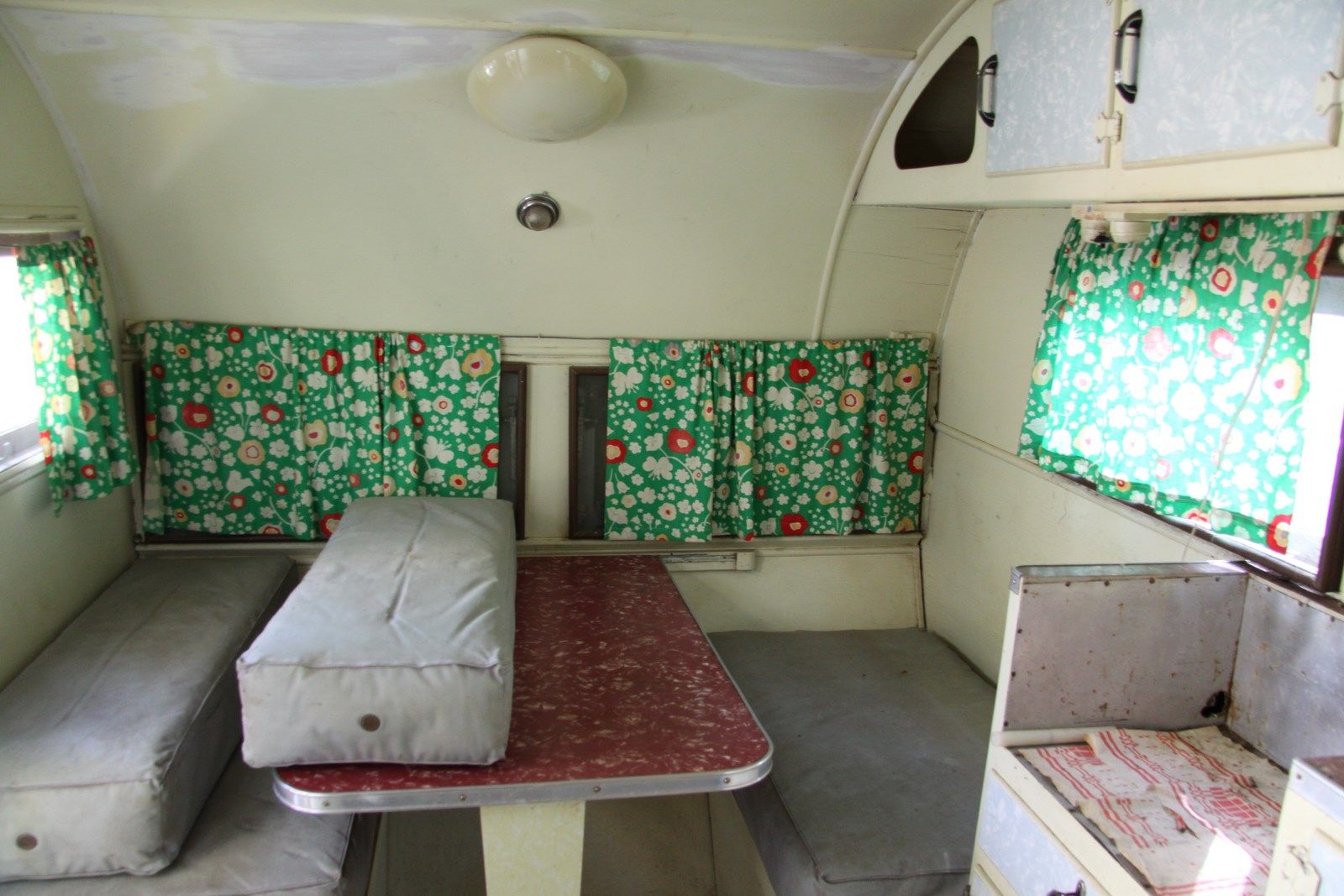 And Cruz's next car restoration:
Just joking, but it wouldn't surprise me! She is a lady with a lot of talent!
On the day we had to pack up, we were met by a thick seamist which was amazing to see and made things very humid after it lifted: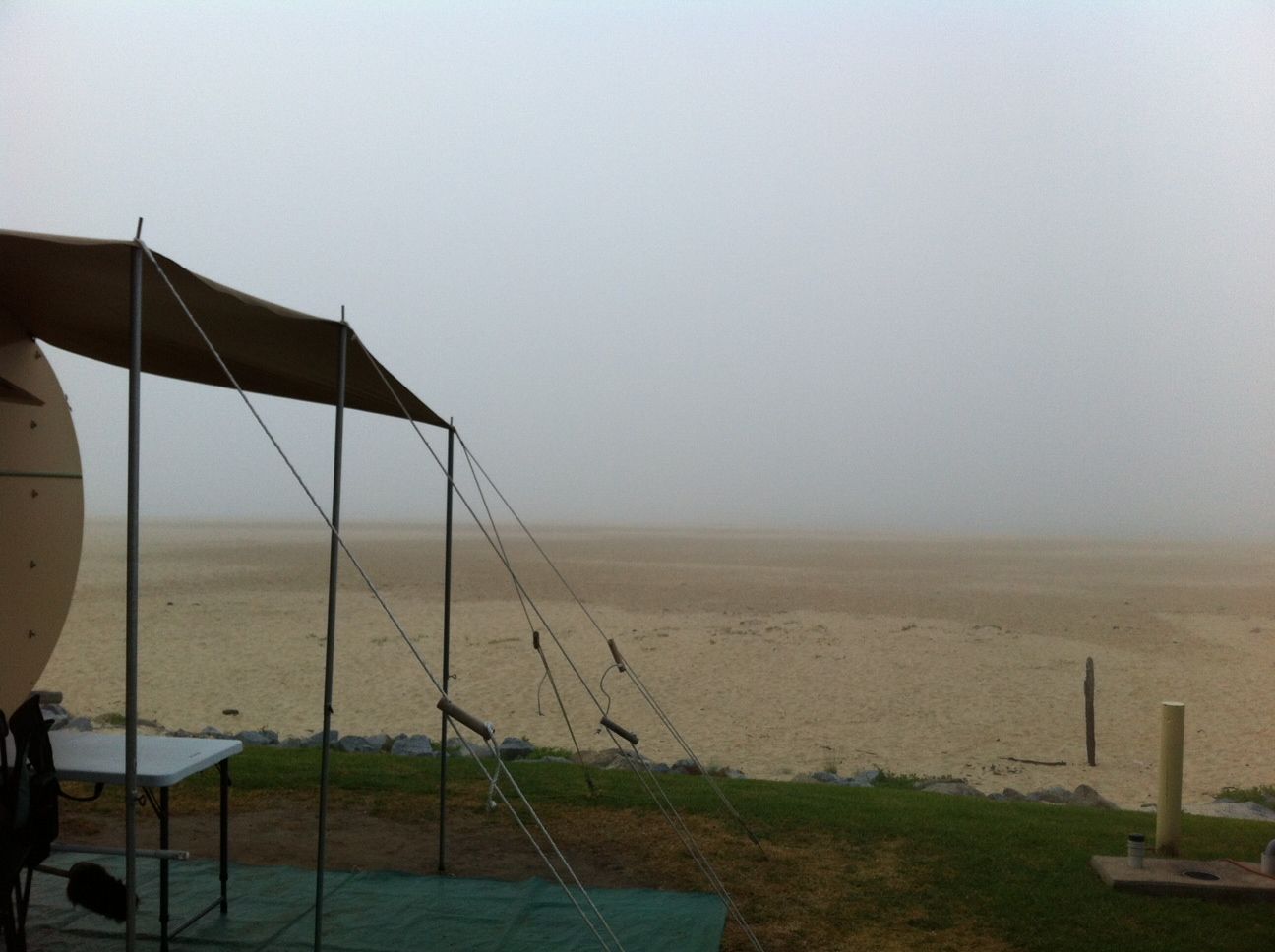 After packing up we stopped for a final coffee in Tuross and spied this beautifully restored Morris Cowley. Incidentally, the body was built by a Western Australian coachbuilder: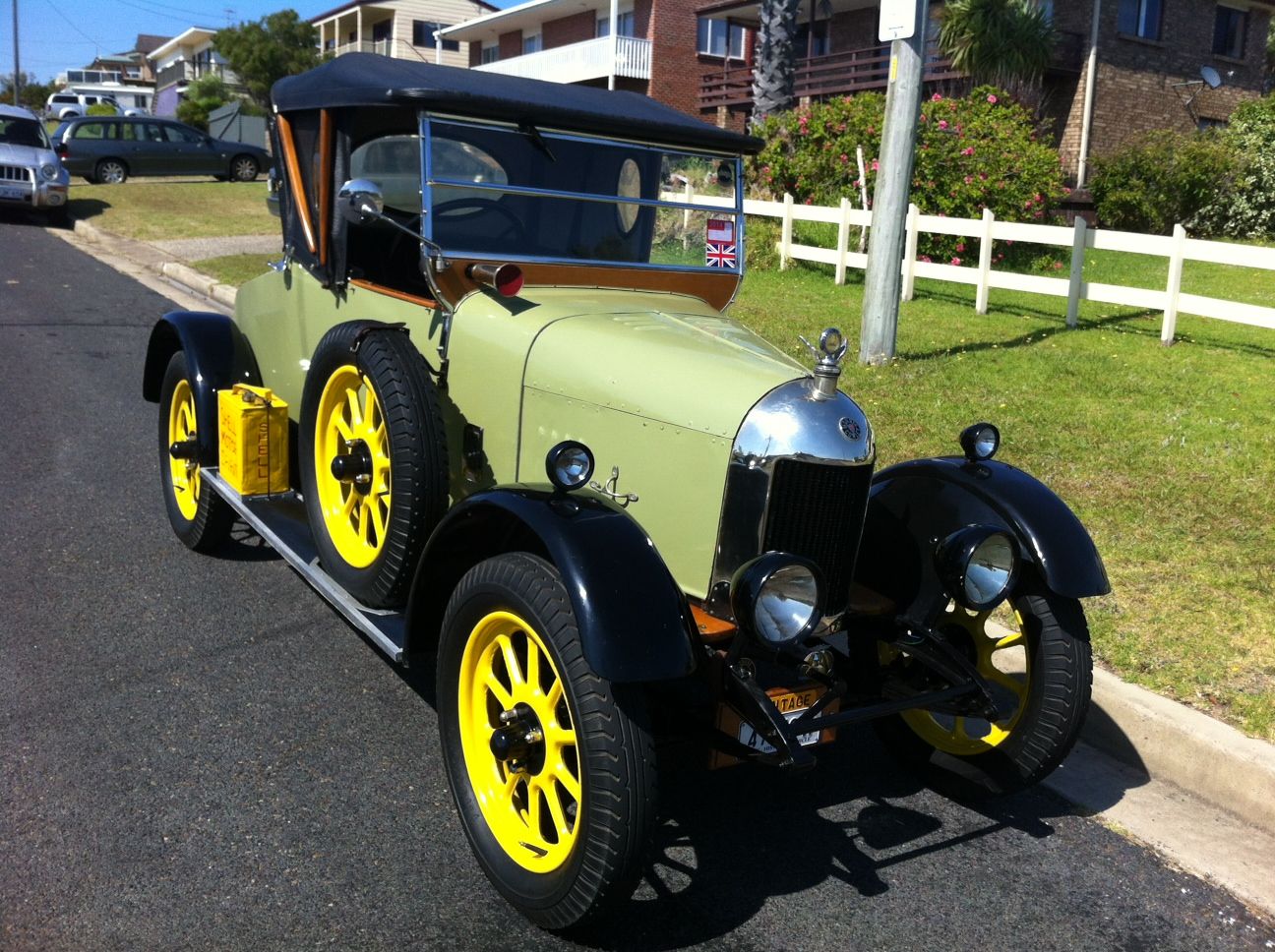 This photo of the dashboard is especially for
Cobber
- note the holder for the pipes and ashtray, Cobber?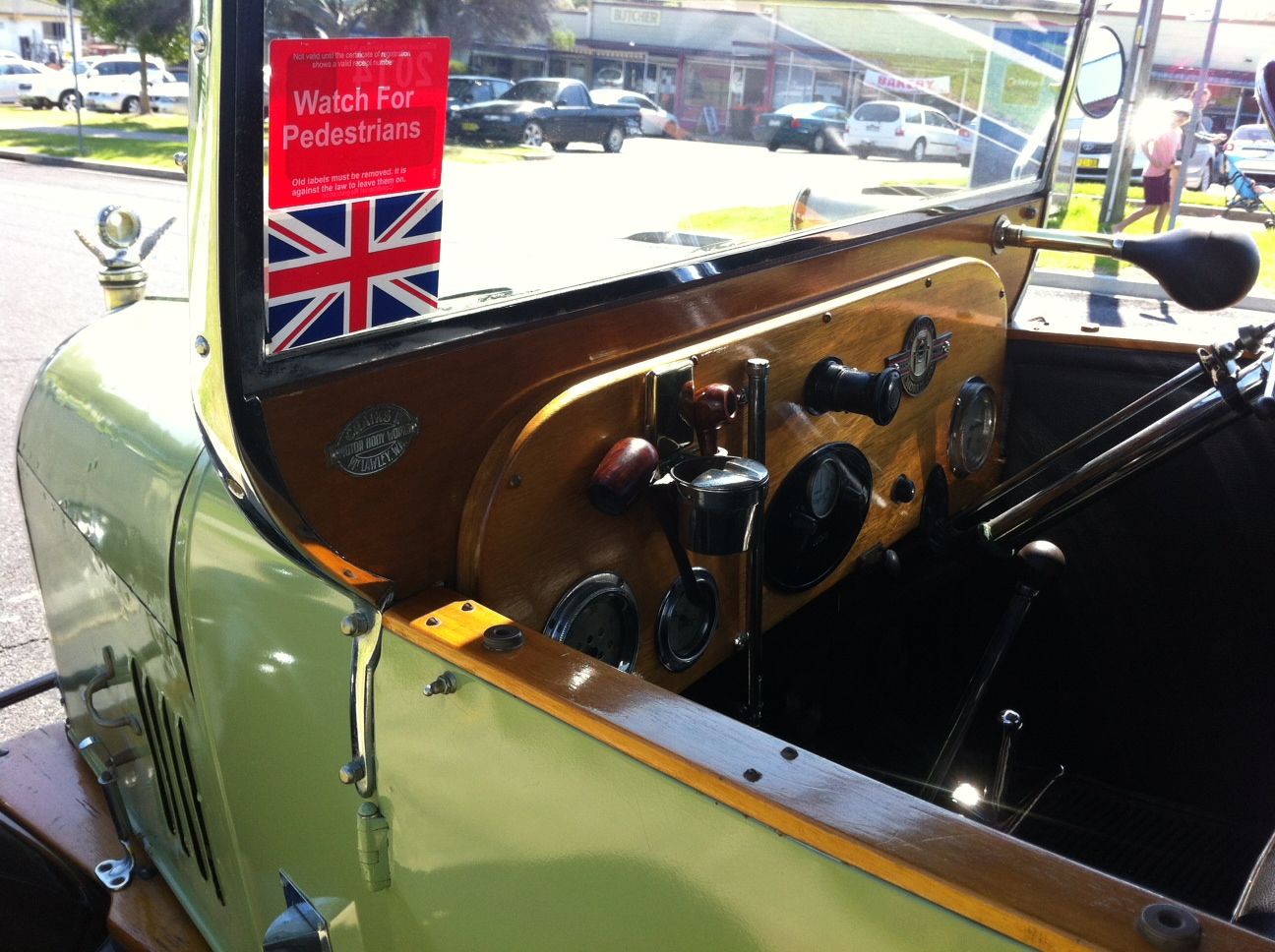 After leaving Tuross we headed for Canberra, taking note of this heritage brick granary at Coila Lake: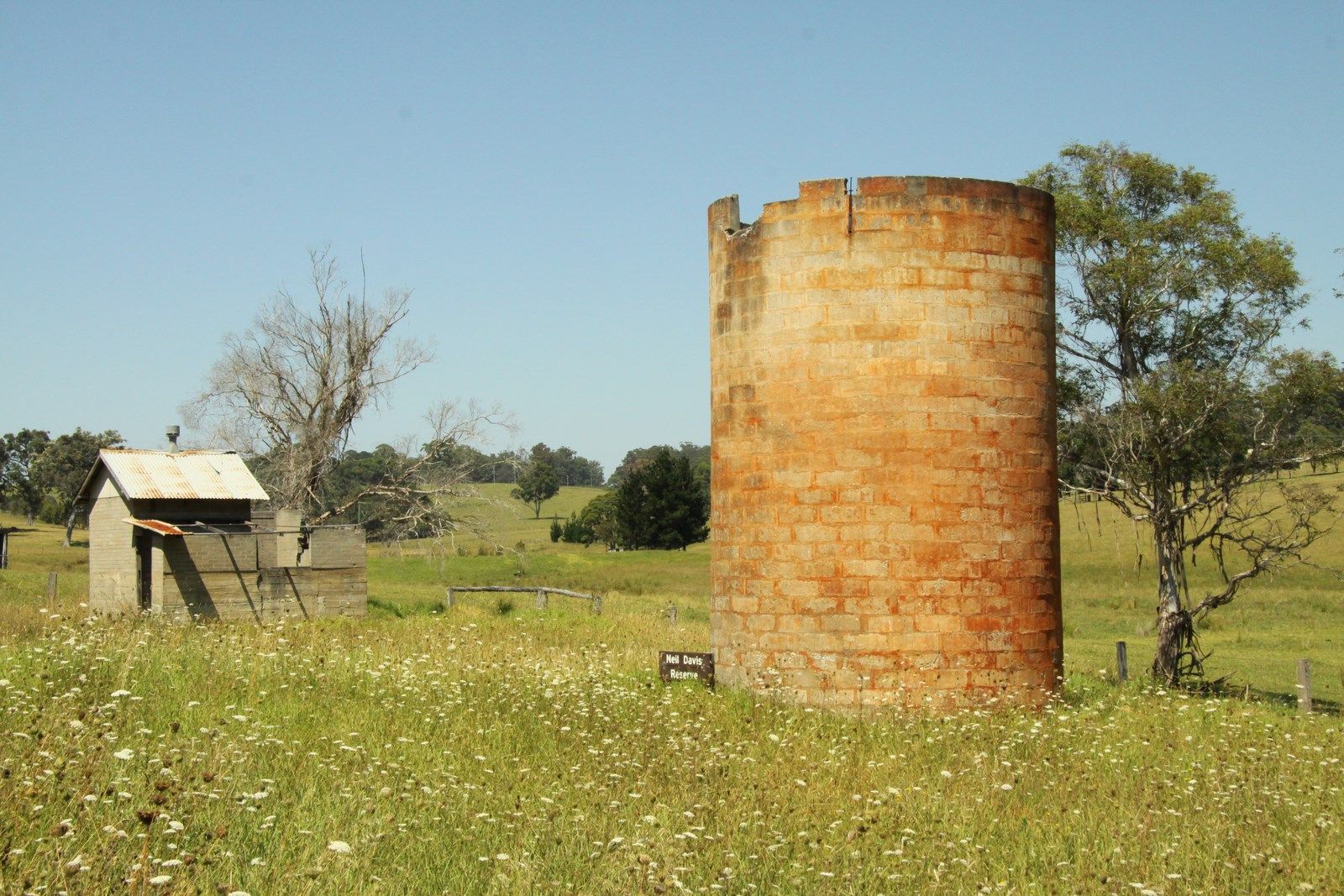 For the final week of our tour we set up camp at Sutton, which is just outside the ACT...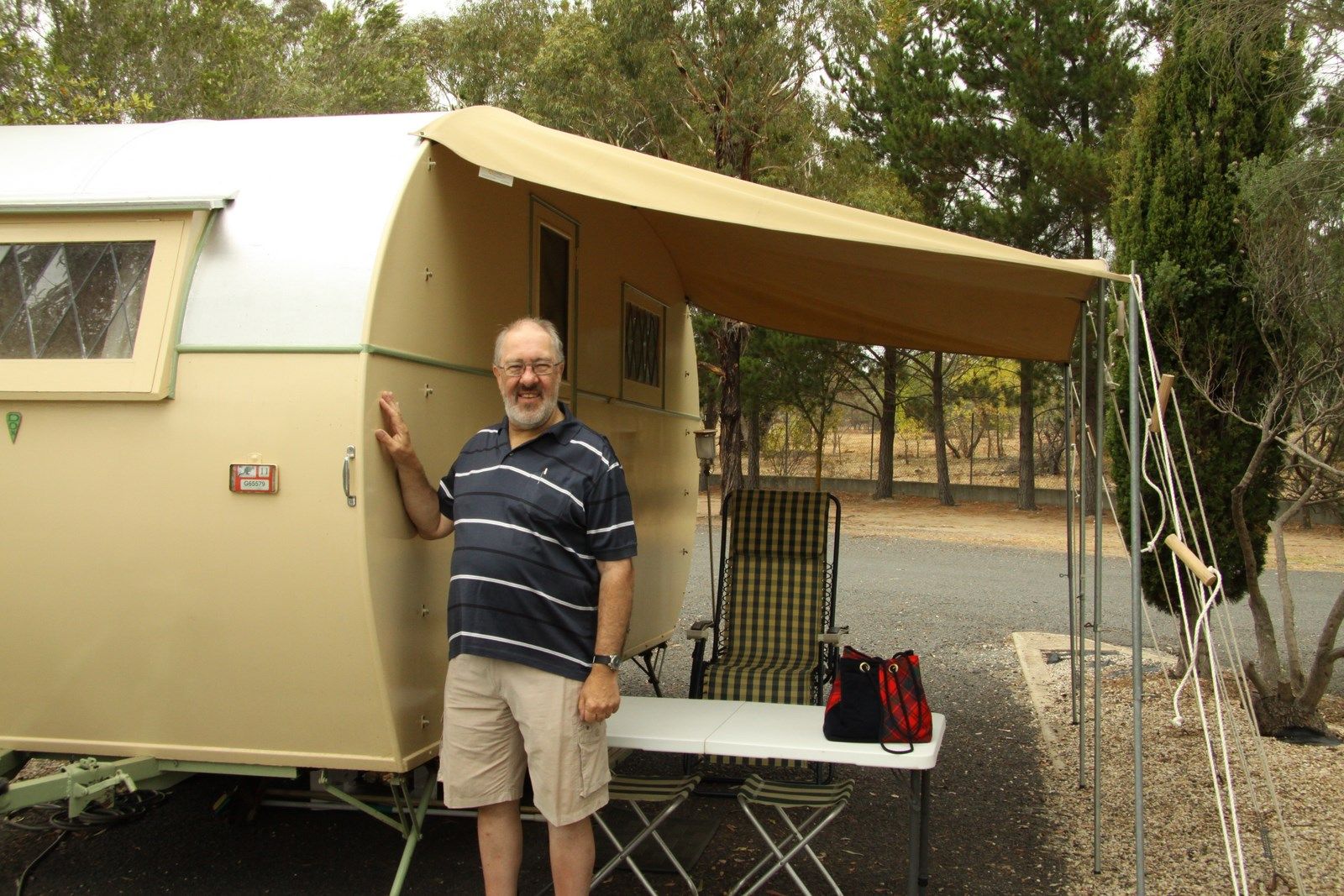 ...where we experienced a spectacular sunset one evening - caused by a combination of clouds and smoke from a bushfire further east:
Also in the caravan park at Sutton was this Viscount van, serial number A or B 54?5. Does this mean it's a 1965 van,
Franklin1
?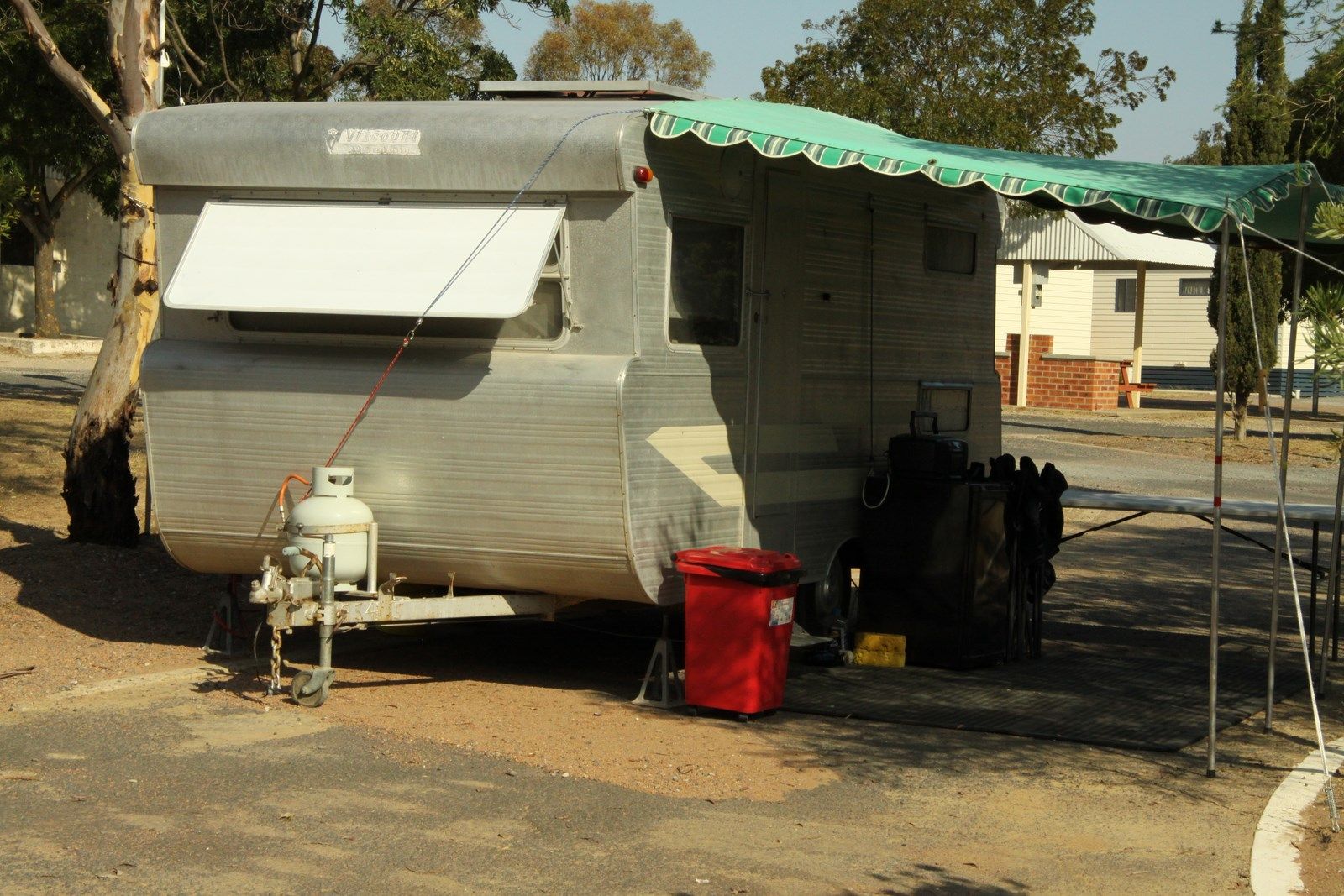 While we were camped at Sutton it was great to catch up with
Jennison
and his wife and sister and talk about things vintage caravan and lots of other topics.
Dona Ricardo and I have been to Canberra a few times, but always for work, and never with a good chance to look around. When people talk about Canberra it tends to be in negative terms, but what a terrific place it is! And what fantastic national treasures are on display. We were bowled over by our visits to the National Portrait Gallery, the National Museum, the National Gallery and the National Library where we saw some outstanding exhibitions. At the National Museum we noticed (how could we miss it?) a David Brown tractor and trailer which had been used by a travelling saw sharpener: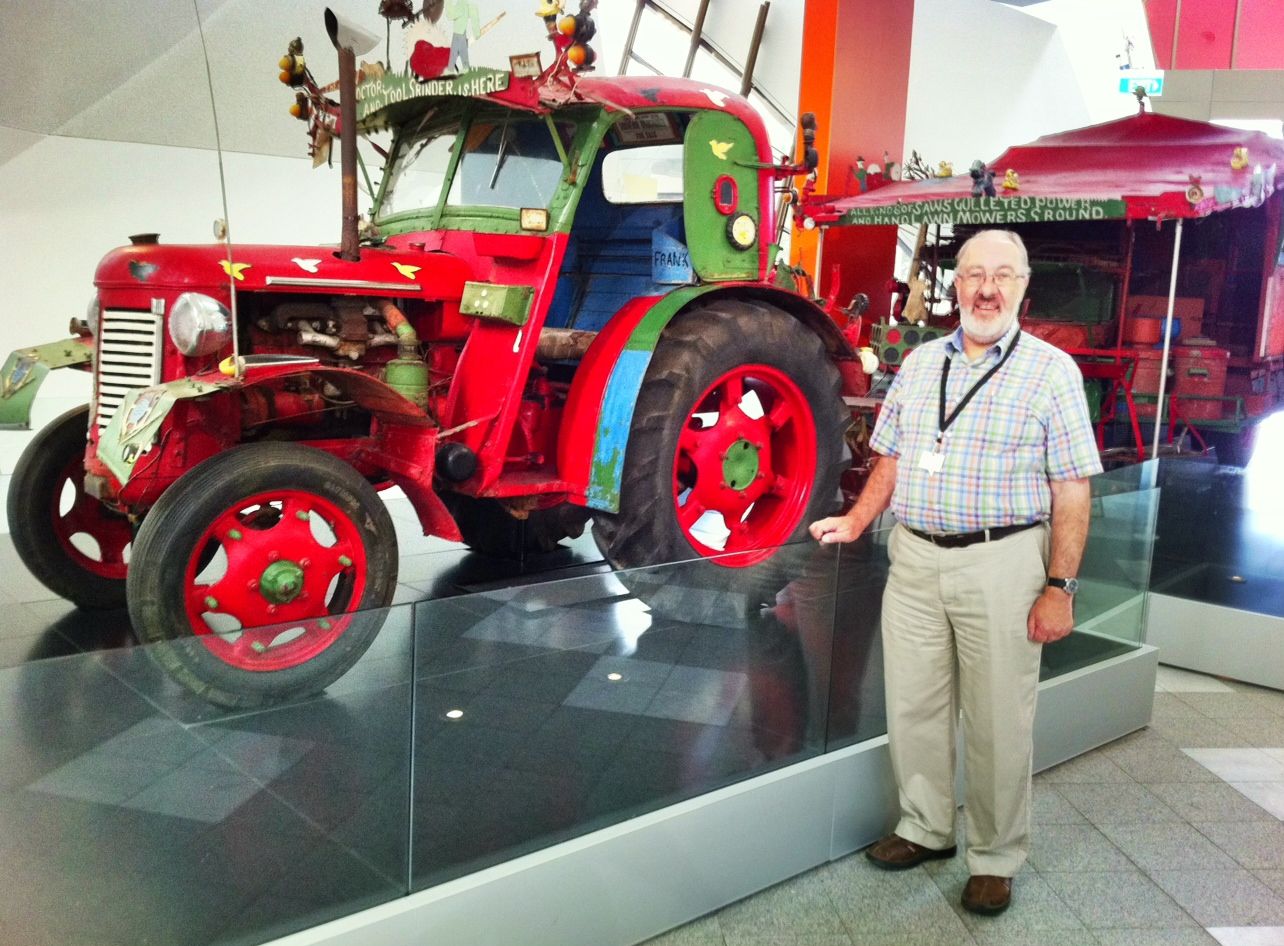 Unfortunately the Propert caravan wasn't on display at the Museum, but I did have a chance to look at the American-built Holden No 1 prototype, which has been extraordinarily well restored - I suspect it is in a lot better condition than when it was shipped from the USA!
We also visited and were emotionally overwhelmed by the National War Memorial...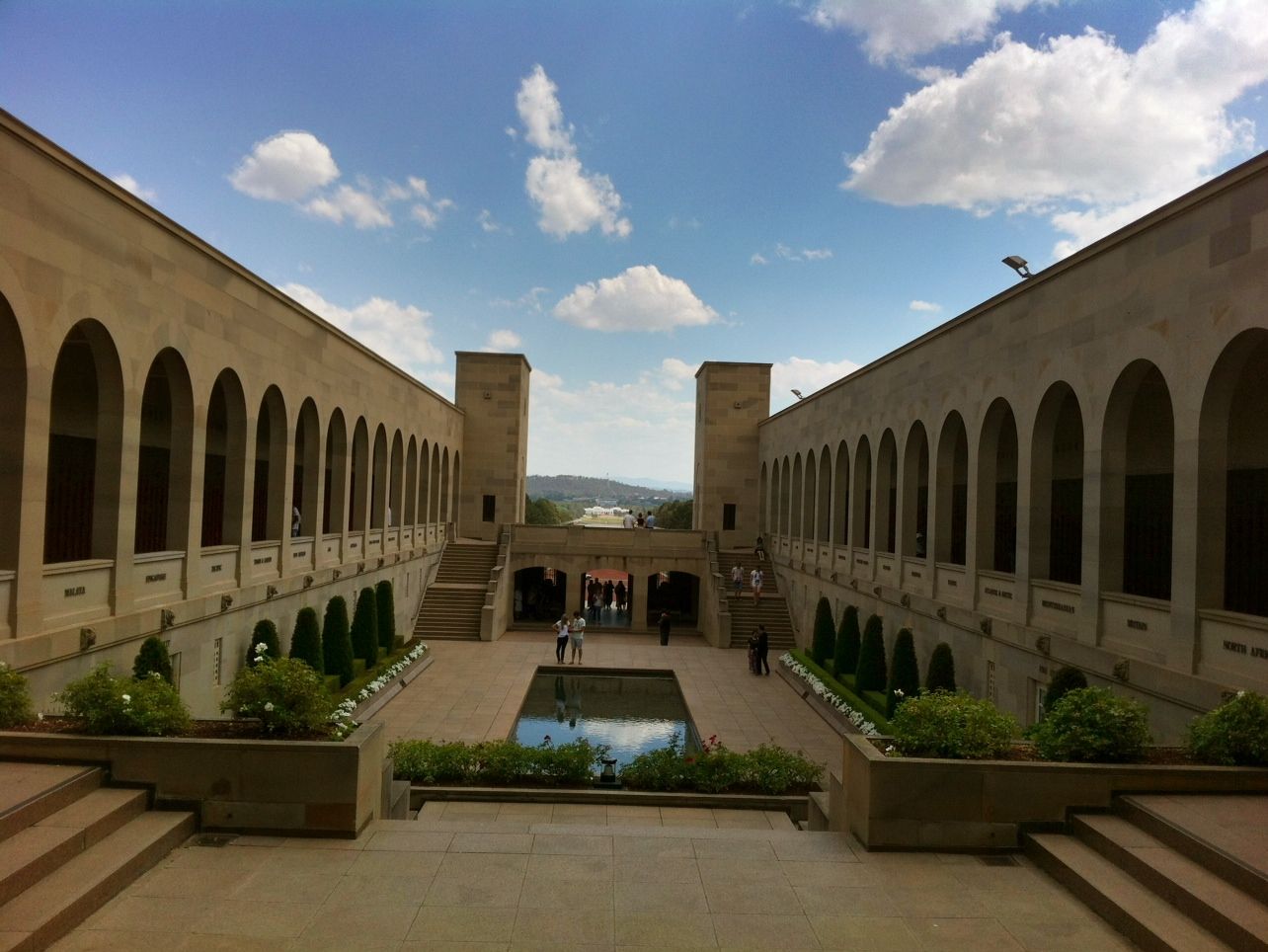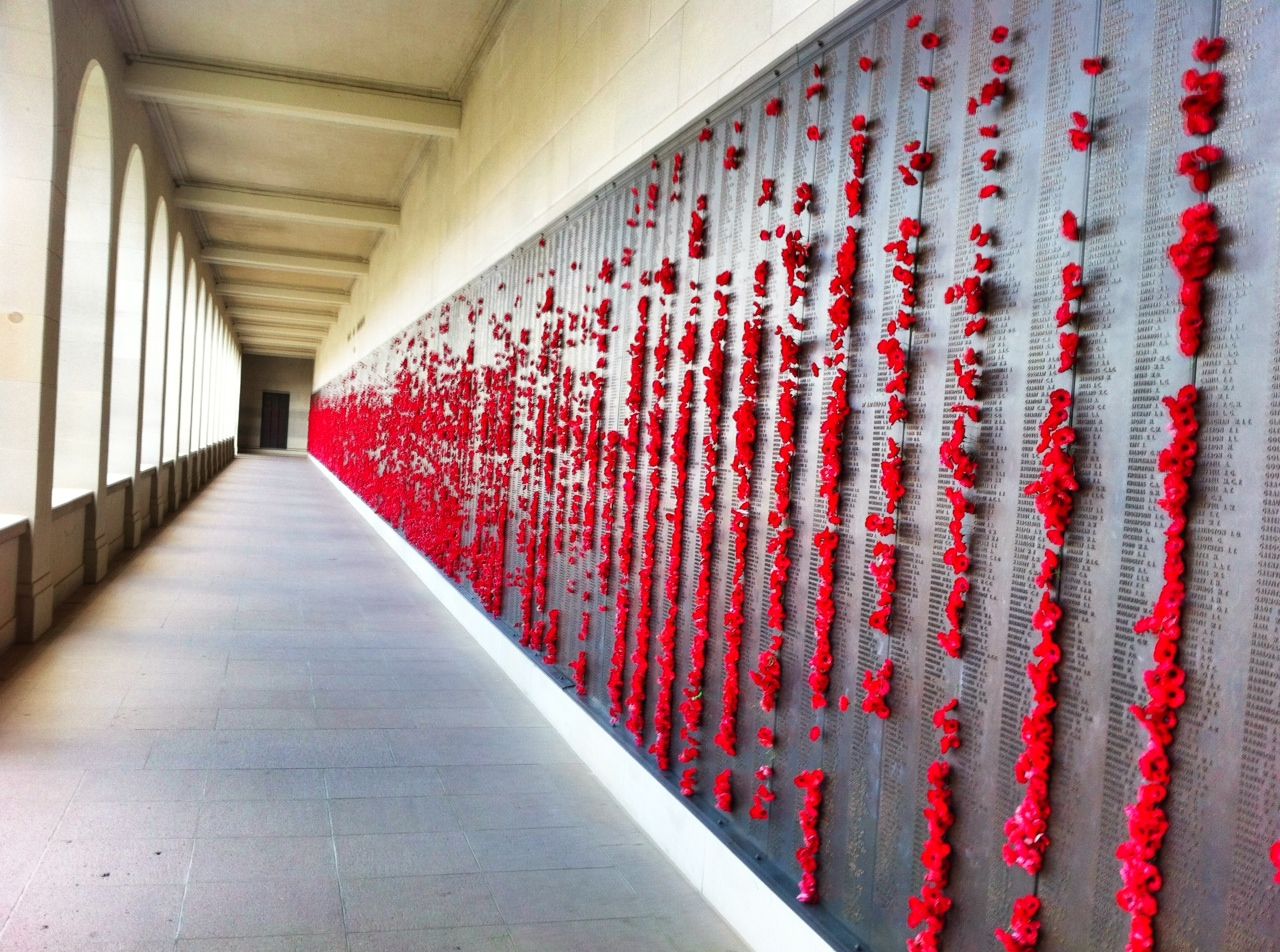 ...from where you can look down Anzac Avenue towards Parliament House: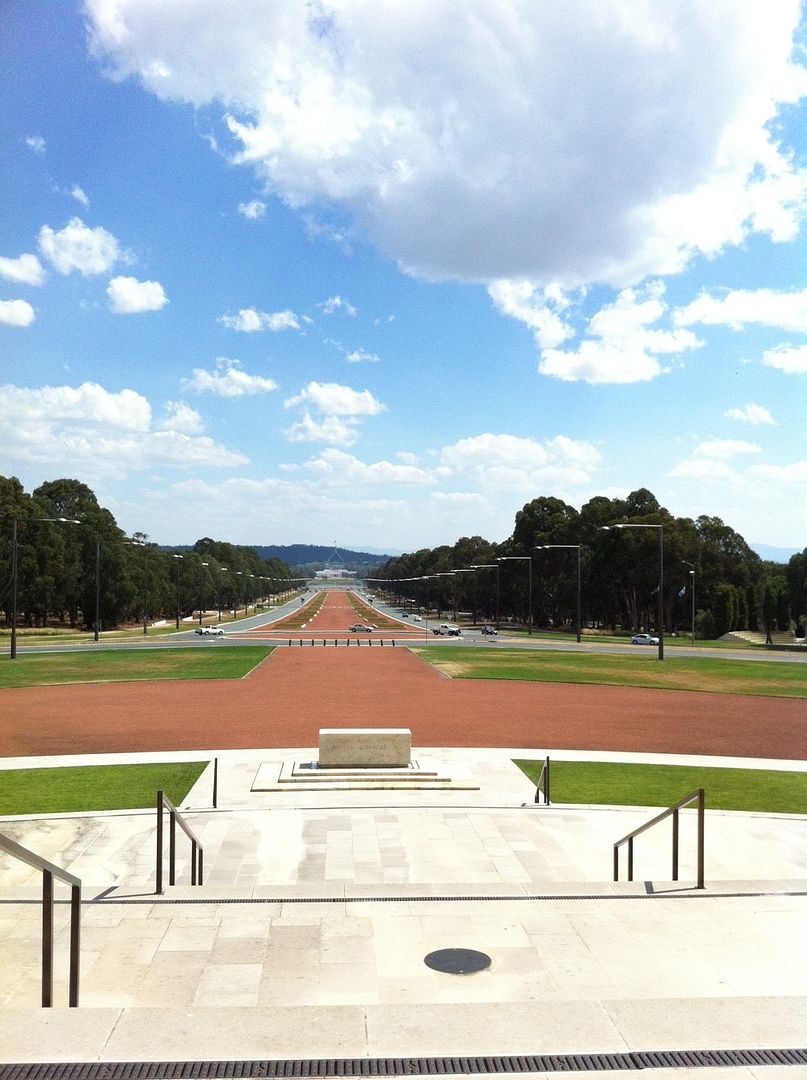 One of other activities in Canberra was to take a cruise on Lake Burley Griffin. Not another cruise, I hear you cry! Well, yes I do really enjoy them, and you get a completely different perspective on places from the water. Our cruise boat:
The National Library:
The High Court: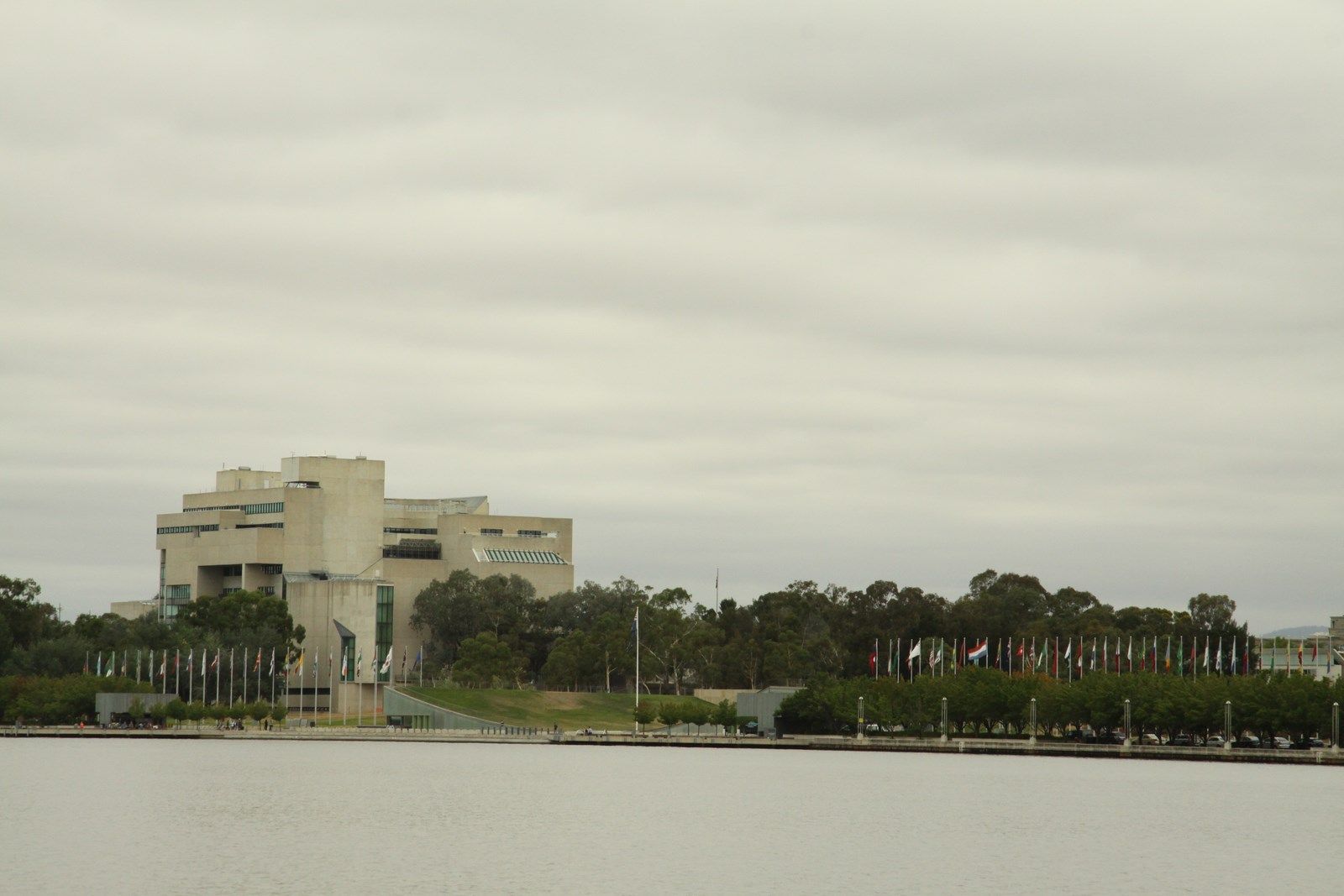 The National Carillon which we were fortunate enough to hear being played: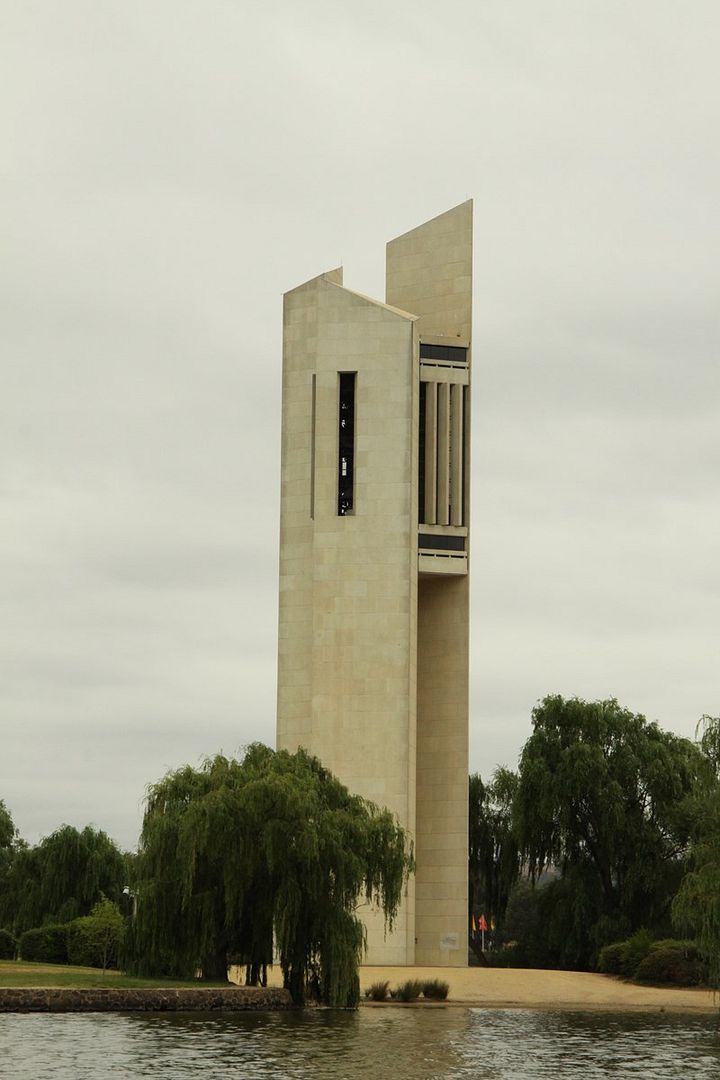 The National Museum: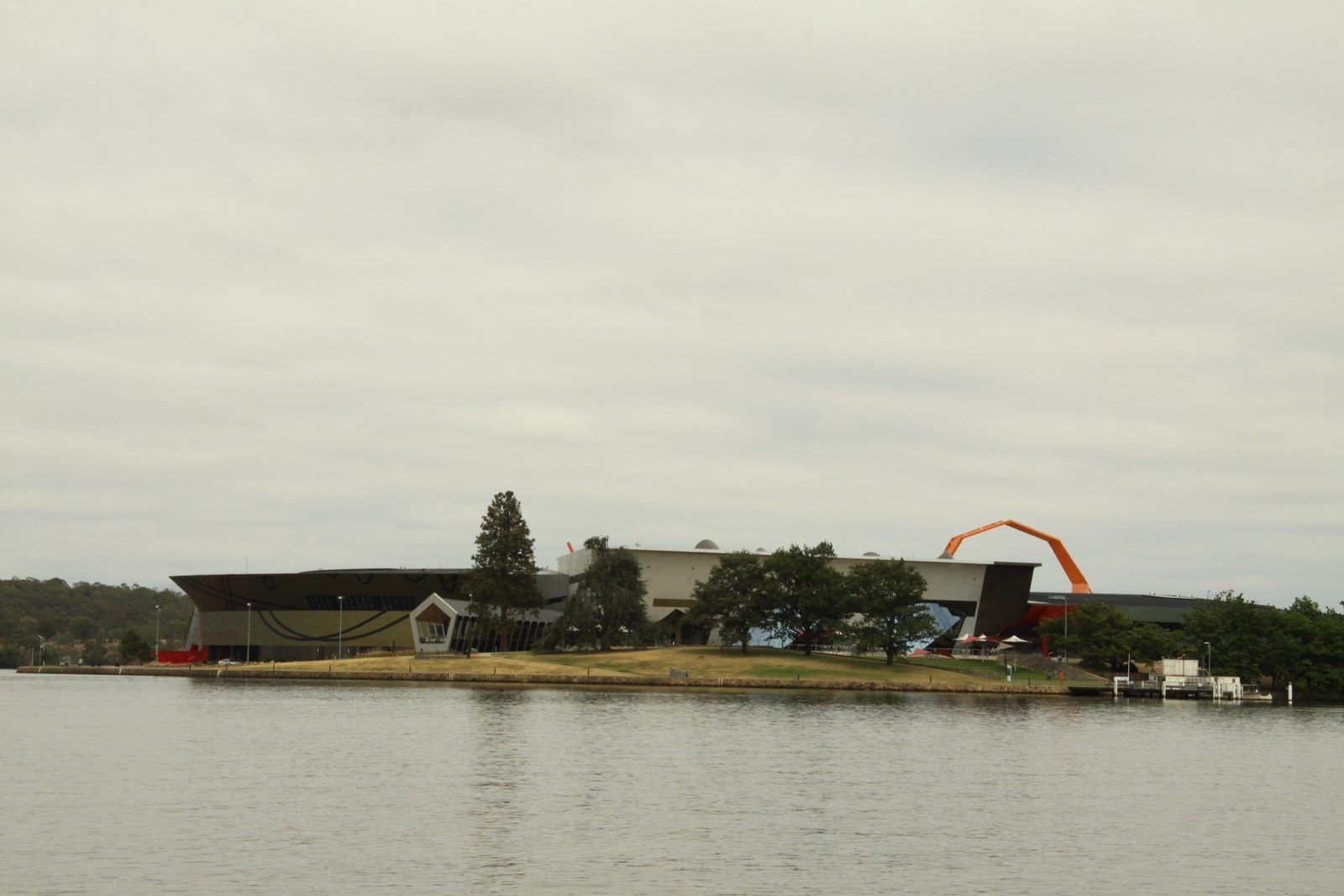 And the view of the Old Parliament House looking towards New Parliament House:
One of the buildings which fascinated us was this 8-star environmental rating building at Acton which houses a cinema complex, a hotel, apartments and office space. It's a big contrast to the various colonial heritage buildings
Cruisindoug
showed us in his recent post on the
Bah Humbug Mystery Tour
, eh?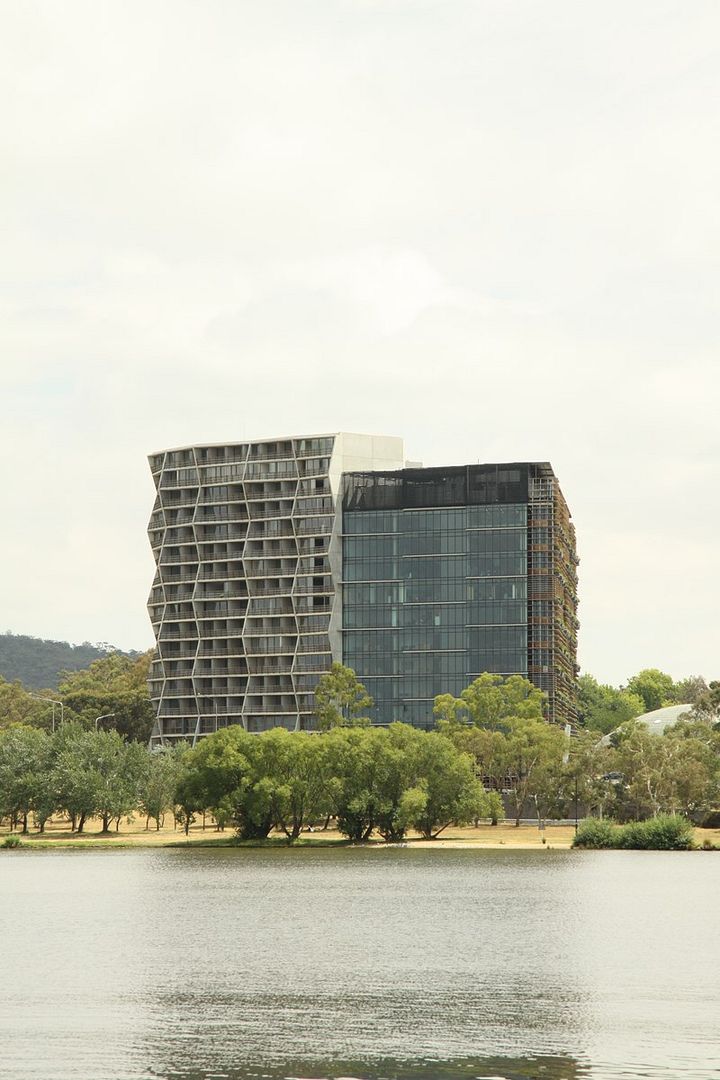 The building is constructed out of a lot of recycled material, including timber, which can be seen on both the facade and the inside of the building: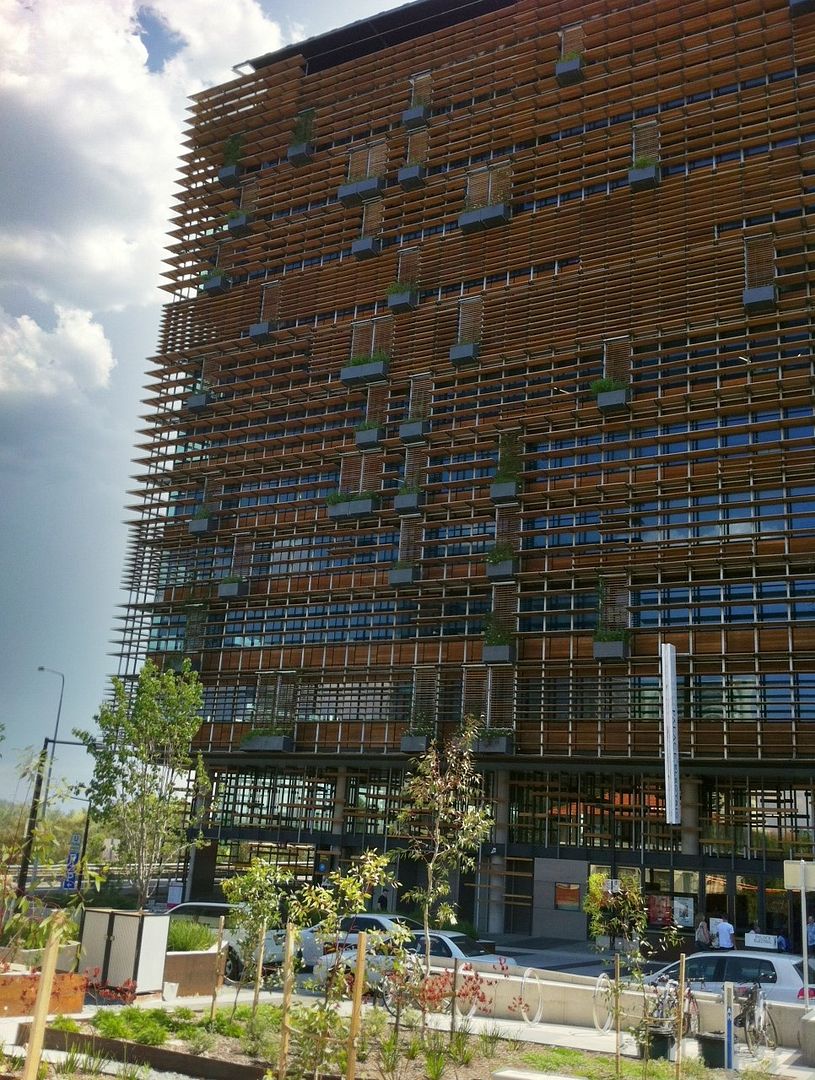 This is the stairwell to the hotel (cleverly called...'The Hotel' - I'm not kidding!):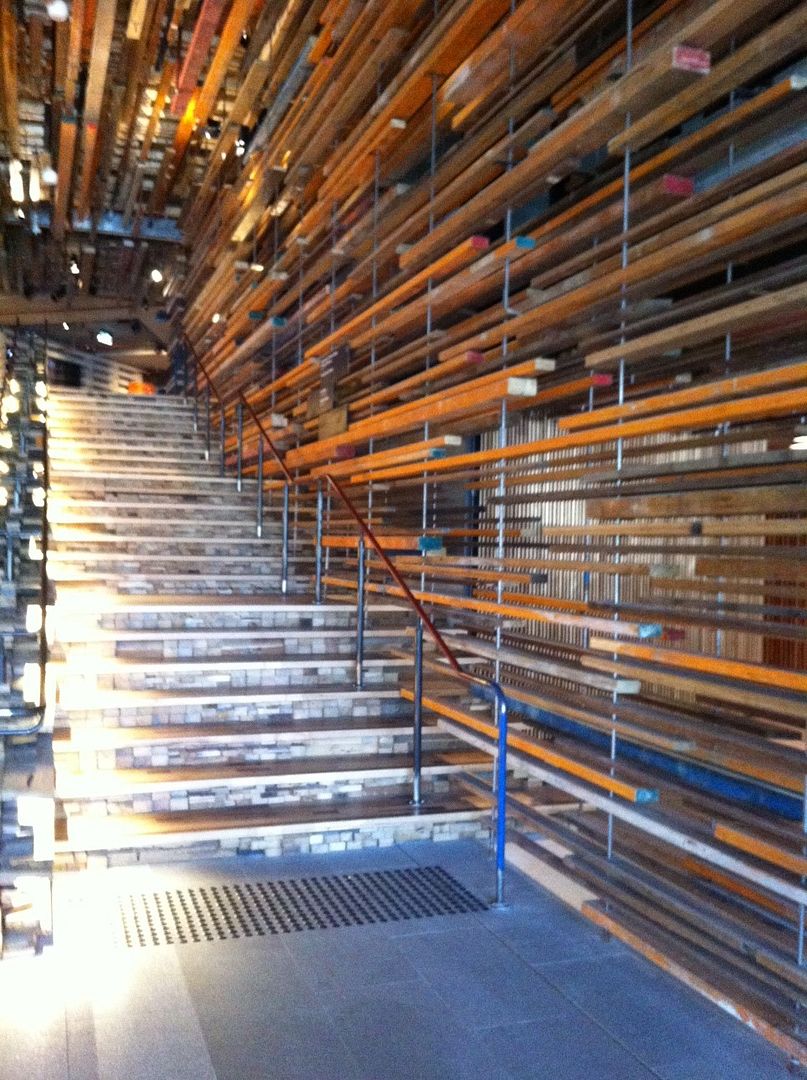 The hotel lobby which uses concrete sleepers: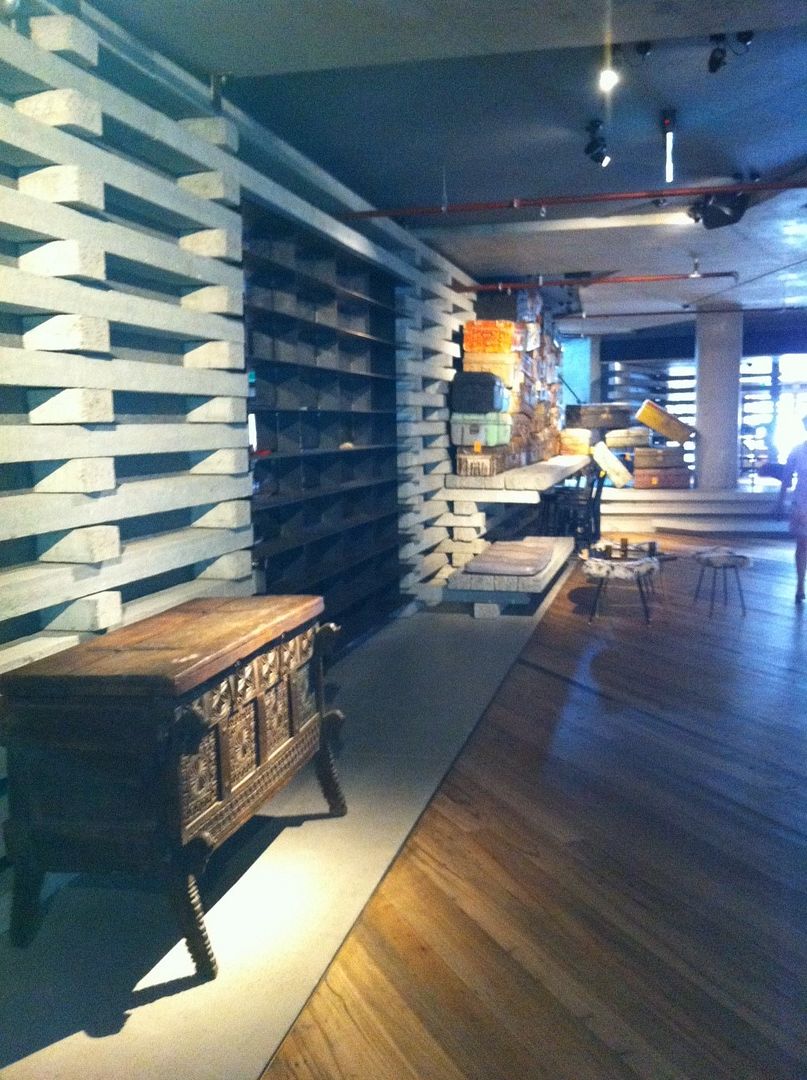 There was plenty more to see, but unfortunately we had no more time and had to hit the road for home. On the way home we took a few minutes out for an impromptu photo shoot at a truck stop on the Hume: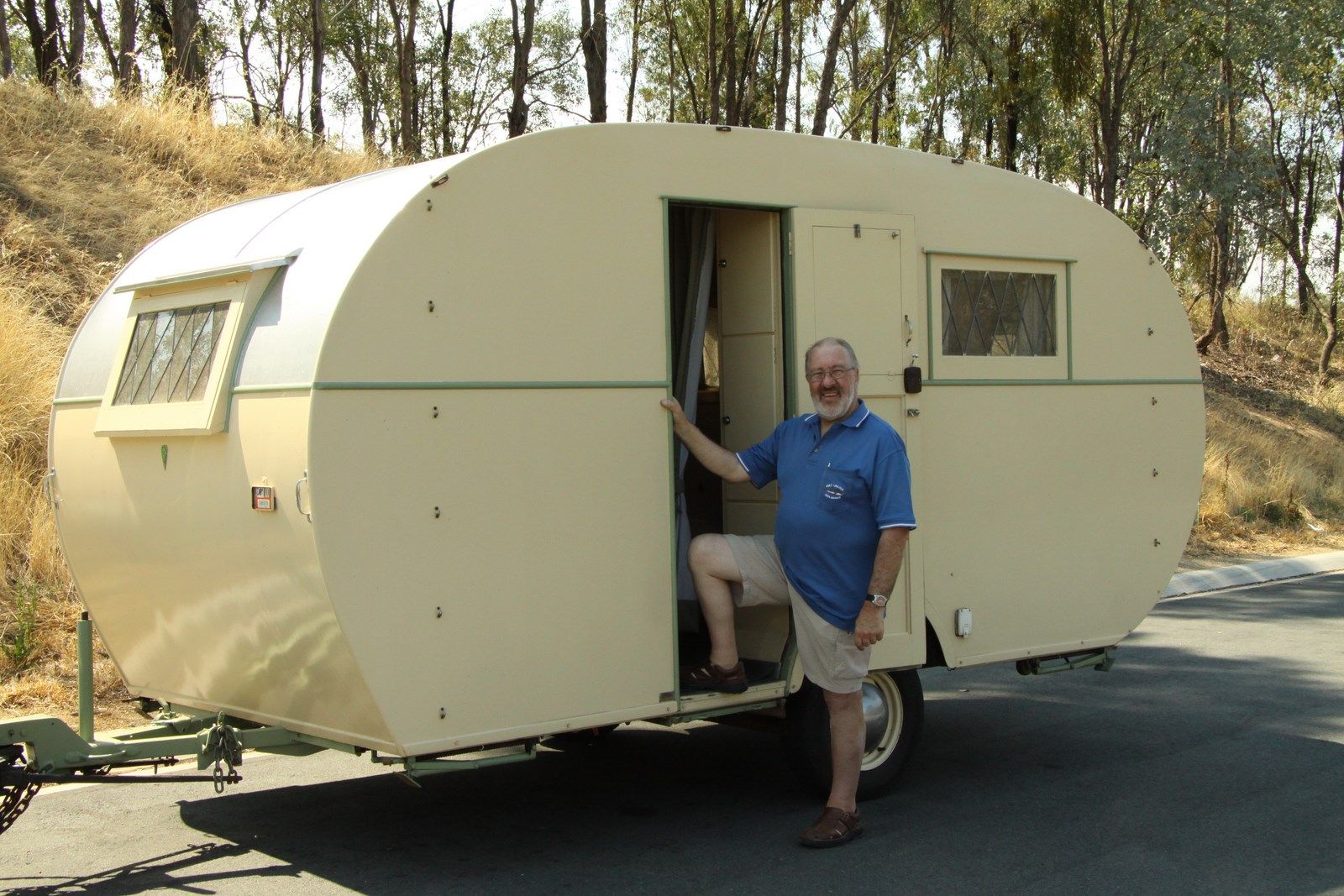 Now we're home and looking forward to the next trip away. Hope you enjoyed the pics of the tour.
Don Ricardo