Post by Don Ricardo on Jan 29, 2007 21:21:37 GMT 10
Hello everyone.
I thought it was high time I got on line and introduced myself. I've been visiting the Vintage Caravans website since 2004 (even before the forum started) and have enjoyed the various discussions and photo albums, but haven't plunged in to register until now. I thought you might also be interested in seeing some photos of our caravan.
Our van is a Don 140 model (14' 6"), which was delivered new to my parents in November 1949. That was a few months before I was born, so the Don has been part of my life since the very beginning. In fact in the early days, the bath in the caravan served as my cot when my family was on holiday.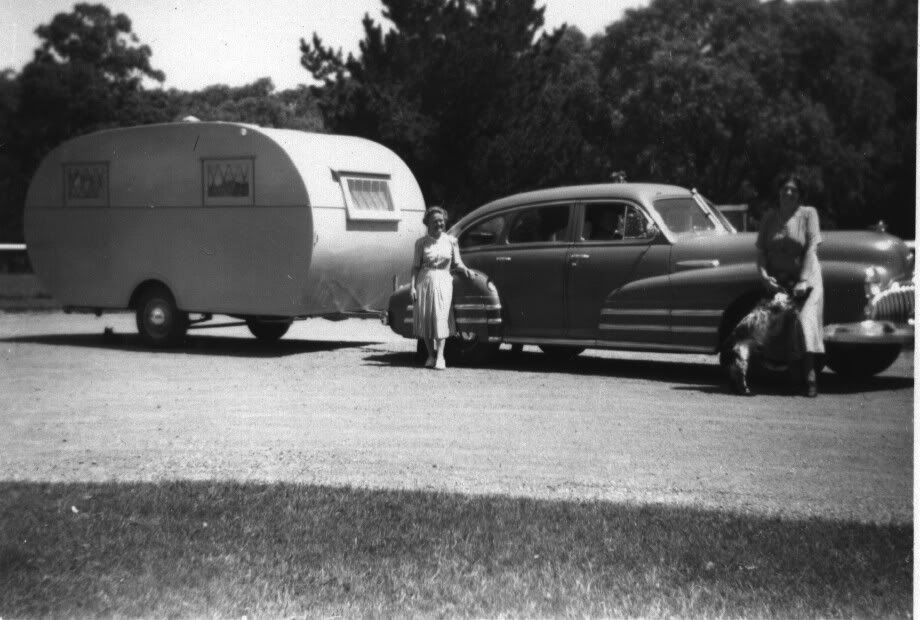 This photo shows our Don behind my father's 1947 Buick in our driveway in Wantirna (now a suburb of Melbourne).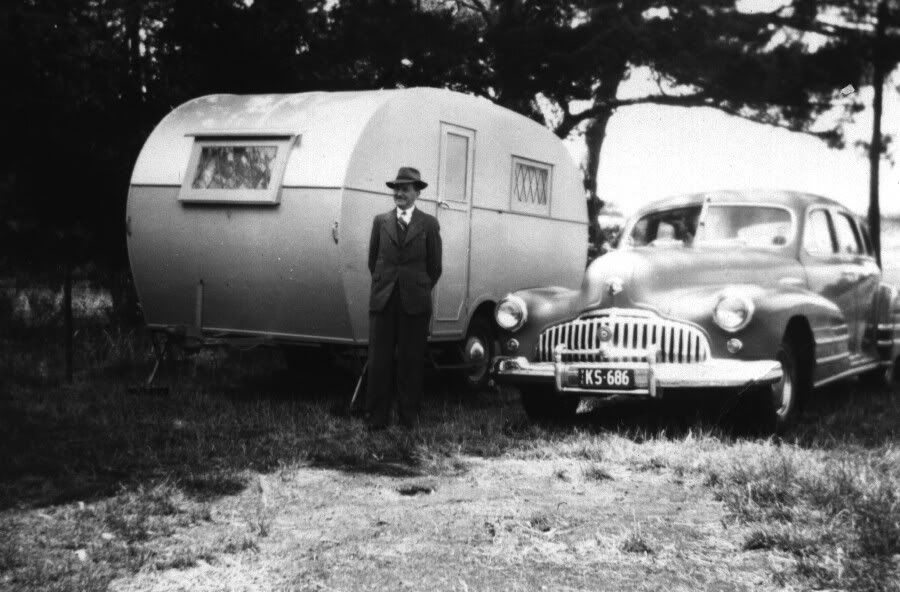 In January 1950, my parents took the van on a trip to Geelong. The photo shows their campsite at Highton in Geelong. A bit different to today's caravan parks with all mod cons!
In February 1950, my parents took the caravan on a holiday to Marlo, near Orbost. This photo shows our car and caravan stopped at Lakes Entrance on the way. Note the other car and caravan in the background. While camping at Marlo, the Snowy River flooded, cutting off the only road back to Orbost. At this stage my mother was very pregnant with me and not very well. With the road being cut, there was some concern that I might be born in Marlo. In order to overcome this situation, the car and the Don were separately towed through the floodwaters by a local farmer using his tractor. Both the car and the van survived and I was safely born in Melbourne about six weeks later!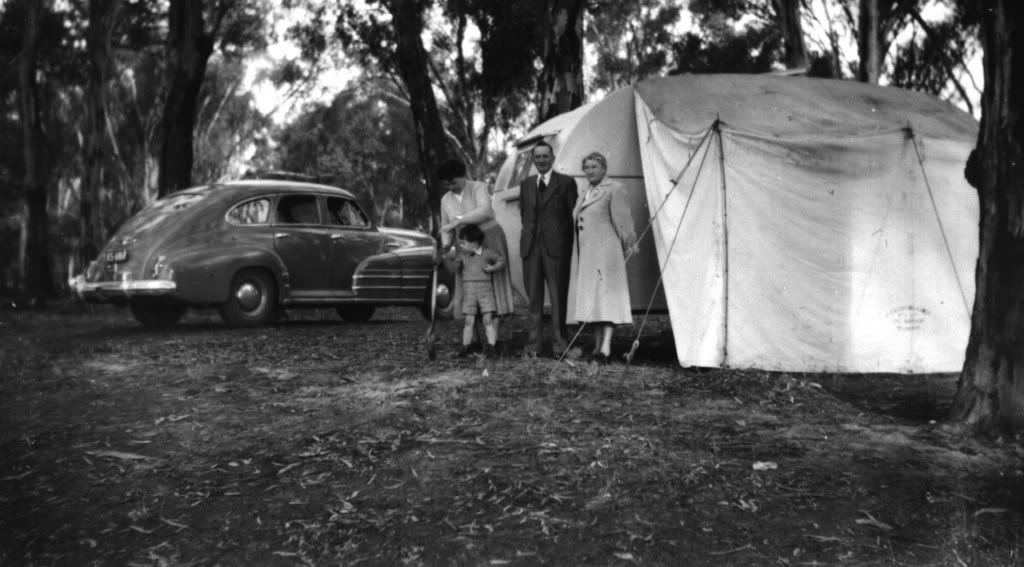 This photo shows the Don camped at Mildura in 1955, with annex attached. I am not sure whether we had the annex from the beginning, but it is certainly part of all of my caravan memories. That's my mother and me on the left, with my father in the middle, and my aunt on the right. Note my father's casual holiday gear!! Dad used to use his trips in the caravan as an opportunity to make some business calls, which may explain the three-piece suit. Even so, I seem to remember that caravanners in the 1950's were often a bit more dressed up than we usually see these days. There is a tie rack in the wardrobe in our van (possibly my father's installation), but I never use it!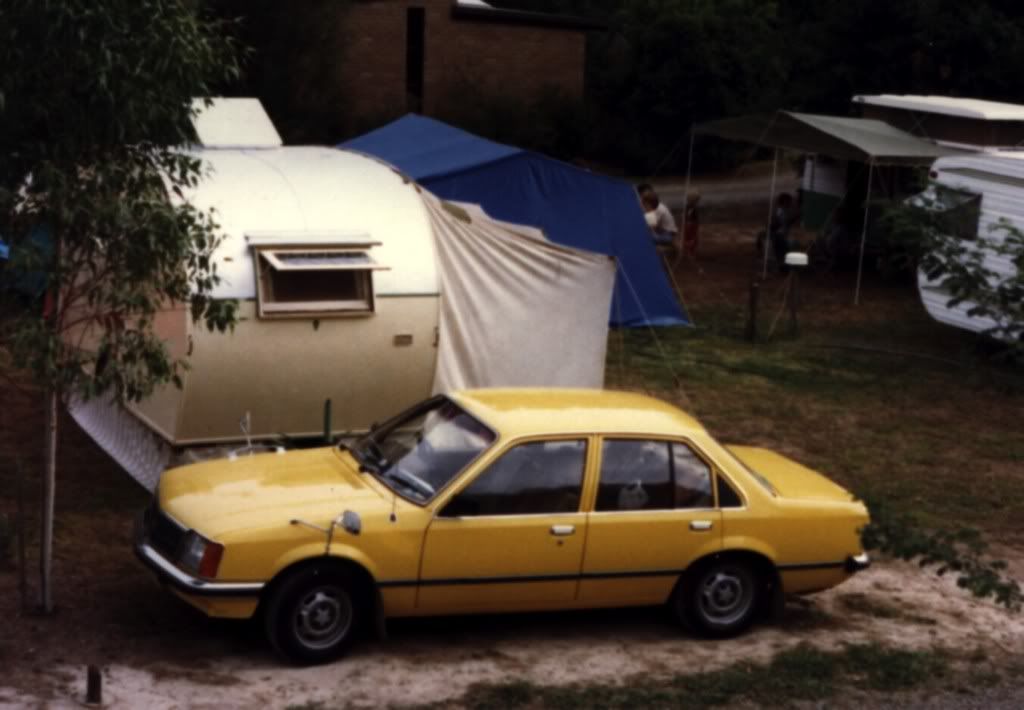 In 1982, my mother made some noises about selling the Don. My father had died a number of years earlier and although she used it for some trips after that, she had reached a point where she felt that she wouldn't use it again. After my loud protests ("You can't sell the Don – it's a family heirloom") she agreed to sell it to my wife and I for $200. This photo shows one of our first holidays in the van at a caravan park near Healesville, using the old annex and an apron around the base of the caravan that my mother had made. The apron was intended to stop drafts (for anyone sleeping in the annex) and also to hide anything that was stored under the van while camped.
In 1983, after two or three trips away in the Don, my wife and I decided that if we were going to use the van regularly for holidays with our three small boys there would need to be some modifications. I remember thinking about the issues carefully at the time because I wanted to keep the van as original as possible. However I concluded that my desire to keep the van in its original condition needed to be balanced against making it both practical for everyday holidaying and safe for traveling. We decided that any changes should be as sympathetic with the original design, and as invisible as possible. As a result we made four modifications:
1. The Don was fitted with electric brakes. Brakes were optional extras on 1940's Dons and our didn't have them installed, however the weight of the van was above the permissible unbraked towing weight for our then 1980 Commodore. Fitting electric brakes - as opposed to hydraulic brakes - meant that there was no need to modify the Don drawbar with its built in ball-coupling and "jack action telescopic caster wheel", which is a real feature of Don caravans of the era. However, the original axle and 16" wheels were replaced with a new axle and 14" HQ Holden wheels. HQ wheels were chosen because it meant we could use our Commodore spare as a spare for the caravan.
2. The icebox was replaced with an Electrolux refrigerator. In our travels we found it increasingly impossible to get block ice for the icebox – many iceworks closed down in the early 1980's – and on very hot days bags of crushed ice lasted less than 24 hours. With the health of three small boys at stake, we decided that a refrigerator was a necessary evil. We were fortunate to find a little frig which was within a few millimeters of the size of the icebox, meaning that there were minimal changes to the kitchen cabinets and we retained all our existing drawers, etc.
3. We replaced the existing 240v single powerpoint above the stove with a double powerpoint, and added a second double powerpoint near the cupboards above the sink, and an external powerpoint on the annex side of the van. We had found operating with a single 240v powerpoint in the van very difficult, since the van had no gas. In addition we installed a 240v to 12v transformer in the van's auxiliary battery cupboard. The transformer was hooked up to our lights so that we could continue to use our existing, very cute 12v (originally 6v) lightfittings.
4. We replaced the original 10' x 6' annex with a 12' x 10' annex, using the original turn buttons along the roof to attach the new annex to the van. With three small boys we found the original 10' x 6' annex extremely cramped once it was filled with the cots, prams, pushers and trikes which seemed to accompany us wherever we traveled! This was a wise move – the three small boys turned into men, and the cots and bikes later were replaced by bunks, surfboards and skateboards that take even more room!
This photo shows our Don being towed by a 1950's era Buick convertible as part of a procession promoting the 1994 Melbourne Caravan and Camping Show. Note the 1950's caravan following ours. Melbournians will recognise Flinders Street station in the background. The Buick tow car was hired by the show organisers in homage to our Don's original tow vehicle.
Our current rig. Our Commodore may not be as elegant as my father's big grey Buick, but I can tell you I love the way the car's supercharged motor enables us to accelerate up steep hills with the Don attached behind!
The photos that follow show the van with the "new" annex and a couple of shots inside: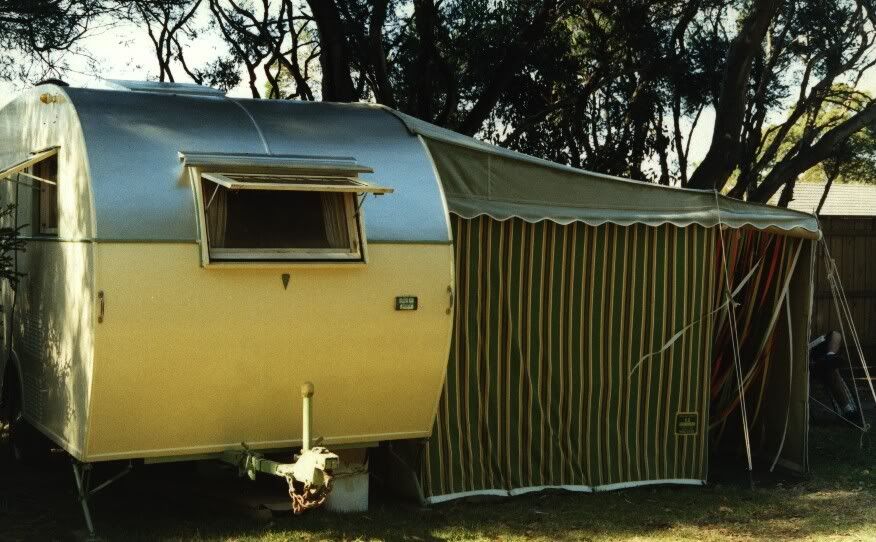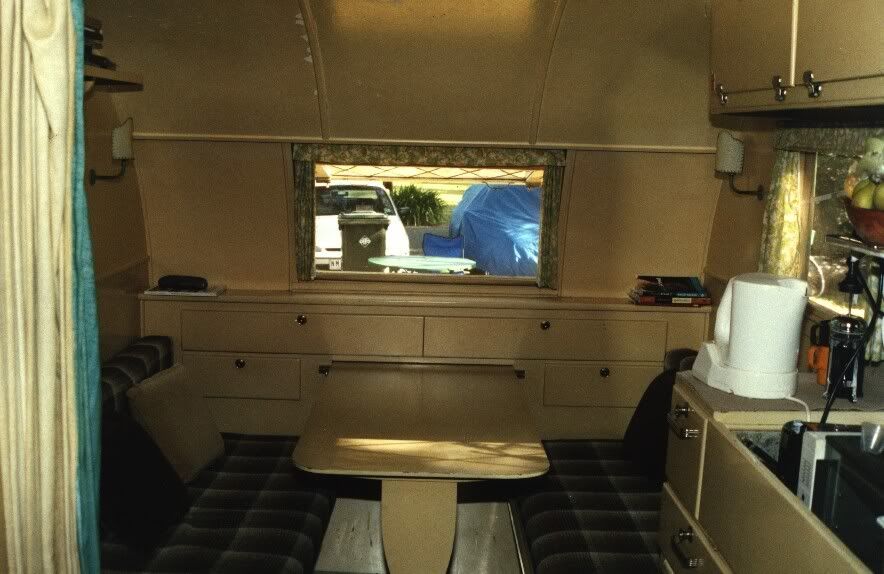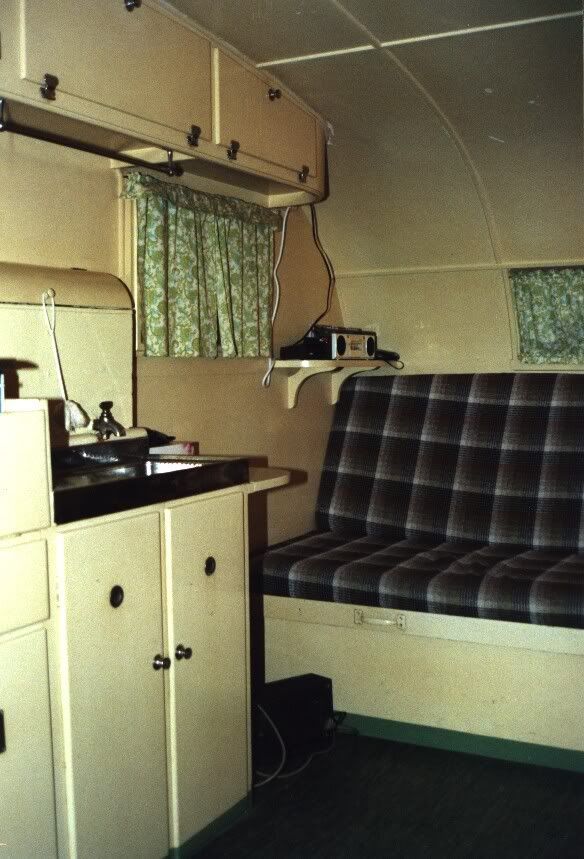 Our Don has "lived" in only three places in its 57 years, and in each has been garaged in a purpose built shed/carport which has enabled it to remain in good condition. The external walls have been painted in its original colours every 8 to 10 years, and the roof every 2 to 4 years (a topic for another post!). The internal paintwork is original and is in pretty good condition all considering, with the exception of the ceiling which is quite chipped (also a topic for another post).
For those of you interested in such things, our Don's build number is 461.
Regards to all the Vintage Caravanners out there. Thanks for all the enjoyment and fun I've had from reading the items on the Discussion Forum. I hope you will find the above of interest also.
Don Ricardo