Post by Don Ricardo on Mar 23, 2014 16:51:35 GMT 10
Hi all,
One of the satisfying parts of being involved with the forum for 7 years (and 3 years as a 'lurker' before that), has been watching the growing interest in vintage caravans amongst all sorts of people, and hearing about the fondness people have for old caravans - often because of their childhood holidays.
In the last week I have seen two instances of this growing interest. The first was when Dona Ricardo and I visited a cafe called 'Jam & Cream' in Heidelberg Heights, a suburb of Melbourne. Food-wise the cafe specialises in all sorts of scones which are baked on the spot after you order. The decor is very retro - 40's and 50's gear throughout, including the china on which the food is served and the owners' and waitresses' dresses. In the backyard is a little 60's Franklin which can be booked by people wanting to enjoy afternoon tea in a holiday environment: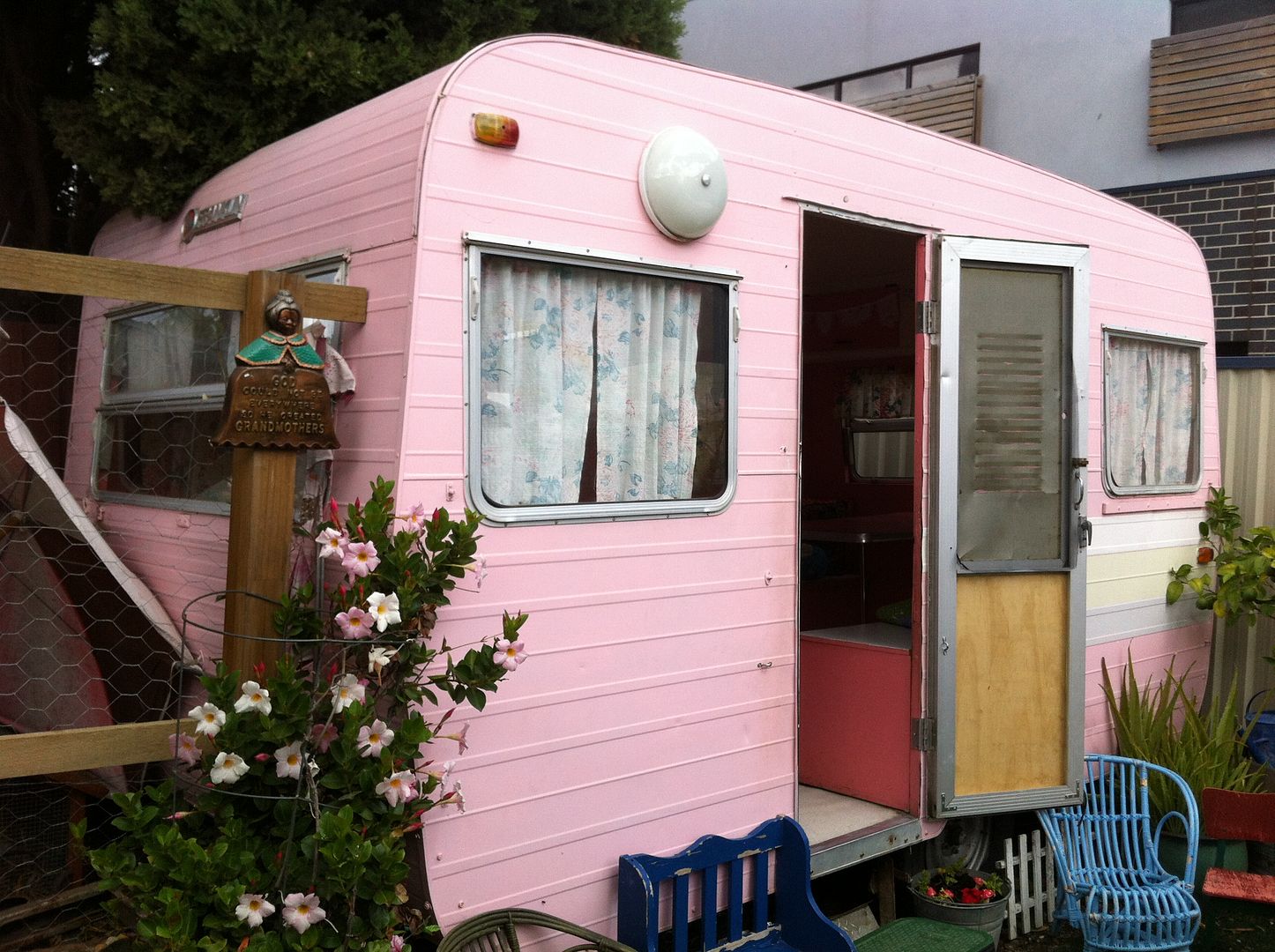 I think the external paintwork very likely reflects more than a passing salute to the
pink Propert
at the National Museum in Canberra! And no, Franklin1, I didn't get the serial number because the A frame of the van is hidden in the adjacent hen house!
I know it's official policy on the forum to disapprove of vintage caravans being used for anything other than their original purpose, but a few people have commented to me what fun they had having their lunch or afternoon in the little pink caravan, and how it had brought back lots of happy memories of caravanning when they were kids. That's not such a bad thing, eh? And for some people this little van might inspire them to become vintage vanners. Better that the van is used for that than taken to the tip!
Which brings me to the second instance of the growing interest in vintage vans I've seen in the last week. This one was an article in the Weekly Times about Kerri Bennett from Geelong who has set up a vintage caravan as a mobile children's bookshop, and intends to take it to country towns throughout Victoria to encourage children to read. You can find the article by clicking
here
. And Kerri's website is
here
.
I haven't been able to work out what sort of van it is and Kerri didn't say in the article or on her website. Maybe Hughdeani knows?
It's another instance of a vintage van being used for a non-original purpose - except that a lot of caravan builders from the 20's through to the 60's built vans to be used by travelling salesmen/women, or as a mobile salesroom, so not so different to what this one is being used for. And who knows, it may encourage someone out there to get on the vintage caravan bandwagon!
Don Ricardo