Post by ditzygypsy on May 3, 2006 21:34:54 GMT 10
Well for all of those who were at Morgan, you would have become aquainted with a van of questionable history and certainly questionable appearance. The GP in all his wisdom bought the van for the grand price of $500 and as they say you get what you pay for.
We were able to use the van (Trailer Park Trash by name )in Morgan but in that time found she leaked like a seive not to mention the lack of taillights and registration. The trip accross to the West was looking very interesting



.
Then along to the rescue ( sort of ) were a lovely family in an Olympic van who told me of a Rowvan in a yard in Burra ( about 2 hours drive away).
I am not one to complain but a girl does have standards and even though mine seem lower than the norm (check out the company I keep), I still like to think I deserve a little more than TPT could give.
Once in Burra and I layed eyes on the Rowvan, I was in love. I had wanted one of these vans for ages but they are pretty thin on the ground in the west being a SA production. So After at least 3 secs of deliberation and five minutes of driving a bargain with the lovely lady in the yard "Ditzy Too" was mine. TPT was traded and we begain to transfer our junk from one van to the other.
Cobber and Yvonne arrived out of the blue and helped us with this task. I will admit they made if so much easier as at that time it was raining constantly................ the GP and Cobber swapped the wheels after a trip to the local tyre place with ease and then we waved good bye to TPT and thanked Cobber and Yvonne again for all their help and were off to meet Will and Lyn.
Here are photos of my new baby and I am sure that most of you will agree Ditzy Too is a few steps up from TPT.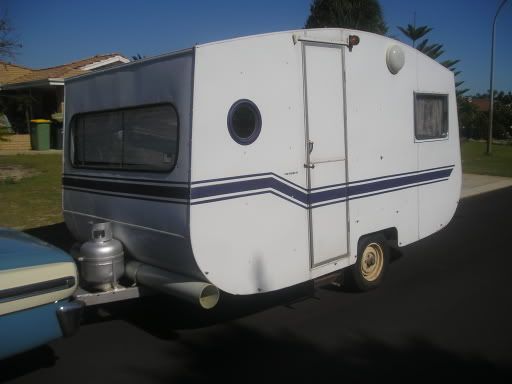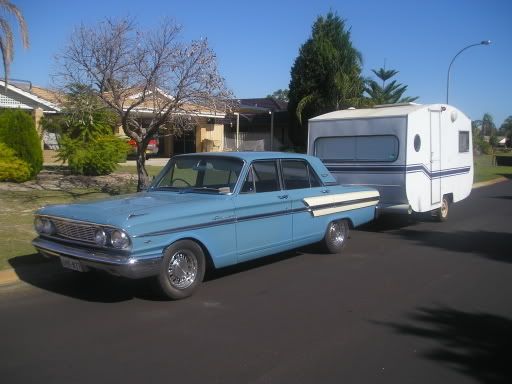 This is Ditzy Too behind the Fairlane.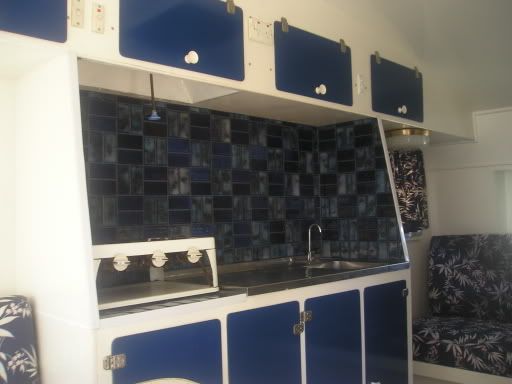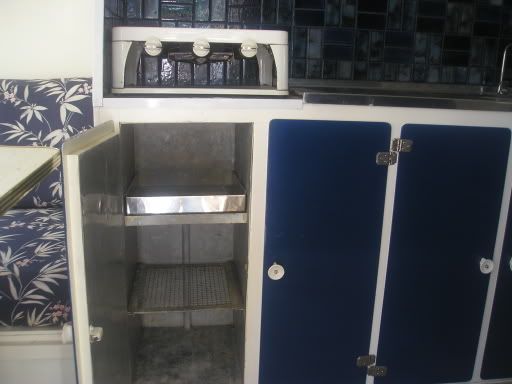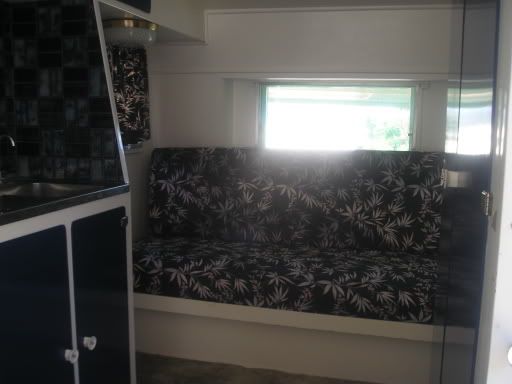 These are of the inside, lovely blue and white ............ yeah I know not as earthy as TPT, but I am not an earthy person
So dear Vintage Vanners............. that is the tale of how we started out with one van and ended up with another............. no it was not a miraculous change made on the Nullabour but a simple girl wanting more out of life.