Post by Deleted on Jul 26, 2005 22:52:24 GMT 10
From Steve:
"This van was owned by an old guy who towed it down to the Brisbane Bayside suburb of Ormiston from Atherton in 1971, behind his Chrysler Royal. He parked it in a big shed overlooking what is now Raby bay, and that's where it remained for 30 years, until his eyesight and health began to fail him."
"I told the seller I'd be restoring it to it's original colour scheme and towing it behind my 1958 Rover 105R and consequently purchased it for $500."
"The outside paint was a mess, all cracked and peeling off. The canvas roof had a couple of tears at the corners and the inside was pretty untidy too, with the original mattress and seat cushions intact, but the padding way beyond it's use-by date. The mattress weighed a ton, and was so rotten that I didn't want it to even touch me as I dragged it out of the caravan and threw it straight onto the trailer, bound for the tip. The caravan was fitted with it's original lights and trafficators, but the trafficators had been disconnected and their function replaced by plastic indicator lights."
"The whole frame appears to be made of oregon or cedar or something, and the window frames are all red cedar. The roof is canvas stretched over a wooden slat frame and lined with 1mm thin plywood on the iside for a ceiling. It has the groovy red laminex benchtops and table top (with foling wooden leg) and a brass foot pump recessed into the sink cupboard to operate the tap, which is fed from a tank mounted under the rear 3/4 double bed. All the period light fittings are there, and so are the swithces. It is set up for 12/240 volts and has vaccuum operated brakes. The original gas stove is missing, and the icebox has been replaced at some stage with a small bar fridge."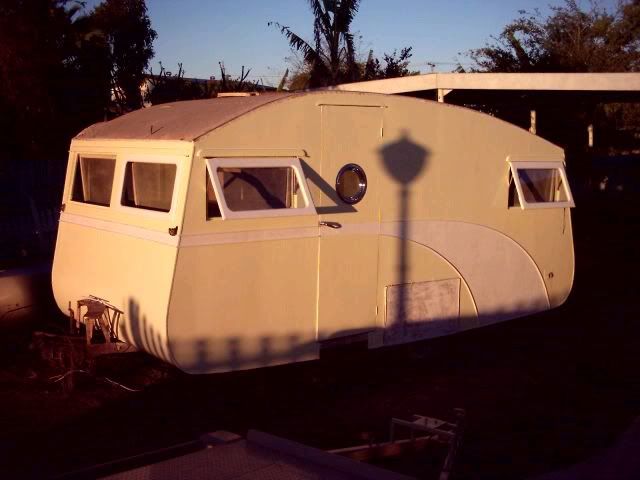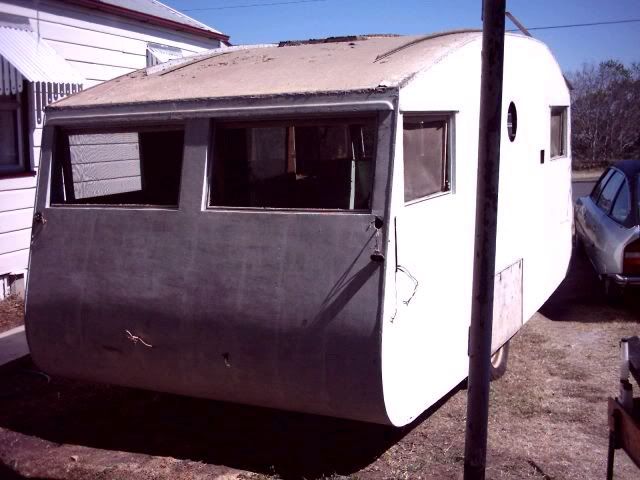 "This photo was taken after undercoating and prior to it's first coat of paint. It was given two coats of oil based undrcoat, blocked back between coats to aceive as smooth a finish as possible, and then hand painted with one of those fancy "Spirit" paintbrushes by Rota Cota. i can't recommend these brushes highly enough for a fantastic streak-free finish using ordinary full gloss enamel"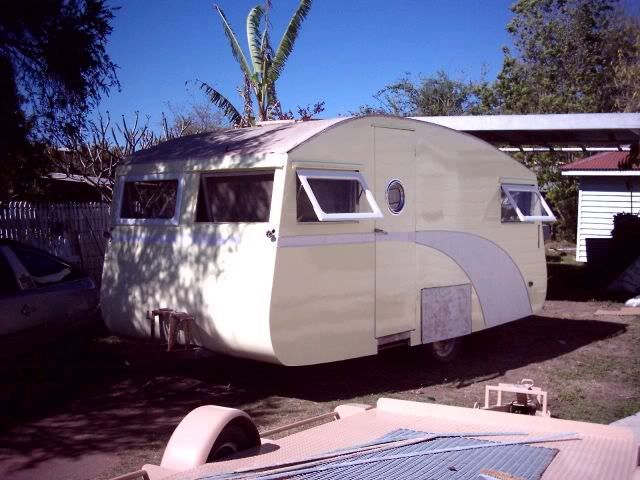 "Here you can see the beautiful gloss acheived with the Spirit brush. The caravan was sky blue when I bought it, but underneath I could see that it was originally cream in colour, so I matched the colour as closely as I could using handfuls of colour chips from the local paint shops. The only change that have made to the colour scheme was to change the colour of the 'flash' from cherry red to white. Four out of the eight window frames were rotted beyond repair, so I made new ones out of cedar, and they came out really well !! The window hinges were all rusted and mostly seized, so I had them stripped and electroless nickel plated to aircraft quality by the on-base electroplaters here at Amberley, who are civilian and also take on outside work. A World War Two aircraft was recently found deep in the jungles of Papua New Guinea, and the only parts that were corrosion free were those parts which were originally electroless nickel plated, so the refurbished hinges should last at least ANOTHER 50 years. "