Post by Don Ricardo on Apr 15, 2013 23:39:24 GMT 10
Kleinig's Caravans
Manufactured by Vic Kleinig
111 Blaxcell Road, Granville NSW
---
Hi all,
A few weeks ago, while "Trove-ing" for something else entirely, I came across a series of adverts in the
Sydney Morning Herald (SMH)
for Kleinig's Caravans. The main selling feature of Kleinig's vans was that they were built from steel.
The first SMH advert was placed on Wednesday, November 1945 (p16)):
(Source: National Library of Australia
nla.gov.au/nla.news-article27924430
)
This advert appeared only a couple of months after the end of World War II.
Kleinig developed an interesting advertising technique involving placing a number of line adverts under 'A' in the Caravan & Trailer classified section of the paper. It was this that first attracted my eye to the adverts. An example is this series of 13 line adverts which appeared in the SMH of Saturday, 13 July 1946 (p 21):

(Source: National Library of Australia
nla.gov.au/nla.news-article17982549
)
Note the advert which says:
"ATOMIC BOMBS create much interest, but no comparison with KLEINIG'S CARAVANS, Granville..."



Another example of Kleinig's series of line adverts with variations in the contents were placed in the SMH on Saturday, 7 September 1946 (p 20):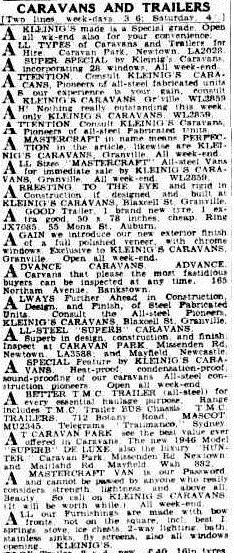 (Source: National Library of Australia
nla.gov.au/nla.news-article17993740
)
The next advert placed in the SMH on Saturday, 20 November 1948 (p 19) tells us a bit more about Kleinig's business (which I'll mention below):
(Source: National Library of Australia
nla.gov.au/nla.news-article18095872
)
The last adverts I can find about caravans that were placed in the SMH by Kleinig himself appeared on Saturday, 10 December 1949 (p 23):
(Source: National Library of Australia
nla.gov.au/nla.news-article18147671
)
However, an advert for a second hand, 23 ft Kleinig caravan was placed in the SMH on Saturday, 8 December 1951 (p 23):
(Source: National Library of Australia
nla.gov.au/nla.news-article18243235
)
For those of you that can't be bothered wading through the small print (and no pics!), the story that these adverts tell is that Kleinig claimed to be the pioneer of all-steel construction (presumably in Australia rather than world-wide). He also claimed that his vans were the 'latest steel constructed caravan yet built in the southern hemisphere'. Indeed, the adverts predicted that Kleing's caravans would 'revolutionise the caravan industry'. These are interesting claims because Kleinig was advertising his steel caravans at the same time as Caravan Park (Carapark) had begun to advertise all-steel caravans, and as can be seen Kleinig's adverts ran alongside the Caravan Park adverts in the Sydney Morning Herald.
Kleinig commenced advertising his caravans in 1945, but it was only in July 1946 that he announced that they were actually in production. This suggests the earlier adverts may have been an attempt to drum up business or to test the market.
There a number of references in the adverts to
'Mastercraft'
and
'Masterpiece'
, both with a capital 'M'. This may possibly suggest that Kleinig's vans went under the brand or model name of Mastercraft (or less likely Masterpiece).
The steel construction of the vans was said to provide 'strength, lightness and beauty'. It was also claimed to make them 'heatproof, condensation proof, sound proof', all of which seems to be a bit counter-intuitive for an all-steel caravan. However, the exterior was described as 'fully polished veneered with chrome windows'. I'm not sure what 'veneered' means in this context, but perhaps it refers to being double skinned or some type of insulation which would assist with heat, condensation and sound proofing. In addition to the fully polished veneered exterior, the vans apparently also had an 'astounding new interior finish'. Regrettably there is no suggestions as to what made it so astounding.
Some or all of Kleinig's caravans were sizeable, with references to them being 23 ft long. That was a very large caravan for an era when other manufacturers' biggest vans were typically 14 ft or 16 ft. In comparison, for example, Caravan Park's all-steel Superb model was only 13 ft 6 in in length.
Kleinig vans also featured eight windows – one advert claimed no less than 28 windows (possibly reflecting the length of the vans). The fittings included bow front furnishings - as opposed to 'built on the square' - best inner spring (mattress), stove, ice chest, two-way lighting, bath, stainless steel sink, fly screens and all windows opening. Intriguingly, the vans also featured a 'full roof forming "torpedo turret" [which] can be opened for complete airconditioning at the flick of the hand'. I'm not sure what this may have been unless it is a reference to a lantern roof of some type. If that is the case, perhaps that explains the claim of 28 windows if all the little windows down the side of the lantern roof were included? In addition to his vans, Kleinig supplied vans in any stage of construction to the home builder, and sold caravan components such as assemblies, braking systems, chassis and screw jacks.
Kleinig's adverts indicate that he also produced buses, parlour coaches, pantechnicons and motor caravans. (How long since you heard someone refer to a parlour coach or a pantechnicon?) A further 'specialty' was 'motorised caravan chassis extensions'. What is more, Kleinig proudly claimed that his 'Mastercraft Productions' were also 'contractors for NSW Govenment'. These facts suggest to me that Kleinig may have been a coach builder who could see that caravans might become the 'in thing' after WW2, and sought to leverage his existing skills and plant to ride the wave he could see on the horizon. Maybe his experience in building buses and pantechnicons was what encouraged him to build vans of a greater length than was typical for the era.
Kleinig's adverts contain some bits of amazing doggerel (or possibly execrable doggerel, depending on your point of view). Take for example: ' Assuming you have seen the BEST, it may put your mind at REST by placing Kleinig's caravans to the TEST'. Unfortunately, despite all the hype in his advertisements, we do not know of any existing examples of Kleinig's caravans and I have not come across any photographs. We can only guess what they may have looked like.
Don Ricardo