Post by Claire M on Nov 22, 2005 14:06:48 GMT 10
Hi There. I'm still having trouble registering, but I was keen to post a few pictures of our new Sunliner, so I will do it as a "guest" for now.
My other half visited the Nostalgia Drags in Mackay, QLD back in August of this year. On the way through a little place called Koumala he spotted a van that took his fancy. A quick U-Turn and that's where it all started. This is our first caravan and so I'm not sure what we have got ourselves in for. I've been looking around the forum a bit though, and it seems to be a pretty sane sort of hobby…… ;D ;
Side view of our new toy
The van was located in a caravan park and had been used as an onsite rental van for 20 years, before being retired. Apparently he purchased the van from the original owner in Yeppoon, QLD. He had recently sold the caravan park and was intending on taking this particular van with him.
A tentative offer was made – (had to check with the boss back home first!!) A bit of sweet talking, followed by coercion and finally a bit of begging meant that 2 days later, a second trip North was made – this time with a trailer, and home she came. As I hadn't yet seen it, I was pleasantly surprised and could see the potential in it.
If someone could help with an approximate year it would have been made, that would be great. I had a look for a chassis number, but couldn't find anything.
For maintenance the old owner would give her a paint on the outside with general house paint (front and back windows included) once every couple of years. Daggy as it looks, this has actually done it a favour. The fibreglass is in good condition because it has been protected from the sun. The windows will need replacing though.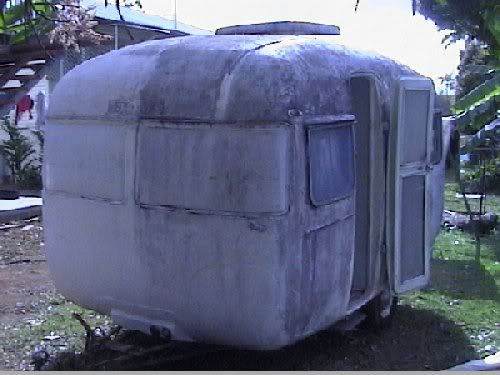 First job was to gurney her down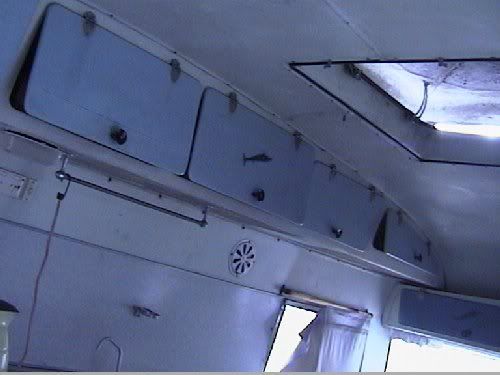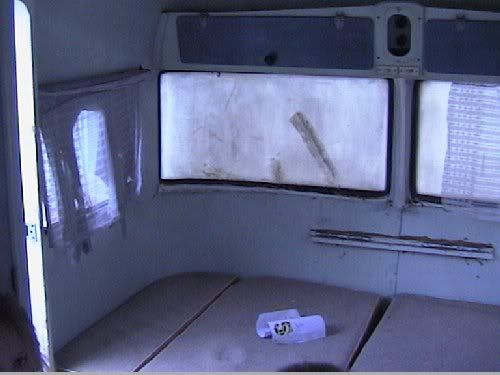 Aside from the curtains disintegrating in our hands, the interior is pretty tidy. Yes, I am optimistic!! The same cannot be said for the chassis though….. the seaside and its salt didn't do it any favours
The kettle was the only sort of treasure we found inside.
Anyway, we are looking forward to bringing her back to her former glory and have been inspired by the other Sunliner's we've seen on the forum.
WISH US LUCK