Post by seeshell on Jan 28, 2013 18:05:22 GMT 10
For those of you following the restoration of The Blue Flyer are aware that we were lucky enough to make contact with the family with the original owner builder, Arthur Conrick. The van was towed for many years with amongst other vehicles, a Chrysler Plainsman.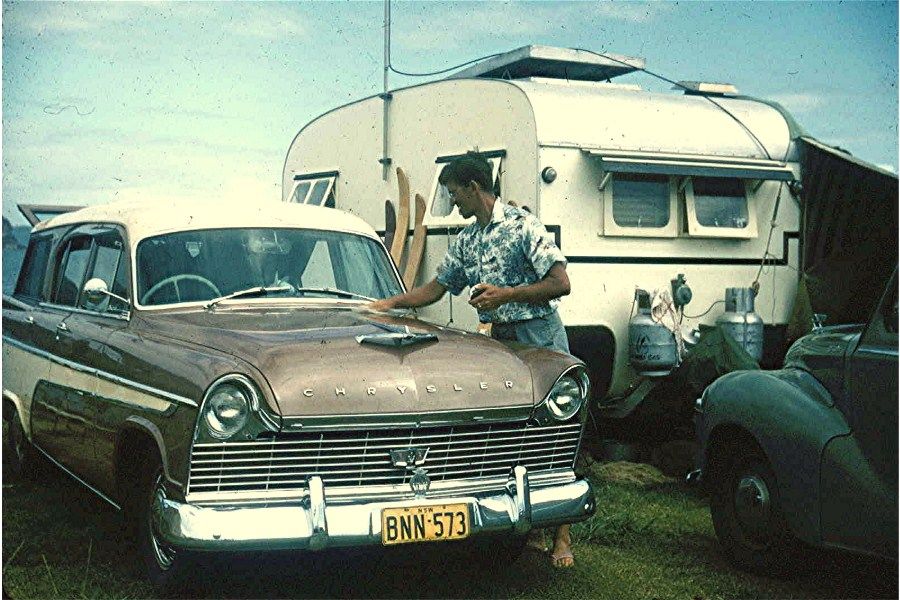 There's something about a family wagon towing a van that just makes you smile and think of summer holidays. And to honour the van's history with Chrysler, we decided to focus on finding an AP5-VC Valiant Safari. With only a small number of the 65,600 VC Valiants produced being wagons – finding one in good shape was a challenge.
We came across a wagon in North Central Coast in NSW, at Taree. The car was repainted a peachy colour back in 1969 by the first owner. All the following owners must have also loved the colour – it's had a respray since in exactly the same shade.
It met all of our criteria: it had a 318 V8 engine, front disk brakes, a towbar and had been lovingly restored; so, we decided to go and see it. But we weren't the only interested parties, and we had to make a quick switch from flying in on Sunday 27th to Newcastle, to flying in Friday to Sydney and drive up to keep ahead of the pack!
We began Friday by driving 1:45h to Melbourne Airport, getting on a flight to Sydney, picking up a rental car and driving 4 hours – being a mining town, flights on a Friday for Newcastle are near impossible or prohibitively dear!
When we saw "Chryssi" the deal was done – perfect!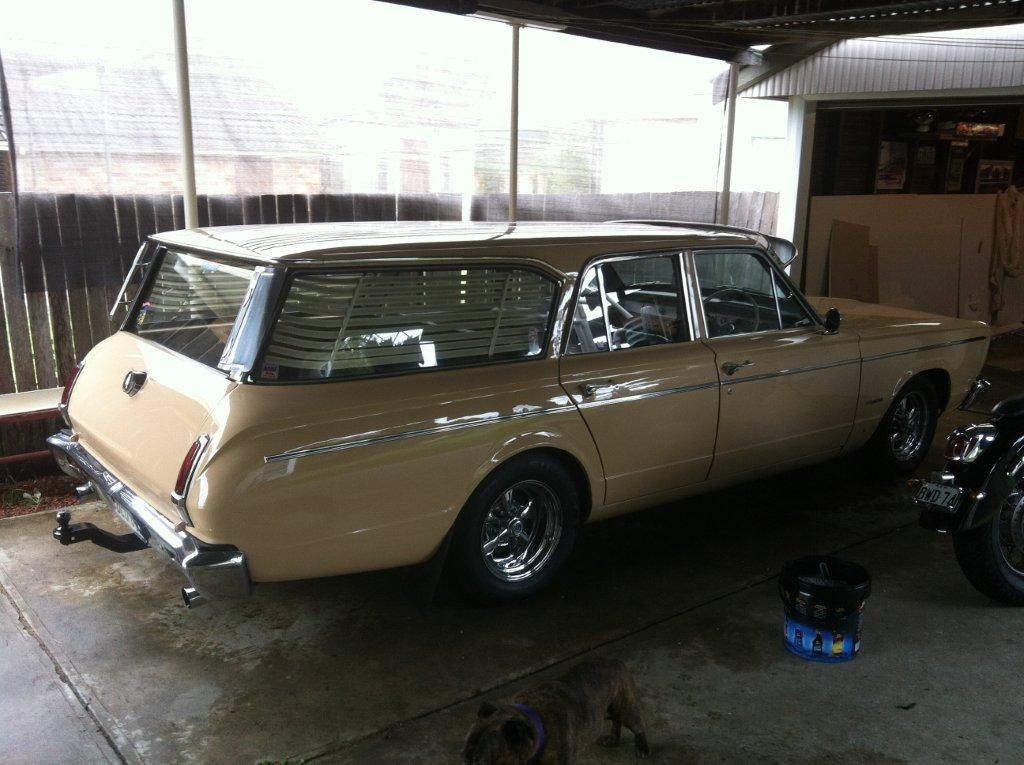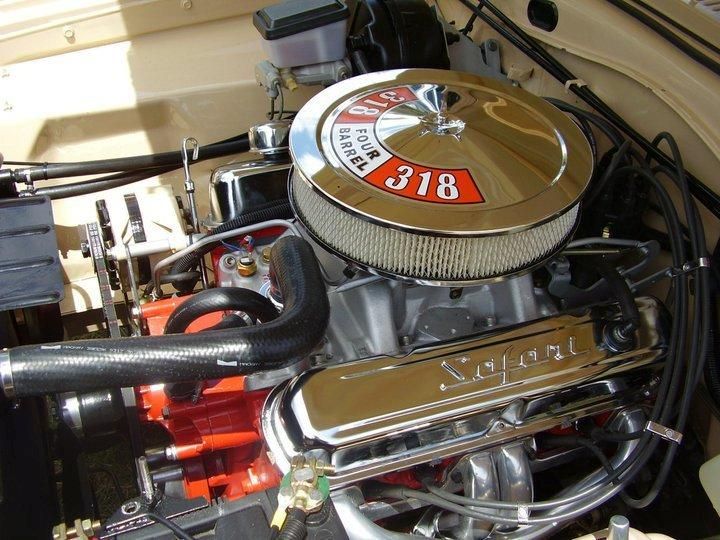 The owner had taken very good care of her, and so it seemed like a calculated gamble to hand over a check and head out on the open road. However, the saying "God takes care of fools and children" might also apply – planning to drive 1400kms in a nearly 50 year old car you barely know the foibles of armed only with a few quarts of oil, demineralised water, and paper towel might put us squarely in the first category.
The trip went as follows:
We left Taree at about 5pm, and fuelled up. The Valiant has a 40L tank and a range of at most 300km on it, so we planned to stop about every 2 hours or 200kms.
Here is Aaron fuelling up for the first time:
And here we are heading out of Taree:
We drove back to Newcastle Airport, a small detour, to return the rental car and then we were together driving back. We headed straight for the southern side of Sydney, to Campbelltown, so we could start off in the morning toward the Hume.
At a twilight petrol stop: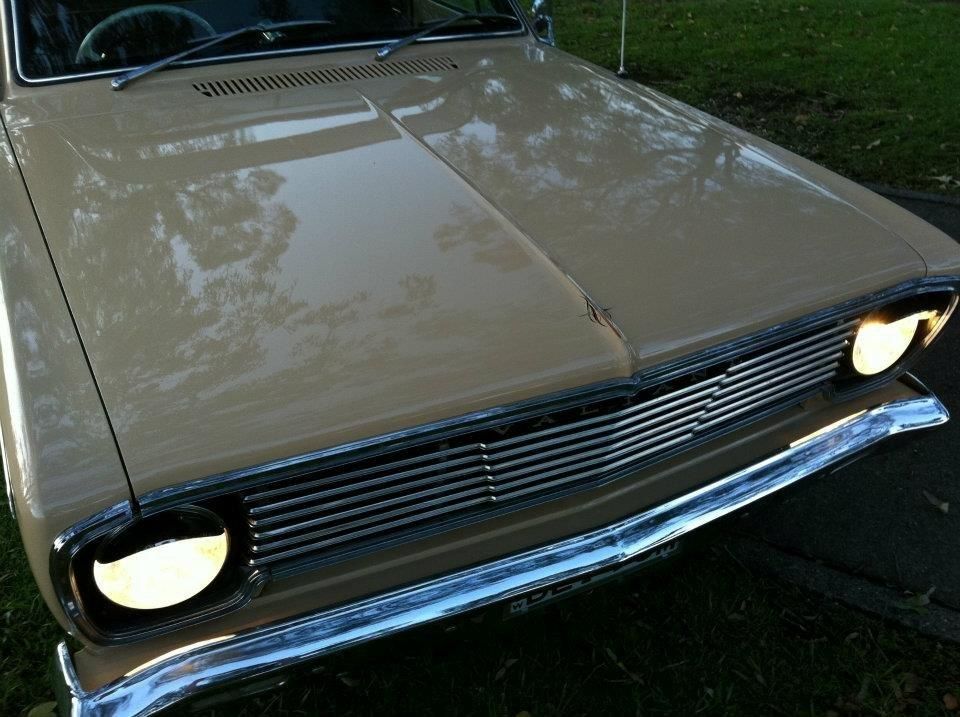 By this time it was about 10:30 and we'd been up since 4:00am and were getting VERY ropey after flying and driving so far. We checked in outside the hotel on something like an ATM, and got a door pass to go to our room. Both of us were in a haze – maybe that's why the bathroom "capsule" in our budget accommodation seemed so strange…a foot off the ground, and barely 6ft high to the roof of it. The next morning, Aaron cursed and banged around as he tried to shower in something about 6 inches too short for him. I sat on the bed, listened, and laughed my head off.
The bathroom "module":
We left the next morning by 7am – self check out on the kiosk – and never saw or heard a single soul in the place. Strange, and it kind of gave us the creeps!
We were well underway by 7:30am – post petrol, and talking to a few men who stopped over to have a chat about the car. Checking the oil she was a bit low, and we thought we were going to be topping it up at every stop.
But no – Chryssi rode along at 60mph (100km/hr) on 2500rpm and 150 deg F – through Yass, Holbrook, Albury, and all the way down the Hume in Victoria. I have to admit, I was more than a bit surprised.
We enjoyed the ride despite each getting a case of "swamp back" from the vinyl seats and a farmer's tan (hanging our arms out the window); at least changing sides every 2 hours means the red arms were balanced. It was 33 degrees, very humid but the past weeks had taken their toll on the landscape – very brown and dry, but harshly beautiful.
A memorable shot from the road past Albury: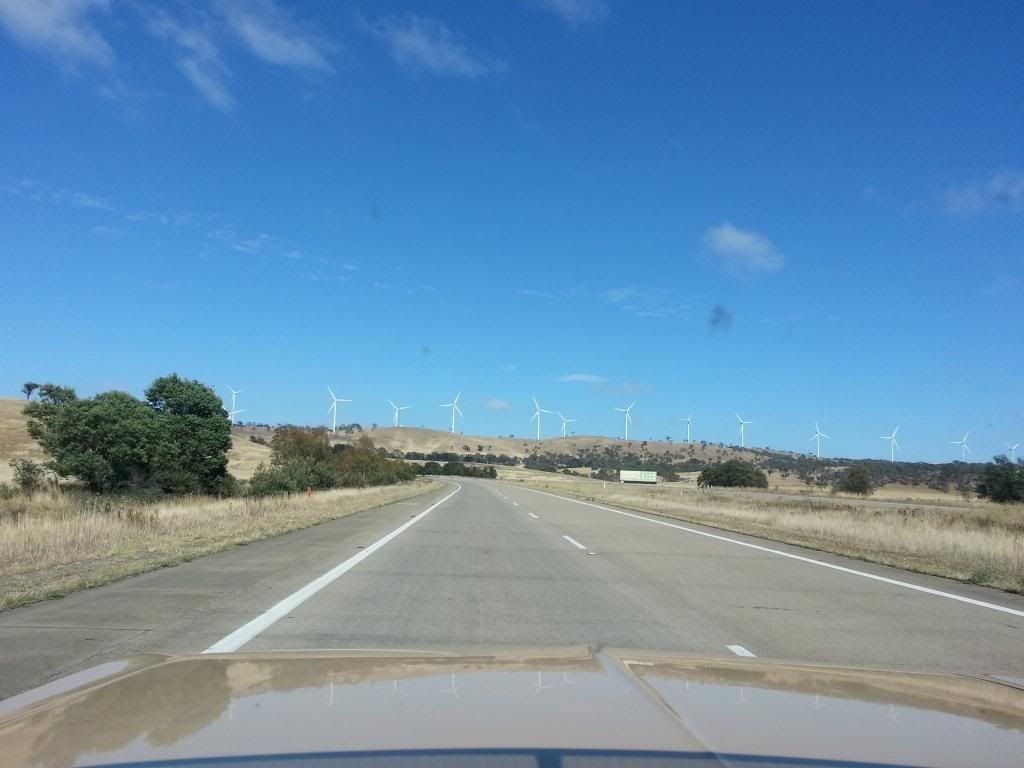 We drove on, taking turns, and drove to Melbourne Airport to pick up the BT-50.
Approaching Melbourne, driving under The Yellow Peril.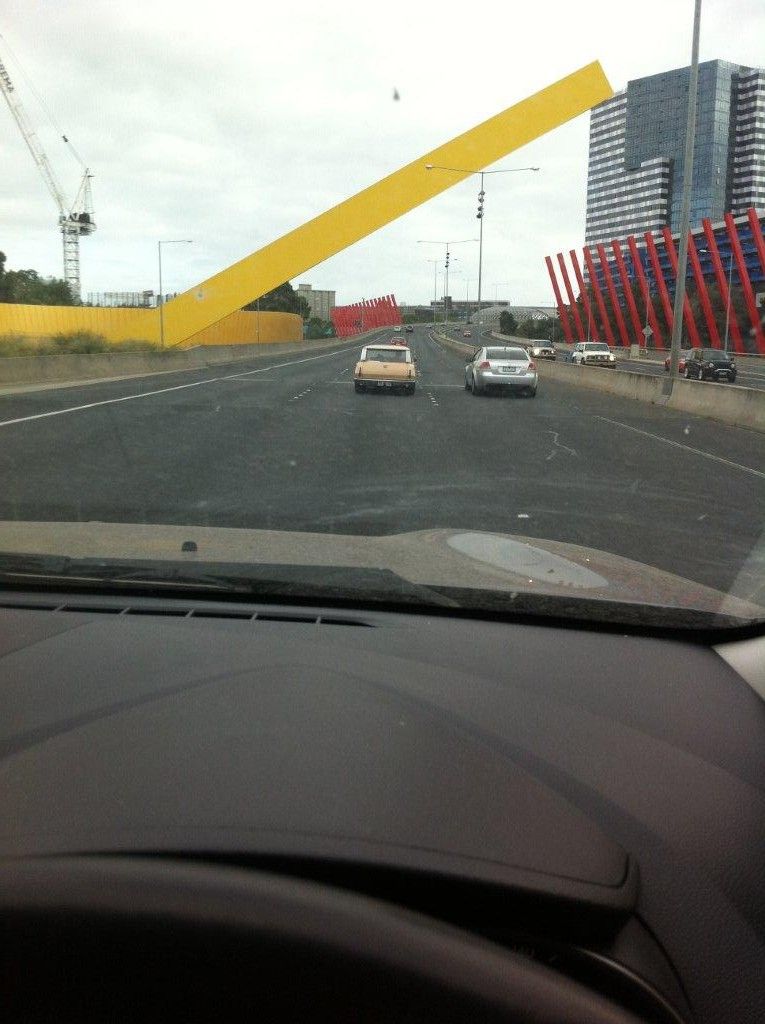 Heading to the South Eastern Suburbs: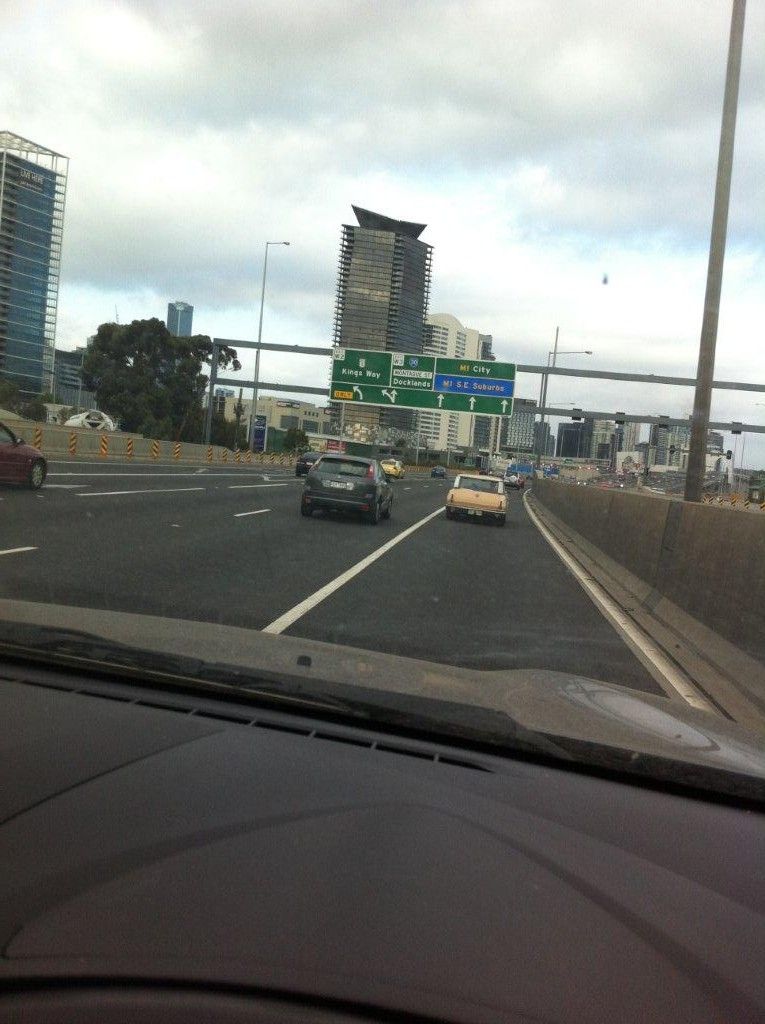 And arriving safe and sound at home:
We're just thrilled with our "new" car - and can't wait to finish The Blue Flyer's exterior to see them together.
Cheers
Seeshell