Post by Don Ricardo on Jul 17, 2012 23:20:57 GMT 10
Customline Caravans
Judd & Innes
166 Princes Highway, Dandenong, Vic
---
On 5 July 2012 Stansnyders wrote:
...G'day VV'ers
I paid a visit to a good friend today to be shown a 10'6" white aluminium caravan he purchased recently. Although the caravan has no markings, the registration label states that it is a "Customline Caravan". The van has a tare wt. of only 400kgs and is 6' wide. A small, light van built for two. The only other markings that may identify it is the welded serial number on the "A" frame, 205-94. The look and feel of the van appears to me to be somewhere between 1964 and 1969? On the plus side, the van has spent its entire life in a well ventilated, dry shed and is in mint condition, all for $1,500.00, it even smells nice inside. Sorry I haven't yet been able to take a picture or two but that will follow. On checking "Down History Lane" Customline Caravans get no mention. Was there a company calling itself Customline Caravans back in the 60's? Can anyone help identify this van from my description, I know photos will help and they are coming.
Regards
Stan
---
On 6 July 2012, Franklin1 replied:
G'day Stan...
"Customline" was an in-house brand put on vans sold by Judd & Innes, a dealer in Victoria. I guess you could say it was similar to Norm Reeman putting his badge on vans.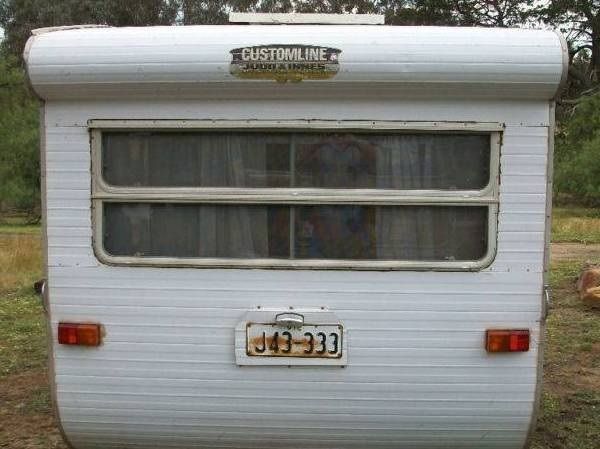 The couple of Customline vans I've seen so far appear to be from the early 1970s, with the white acrylic cladding. If
hughdeani
reads this, he might know more about when Judd & Innes first started operating, but I've not yet seen anything that looks like it's a vintage era van with their name on it.
cheers,
Al.
---
And on the same day, Hughdeani responded:

Hi all,
You are right of course Al,Customline was a yard name in the 60s,70s and possibly early 80s.It was in Dandenong in Melbourne and the owner bought vans from different manufacturers and put his own name on them.
In the 60s they were silver ali Wayfarers and Franklins and probably a few others.
Then in the 70s they were Majestic,old Regal ,Regency and Roma and again probably a few more I have forgotten about!
If you show a photo I will be able to tell you who built it and roughly what year it was!
Cheers
hughdeani